What is modular construction?
Modular construction is also known as prefabricated construction, off-site construction, or volumetric construction. According to industry experts, it is a new, innovative construction technique using individual, prefabricated building parts called "modules". The modules are manufactured off-site in a controlled factory setting. Then, they are delivered to the construction location and assembled on-site.
Related: Top Commercial Modular Building Companies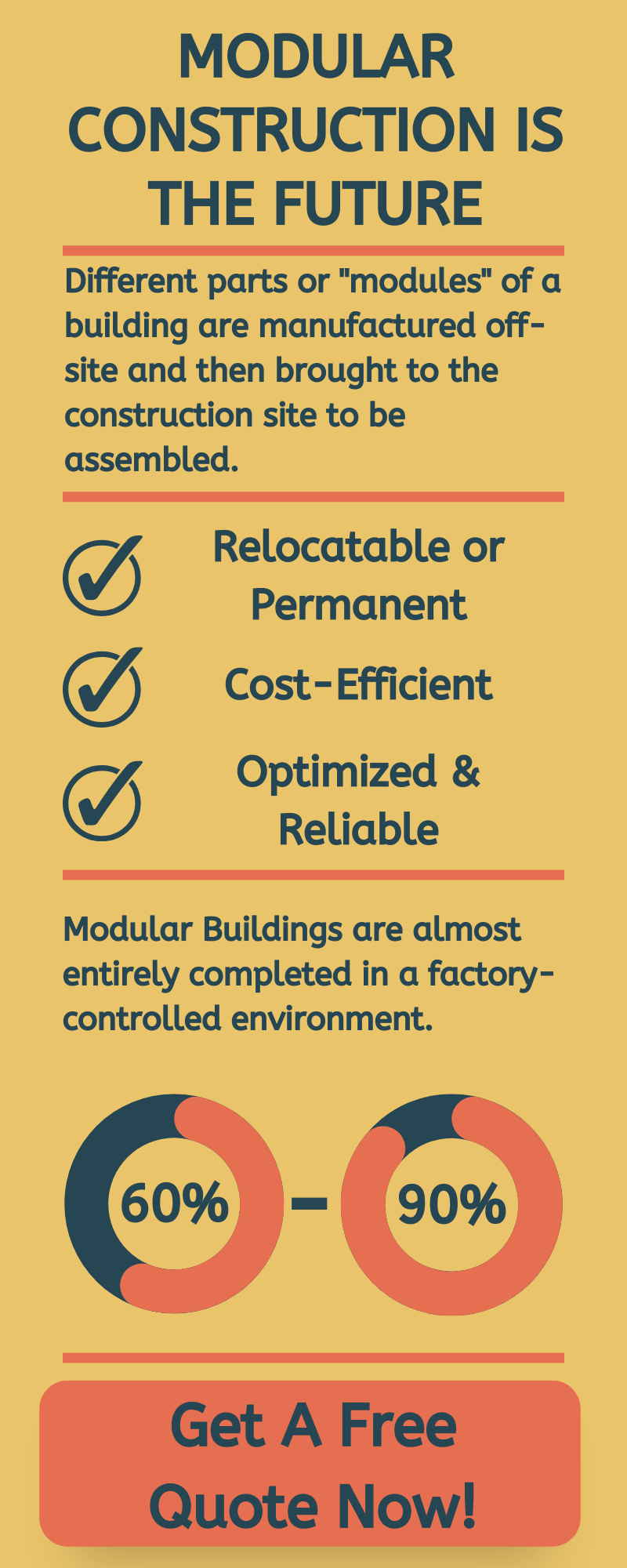 Why modular construction?
Modular construction practices are becoming more and more popular for both commercial and residential buildings. It is a highly efficient construction technique due to:
Optimization and Reliability: Modular construction companies use an optimizing strategy as they construct modules off-site. Modules go through a process of research, design, testing, and inspection before they reach the construction site. This makes them safe, secure, and reliable building structures.
Quick construction: Modular construction can cut a construction project's time by 50% or more.
Design options: Modular buildings can accommodate many different innovative designs, both for the interior and exterior.
Cost-efficient: Modular construction can save you 25-50% or more on a construction project compared to traditional construction. This is partly due to reducing labor and material costs, since modules are built in a factory using an efficient assembly-line technique rather than on-site.
Since modules are prepared professionally in a controlled environment, modular construction also reduces risk and error in the construction process, compared to traditional construction. Learn more about the key differences between modular and traditional construction.
What are the different types of modular construction?
There are two main types of modular buildings that use volumetric techniques – relocatable (aka portable) buildings and permanent buildings. Even though they use the same construction technique, each type of building has its own set of characteristics and are more suitable for different purposes.
Relocatable Buildings
Relocatable (aka portable) modular buildings are structures that are designed to be easily mobile and used temporarily. They are often referred to as mobile offices, office trailers, or prefabricated site offices. Rather than being harnessed into the ground, relocatable buildings are not permanently installed. Therefore, they can be easily relocated and re-used again once their user no longer needs them. Relocatable modular buildings are commonly rented over a period time for purposes such as:
Emergency or disaster relief
Temporary office space
Healthcare clinics
And more
Also keep in mind that relocatable buildings are usually smaller in size compared to permanent modular buildings. Common relocatable modular building sizes include 8'x20' and 10'x44' office trailers.
Permanent Buildings
Permanent modular buildings are for permanent use, either for commercial or residential purposes. They function much the same as traditional buildings, as they are anchored into the ground using permanent foundation. Permanent modular buildings are often much larger than relocatable buildings aka mobile offices. Some common uses for permanent modular construction include:
Apartment buildings and homes
Restaurants
Hotels
Senior communities
Schools, universities, and dormitories
Retail stores
And more
Permanent modular buildings have a great life expectancy, of 20-25 years or more if they are maintained well. They can also be easily renovated, expanded, remodeled, or updated over their lifespan.
Modular building parts
Modular construction uses many of the same parts as traditional construction. A majority of the building parts are prepared off-site at a factory, but some final touches are constructed on-site. Additionally, there are dozens of add-on features to choose from during the modular construction process.
Structural framing: Modules are supported by a structural frame. In traditional construction, this framing is wooden, but for modular construction it can be wooden, concrete, or steel (which makes for a stronger, more structurally sound building).
Marriage joints: These are invisible and ensure modules remain fastened together. Construction teams will usually lift and lower these into place on-site.
Siding: Modules are used to create the exterior and siding of a modular building. These modules range between 30' and 72' feet long.
Walls: Often, drywall or vinyl gypsum is used for the interior walls.
Roofing: Modular construction often uses wooden trusses for the roof.
Exterior finishing: Modular buildings will add exterior lighting, glass windows, and doors.
Interior finishing: This can include vinyl floors, ceramic tiles, and more.
Plumbing, electrical, and HVAC: These are often the last things added during modular construction. Even relocatable buildings can include add-ons like bathrooms and HVAC units!
How does modular construction work?
Many who are interested in off-site modular construction want to know how the process works. Modular construction prioritizes the design phase, which happens off-site in a controlled setting. Modular manufacturers use practices like Design for Manufacture and Assembly (DfMA) and 3D printing to prep modules to be assembled securely once they arrive on-site.
Take a look at the steps in the modular construction process and some of the techniques used by modular professionals.
Phase 1: Design and Engineering
During the designing and engineering phase, aka the "pre-planning" phase, modular professionals will map out their design using practices like 3D printing. They will plan for the building's interior and exterior needs and appearances. Additionally, they will think through things like manufacturing, on-site assembly, and transportation needs.
Phase 2: Building, Permits and Approvals
Modular teams will get the building parts together in an off-site factory setting. They can do this efficiently using assembly-line practices and without weather-related delays. Then, they'll perform inspections to make sure the parts are up to code, safe, and secure. Just like traditional construction, modular construction building parts have to adhere to local building codes and regulations. However, since this is done off-site, it speeds up the overall construction timeline!
Phase 3: Site Development and Preparation
Before delivery, a modular construction team will visit the site to prepare it for the delivery of modules. At this time, they'll prep the site grounds and secure the building's foundation. Conveniently this can be done AS modules are being prepared at the factory, which also reduces the project's timeline. The idea is that as soon as the parts are delivered to the site, they are ready to be assembled.
Phase 4: On-site Modular Construction
The modules are delivered to the construction site, at which point the entire construction process is already 95% of the way complete! The team will fit the modules together using the plan they already mapped out during the design phase.
Phase 5: Site Restoration
After assembling the modules on-site, the construction team will restore the site. This includes adding concrete, asphalt, landscaping, and more. The goal is to fix up the grounds that were impacted during the construction and prepare for move-in.
This whole modular construction process takes about 8-14 weeks - or 2-4 months - to complete. Compare this to roughly 6-12 months for traditional construction! Many cut their timeline by 50% when they choose to go modular.
Compare options
If you are looking to do some more research on modular construction for your particular needs, be sure to take a look at our comprehensive Buyer's Guide. This will tell you everything you need to know about buying a modular building!
360Connect is also here to help. Get started for free by comparing prices for modular building suited to your needs! We save you up to 30% with zero obligation to buy.