We associate POS systems with cash registers and complicated electronic systems. You give the customer an invoice, they pay, and it's done. Easy peasy. Not quite.
If you've stumbled upon this article, you are likely looking to buy a POS system, but you're not quite sure how it differs from a restaurant POS system. Maybe you're wondering if they differ at all. And above all, you're trying to determine how a restaurant POS System works. Well, it's your lucky day because, in this article, we'll provide a rundown of those valid questions and more.
KEY TAKEAWAYS:
A restaurant POS system combines traditional POS system hardware and software with additional features needed for restaurant operations. 

Restaurant POS systems offer industry-specific features and benefits that retail POS systems do not.

Restaurant POS systems can streamline a business's internal operations.
What is a POS System?
A POS, or point-of-sale system, combines hardware, software, and services to process transactions. Simply put, it's what's used to collect money from consumers.
Types of POS Systems
There are various types of POS Systems. When choosing a POS system, businesses commonly use four main types of systems: legacy, tablet, mobile, and cloud-based.
How Does it Work?
Customers complete a series of steps to achieve a successful purchase using a point-of-sale system. Most of the time, it works like this:
What is a Restaurant POS System?
A restaurant POS system is a POS system with features tailored specifically to fit the needs of a restaurant's operations. The system can manage:
Online Orders
Offline Orders
Tabletop Customer Orders
Kiosk Orders
Order Management
Inventory Management
Reporting
Analytics
Loyalty Programs
And More
How Does a Restaurant POS System Work?
A restaurant POS system follows the same function as a traditional POS system in terms of how it's designed to process transactions. However, it differs in its use. From processing transactions to tracking inventory, businesses can manage their entire operations with a restaurant POS system.
As seen in the diagram shown earlier, a traditional POS system involves a consumer shopping for a product, buying the product, and completing a transaction. However, this process does not work in the restaurant business. Check out a detailed view of how a restaurant POS system works below.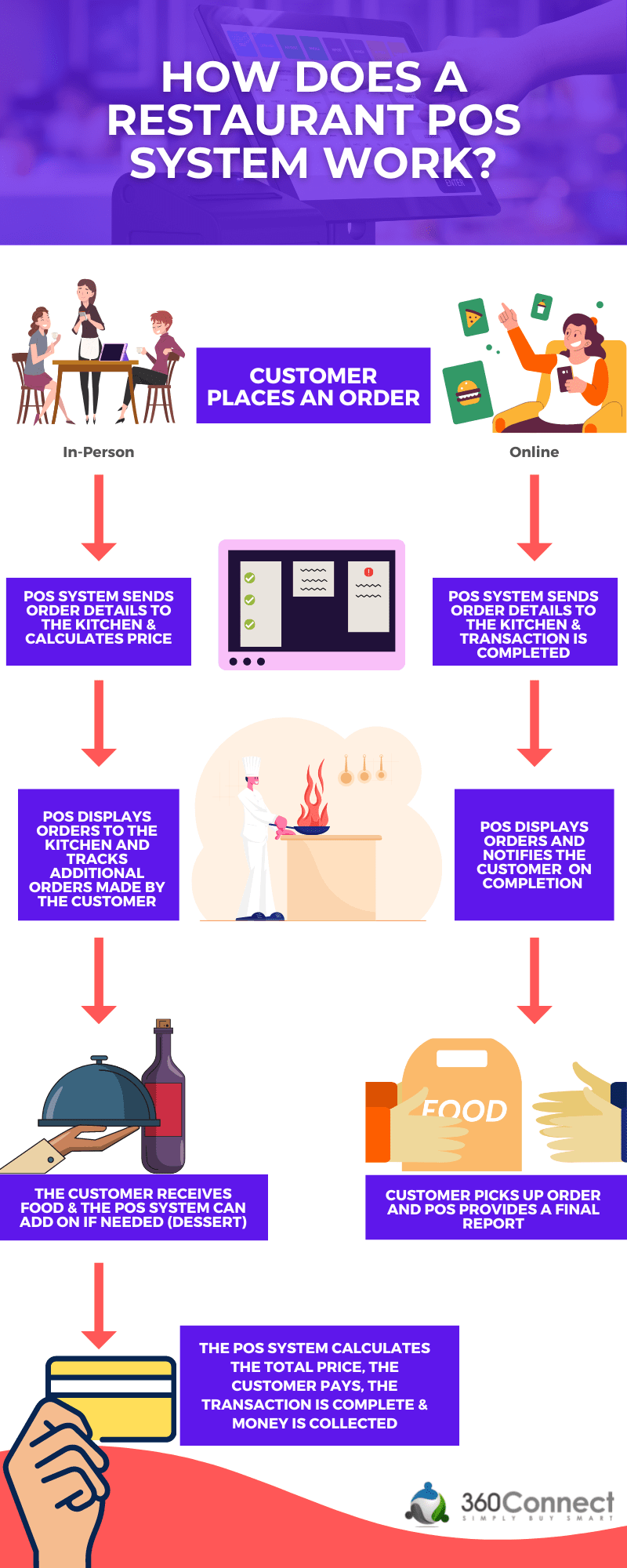 Breakdown
The system is designed with a restaurant's operations in mind. The process will depend on the POS device implemented, but typically the process will look as shown below.
Order
First, the customer will start their order, and the system will store and begin to calculate the invoice.
Kitchen Prep
Next, the system will streamline communication between the waitstaff and the kitchen.
Inventory Management
As orders are being made the POS system will track inventory making it easy for waitstaff and the kitchen to let customers know when items are no longer available. In addition to making ordering needed supplies easy.
Transaction
The system will have already calculated the price, and the transaction can be completed.
Functionality
The functionality of a restaurant POS system allows orders to be tracked and added as the customer and wait staff see fit. Indeed, let's dive deeper into the functionality.
Sales & Ordering
A restaurant POS system can track sales and orders on one system. The waitstaff or the customer can input their order. Meanwhile, the POS system calculates the bill and keeps track of additional transactions. Once ready to pay, the waitstaff or customer can complete the transaction using credit, debit, or card.
Track Inventory
Gone are the days of needing to keep track of inventory on a piece of paper. Instead, the POS system keeps track of inventory as orders are completed. Each ingredient used in each dish is tracked accordingly and as supplies lower, items are removed from the menu.
Manage Your Team
POS systems can track employee performance and when they are working. The system can track how long each waitstaff member takes on orders or even how long the kitchen takes. It helps you gain beneficial insight into your team to help them improve. In addition, you can track busy hours and shift schedules accurately.
Reporting
Sales, orders, inventory, waitstaff performance, and more can all have data reports using a restaurant POS system.
Hourly and weekly sales reports
Low inventory reports
Menu item performance
Hourly and weekly sales reports
Additional Features
Unlike traditional retail POS systems, restaurant POS systems include additional features specifically for customers. This includes loyalty programs where customers can gain points and deals on restaurant items and game displays to keep customers busy and engaged while food is being prepared.
3 Common Restaurant POS Systems
There are generally three types of systems that are available in the restaurant industry today, which include: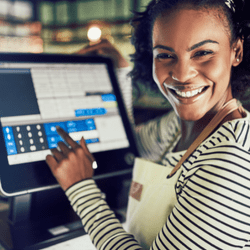 1. Desktop POS System
A desktop POS system is typically found at the front of a restaurant. Undoubtedly, it's a direct replacement for a traditional cash register and is mainly used by waitstaff to checkout customers.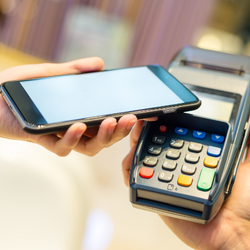 2. Mobile POS System
A mobile POS system is any device that can operate from anywhere. Furthermore, they are usually smaller devices, like a smartphone or tablets.
3. Kiosk POS System
Kiosk POS Systems have come to be known as something only seen at restaurants. They allow customers to order and track their food. Moreover, they streamline the process for waitstaff and the kitchen.
Top Restaurant POS Systems to Consider
Based on various top lists and reviews of POS systems, your restaurant could benefit from the following highly recommended restaurant POS systems.
Toast POS
Toast is highly-regarded as a system designed specifically for restaurants. Key features include inventory tracking, kitchen communication, mobile ordering, and more. It's an easy-to-implement system that is best suited for small to medium-sized restaurants.
Square
Square is a popular mobile payment processing system among different industries, making it a good fit for those in the restaurant business. Features include standard POS components in addition to restaurant-specific needs like inventory and table management. Indeed, it is best suited for restaurants just starting.
Clover
Clover also offers systems that cater to various businesses but are still a top contender for many in the restaurant business. Key features include employee scheduling, bill splitting, table management, and more. It's best suited for small restaurants on a budget.
Cost
When learning about how a restaurant POS system works, the cost of it is probably at the top of your mind. The cost will come down to the hardware, software, and support level you are needing for your business. So, without the cost of hardware, the average price of a restaurant POS system is between $49 and $150 per month. Hardware on its own is a one-time fee that on average ranges between $400 and $2,600.
In Need of a Restaurant POS System?
Now that you know how a restaurant POS system works, the next step is choosing a system. Finding the right service for your restaurant can be daunting. With so many choices, it can be hard to narrow down the right choice for your business's needs and budget.
That's where 360Connect can help. 360Connect does the hard work for you and connects you with suppliers who provide just what you're looking for, and in many cases, even more! Just fill out our 1-2 minute form, and you'll receive FREE quotes for restaurant POS systems in your area!