There is a debate today between traditional vs. prefabricated construction (aka modular construction) for both commercial and residential building needs. When people need to put up a new building, they often ask: "Which is better, traditional construction or modular construction?" This is a valid question, since nowadays, traditional and modular buildings are parallel in terms of quality. Additionally, more and more modular buildings are popping up around the world! 
360Connect is addressing this debate by comparing prefabricated vs. traditional construction. We will discuss major areas like construction process, foundation, design, cost, construction speed, weather risks, building code compliance, safety, and sustainability.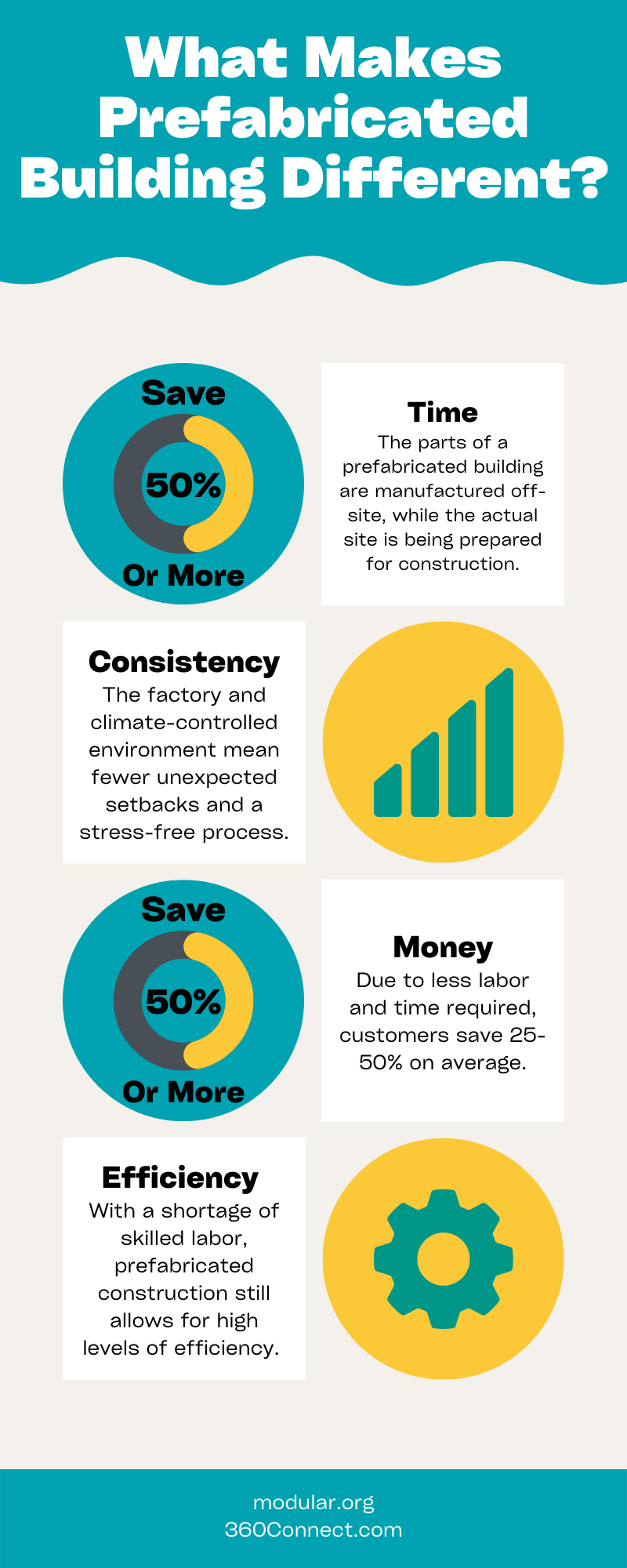 Process
The key distinction between prefabricated vs. traditional construction is the way building parts are assembled.
Traditional construction uses building parts to assemble and construct the building only once on-site. Builders build from the ground up, and foundations, walls, roofs, etc. are created at the construction site.
Prefabricated construction uses a process where building parts (aka "modules") are constructed prior to arriving at the site at a controlled factory to assure quality and safety. Modules can be used to create interior and exterior finishings. Then, the parts are transported to the construction site, anchored to the existing foundation, and assembled in a timely fashion.
Foundation
One of the main differences between prefabricated vs. traditional buildings is the foundation.
Traditional construction (aka "stick-built" buildings) uses a foundation that is built on-site using holes in the ground, concrete, and wooden piers. On the other hand.
Prefabricated construction uses pre-constructed parts that are lifted by a crane onto a permanent foundation. Then, they are anchored into the ground, usually using steel straps.
Both forms of construction create foundations that are proven to be sturdy and safe.
Cost
It is well-known that a huge benefit of choosing modular construction is that it is more cost-efficient than traditional construction.
Traditional construction costs can add up due to things like various building parts, labor time, labor shortages, weather conditions, and other unknown variables.
Prefabricated construction cuts costs by having 90% of its manufacturing done in a controlled factory environment. There are many ways to reduce spending, such as using standard modules for building parts, avoiding harsh weather conditions, reducing labor time, and avoiding issues like labor shortages.
Industry leaders estimate that choosing modular over traditional construction can save you 20% or more on overall building costs.
Design
Both modular and traditional construction methods offer different design options.
Traditional construction is extremely adaptable to custom designed because it uses parts that are constructed on-site.
Prefabricated construction's modules involve some limitations in terms of design. However, modules are known to be very versatile and can take on tons of different designs. You can work with your modular supplier to discuss design options to make sure you are happy with the plan before getting started. Modules are also known to assume modern, forward-thinking designs, which is great for those with contemporary taste.
Also keep in mind that both traditional and modular construction can support building additions down the line. You can design both modules and traditional building parts to match your current building exterior.
Construction speed
Modular construction is known to speed up construction time by as much as 50%. This makes it a very appealing option, especially since shorter construction time means reduced labor costs.
Traditional construction uses on-site construction workers and craftsmen, who have to figure out how to assemble building parts as they go. This takes more time compared to bringing prefabricated parts to the site. There can also be delays such as weather conditions and the need to acquire additional parts during the project. Traditional construction usually takes 6-16 months to finish.
Prefabricated construction reduces construction time significantly. The modules can be quickly and efficiently fastened together on-site, after most of the work is handled off-site. You don't have to worry about delays like weather or other unpredictable issues when choosing modular. Usually, modular construction can be completed in 6-8 weeks or less.
Weather/Seasonal Risks
Weather and other seasonal issues can set traditional construction and modular construction apart.
Traditional construction is completed entirely outside. This means it faces risks and delays such as inclement weather (rain, slow, thunderstorms, extreme heat, and extreme cold), off-seasons for construction, and vandalism. During certain conditions, traditional construction cannot resume until it passes, which can delay the project and incur more costs.
Prefabricated construction avoids outdoor risks by completing 90% of the construction process off-site in a controlled indoor environment.
Building Permits, Codes, and Regulations
Both traditional and prefabricated buildings are obligated to follow national and local building laws. No matter whether the building is traditional or modular, it has to have building permits as well as follow local codes and regulations. For instance, both buildings must follow:
Foundation and building permits
Mechanical permits
Electrical permits
Plumbing permits
Road opening permits
Water/sewer tap permits
Fire suppression permits
So, there is no difference between the two in terms of compliance requirements. Your supplier will be well-trained and familiar with local regulations before getting started. However, modular building parts can be approved by inspectors off-site before arriving at your site. This saves a lot of time and keeps costs down.
Safety
Both traditional and prefabricated construction use a safe process as well as building parts that are verified as safe. Testing parts for safety may take longer for traditional construction compared to testing in a controlled environment.
Traditional construction involves testing and refining parts for safety as the construction project moves forward.
Prefabricated construction involves a process of testing, refining, and approving modules in a controlled factory for safety. Modules are designed to be as safe as possible in terms of building parts.
Sustainability
Modular construction is known to be a more environmentally sustainable construction method compared to traditional construction. Prefabricated construction reduces a building's carbon footprint by using sustainable modules. Modules make better use of materials, are more cost-effective, and do not create as much wastage compared to traditional construction.
Learn More
To learn more about modular buildings, make sure to look at our guide to prefabricated/modular buildings as well as our comprehensive modular building buyer's guide! Also be sure to check out our list of the top commercial modular building companies.
Need a modular building for a particular industry? Read more about modular construction for:
Want to get a free quote on a modular building for your needs? Just use our complimentary service to compare quotes from up to 5 suppliers and save up to 30%!