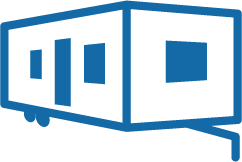 A mobile office trailer is a flexible and cost-effective solution to suit the need of almost any work space. Pre-manufactured and portable, mobile offices can be available quickly and come with available features such as plumbing and climate control. Whether you are looking for something temporary or permanent, mobile office trailer suppliers can satisfy most needs.

Sizes
When deciding on a size for your mobile office, you have plenty of choices, including small, mid-, and large-sized units. Learn more about some of the most commonly used sizes:
Popular Add-on Features
One of the biggest perks of renting or buying a mobile office is the option to add tons of features, to make it as comfortable as possible! We're here to help you consider some of the most popular add-on features:
Renter's Guide
Shopping for a mobile office to rent can be confusing. Our comprehensive Renter's Guide will help you make the right decision and save money.