Mobile Office for Rent
Renting a Mobile office – or pre-manufactured portable offices – are becoming very popular among professionals in a multitude of industries because of the convenient, affordable, and time-sensitive solution they provide for businesses looking for temporary work or storage space. There are several reasons you may want to opt for a mobile office, including:
Gaining additional storage space for your business – say, during a busier season
Utilizing a portable and flexible work environment
Relocating temporarily while you complete a building project, so you can avoid "closing shop" and losing money
Setting up a construction site for a project that spans several months
No matter your need, one of the great things about mobile offices is their flexibility and scalability – meaning, there are any number of customizations and size options available, depending on your business's needs, and suppliers can work with you to accommodate. Additionally, the supplier will deliver the mobile office right to your worksite, and once you're ready to move on from the temporary space, the supplier will remove it from your site for you. In other words, it takes little to no work to install and break down, and the delivery time is quick!
It makes sense for many different types of business to look into renting a mobile office, but some of the more common industries to utilize one include:
Construction – may need temporary onsite offices for contractor and builders
Government – sometimes require an administrative office or document/record storage
Medical – can need a portable, scalable lab, place to store medical records/documents, or additional administrative offices
Education – schools building, expanding, or renovating may need temporary classrooms or faculty offices
Retail – may require additional offices and/or inventory overflow space
1. Why Rent?
While suppliers offer the option to purchase a mobile office outright, the choice to rent is far more common. Why? Most businesses looking for portable office space are doing so to solve a temporary space or storage issue. For instance, a business may rent a mobile office while they plan to move into a bigger building or permanent workspace. And while the portability of a mobile office is convenient, not every industry requires it to operate.
The top factor in determining whether it's more sensical to rent or buy is how long you need the additional workspace. The average length of use for a mobile office can range from 9 to 24 months, though office trailers can be used for up to 3 years. However, after 3 years, or if you need a large amount of space with several floors, it usually makes more financial sense to purchase the unit or consider a modular building.
While it's good to approximate the duration of your mobile office contract, keep in mind that most suppliers offer month-to-month contracts, so you can terminate when your need for the mobile office is complete. Generally, you can expect to pay $200-$900 per month, depending on the size and features you're requesting, as well as your geographical location. Additionally, most suppliers require a minimum of a three-month contract. So as long as you know you'll be needing the office anywhere between 3 months and 3 years, and you won't be needing the portable office forever, it probably makes sense to rent.
2. How Much Does a Mobile Office Cost?
As mentioned, the typical monthly premium for a mobile office is between $200-$900, depending on the size and features you're looking for.
Here's a typical price breakdown by standard office size (remember, this doesn't include add-on features, which can raise the premium price):
Small trailers = $200 to $400 per month
Mid-sized trailers = $300 to $500 per month
Large single-wide trailers = $500 to $700 per month
It helps to know that the price is also affected by region and demand. For instance, there tends to be higher demand on the east and west coasts (compared to the Midwest and South), and you can expect premiums to fall on the higher end of the spectrum in those regions. Additionally, since mobile office suppliers often cater to the construction industry, Spring and Summer (busy months for construction) usually means higher premiums. Quick tip: booking your mobile office for the Fall or Winter can often save you money.
Besides the monthly premium for the office, expect to pay delivery and removal fees at the beginning and end of your contract. Some suppliers also charge a set-up fee, in addition to delivery. Delivery and set-up can cost as much as $1,000- $1,500 depending on the distance of the supplier to your site. Tear-down can cost between $300-$1,000, depending on office size and the condition of your site. A couple ways to save money: find a local supplier to cut down on delivery fees (the closer they are, the less you spend), and compare about 5 different quotes (including delivery, set-up, and tear-down fees) before deciding to do business with a supplier, since prices vary.
3. What Sizes are Available?
One of the great perks of a mobile office is the ability to choose from a variety of sizes and layouts. You can opt for a single office setting (if it's just you or it's for a classroom), open storage space, multiple offices (if it's you and other employees) including break rooms and bathrooms, and more.
Single-Wide
The most common mobile office size is the single-wide unit. Generally speaking, the single-wide unit provides enough space for one private office and an open area that can be used either for storage, another smaller office, or a cubicle-like layout. Typically, a single-wide unit can accommodate between 1-6 workers comfortably, depending on the square footage. Single-wide dimensions can include any of the following:
| | |
| --- | --- |
| 8'x20' | 160 sq ft |
| 8'x28' | 224 sq ft |
| 8'x32' | 256 sq ft |
| 8'x36' | 288 sq ft |
| 10'x44' | 400 sq ft |
| 10'x50' | 500 sq ft |
| 12'x32' | 384 sq ft |
| 12'x44' | 528 sq ft |
| 12'x56' | 672 sq ft |
| 12'x60' | 720 sq ft |
| 14'x45' | 630 sq ft |

Double-Wide
Double-wide units are typically two single-wide units welded together to create one larger, less narrow unit. Double-wides can have up to four separate areas, over 2,000 square feet, and usually have a large open area. Many double wide units also include a kitchen and break area.
Common dimensions include:
| | |
| --- | --- |
| 24'x44' | 1,056 sq ft |
| 24'x56' | 1,344 sq ft |
| 24'x60' | 1,440 sq ft |
| 28'x70' | 1,960 sq ft |
| 28'x74' | 2,072 sq ft |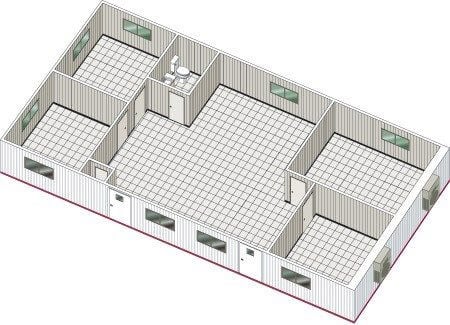 Triple-Wide
The triple-wide unit is the least common, mainly because of its size. Normally, the more space that is needed by a business (say, over 3,000 square feet), the more time they tend to need the space, making modular building a more suitable option. Regardless, if you need a large space temporarily or have around 20 employees to accommodate, the triple-wide is your go-to. These units consist of three single-wide units welded together to create an extra wide space. Set-up for this size may take a bit longer, since it each individual unit usually has to be delivered separately, then attached once onsite.
The most common dimension for a triple-wide is the following: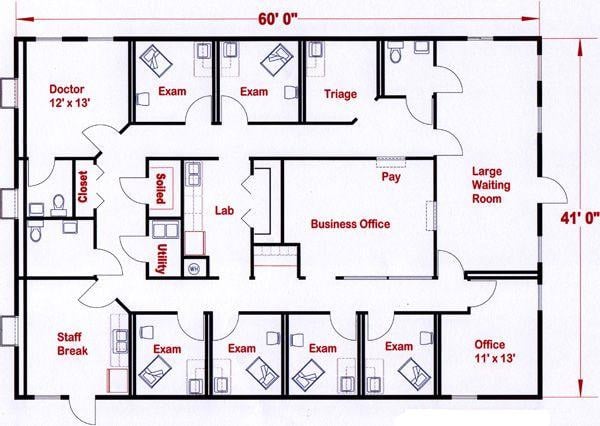 4. Which Size is the Best Option for My Business?
Other than the space you need, other factors to think about when choosing size are your budget, how many individual/private spaces you want, and the size of the site for your building.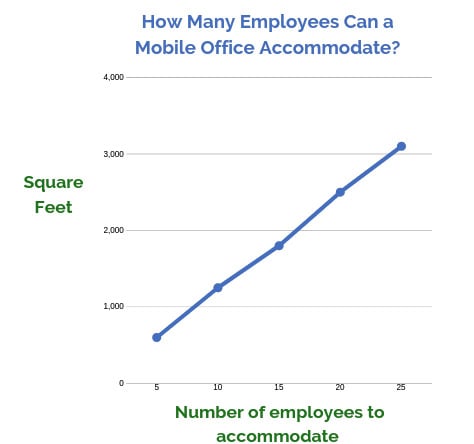 For instance, if you're on a tight budget and you have around 5-6 employees to accommodate, keep in mind that you can make a single-wide work by sacrificing doors and private areas. However, if dedicated office spaces and conference rooms are a must, a double-wide might be worth the investment. Additionally, keep in mind that the plot of land where your office will be located must be able to situate the office, especially when considering a larger unit.
5. Which Add-On Features Can I Choose From?
The good news when deciding on additional features for your mobile office is that standard units, more often than not, include the basics - windows, lighting, vinyl floors, and HVAC units. Most now even include bathrooms! There are additional features to add-on to enhance the unit or cater it to your business needs. Even though add-ons usually boost the monthly premium price, if you choose your features modestly you should be able to keep the monthly cost within budget. Common choices for add-ons include: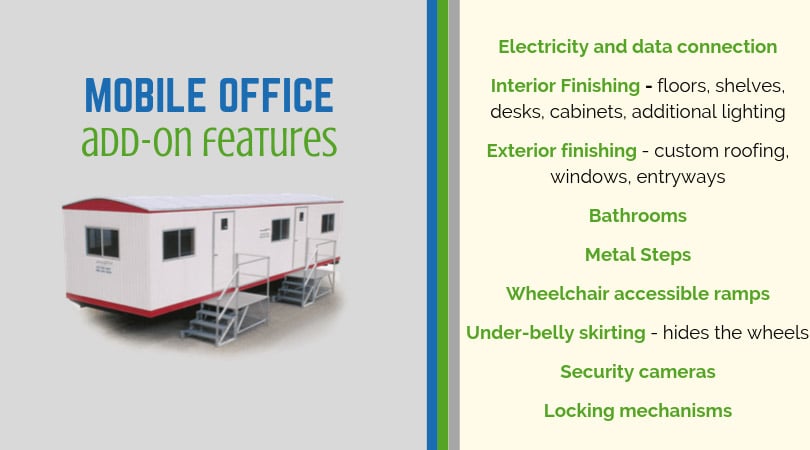 Keep in mind that most mobile offices are not at ground level (although ground-level offices are another product you can explore to save money), so most people choose to add either a ramp or stairs to their office. Fortunately, stairs usually only cost between $20-$50 to add. Additionally, you'll most likely want to hook up electricity and utilities, which can add $200-$400 to your start-up cost. Higher end features (such as metal skirting and security cameras) can cost you hundreds more.
Another thing to be cautious of is adding too many features, to the point that your monthly premium over your contract time (x months) ends up being more than purchasing the unit outright. For instance, if your add-ons result in a $1,000 monthly premium and you're looking to rent for 24 months, you're paying $24,000 not including set-up and tear-down fees, and many mobile offices only cost around $20,000-$25,000 to buy.
Of course, features vary in add-on price, relative to your monthly premium, and some are way more cost-effective than others. However, one exciting part of customizing your mobile office is that you can essentially design it the way you want, and many with interior and exterior finishing even appear like a traditional building!
6. How Do I Choose a Supplier?
Since there are so many options out there and you have limited time, it's not the easiest process to choose the best supplier for your company's needs. Even if the first supplier you speak to seems to have everything you're looking for, it's best to compare a handful of prices, options, and contracts, so that you know you're paying the best price for the best quality product. While you don't need to call up tens of suppliers, asking the same set of questions to 3-5 suppliers and comparing their offerings is a good idea before making a final decision. Here's a few helpful questions you might consider asking when on the phone receiving a quote:
What is the condition of your mobile offices? Do you offer a range of conditions? (new, used, refurbished, etc.) Where do you store your mobile offices and under what conditions (covered facility, outdoors, mild/harsh weather, etc.)?
What are your different contract lengths, and how does the price vary by term? Do you offer any discounts for longer terms
How much notice do you ask before I terminate my contract? (especially if you're opting for month-to-month)
What is your delivery fee?
How long does it take for the MO to arrive on my site once I place an order?
What coverages (damage, theft, dysfunctioning features) do you promise while under contract?
What are your damage insurance options and how much extra do they cost?
What is your process for returning or removing the container?