Having worked with office copier buyers for over 12 years, many ask us: how much does an office copier cost? There's a good reason for this! Although the workforce is becoming more paperless and digital than ever before – still, 44% of American businesses say they use on paper on an everyday basis. The truth is, the majority of office spaces use copiers and will keep doing so for a good while.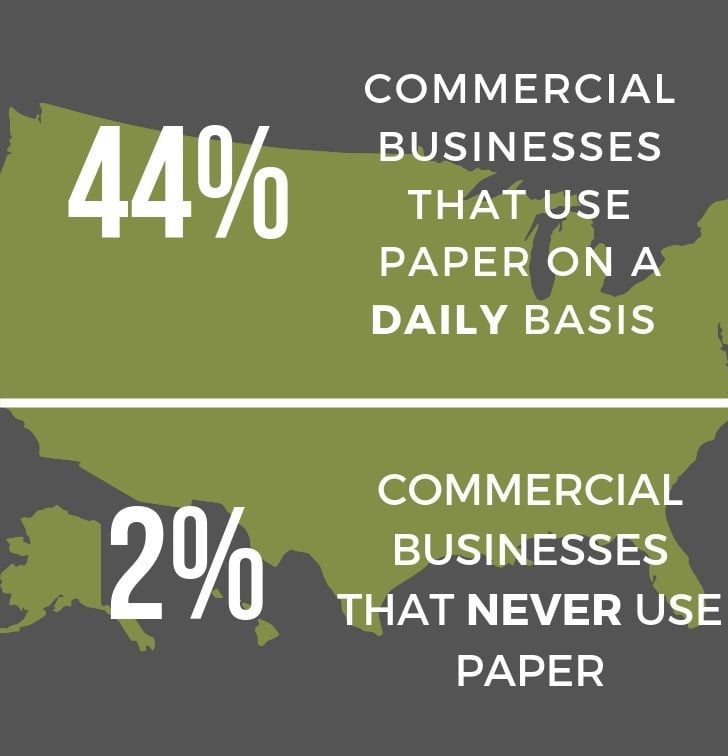 But budgeting for an office copier isn't as simple as it may sound. For one, the sheer variety of copiers on the market can make starting your search confusing. Secondly, you want to avoid over- or under-buying as to avoid issues with the copier investment down the road. We all have those memories working with outdated copiers that malfunction, take too long, waste paper, jam, etc. In fact, about 15 percent of business revenue in America is wasted on document- and print-related inefficiencies. To make your investment a worthwhile one that helps your business in the long run – not only with regard to printing and copying, but also avoiding unnecessary print expenses and maintaining revenue – you want to think through your purchase in advance.
To start, we recommend analyzing the following costs before making a final decision:
A. UPFRONT COSTS (Functions to Consider)
Your upfront costs for your office copier will pertain to the type of copier you decide to go with and its inclusive functions. Ask yourself why your business needs a copier in the first place… what do you plan to use it for? What are the most important functions it must have?
If you are working under a strict budget, it's a good idea to create a priority list of functions to determine which device will be the best fit for your company. These days, you can find a copier that streamlines a slew of office functions – printing, scanning, sorting, faxing, and more. Which functions will be the best for your employees' productivity? Here are just some of the functions to consider:
1. SPEED/VOLUME (PPM)
How much do you usually need to print on an everyday basis and how quickly do you need it done? Speed and volume are some of the most important features to consider when making a decision on a copier. It will depend on the size of your company and number of employees, how fast paced your office environment is, how reliant your employees are on printing/copying, which industry you are in, etc. These factors will determine if you need to print large volumes quickly, and whether it makes sense for everyone in the company to share one device. To give you an idea, many small businesses will be comfortable with 15-35 PPM. But keep in mind that these speeds are based on single-sided copies of typical size paper. If you will be doing a lot of double-sided or large printing, the speed will be slower. A good plan is to estimate how many pages your company produces monthly and determine your PPM from there. And here's a tip: if you currently use a copier, sometimes you can check the gauge to find this number.
| Speed | Typical Use | Price Range |
| --- | --- | --- |
| 20 ppm or less | Small or home office (less than 5k copies per month) | < $2,000 |
| 21 – 35 ppm | Small offices or work groups (less than 10k copies per month) | $2,000 – $20,000 |
| 36 – 50 ppm | Mid-sized offices (less than 20k copies per month) | $20,000 – $40,000 |
| 51 – 65 ppm | Large Offices and Copy Centers (less than 50k copies per month) | $40,000 – $60,000 |
| 66 – 80 ppm | Corporate Copy Centers (less than 100k copies per month) | $60,000 – $80,000 |
| 81+ ppm | Production Print and Copy Centers (100k – 200k copies per month) | $80,000 + |
2. SIZE
It may seem obvious, but this makes a big difference! Consider the size of your office and how much space you can afford to give to the copier. Where do you plan to keep it? Generally, the smaller the copier, the more limited functions it can do. But if your office is low on space and you still require multiple functions, you might consider opting for several smaller devices. Remember, you want to avoid too many employees sharing one small device, causing it to get backed up and run slower.
3. CONNECTIVITY
Digital copiers usually have software compatibility and can connect to employee computers (or even smartphones!) through an internal WiFi network, but they're limited in how many computers they can connect to at once. You'll need to first decide whether or not you want wireless printing options. Then, factor in how many employees plan to use the copier and how often. If several employees plan to use the copier throughout any given workday, you'll need higher connectivity to avoid reducing workflow.
4. FUNCTIONALITY
Do you need a stand-alone copier or a multi-function printer (MFP)? Many companies are now streamlining their print functions to save money and office space, as well as bolster multitasking. This can be a great option if multiple employees from different departments will be sharing the device but need it for different reasons. Many high functioning copiers will be able to scan, scan to email, scan to cloud, connect with business email, fax, edit images, produce branded watermarks, print on both sides, collate pages, change the printing scale, staple pages together, and even translate into different languages! But maybe you'd rather keep it simple, or you're satisfied with your current printer and just need to add a copier. Either way, you'll get to decide.
5. MEMORY
Many digital copiers have the option to retain document information on an internal drive, which can be great for retaining important company documents. But, if you opt for lesser memory to save money, note that insufficient memory will result in slower output. The copier may be unable to complete larger copy jobs in one run. If your company needs to save a large volume of files internally, you should choose a copier with large memory.
6. SECURITY
If you're a company with sensitive and/or confidential documents, security is an important function to consider. Some copiers offer security and privacy options, so you don't have to worry about sensitive documents being unprotected from network security threats, data breaches, hackers, etc. For instance, many digital copiers require users to enter a code before they make copies, which should prevent unauthorized usage. Many machines can also hold faxes or documents in memory until the correct code is entered, then print them. This prevents sensitive documents from being left in the output tray for unauthorized persons to view.
7. COLOR OR BLACK-AND-WHITE
Choosing a color vs. a black-and-white copier depends on what you are using your copier for. Many marketing teams, for instance, depend on a color printer to display their brand and attract clients (consider that retention of a brand is up to 82% higher when presented in color!). Employees may also need to print or copy presentations and/or images. Maybe you'd prefer to save money by going with a black-and-white copier. Consider your budget and daily practices with the copier when making this decision. For example, if you choose a black-and-white printer only, do you plan to outsource color copies? This should get factored into your budget, as well.
8. INKJET OR LASER
Normally, inkjet copiers are cheaper options upfront and better for printing in color, but the catch is that they're slower and more costly to maintain in the long runif your company prints often. This is because inkjet copiers use ink toner, which can't produce as many copies and can be pricy to replace frequently. A good estimate is that one $30+ cartridge produces 1,000 copies (whereas a laser cartridge can produce up to 15,000 copies). In terms of cost per page, laser is usually the more cost-effective option. So, if you plan to print more than 1,000 copies per month, laser is probably the right choice.
9. NEW, USED, OR REFURBISHED
It goes without saying that a new copier is going to be the costliest option upfront, compared to a used or refurbished machine. Used will be the cheapest option, but it will be sold without repairs, updates, maintenance, or warranty, so its condition is not guaranteed. You would have to assure the device is in working condition and will function properly for the amount of time you need it. Refurbished copiers on the other hand, have been tested, cleaned, updated, and normally come with a warranty. Usually, they've only been used prior for three months or less, and you can avoid breaking the bank by purchasing a brand-new machine.
B. ONGOING COSTS
When making your decision on a copier, you should remember that your payment doesn't end once you pay the out-the-door price on the machine. Copiers require regular upkeep and maintenance, which means additional monthly costs should be factored into your budget. Here are the top 3 ongoing costs to consider before you choose a copier that's right for you:
1. BUY OR LEASE
Choosing to buy or lease your copier is a very important decision and will certainly impact your budget. The key component you want to consider – in terms of your budget – is whether you'd rather have a higher out-the-door cost, or whether you want to spread the cost over a few years. When you lease a copier, instead of paying the whole cost (usually thousands of dollars) up front, you make smaller, regular monthly payments, which is great if you don't have enough money laying around to purchase a new unit! Other perks of leasing include maintenance packages and easier replacement/ upgrade options. At the same time, over the time you lease the copier, you end up paying more in the long run. Before leasing, make sure you review the contract in depth - and review these 5 common mistakes to avoid.
2. SUPPORT AND MAINTENANCE
Do you have an internal IT department who would be prepared to troubleshoot any potential copier issues? Would you need a contract with a maintenance company? Keep in mind that this can, if neglected, cause you to spend lots of money not factored into your budget originally – especially if you choose a used or refurbished machine. As mentioned, leasing a copier usually gives you some peace of mind in terms of maintenance, since it is usually included with the deal. If you do have to go with a maintenance contract, make sure you research the company's response time and read the policy thoroughly so you can make sure you'll have the attention you need, when you need it.
3. OFFICE SUPPLY UPKEEP
Of course, having a copier means you will regularly need to order office products – including paper, toner cartridges, developer, staples, fuser oil, etcetera. These purchases can drive up your overall cost over the copier's lifespan. If you choose to work with a Managed Print Service (MPS), you'll be able to get regular shipments depending on your company's needs. Some leasing agreements also include regular shipments and can be a good way to save money over time.
All in all, the budget for your copier will revolve around…
Upfront costs of equipment and copier functions
Purchase or lease price
Ongoing supply orders
Service agreements (ie. monthly) or one-time maintenance charges
Life cycle of machine (ie. technology depreciation)
When in doubt, you can always turn to an expert consultant in the office equipment industry for assistance in making a final decision. Here at 360Connect, we've been working in the industry for 12 years, helping buyers make the best decision for their business's needs, and saving them time and money while doing it. By starting your search with us, you tell us what you're looking for (or ask us to advise!), pay nothing, and sit back and relax while we find the best suppliers in your local area to accommodate you. Visit us online and fill out our zero-obligation form and let us know how we can help your business. We are focused on your success!

Remember that for the best buying experience possible, we recommend comparing just 3-5 different suppliers and what they have to offer (don't over-complicate the decision by comparing too many options!) and prepare for your call with these tips to get the most out of your phone call with each supplier.