As VoIP is now the most popular phone system option for all types of businesses today, when you're ready to make the switch it can be tricky to pick a provider. There are tons of top-rated business VoIP phone system providers on the market today, and it can seem like they offer similar options at competitive prices. For instance, a majority of top business VoIP providers today offer unified communication features and cloud-based options for remote connectivity as well as hosted options for office settings. 360Connect is here to help you narrow down your options with our list of the top 5 business VOIP providers in the industry.  For your convenience, we have included pros and cons of each top 5 provider, as well as which types of businesses each provider best serves.
Related: 8 Steps for Choosing the Right VoIP Provider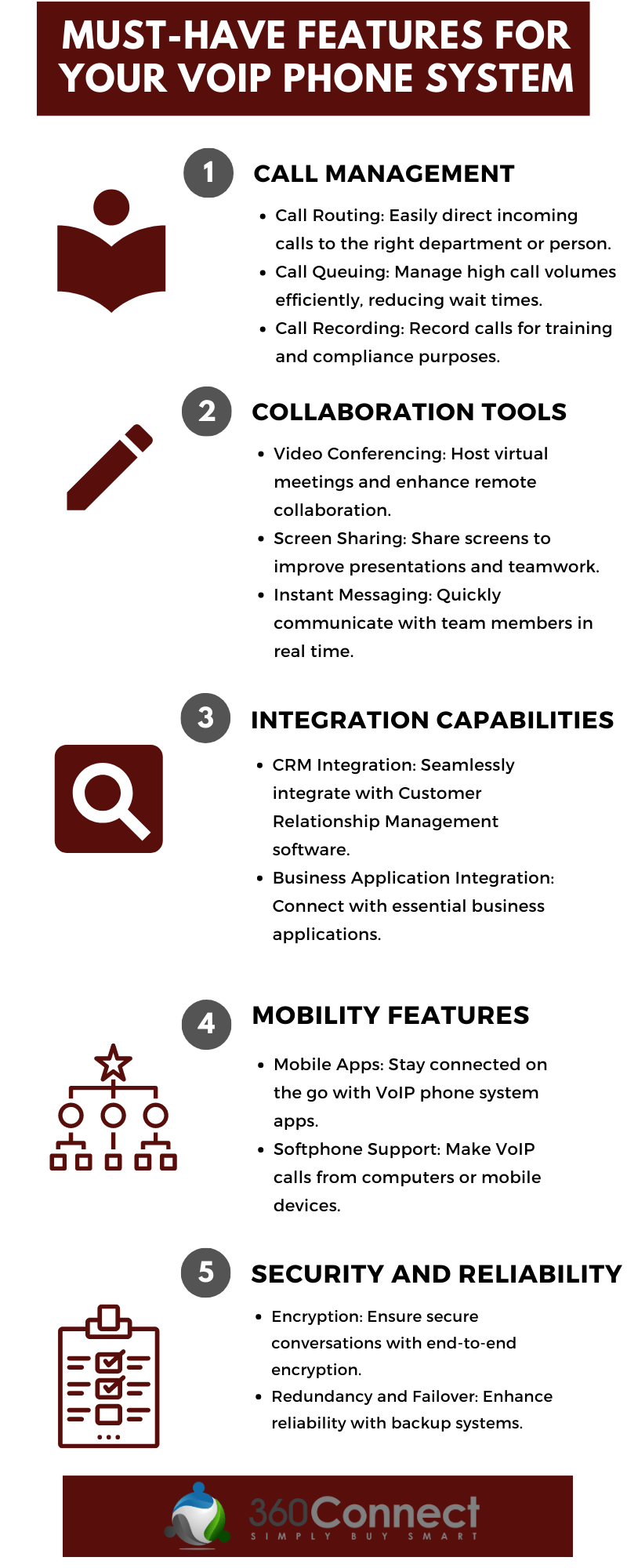 #1 Pick: Nextiva
Pro: All-inclusive phone system with a great customer support system
Con: Some customers find user interface to be confusing
Best For: Businesses who want flexible features and a robust support system
Mobile App: Yes
Equipment Offered: Yes
We have chosen Nextiva as the top business VoIP phone system provider since they are well-known as an industry leader with great VoIP solutions. In addition, Nextiva provides tons and tons of resources for its users, in addition to a great customer support system to ensure their customers are having a positive experience. For instance, their website includes helpful webinars, guides, and an interactive live chat feature for customers.
Nextiva's all-inclusive VoIP phone system offers everything from a mobile app, easy-to-use browser interface, phone equipment for office needs, and unified communication features for any type of business. Nextiva offers easy collaboration between teams, including team chat, video and audio conferencing, screen sharing, file sharing, call analytics, integrations, and much more.
Nextiva has VoIP solutions catered to small businesses as well as enterprise level businesses. Their pricing plans start at $19.95-$27.95 per user per month. Nextiva has different tiered plans for various business needs, including "Essentials," "Professional," and "Enterprise" plans.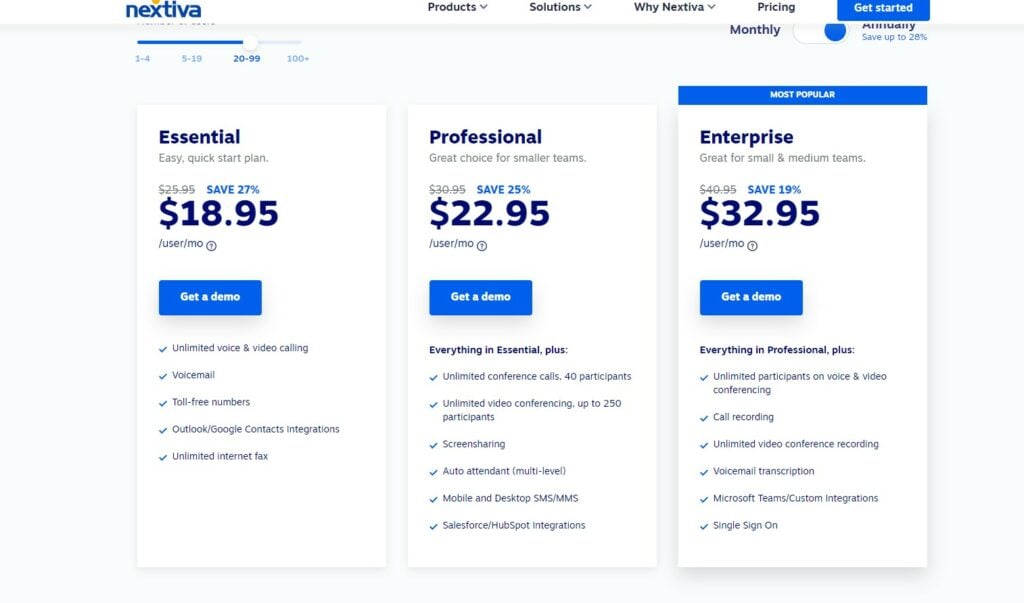 If you are considering Nextiva as your business VoIP provider, make sure to compare Nextiva with RingCentral.
#2 Pick: Vonage
Pro: Attractive, easy-to-use interface; great for both tech-savvy users
Con: If your team wants "just the basics" with your VoIP system, a more minimalistic provider might be better
Best For: Tech-savvy companies and companies that can utilize robust features
Mobile App: Yes
Equipment Offered: Yes
We have found that Vonage for Business is the second top business VoIP phone system provider in the industry. Vonage is a reputable brand name with positive online reviews from customers. Vonage offers great unified communication solutions, which include cloud-based features such as voice calling, SMS messaging, team messaging, digital fax, virtual assistant, and social meetings, with 99.99% uptime. In fact, Vonage offers over 50 high-tech communication features with an attractive and easy-to-use interface, both for mobile and desktop. Additionally, if you work in an office setting and prefer phone system equipment such as deskphones, handheld phones or conference intercoms, Vonage has you covered.
Another plus of Vonage is that if you have a tech-savvy IT team internally and want to do more than the basics with your phone system, Vonage has developer options to boost the quality. Vonage's pricing and plans are based on whether you just want a mobile solution or if you need more robust features (such as call analytics). Their "Mobile Only" plan starts at $19.99 per user per month, whereas their "Premier" plan starts at $39.99 per user per month. Note that even their highest tiered plan costs less than many of their other competitors' high-tier plans.
If you are interested in using Vonage as your business VoIP provider, we recommend comparing Vonage with RingCentral.
#3 Pick: RingCentral
Pro: Best business phone system for business that plan to grow and expand
Con: Adding robust features can be costly, and some users complain of poor call quality
Best For: Businesses who need flexibility and scalability
Mobile App: Yes
Equipment Offered: Yes
RingCentral is one of the most widely used business VoIP phone systems on the market, which is one of the reasons why it makes our top 3. This provider also offers very flexible options in terms of features, pricing and cloud vs. hosted systems, so that businesses of all types and sizes can find a plan that fits their budget and needs. RingCentral also offers solutions geared toward specific industries such as education, healthcare, and tech companies. For instance, they offer HIPAA compliant and telehealth-friendly phone systems for doctors, who may need to take calls remotely. However, it's worth noting that according to many online reviews of RingCentral, customers sometimes complain of poor call quality.
RingCentral's pricing ranges from $19.99 per user month to $69.99 per user per month. Their pricing plans depend on the features your business includes with your phone system. For instance, if you need a 50+ person conference calling feature, you will need to pay more with RingCentral compared to only needing 5 people per conference call. Browse RingCentral's pricing and plans here.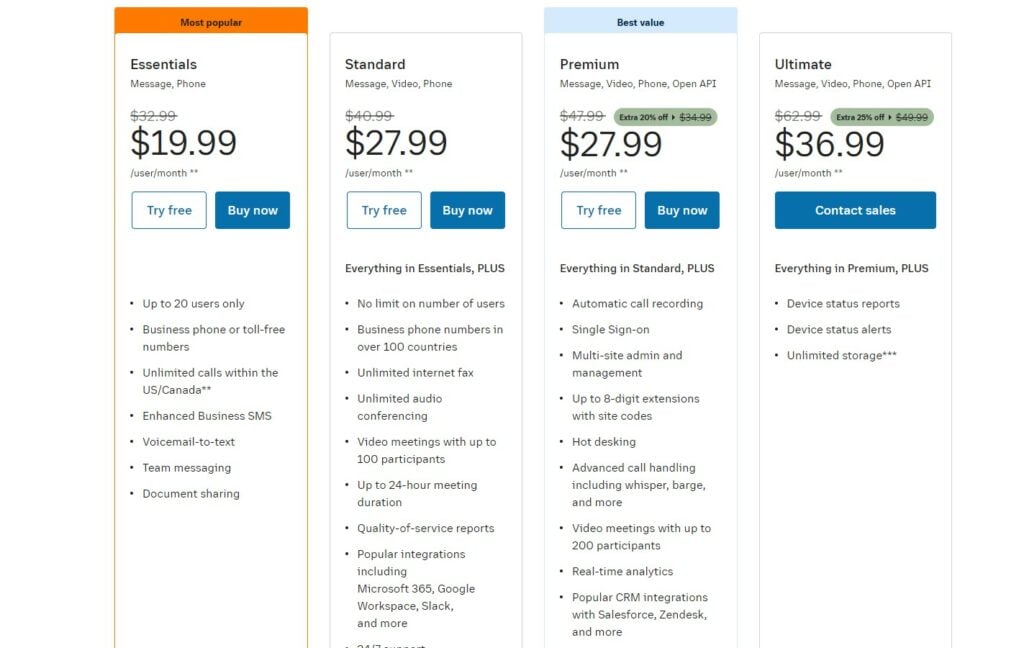 Take a deeper look at RingCentral's features, pricing, plans, and pros and cons. If RingCentral seems like a good fit for you, continue your research by comparing RingCentral with Nextiva and GoToConnect (Jive).
#4 Pick: GoTo Connect
Pro: Includes great cloud-based, technologically advanced features
Con: If your business has multiple users or needs to scale up as you grow, plans can get pricey
Best For: Tech-savvy businesses
Mobile App: Yes
Equipment Offered: Yes
GoToConnect, formerly known as Jive, makes our top 4 in terms of business VoIP phone system providers. Since transitioning from Jive to GoToConect, the brand has undergone some beneficial transformations and updates and is now one of the best business VoIP phone system options on the market. In particular, GoToConnect has new and improved flexible cloud-based and mobile solutions for companies that are working remotely or on-the-go. However, they also still offer hosted solutions for companies with office settings as well.
GoToConnect's unified communication solution allows its business users to navigate their business phone system effortlessly. With GoToConnect, you can use your phone system from your web browser, mobile application, or desktop phone and join team meetings from anywhere. Some of GoToConnect's most popular tech-savvy features include: conference calling, auto attendants, video conferencing, mobile app, call forwarding (to any device), virtual voicemail, ring groups, and screen sharing. Their pricing plans are tiered according to how many users will be on the business plan. The more users you have on your GoToConnect plan, the lower the cost per user.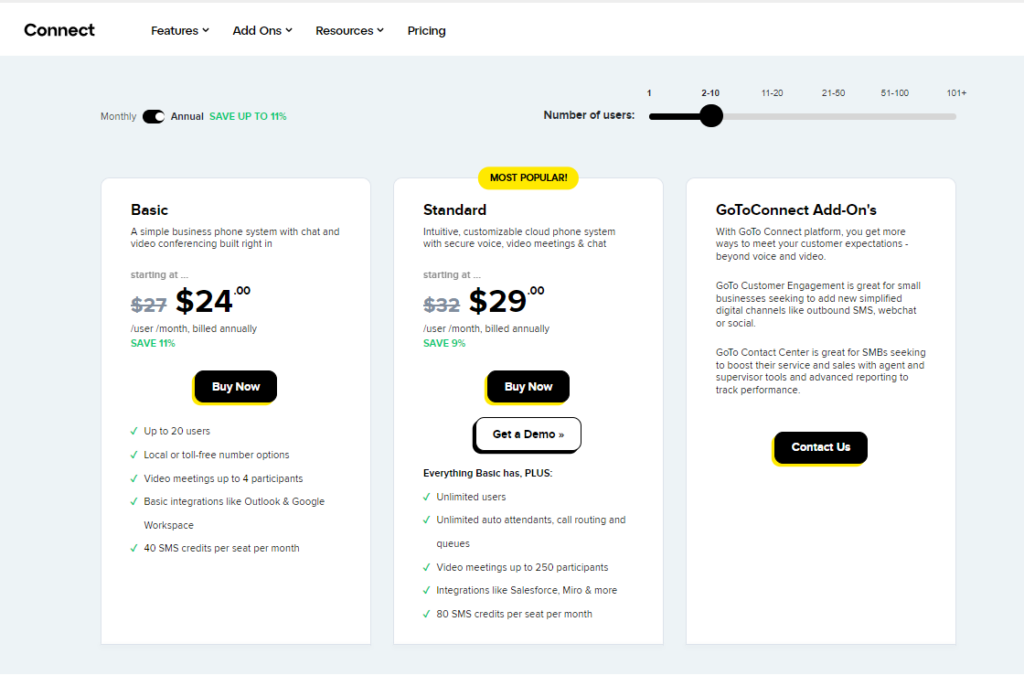 If you are considering GoToConnect (aka Jive) as your business VoIP provider, we recommend comparing them to their competitor, RingCentral.
#5 Pick: Ooma
Pro: Well-suited to small businesses who need flexible features on a low budget
Con: Not as easy to "scale up" compared to other VoIP providers
Best For: Small Businesses
Mobile App: Yes
Equipment Offered: Yes
Ooma makes our top 5 list of business VoIP phone system providers because their specialty is helping small businesses and mobile users. These days, since more and more companies are going remote, on-the-go business communication solutions are critical for maintaining good communication from anywhere. In addition, small businesses who have smaller budgets but still need robust communication tools can find a great solution in Ooma's products.
Ooma Office which launched in 2013 aims to provide small businesses with robust VoIP features while keeping monthly costs low. It starts at just $19.99 per user per month and Ooma reports that small businesses save up to 50% on phone bills on an ongoing basis. In addition, Ooma Office provides staple VoIP features such as audio conferencing, video conferencing, digital faxing, an easy-to-use mobile app, extension dialing, SMS messaging, and much more. Learn more about the features included with Ooma Office here.
Explore more about Ooma's VoIP solutions here. If Ooma seems like the right fit for you, we also recommend comparing Ooma with Vonage.
Learn More
If you are interested in a business VoIP phone system, make sure to check out these related articles for your research:
Ready to compare prices? 360Connect's online comparison tool helps you find the right VoIP provider for your business's particular needs. Tell us a few things about your business and we'll match you with up to 5 top business VoIP providers that can help. You get to compare competitive prices and save up to 30% - it's a win-win!