Cloud Based VOIP Phone System for Business
What is a Cloud Based VoIP Phone System?

Recently, VoIP (Voice over Internet Protocol) phone systems have improved with advanced technology. Many businesses have improved their communications by "going digital" with cloud-based VoIP phone systems. This allows businesses to streamline their communication tasks and save money while doing it. If you're still using an "old-school" hardware for your business phone, it's time to give cloud-based phone systems a look.
Cloud-Based VoIP is a type of VoIP business phone system that allows user to work both at and away from their desk. It uses the Internet to route calls and stores business information in a "cloud" storage system. Plus, it does not require any physical server hardware whatsoever! This means you can take a business call anywhere in the world, as long as you have a device that connects to the Internet.
How does it work?
Cloud-based VoIP phone systems are so convenient because they allow users to travel while maintaining business communication at all times. Compared to hosted VoIP systems (which use a physical server to operate), cloud phone systems simply connect to your IP (internet network) to operate. Meaning, all you need to use cloud-based VoIP is internet connection and a mobile device!
Most cloud-based VoIP systems allow you to download a mobile app using your smart device. Then, all your communication needs are in one, easy-to-use place. Additionally, since your business information is stored using the cloud, this allows you to customize your preferences easily. For instance, if you want your business calls to be forwarded to your smartphone or tablet, you can set that up! This can be great for when your business needs grow and change.
What are the Pros and Cons of Cloud-Based VoIP Phone Systems?

While cloud-based phone systems seem extremely convenient right off the bat, it's important to weigh the pros and cons before deciding if it's the right option for your business phone system.
PROS
No hardware necessary: Because all their telecom data exists in the cloud, these systems require little to no hardware to purchase or operate. You can connect your business line to your smartphone, laptop, desktop, or even desktop phone. There is also no start-up fee (most other phone systems require this). All you do is pay your monthly subscription fee and connect your line to the device of your choice.
On-the-go flexibility: Professionals who are constantly on-the-go, working from home, or traveling benefit from streamlining their messages in one place, no matter where they are. Some in-office employees also enjoy this benefit. For example, they can utilize their personal device and receive personal/business messages in one place, or stay in the loop when they're away from the desk.
Cost-effective: Most cloud phone systems are extremely cost-efficient. They work via a simple monthly subscription fee – usually between $20 – $45 per month. This includes typical VoIP features and tech support, which is appealing to many businesses to avoid "hidden fees."
Uncomplicated technology: It's appealing for some businesses to avoid overly-complicated technology, but they still want to reap the benefits of new tech features! With a cloud-based phone line, there's no hassle or learning curve to use. Plus, you don't have to hire an IT team to take care of tech issues moving forward.
CONS
Depends on Internet Signal: One potential downside to cloud-based VoIP is that in order to use the phone line, you need to have good Internet signal. Consider where you usually use your phone and whether there's good WiFi signal. This is a non-issue for many employees who work around high-grade business Internet consistently. But remember that if you're on-the-go, you'll need to find a WiFi zone!
Beware of Usage Charges: With a cloud phone line, you want to pay close attention to your subscription plan and what it allows in terms of usage. Some allow unlimited domestic calls, and some have a set number of minutes (which are most commonly the cheapest options in terms of subscriptions, but you'll pay more if you go over your limit). Before signing up, think about what types of calls you usually make and how often. Ask clearly about the supplier's usage plans before buying.
Lack of immediate tech assistance: Some may see the uncomplicated technology as an advantage. But others may see it as a disadvantage. Having an internal IT team that can assist you directly when you need them can be helpful. With a cloud-based number, you'll have to rely on over-the-phone tech support from your supplier or troubleshoot on your own.
Which Features Can be Added with a Cloud Based VOIP System?
In addition to its on-the-go flexibility and cost efficiency, cloud-based systems offer many essential features for business communication, such as…
Voicemail. You can access your voicemails on any device your number is connected to.
Advanced business email. You have the ability to connect your work email to your phone line and access messages in one place. Most systems will even transcribe voicemails and send them to your email!
"Find Me, Follow Me". This feature is available on all devices your number is connected to. So if you make or receive a call on any of your devices, other connected devices will also be able to take those calls, depending on the call options you enable.
Unified communications. Many cloud-based systems have mobile apps. This lets you streamline all your messages in one place. All you have to do is open your app and access work essentials like your CRM, Live Chat, SMS messaging, analytics, email, etc.
SMS Messaging/Team Collaboration. Many VoIP applications now have built-in SMS messaging, which most businesses now utilize on a daily basis. Having access to it in the same place as your other communication necessities is an added plus!
and

MUCH more

! For many cloud-based VoIP providers, the options for digital features are endless!
Which Types of Businesses Would Benefit the Most?
The flexible advantages of a cloud phone system may be very enticing. But you want to make sure it's the best fit for your business! Consider your work environment, and where you normally prefers to communicate and take calls.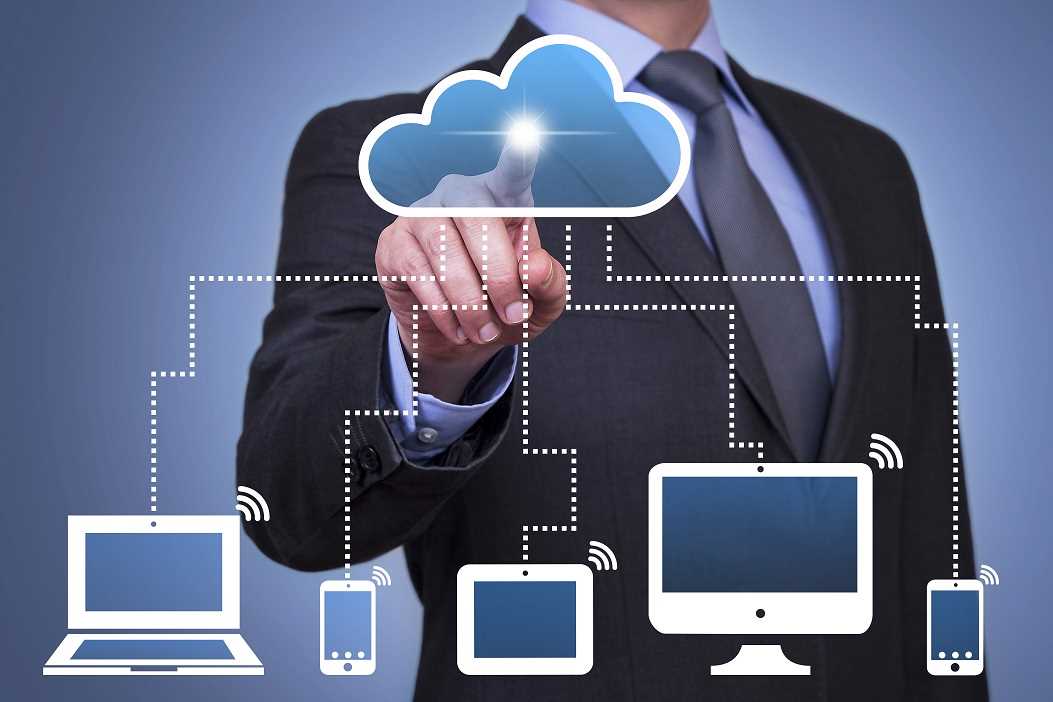 The types of businesses that would most likely to benefit from a cloud-based phone system are…
Smaller businesses planning "scaling up". Cloud-based systems are extremely easy to upgrade and scale (think: no hardware!). If you're working for a business that's growing quickly, you might consider this phone system. They let you can add more lines or relocate without incurring massive costs.
Busy, on-the-go businesses that travel, hire remote workers, or work away from the desk. Your employees who are moving around constantly, multi-tasking, or working out of the office will enjoy the flexibility of a cloud system. Plus, they can easily use a mobile app and stay connected.
Tech-savvy, fast-paced businesses that enjoy the benefits of digital features. Since you can add features to your cloud-based system for little extra charge, tech-savvy companies will enjoy all the added digital features that these systems allow!
Top Suppliers and Prices
If you're looking into starting a cloud phone system for your business, you probably want to know who are the top suppliers. Luckily, there are many different suppliers that offer cloud systems, with multiple features at great prices. Here is our list of the top suppliers who offer cloud-based options:
Supplier
Top Features
Pricing
Best for:
Vonage
Mobile app
Web-based dashboard
Video conferencing
Call-analytics & Call recording
247 customer support
CRM integration
Basic Plan: Starting at $19.99 monthly
per line
Premium Plan: Starting at $29.99 monthly
per line

Cancel anytime, no fees
Medium to large businesses
(features typically
accommodate 100+ employees)
8 x 8
Mobile app
Auto attendant
Audio & video conferencing
SMS messaging
Voicemail transcription
Call quality reports
Basic plan: $25 monthly per line
"X Series Plan": $45 monthly per line
(with premium features)
Small to medium businesses
Nextiva
Includes 100+ features
Auto attendant
Call recording
Video conferencing
Free set-up & installation
Unlimited calls, faxes, SMS

Basic plan: Starting at $20 monthly
per line
Pro Plan: Starting at $25 monthly
per line
Enterprise Plan: Starting at $30 monthly
per line

30-day full refund guarantee
Small, medium, and large businesses
Ooma
Mobile app
Business extensions
Virtual receptionist
Call transfers
Conferencing options
Basic Plan: Flat fee of $19.95 monthly per line

No contract plan – cancel anytime
Small businesses
Dialpad
Easily add/edit employees
Voicemail transcription
Call transcription
Instantaneous set-up
Softphone app
Video conferencing
SMS messaging



Standard Plan: $15 monthly per user
Pro Plan: $25 monthly per user

Plans typically billed annually
14-day free trial
Small businesses
Ready to look at your options? We work with the top VoIP suppliers that can talk to you more about your options. Plus, they'll give you free quotes so you can find the best business phone system for your business. Get started here – we're excited to help you improve your business communications!