Whether you work in the transportation industry, the service industry, or any industry in which you travel, you can benefit from being able to track your company vehicles. Tracking company vehicles provide you with robust data and helps keep your investment secure. Without vehicle or asset tracking, your business is not optimized to perform at the best of its ability. Furthermore, you can better optimize your workflow and cut costs.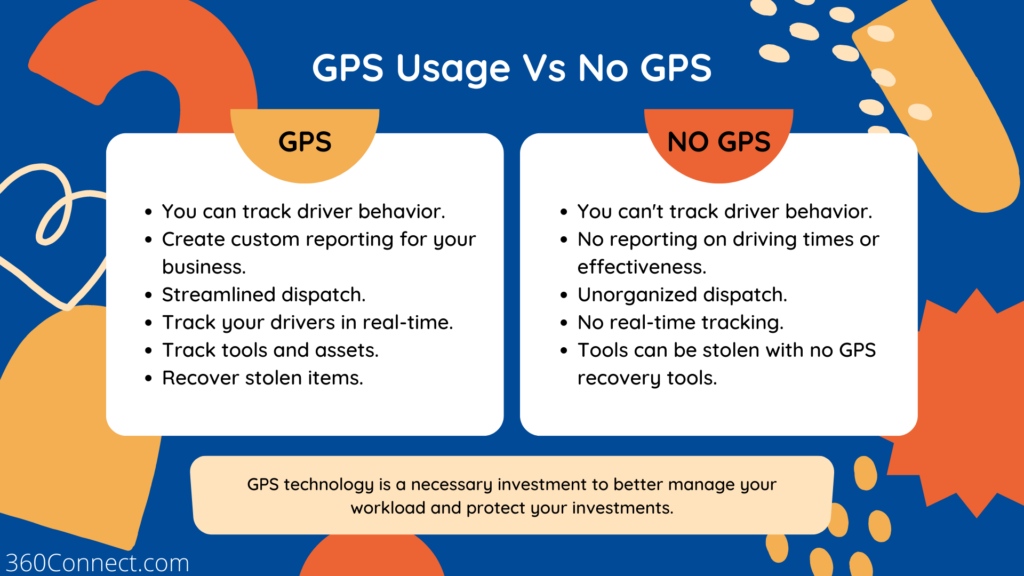 How Do You Track Company Vehicles?
The best and most common way to track company vehicles is through GPS fleet management technology (also known as telematics, fleet tracking, etc..). This is the process of using a GPS-capable device to relay information to GPS tracking software. There are many varieties of GPS fleet management services, but most have some key features and benefits.
Common Features:
GPS Vehicle & Asset Tracking
GPS fleet tracking allows you to view the location of vehicles or assets within the GPS software. This allows you to know where all your vehicles are at any given time. Asset tracking uses GPS technology to monitor the location of tools and other specialty equipment. Even with cheaper GPS systems, you can still use tools like geolocation and geofencing to be notified when an object leaves a specific area. Most services offer vehicle and asset tracking in bundles, although you can buy devices separately.
Dispatch and Communication Services
GPS fleet tracking allows you to better communicate with your drivers while they are on the job. What exactly does that mean? It improves your dispatch services and helps create accurate ETAs for you to give to customers. For example, without a GPS system, you would have to call your workers individually to know where they were located. You would then have to assign work based on who is available and how close they are. Then you would need to inform the others in case this affects another job.
With GPS tracking, you can view the location of your vehicles within the software and communicate with drivers within the software. From there you can make estimates about how long jobs will take or how long it will take four workers to reach customers' houses. Intuitive dispatch controls allow you to mobilize your workforce to achieve as much as possible.
You do not need to be an expert to operate the software. Most importantly, you, your workers, and your clients use the latest information to stay informed.
Driver and Load Reporting
Would you like a synced way to record driving hours and data about average work times? If so, GPS tracking technology can help log this information and much more. While not every GPS device is made the same, most devices can measure data like runtime, harsh braking, excessive speeding, and more data points. High-end GPS devices can generate reports on driver behavior. GPS technology gives you the opportunity to understand the transportation costs and behavior of drivers. That means you can cut down on excessive idling, unnecessary stops, or even employee theft.
With useful data, you can establish a company-wide policy to safeguard drivers and your investment. You will also be able to pinpoint problematic behavior and optimize your workflow.
Common Benefits:
Manage Workload in Real-Time
Most GPS tracking systems provide real-time updates. This allows you to adjust workloads as fast as possible. As the workday goes on, you also stay up to date about any job. Over time, you can use this data to generate estimates for travel, job completion, etc.
Improve Service with Data
If you were looking to improve your service and scale your business, GPS technology can help you get there. Through reporting tools and data, you can scale exactly when you need to. You can make sure you are eliminating costs at every turn.
Theft Recovery
Recovering a stolen vehicle is much harder in practice without a GPS device. You will be reliant solely on video or eyewitness testimony. The vehicle most likely will not be recovered and law enforcement won't have many tools to track the asset or vehicle. Fortunately, there is GPS technology. GPS fleet technology can allow you to track stolen vehicles to their location. Higher-end models can be secured to the vehicles which criminals cannot unplug. You don't have to risk losing your company assets. Protect yourself with GPS technology.
What Do You Need to Track Company Vehicles?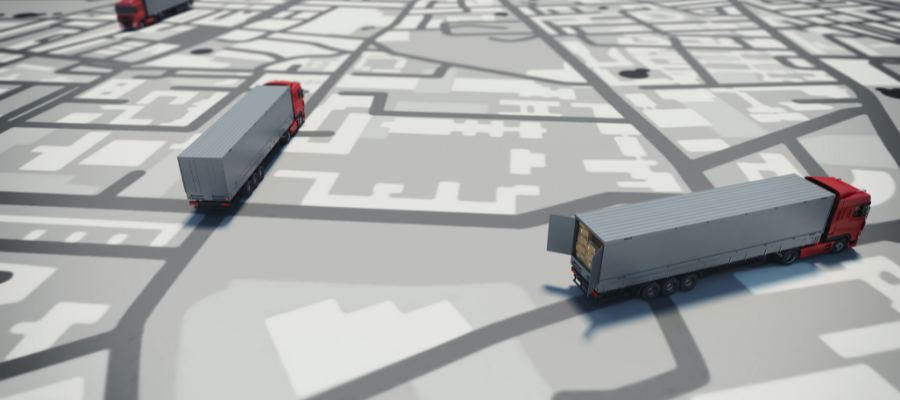 GPS Devices
There are many different types of GPS devices depending on your provider. Some companies opt to use a GPS on mobile devices, while others prefer a wired and secured GPS. There are three main types of GPS for tracking company vehicles:
This is a GPS that operates through a mobile application solely. You can receive communication, direction, and electronic paperwork. This option can be great for those wanting to break into fleet technology. However, you lose some of the most important tools because it is not plugged directly into the vehicle.
These types of GPS plug directly into the onboard diagnostics connector. Not only does it track the location of the vehicle, but it can monitor driver behavior, as well as fault codes. These devices are powerful, especially in conjunction with a mobile application. They can help you maintain vehicle maintenance and provide up-to-date location data. One of their main downsides is that they can be easily unplugged if a thief were trying to steal your vehicle.
A wired ELD (Electronic Logging Device) performs many of the same functions as a plug-in GPS. However, it is directly it is securely mounted to the vehicle. Most ELD devices will also plug into the onboard diagnostics connector, although you may find some that do not. These devices are more durable, provide better reporting, and reduce the risk of thieves being able to steal your vehicles. You will find that a wired ELD is often combined with other attributes such as a mobile application or dashcam.
Dispatch Software
Dispatch software allows you to manage your drivers, communicate with drivers, and assign jobs. Software varies widely although it is usually combined with the GPS device for a monthly fee. If you so choose, you can buy your GPS device and dispatch software separately.
Adapter
In case you don't have the right plugins, you may need an adapter to hook up your GPS device.
Power Supply
Many GPS devices we'll draw power from the onboard diagnostics connector. Some devices may need to have an external power supply to power the device. Additionally, some devices may need to be charged during downtime hours. Before you choose a GPS tracker, make sure you understand the power supply needs.
Computer/Table/Phone
You will need a computer to manage the dispatch software. Yet, some providers allow for dispatch services to be conducted within a tablet or mobile application.
Network Connection
Your GPS device will need a network connection to translate the coordinates of your position. That does not mean you need to be hooked up to your Wi-Fi the entire time. Rather, you'll need cell service to operate your GPS device. This may be bought separately from your device or purchased as a bundle.
How Much Does It Cost to Track Company Vehicles?
That will depend on what you need. You can buy one of the devices for as cheap as $25 dollars to several hundred dollars in price. That estimate would be for one-off devices. When buying as a bundle those prices can fluctuate as well. On average, according to Expert Market, you can expect to spend around $14-$250 per vehicle/per month. While that may sound like a lot, that would include software usage as well.
You can also buy GPS devices separately and then pay monthly for GPS software. The features of the software will depend from provider to provider, and you must make sure your GPS device is compatible with the software you choose.
Lastly, most bundled services use custom pricing. You will receive a quote based on:
Size of fleet
Types of vehicles
Type of GPS needed
Software requirements
Features needed
Areas you plan to use your GPS
Top Providers of Tracking Company Vehicles
As we have stated previously, there are many different companies that can help track company vehicles. You can find some of our recommendations here:
Top 5 Best Fleet Management Companies: 2022 Guide
Is GPS Fleet Tracking for HVAC Companies Necessary?
GPS Fleet Tracking for Pest Control
Are you considering how to track company vehicles and want to work with a high-quality supplier? Want to work with a provider that truly understands your need? 360Connect can help!