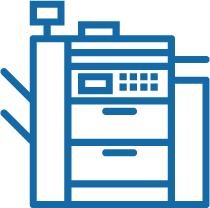 Office copiers are a vital component in the daily operation of many businesses. Copier manufacturers are constantly improving their products with more advanced options to make your job easier and more efficient. Numerous features from stapling to sorting to image editing increase today's copier capabilities. But with so many options out there, it can be challenging to know which copier is the right fit for your business. Your company's size and volume of printed material will dictate the type of copier or multifunction printer you need. An office copier supplier can help you choose the right copier based on those needs and help guide you through pricing and the leasing/purchasing process.

Cost
Budgeting for a office copier isn't as simple as it sounds! Our cost checklist will help you plan for important things such as:
Printing speed to support your office productivity

Connectivity with WiFi, computers, and other devices

Security for sensitive documents

Ongoing support and maintenance

Office supply upkeep 
Lease vs. Buy
Choosing whether you should lease vs. buy your office copier is a key decision. Our pros and cons list can help you think through factors like:
Paying for it upfront OR spacing out payments over time

Including regular maintenance OR taking care of it internally

Designating upgrade options OR using trade-in value to replace it down the road
5 Common Mistakes to Avoid When Leasing
Have you decided that leasing is the best option for your business?
It can be easy to overlook important items when reviewing your leasing contract. We're here to help you sign your contract with confidence. Review 5 Things to Look Out For when Leasing a Copier, such as:
Over-payment
Service & maintenance bundling
Contract term
Expiration date
Payment plan
Buyer's Guide
Shopping for office copiers can be confusing. Our comprehensive Copier Buyer's Guide will help you buy smart and save money.