As your small business grows, so should your phone system. If you're finding yourself juggling a growing number of calls daily, it is time to look into a multi-line phone system.
What is a Multi-Line Phone System?
With a multi-line phone system, you can handle two or more calls at the same time. Employees can put calls on hold, dial internal or external numbers, and return to the line.
There are two main forms of multi-line phone systems which are:
On-premise multi-line phone system: Accept incoming calls or make outgoing calls by pressing a dedicated key.
Cloud-based multi-line phone system: Host several extensions on a cloud PBX system that answers incoming calls and forwards them to the right extensions.
In addition to the two main forms of multi-line systems, there are also 3 types of lines available:
Top 5 Multi-Line Phone Systems to Consider in 2021
After looking through various vendors and features offered we've created a list of the best Multi-Line phone systems.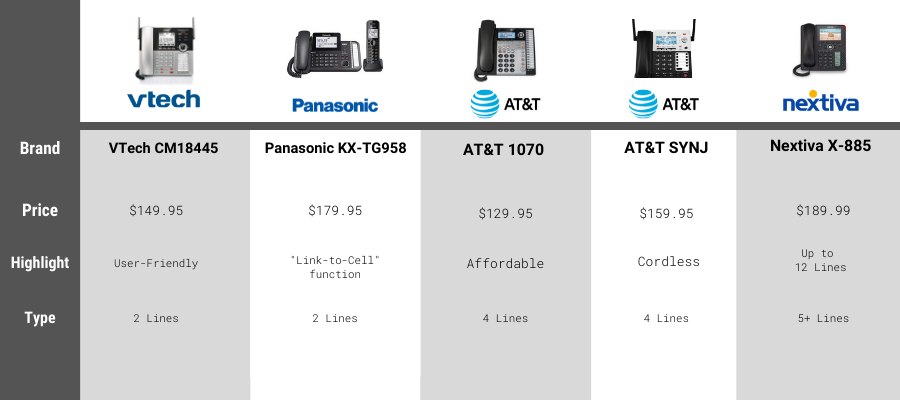 The VTech CM18445 is an easy-to-use system for most businesses. Features for this system include 32 number speed dial, extra-large display, 4-party conferencing, and more.
As one of the biggest names in electronics, Panasonic is also a leading provider of multi-line phone systems. The KX-TG9581 features a unique "link-to-cell" function that allows up to 4 smartphones to make and receive calls using the handset.
The AT&T 1070 is a flexible and affordable phone system option for businesses. Features include a line-status indicator, 3-party conferencing, power failure operation, and more.
This cordless solution provides superior voice and sound quality without the need for a cord. You can stay connected even when away from your desk while also benefiting from the multi-line features.
The Nextiva X-885 allows businesses to have up to 12 lines. This feature alone is enough for many to choose this phone system option. Additional features include a colored LCD display, speed dialing, and HD voice.
Which Industries Can Benefit from a Multi-Line Phone System?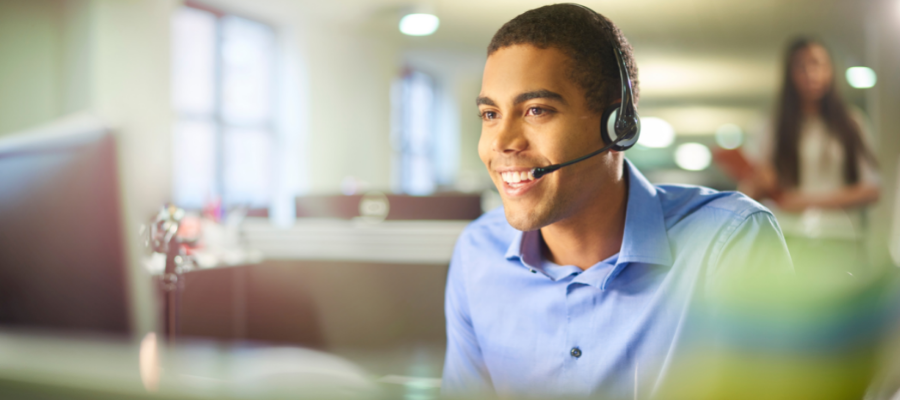 Multiline telephone systems provide better communication and efficiency. It allows you to communicate with employees, customers, and internally within your organization rapidly and easily. That being said, multi-line phone systems can enhance certain industries more than others. Check out some of the industries that are ideal for this phone system solution.
Customer Service
The customer service industry requires representatives to have control of multiple lines both internally and externally. Multi-line phone systems are the perfect solutions for this industry. Dare we say made for this industry.
Top Features for Customer Service:
Call Transferring
Mute and Volume Control
Auto Attendant
Healthcare
In the healthcare industry communication is crucial. Using multi-line phone systems allows for a streamlined process that maximizes clarity and productivity. Modern equipment and multiline business phone service can be purchased for less than what you might expect. And at the core of every medical office is the patient's care and communication, using a multi-line phone system helps balance both ends and can make a receptionist's life easier.
Top Features for Healthcare:
Auto Attendant
Caller ID
Message Waiting Indicator
Restaurants
If your restaurant receives a high volume of calls during dinner hours. It may be time to consider investing in a multi-line telephone system. Restaurants can significantly benefit from the hold feature that multi-lines incorporate. During peak business hours, this is vital.
Top Features for Restaurants:
Hold Functionality
Headset Mode
Call Waiting
Common Multi-Line Phone System Features Offered By Vendors
Businesses can benefit from a variety of features offered by multi-line phone systems. Many of these features come with the package purchased, while others, which are more advanced, may be purchased as add-ons. Check out some of the common features offered by vendors:
Auto Attendants: Automated answering service that directs calls.
Digital Answering System: Answering system that accepts incoming messages.
Music on Hold: Music played while on hold.
3-Way Conferencing: Call between 3 people.
PC Calling: Call conducted through a PC.
Caller ID: Display of the person calling.
Call Waiting: The person making a phone call is notified of an incoming call and can put the first call on hold while answering the second call.
Speakerphone: Putting a call on a loudspeaker.
Power Failure Operation: Operates during power outages.
Line-Status Indicator: Indicates a call is in progress.
Call Forwarding: Calls made to one number can be forwarded to another.
Call Transfer: Relocate a call to another phone.
And More
Multi-Line Phone System Pricing
Generally, a multiline phone system can cost anywhere from $50 to $2,000 depending on the installation cost, features, and add-on accessories. The typical range for installation is $154-$658.
A standard phone pricing page will include the starting price of the multi-line phone system, followed by its features. Then, you'll see options for upgrades and add-ons.
Example:
Source: Vtech
In the example below tech.co created a comparison chart based on the price, what it's best for, and its pros and cons.
Source: Tech.co
VoIP Multi-Line Phone System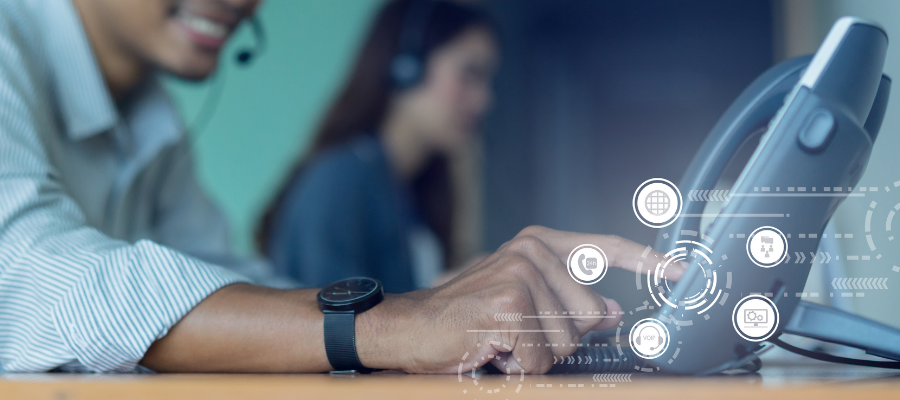 A VoIP Multi-Line phone system is vastly different from a normal multi-line phone system. VoIP is conducted through the internet while a typical multi-line phone system is a landline. A VoIP phone system can do everything a multi-line phone system can, with the bonus of calls being able to be routed to multiple mobile devices. Thus, making it an optimum choice for remote workers.
Multi-Line Phone System VS VoIP
Multi-line systems provide features that are essential to every business. Standard features include caller ID, voicemail, hold functionality, call waiting, and call transfer. Additionally, most offer advanced features like auto attendants and conference calling at an additional cost.
With VoIP, this is not the case. Even the most basic VoIP packages include many of the advanced features you require without an additional charge. In addition, VoIP offers solutions unavailable to multi-line phone systems at a lower cost. Check out the example below for reference on VoIP pricing.
Source: Expert Market
If you are interested in learning more about VoIP, check out the following articles:
Upgrade Your Phone System with 360Connect
At 360Connect, we care about your companies success and strive to ensure your business grows by connecting you with the right business phone system dealer. Whether you are replacing an existing system, need a new one, or wish to expand your current one, we are ready to help.
Get A Multi-Line Phone System Quote Today
Interested in VoIP?