What is a digital phone?
What is an analog phone?
Why are they different?
How can it benefit your business, and which is right for you?
You want a new phone system, but you're not sure where to start. No problem, in this article we'll go over the questions above and ensure you're informed when ready to buy a business phone system.
Analog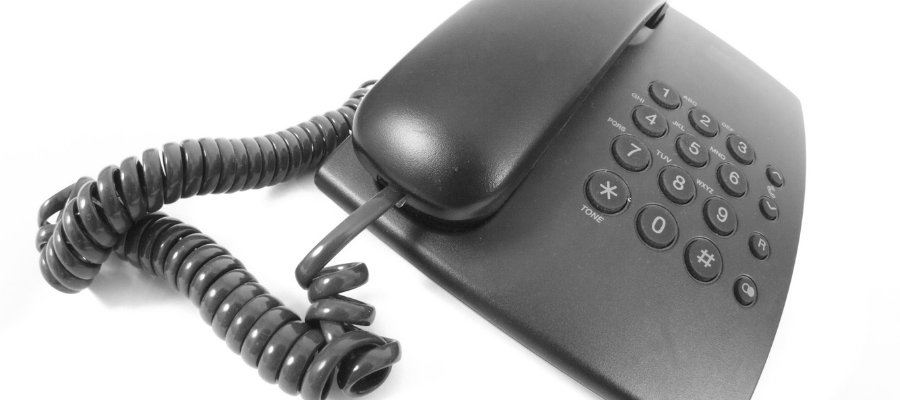 When you think of a phone you most likely think of the "traditional" form of a phone, which is also referred to as an analog phone. An analog phone system has supported businesses and homes for years using copper wire cables. Sound is transmitted using electrical pulses transmitted along a wire. A wire connects the phone line to the phone provider.
Features of an Analog Phone System:
Business Benefits of an Analog Phone System:
Reliable
Providing support to businesses for decades
Optimal voice quality
Cost of an Analog Phone System:
| | |
| --- | --- |
| Functionality | Analog phones |
| Setup cost | $110 per jack |
| Monthly cost | $35 |
Source: Nextiva
Digital Phone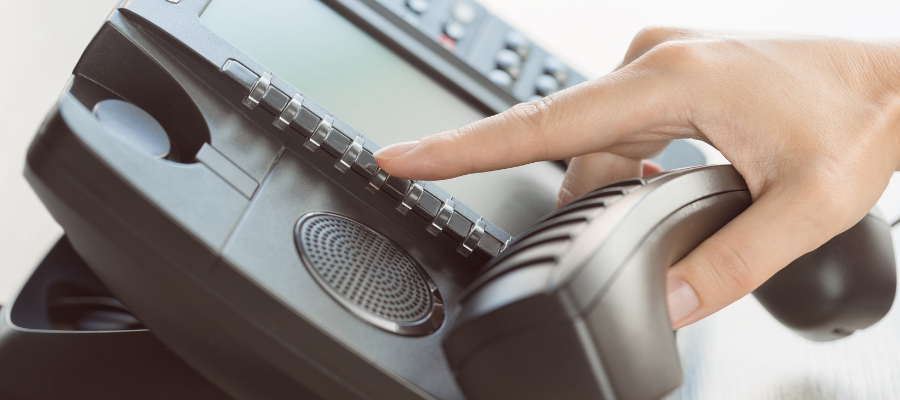 A digital phone is similar to an analog phone system in that it still uses a phone line. However, your voice converts into a digital signal that is encoded and decoded at the other end. It's important to note that a digital phone is not a VoIP system.
Features of a Digital Phone System:
Enhanced Caller ID
Call Blocking, Forwarding, and Waiting
Transfer Calls
Hold
And More
Business Benefits of a Digital Phone System:
Workflow optimization
Cost-cutting for businesses
Improved Technology
Uses Less Bandwidth
Cost of a Digital Phone System:
| | |
| --- | --- |
| Functionality | Digital Phones |
| Setup cost | $0 |
| Monthly cost | $20-35 |
Source: Nextiva
Why switch from Analog to Digital?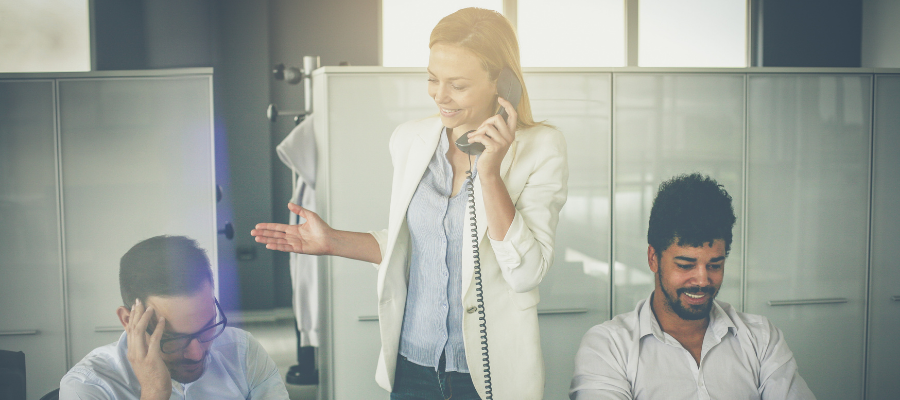 There are many benefits to using a new digital phone system and service for your business if you are still using an old-fashioned analog service. For many years analog phones were the staple, your business is now in the digital age and should stay up to date with modern technology and its features.
By switching from an analog to a digital phone service you can lower your bill and higher your productivity and system quality. If you're concerned about switching things up, just remember digital phones use the same lines as tried and true analog phones. So you won't see any changes to their reliability.
Top Reasons Your Business Should Switch from Analog to Digital
Affordability
Flexibility
Reliability
How Can A Digital Phone Help Your Business?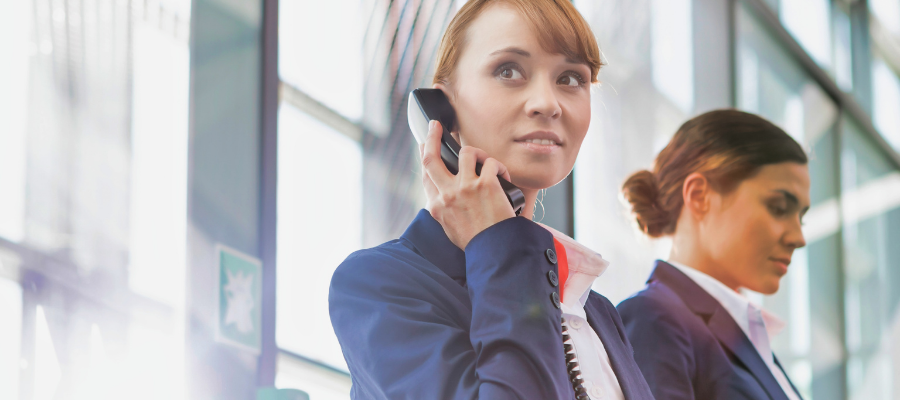 In the long run, switching to a digital phone system can reduce costs, increase flexibility, and boost productivity for your business. In addition, digital phone systems allow your business to improve its responsiveness by providing the convenience of knowing who is calling. Using an on-screen caller ID, you can see the name and numbers of incoming calls.
Not Seeing What You're Looking For?
You now know the pros and cons of both digital and analog phone systems, but you may be feeling that both just aren't quite right for your business. This is a normal conclusion many businesses come to. While a digital phone system is more modern than an analog system its features aren't up to par with what we will consider the tiebreaker between digital and analog services: VoIP.
What is VoIP and Why Choose It for Your Business?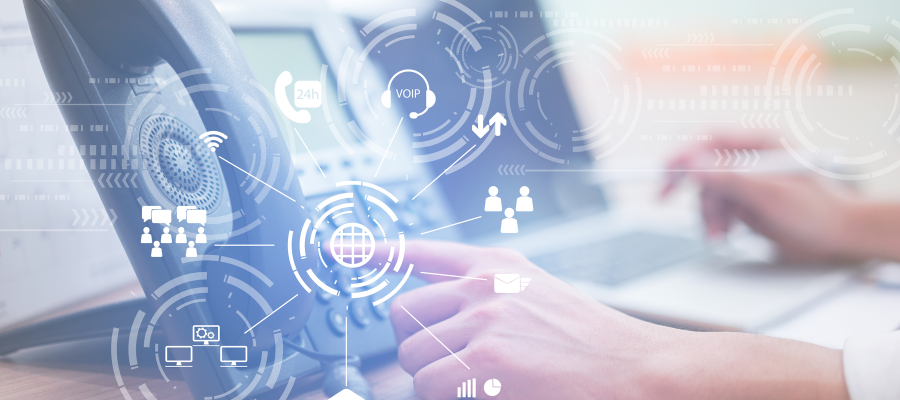 What is VoIP?
VoIP, or Voice Over Internet Protocol, makes voice calls possible using broadband Internet access rather than a regular (or analog) phone line. VoIP makes the impossible possible by using the internet as its source of power. With VoIP, businesses have increased functionality that makes their job and tasks easier.
VoIP Compared to Analog and Digital Phone Systems
In comparison to VoIP, analog and digital phone systems cannot provide the same solutions a VoIP system can for your business. Due to its broadband internet access, it can enhance the features utilized by both analog and digital phone systems. In addition, VoIP is the perfect solution for remote work. VoIP can be used on digital phones, cell phones, mobile apps, desktops, and more.
Check out some of the key feature differences between each phone system below.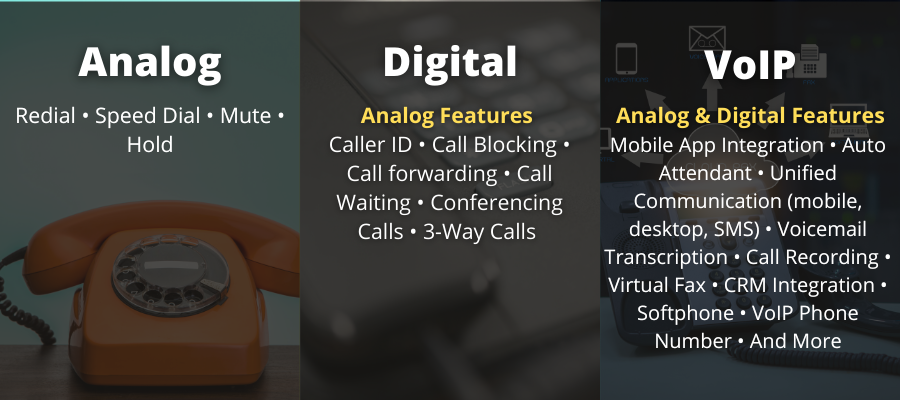 Why Your Business Needs A VoIP System
The VoIP revolution is sweeping the telecom industry, and 70% of businesses are considering, or have switched to VoIP. Why are they all switching? In the example above we can see that by comparison, VoIP offers businesses a much better payoff. Check out some of the industries that benefit most from VoIP below.
Customer Service
Hospitality
e-Commerce
Financial Institutions
Travel Agencies
Real Estate
Healthcare
In comparison to analog or digital phone systems, VoIP can be far less expensive. VoIP systems can cost $20 per line, if not less, depending on the technology and setup chosen. Take a look at the top providers below, to get a better understanding of how features play a role in the final cost.
| | | |
| --- | --- | --- |
| Provider | Starting Price | Features |
| RingCentral | $19.99/mo | With Voicemail-to-Text program, toll-free or local lines, 100 toll-free minutes per month. |
| Ooma | $19.95/mo | Calls to the US and Canada are unlimited, 3-way video conferencing is available |
| Nextiva | $18.95 | Music on hold, unlimited US calls, free number porting |
| 8X8 | $12.00 | Offering unlimited calling in the US and Canada, mobile and desktop applications, and HD video conferencing |
| Grasshopper | $29.99 | Providing one number with up to three extension numbers, voicemail to email, and virtual fax |
Source: business.org | *Data Effective July 2021

Upgrade Your Phone System with 360Connect
At 360Connect, we want to ensure your business succeeds by connecting you with the right business phone system dealer. Whether you're looking to replace an existing system, need a new system, or want to expand your current system, we can help.
Get A Digital Phone Service Quote Today.
Want to learn more about VoIP and other phone systems?