Softphone, a word that seems like a made-up buzzword but has meaning and can be vital to your business operations.
What is a Softphone?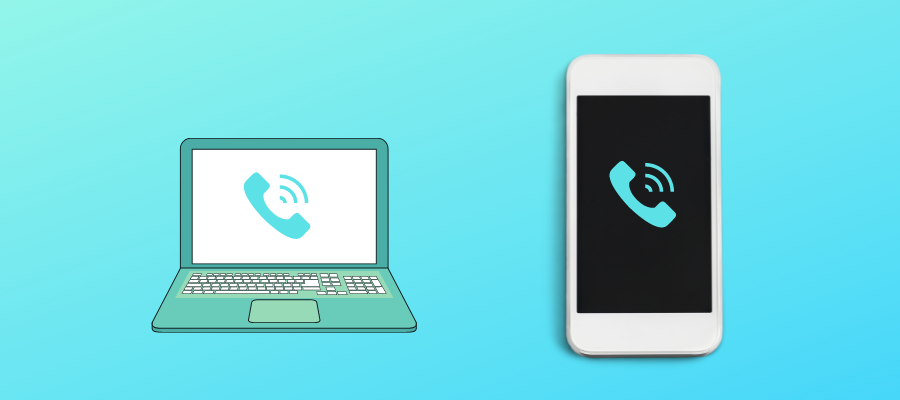 While the name can be confusing, a softphone is essentially a software-based phone. Meaning it is not a typical phone in the sense that many are accustomed to. Softphones are digital and mimic the interface of a "hard" phone. They can be utilized on a desktop, tablet, mobile app or you guessed it—a phone.
What Can a Softphone Do?
A softphone can do anything a traditional landline can do, except over the internet. The user face may be different, but the functionality is the same. Softphone features include:
Click-to-dial: In click-to-dial, the user clicks a link or button to connect with another user in real-time.
Video Calling: Video calling allows users to conduct "in-person" calls virtually.
Call Recording: Record and save calls digitally.
SMS: Send and receive text messages or group messages.
Voicemails: Listen to and save voicemails.
Visual Voicemails: Voicemails are textually visual automatically.
Is a Softphone a VoIP Phone?
Yes, a softphone is a type of VoIP phone system. VoIP is a communication system that operates through the internet. VoIP can be in the form of a physical phone and a softphone. Below is a visual example of a VoIP system and softphone.
Pros and Cons of Softphones
It is easy to use a softphone – you can dial and answer just like a desk phone. But is it right for your business? Check out some of the pros and cons of using a softphone within your business.
Pros
Remote Work
Softphones are an excellent choice for fully remote businesses or a hybrid of in-person and at-home work. With a softphone, you do not need to be in a physical office to utilize your number. Softphones can be used on a laptop, tablet, and phone. You can reply from whichever medium is easiest or closest to you and ensure you're always up to date on sales calls.
Which Industries Can Benefit from Remote Work Softphone Solutions?
During Covid-19 remote work became the new normal for many. During that time businesses realized softphone options were more ideal in certain industries. Take a look at the industries that most benefit from remote software services:
Healthcare: Softphone and VoIP services are vital in the medical industry. Between extension lines, on-call staff, and auto attendant forwarding there's a lot to take into account. When out of the office, medical professionals need to be able to know their work goes home with them, and a softphone does that.
Hotels: During Covid-19 many businesses went completely virtual, that includes hotels. Many conducted check-ins over the phone from the privacy and safety of their home.
Insurance: Making a sale needs to happen regardless of the location. However, when working from home the insurance agency and sales industry greatly benefited and continue to benefit from softphones. In addition, using features like plug-ins for their CRM they are able to connect with clients, make sales, and all from within their home.
Customer Service: Customer Service is centered around telephone calls, so it's important for employees to be able to conduct calls both remotely and in the office. Answer client questions, jump on a quick call, and listen to missed voicemails with ease when working remotely with a softphone.
Ease of Use
Setting up a softphone is as easy as clicking a button. Whether on a laptop or phone, the process is straightforward and usually in the form of an app. Once using the system, you can do anything that can be done on a physical phone, but over the internet. In addition, many softphones can be integrated within a company's CRM system making work efficient and optimum.
Lower Cost
Softphones are a smart investment for those wanting to save money. Not only is it cheaper than a traditional lined phone, but it includes customized app interphase and numerous tools and integrations.
Cons
Wifi Dependency
Softphones offer increased features, but it will all depend on your wifi connection. This dependency on wifi can cause issues for those working from home without a good connection. It's vital to always be aware of this when choosing a wifi provider, you will need to ensure they are a strong reputable service provider. At the end of the day, if your internet is running smoothly, you should not have any issues.
Audio Quality
Because of the dependency on wifi, audio quality may not be up to par with a dedicated hard phone. This will depend on a signal from employee to employee, but it is a common complaint among those who use softphones.
Top Softphone Options
The ring leader of the softphone game continues to be RingCentral among many lists. The main factors at play include whether the software service offers an application, browser-only version, or other downloadable content. Based on these criteria RingCentral stays a fan favorite for many business industries. Based on your companies needs and budget, it's recommended you check out some of the top softphone options below.
Source: Tech.co
Get A Softphone Quote with 360Connect
There are many benefits to using a new phone system and service for your business. At 360Connect, we want to ensure your business succeeds by connecting you with the right business phone system dealer. Whether you're looking to replace your current VoIP system or want to switch to a Softphone, we can help.
CLICK HERE to get started on your Softphone Quote
Want to learn more about other VoIP services?