Business Phone Systems & Service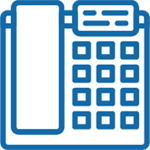 If you are still relying on plain old telephone service, it's time to think about a new phone system and service for your business.
Business Benefits
There are so many benefits that come from switching to a VoIP business phone system, that most companies don't yet know about them all. Find out about how VoIP can improve your business with:
Smartphone Compatibility

Flexibility

Streamlining workflow

Cutting business costs

Consistently improving technology
Industry Advantages
Want to know how VoIP can help your particular business run more efficiently? Find out why VoIP is the winning phone system for:
Cost
VoIP is a leading business phone service because the cost saving opportunities for companies of all sizes is immense! Take a deeper look into VoIP's massive saving opportunities with:
Overall operational expenses

Start-up costs

Ongoing costs
Make the Right Choice in Selecting a Phone System for your Business
With so many telecommunication options out there for your business, when you need to choose a phone system it can be confusing to know where to start. We've got you covered with our "business phone system" checklist that walks you through these important assets:
Reliability

Affordability

Flexibility
Types of VoIP
Businesses today have two choices for their phone system: VoIP and landlines. While VoIP is the more digital, multimedia-friendly option, landlines are the simplistic, audio-only option. We can help you decide which is the best fit with our "compare and contrast" guide, to think through things like:
Cost

Sound quality

Scalability to fit your business

Add-on features

Ease of use
VoIP Benefits Overview
Just looking for a quick overview of how VoIP benefits businesses? We've got you covered.
Business Phone Systems Buyer's Guide
What exactly is a business phone system, and what does VoIP even mean? Check out our buyer's guide to learn more.
Ready to Shop?
Receive up to 5 FREE price quotes from pre-qualified suppliers.