Dashcams for fleet vehicles are becoming a necessity for most trucking and commercial vehicle usage. Dashcams are effective, useful, and can keep your company from having to maintain liability when dealing with insurance. If you're reading this article, you probably already know that, but before you partner with any supplier there are some essentials you need to know.
Basics of Dashcams
Dashcams are cameras that can record video while drivers are on the road. Dashcams for commercial purposes are usually outfitted with a wide-angle lens (120–150-degree lens), can contain some component of AI (which automatically start recording when the vehicle starts), a senor to register harsh movement, and an actual camera.
A dashcam can protect a driver, a company, and anyone else on the road. Almost all commercial use dashcams are designed to run off the vehicle's power. You never have to worry about switching batteries or running out of power. While not every commercial dashcam has artificial intelligence, the best ones on the market do. Artificial intelligence in a dashcam will automatically record and file harsh driving events such as harsh braking or collision. This makes sifting through hours of footage for a wreck almost non-existent. Artificial intelligence will automatically file it away for you.
Since you'll be recording hours of footage, you'll need someplace to store that. There are two options.
1. SD Storage:
A dashcam that uses SD storage stores its data on local SD cards within the device. The data must then be taken off the SD card and exported to a computer. As time goes on, you'll have to buy new SD cards. Theoretically, you could also upload this footage to the cloud. Still, having a manual process means that SD cards will get damaged or stolen.
2. Cloud Storage:
Dashcams also can take advantage of cloud storage. With an internet connection, some dashcams can automatically upload footage into the cloud. This means you don't have to worry about managing SD cards or external storage. You just need to pay for cloud storage, which you can do on your own or through a third-party provider of dashcams.
According to Wikipedia, dashcam resolutions can range around 720p, 1080p(Full HD), 1296p, 1440p (2k), and on higher ends 4096p(4k). Resolution refers to the number of pixels in a video or image. The higher the resolution the better the picture clarity. For most commercial uses you want at least HD resolution which is 1080p. Another factor that may affect the quality is bitrate. Bitrate refers to the amount of data recorded in a second of film. Bitrates are measured in one million bits per second (or megabits for short). Dashcams bitrates can average around 8-15Mbps. If you want the best clarity, you'll want a high resolution and the highest bit rate.
Note: The higher the resolution and bit rate, the more storage you will need. Whether that be cloud or physical. Always request test footage of a dashcam.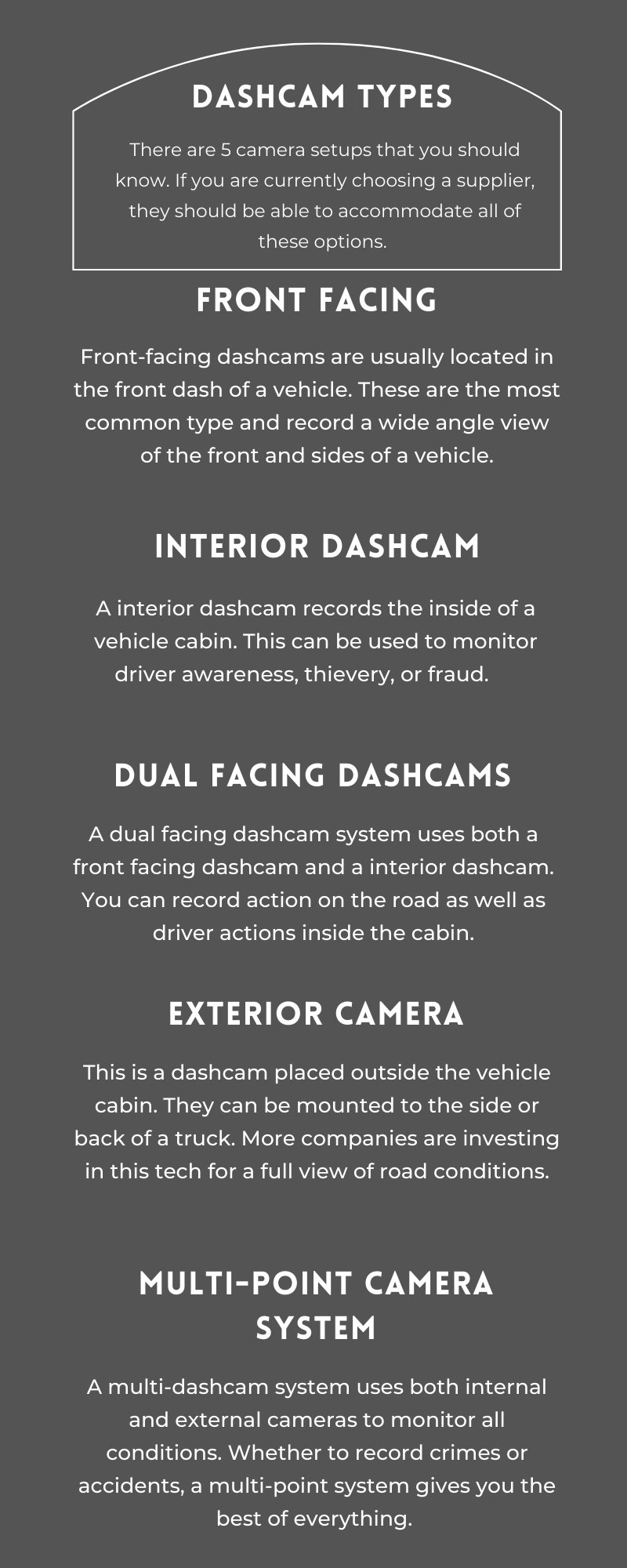 Why Should You Buy a Dashcam?
Dashcams have become popular due to their ease of use and rapidly advancing technology. As a business owner, dashcams provide you with unbiased footage of your fleet. Dashcams for fleet vehicles are necessary additions for saving money and preventing expensive payouts. Here are 6 reasons why adding a dashcam to your fleet is easy and beneficial for your company.
Additional Reading: How To Track Company Vehicles Like a Pro
Protect Your Company with a Camera
With over 250 million registered vehicles within the U.S. crashes are bound to happen. Dashcams allows you to protect your fleet vehicles with a recording of that crash. This can help protect your business from insurance frauds as well as traffic violations committed by other drivers. When an accident happens to your vehicles you have clear footage showing exactly what happened. You can provide that footage to your insurance or legal team should you need it. You're not on the hook for someone's bad driving.
Integrated GPS Tracking
Some companies offer dash cams that also have GPS tracking software in them. You can implement dashcams into an overall fleet management system that can give you real-time tracking and data. Some companies offer all-inclusive tracking, dashcam, and dispatch services making data management a breeze.
Set and Forget
Commercial dashcams can be automatically synced to start recording and power on when you start your vehicle. You don't have to deal with charging or extra batteries. This allows seamless integration in driver operations.
Speed Up Insurance Claims
When it comes to most auto accidents, it can often take an insurance company going back and forth to settle a claim. With dashcam footage, all evidence is compiled and categorized for the insurance company. Additionally, they can cut down on the processing time because of the footage showing the actual event. You can start the filing process right away and send over necessary evidence during that same. It is estimated that dashcam footage can help resolve a claim up to 50% quicker.
Improve Driver Behavior
Have you been getting a lot of complaints about your drivers? Want to ward off bad habits such as texting and driving in your fleet? One of the best benefits of dashcams is the ability to monitor driver behavior. Interior dashcams allow you to see exactly what a driver is doing during a specific time frame. This will not only help you negate bad behavior but protect your driver in case an accident happens. You'll have camera footage showing that your driver was not negligent.
Buy Multiple Services at Once
Most of the time, logistics companies will update their fleets all at once with dashcams and tracking services. You can plan to implement different dispatch systems to coordinate with specific devices. Doing so can help you save money and provide you with more effective tools for managing your business. You don't have to choose between one service or another. Instead, you can bundle them together with the right fleet management software.
Top Vendors:
Here are a few of the leading vendors for dashcams. Some of these vendors also included options for GPS tracking and dispatch services:
| | | | |
| --- | --- | --- | --- |
| | Price | Pros | Cons |
| Samsara | Custom pricing only | Full HD 1080p, AI integration, real-time driver assistance, cloud storage,  | No mention of whether you need to buy additional software. |
| Verizon Connect | Custom pricing only | Al integration, 720p, wide-angle lens, all-in-one dispatch system, cloud storage. | Not a 1080p camera. Cameras also require Verizon Connect Reveal or Fleet platforms to function. |
| Keep Truckin | Custom pricing only | AI integration, 1440p resolution, up to 104 hours of camera storage, audio alerts for negative driving behavior. | For best features, a subscription plan is required. Battery-powered. |
| Black Box My Car | Custom pricing for commercial fleets, however, you can buy individual sets. A good option for independent drivers. Ranging from $250-$500+ | 720p-4096p resolution, AI integration, wide-angle options, and variety.  | SD Storage option. Not an all-in-one dispatch and trucking solution for large trucking fleets. |
7 Features of Dashcams
Loop Recording: Many dashcams are equipped with loop recording, which allows for the continuous recording of footage. This helps ensure that the most recent video is available for review and allows for the recording of long trips.
Time and Date Stamp: Dashcams feature time and date stamps which allow the user to know exactly when an event occurred. This is especially helpful in the event of an accident as it can provide evidence of the exact time and date of the incident.
GPS Tracking: Some dashcams offer GPS tracking which can provide information such as location, speed, and direction of travel. This can help to provide additional evidence in an accident or other event.
Motion Detection: Motion detection allows the dashcam to start recording when it detects sudden motion. This can be useful for capturing events that may have happened while the driver was not actively looking at the road.
Night Vision: Many dashcams are equipped with night vision which allows for the recording of events that take place in the dark. This can help capture incidents that occur at night or in low-light situations.
Audio Recording: Some dashcams can record sounds during the event of a crash.
Robust Power Supply: Commerical-grade dashcams can be equipped to turn on only when the vehicle is on and can run off the engine's power.
Dashcams for Fleet Vehicles are Worth the Money
No matter which supplier you choose, dashcams for fleet vehicles and commercial purposes reduce stress and money spent. Dashcams keep your drivers accountable and your business safe from liability. Not to mention, integrated technology can help upgrade your business on multiple facets such as fleet tracking. Start protecting your business and pick up dashcams for you and your crew.
At 360Connect we can offer you quotes for top-tier dashcam and fleet management services. Sign up now to hear exclusive offers and quotes here.
Want to Learn More?
Check out our article on the top fleet management companies and how they can help you.