If you have walked into a business, you have probably interacted with a POS system and hardware.
POS (point of sale) hardware is the physical object needed to complete a sale. They can be independent terminals (think cash register) or be an addition to an app on a smartphone (think card reader). POS Hardware has made several leaps in technology in the past decade. Before, you absolutely needed a cash register and fully dedicated POS terminal that was stationary and could handle card and cash payments. Nowadays, businesses are going cashless and POS hardware can fit in the palm of your hand.
However, choosing the right POS hardware for you will be dependent on a couple of factors:
Type of business
Size of business
Inventory of business
POS hardware, no matter how simple, usually implements some form of software to complete transactions both online and in-store. The right POS hardware can make your business run smoother, improve customer satisfaction, and reduce inefficiencies.
There are hundreds of choices when it comes to POS hardware. Some companies choose the cheapest route, while others buy into a whole infrastructure for multi-channel and multi-location POS devices.
Common POS Hardware Devices
Here is a collection of the most common types of POS Hardware.
Card Reader
According to Fundera, 80% of consumers prefer spending with a card over cash, which makes it imperative to have a card reader on hand. There are many different types of card readers to choose from based on the provider. Card readers can be implemented within a POS device or sold as an additional add-on for a mobile or tablet device. Most people are familiar with a card reader at a register. there are two other options that have gained more popularity.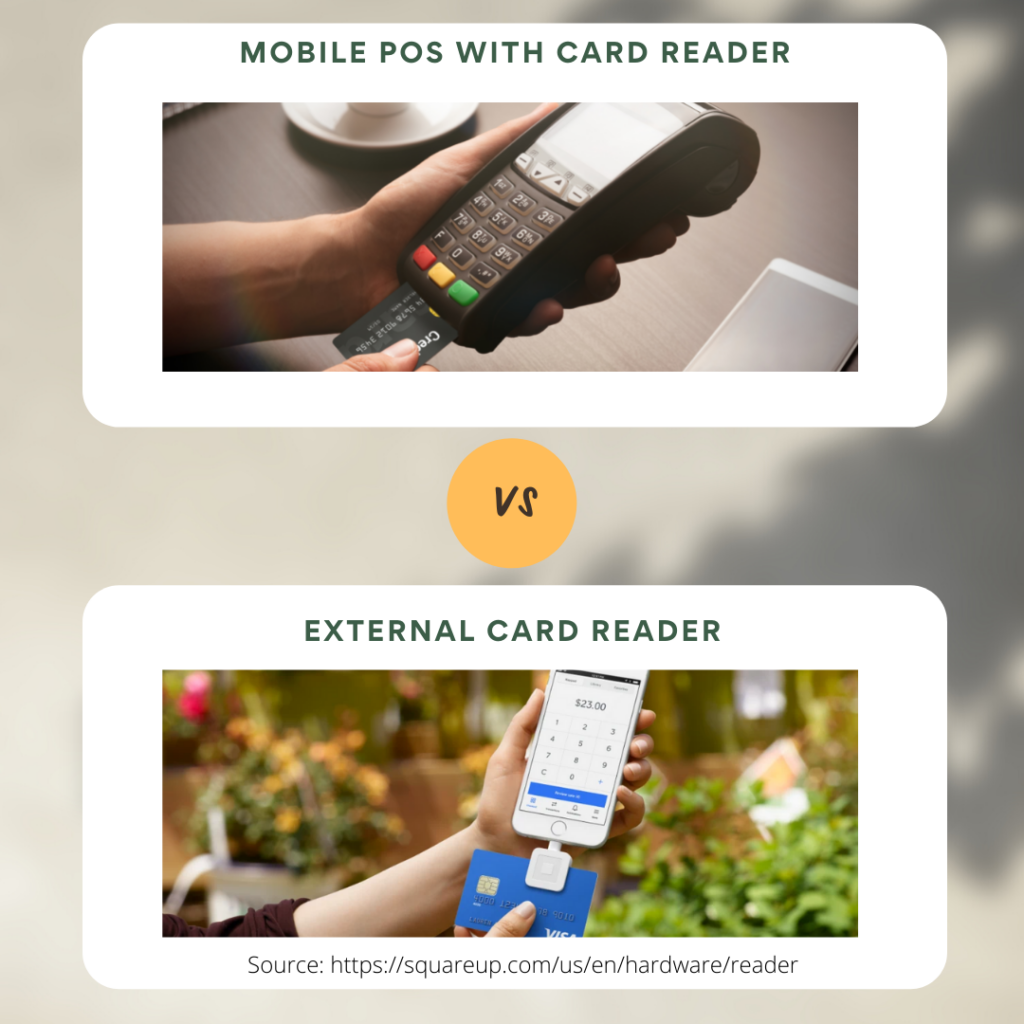 No matter which type of card reader you choose, it will be able to charge a card by:
Swiping the magstripe on the back of the card
Inserting the chip of the card into the POS device
"Tap to pay" contactless payment
Card readers may be able to accept card payments from mobile devices if the card reader allows contactless payment and the card information is accessible from the mobile device. Having a card reader is highly important to running a smooth and efficient business.
Mobile/Tablet POS Hardware
Another POS hardware is a mobile POS or tablet POS system. A mobile POS allows you to make transactions while on the go or in a limited space. For instance, a mobile POS would allow a waitress to ring up an order at the table and allow guests to pay the bill at the table. Some mobile POS hardware can even print receipts right from the device. While a mobile POS requires more investment, it provides you with flexibility.
A tablet POS runs on a tablet such as an iPad. Some manufacturers will provide this tablet for you, or you will need to pay for it yourself. Tablets provide as much flexibility as mobile or handheld POS but can accomplish more complex tasks because of software. If you already have a tablet that is compatible with the software you choose, this can be one of the most cost-effective choices for a POS.
For example, you could start within a day using Square software to process transactions if you have an iPad. You would still need an external card reader (Square offers this), but you could start immediately and manually input card information. This model is best suited for small businesses in those just starting out.
A larger company may need a specific tablet with very specific software. For instance, a tablet POS system could be best suited for a car repair service. You could calculate multiple jobs, input notes for other technicians, and other important functions within the tablet. Tablet POS systems can also be used for self-service POS systems. Again, using a tablet POS provides you with flexibility.
Cash Register
A cash register allows you to process cash transactions. They can be implemented with other POS devices such as a tablet or POS terminal. While most customers prefer using a credit card, some customers still use cash, and it is always it's better to give the customer options when it comes to payment.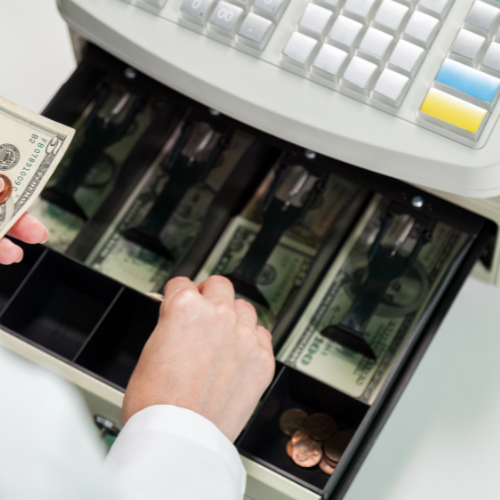 Barcode Scanner
Barcode scanners make it easy to process transactions with multiple items. You have most likely seen these devices in a grocery store or department store. A barcode scanner can be attached to a POS terminal or be a handheld device. Handheld barcode scanners make it easy for employees to scan items in hard-to-reach places.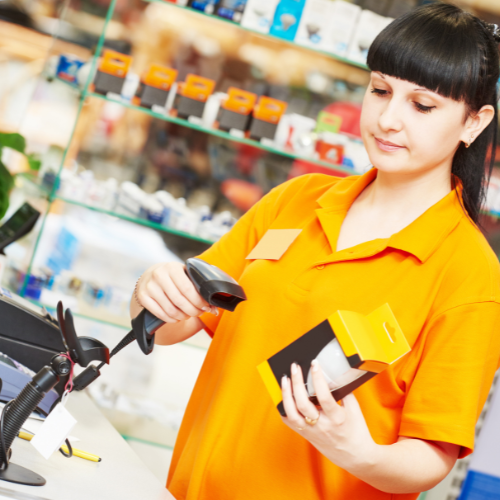 Receipt Printer
Another piece of POS hardware you need is a receipt printer. This can be an external device connected to a POS terminal or included in a handheld POS system. Receipts make it easy for businesses and individuals to track transactions and keep a paper record for taxes.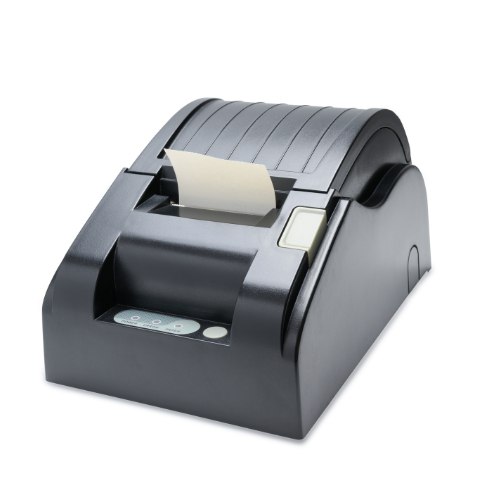 Factors To Consider When Choosing POS Hardware
Offline Usage
Most POS systems these days are connected to the internet to transmit transactions or data into other software. This is good. However, some systems will not work unless they are always connected to the internet. As you know, this can create massive problems should your Wi-Fi go down. If you are looking for new POS hardware and want to use specific software, make sure there is an offline mode that will still record transactions even if the Wi-Fi is off. This prevents missed transactions.

Furthermore, you should look for devices that can work offline for at least 24 hours. Why? Those transactions still need to be recorded in the software and cataloged. Having a 24-hour buffer period gives you ample time to have your system reconnect to the internet.
Cloud-Based POS Hardware
This has more to do with the software on a device, but we still feel it is important to include. Make sure your device is a cloud-based POS. A cloud-based system will allow you to view your transactions and documents across devices. You will also be able to store your information in the cloud, preventing purchasing physical hard drives to store data.
Bundling POS Hardware
Most POS providers will allow you to bundle multiple POS devices and software into a package. These bundles will often come at a reduced rate than buying each item separately. Some providers will allow custom budlings based on your needs. Instead of shopping for multiple devices and then trying to implement 3rd party software on the device, you can have everything ready to go. You will also be able to contact customer support should something fail.
Applicable to Your Business
Finally, you'll want to consider heavily which POS hardware is right for you. You may think that a stationary POS terminal is the best, but is it really? Maybe a handheld POS would provide you with more flexibility? What about starting small and using an external card reader with the software on your phone? A restaurant POS system may not be the best fit if you are in retail, so your choice does matter.
Here are a couple of questions to help you narrow down your POS:
Will I always complete my transactions in one location?
Would it be quicker to charge customers where they are? (For instance, swiping a card at a dining table.)
Can I upgrade this POS system in the future?
What will be the easiest to implement for my business?
How many people will use this POS?
How many devices do I need?
Top Providers of POS Hardware
Recommendations are based on reporting and reviews from NerdWallet and Business News Daily.
Square has easily become one of the most recognizable brands for small businesses. They offer a free mobile card reader that will work with your iPhone or iPad so you can start instantly. Square also provides a wide range of hardware including mobile POS systems, POS registers, and fully-fledged terminals. You will have access to best-in-class software and the option to upgrade as you see fit.
You can start with a free e-reader and install/set up Square software for free. You'll pay a processing rate of 2.6% +10¢ per transaction. A Square register starts at $799, Square mobile terminal starts at $299.
Clover is another highly rated POS system and hardware seller. They have a card reader for cheap, starting at $49. You will also be able to use the card reader and software in conjunction with 3rd party integrations such as Gusto Payroll, NEXT Insurance, and more. With a monthly software fee, you can track sales reports and perform basic inventory management. Clover sells POS terminals and handheld POS devices as well. Although these options come at a steeper cost than Square, Clover is highly rated and products that can fit into just about any business model. Pricing for software will be dependent on the size and type of business you run. Current pricing for POS devices from clover includes:
Card reader: $49
POS station: $1,349
POS station duo (includes POS screen on the front of register): $1,649
Mobile POS: $499
Mini POS: $749
This does not include monthly charges for software which you can find here.
If Clover and Square were designed with small to medium-sized businesses in mind, Lightspeed is on the other end of the spectrum. They give businesses the tools to operate omnichannel and multiple location POS systems. Lightspeed offers a full desktop hardware kit (including cash drawer, and receipt printer), a full iPad hardware kit (including cash drawer, and receipt printer), mobile POS, barcode scanner, and more. You'll find that the software from Lightspeed can be adapted to industries like retail and restaurants. Furthermore, they offer bundled hardware or separate purchase for select items.
While there are some planned bundles you can find here, most POS devices are on a custom quote basis.
Toast is one of the best POS systems for restaurants on the market. You don't even have to take our word for it, they have a 4-star rating on Software Advice with over 300+ reviews. Toast was built with restaurants in mind and caters to multiple types of restaurants from a cafe or bakery to a pizzeria, Toast has a solution for you. You will be able to use some of the most robust POS hardware. That includes handheld POS, POS tablets, card readers, and a mobile application.
Toast uses custom pricing for hardware and software bundles depending on your needs. This means you could sign up for a more advanced software bundle but opt for a cheaper POS. You can find some of this bundled pricing here.
Find the Right POS Hardware for You
If you are having trouble finding the right POS hardware for your business, don't worry we can help! 360Connect pairs qualified suppliers with customers every day. We can help you find a supplier in your area and receive 100% free quotes on any service by filling out our or 1-2minute form. We will reach out and verify your information and you can watch as up to five companies reach out to you about your pricing.