There are many different types of POS (point of sale). You've probably can even name a few such as POS terminal, mobile POS, and others. Still, technology has changed and revolutionized the way we use and implement a POS system.
Many companies have changed from solely traditional POS systems to cloud-based POS systems. Traditional POS systems would store data on local serves at the site of the POS. Cloud-based POS systems now store data on remote servers with high levels of security. This data can be searched on multiple devices and is easily accessible. Before choosing a type of POS, know whether you want a traditional POS or a cloud-based POS.
We've identified 8 different types of POS systems that your business can use:
Desktop POS System
Handheld POS System
Phone POS System
Tablet POS System
Self Service Kiosk
Open-Source POS
Multichannel POS
Omnichannel POS
Additional Reading: What is POS Hardware?
Desktop POS System
A desktop POS system is essentially a computer using POS software and attached to a cash drawer. Desktop POS systems are highly customizable and run various types of POS software. You'll have access to the internet and can upgrade the system with new updates or external hardware. You can purchase a desktop POS system as a bundle from a provider or buy everything separately. Desktop POS systems are not "plug and play." While they offer versatility and in-depth features, they often require IT support and can take some time to train staff on.
Great for: Large businesses with dedicated support and training staff.
Handheld POS
A handheld POS is a POS device that can be carried around by employees to process transactions. They can usually take orders, process card payments, and print receipts. These are great options for restaurants or mobile businesses like food trucks or event companies. Handheld POS devices provide flexibility and can make your POS efficient.
Great for: Restaurants, food trucks, mobile businesses.
Phone POS System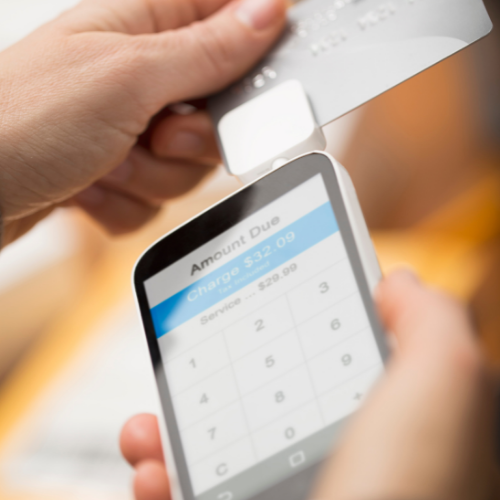 Did you know that you could turn your phone into a POS? It's true! This type of POS can help you start running your business quickly and for cheap. Essentially, you can download a POS app and make transactions from your phone. If you would like to speed up the checkout process, you can add a mobile card reader to your phone. Most companies will charge a monthly fee or a transaction fee for use of a service.
Great for: Businesses that are just starting, food trucks, and small businesses.
[image of mobile card reader]
Tablet POS System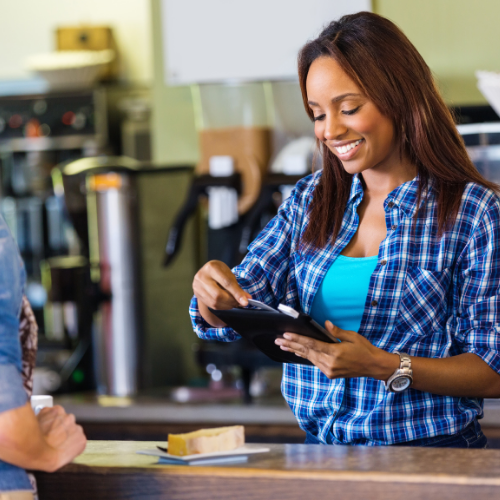 A tablet POS system functions much like a Phone POS in that it uses a software application to make transactions. However, tablet POS systems can be configured for many different circumstances and come with different external hardware. For instance, you could have a tablet POS attached to a permanent terminal with a cash register and barcode scanner. You could then take that tablet and use a card reader when attending a special event.
Some providers require you buy their specific tablets while others will allow you to run their software on your iPad or Android device. If you don't have a tablet, then you will have to purchase one.
Great for: Restaurants, event businesses, small businesses.
Self Service Kiosk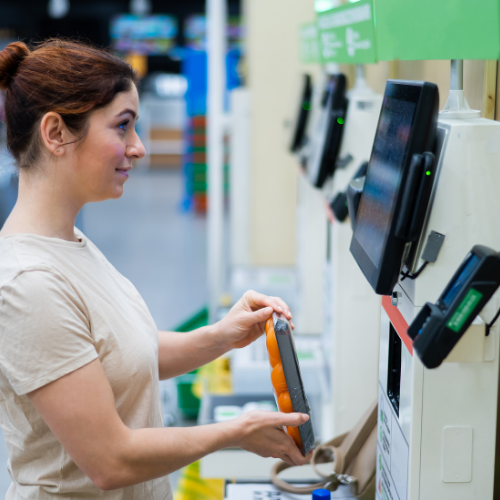 Self Service Kiosk POS systems are becoming more common for quick service dining and retail stores. Essentially, a self-service kiosk is a tablet that allows customers to input order information at their table or front counter. It reduces employee costs and improves efficiencies. Retail is also implementing self-service kiosks with attached barcode scanners so customers can quickly scan a couple of items and pay. Again, this cuts costs for necessary employees and baggers.
Great for: Restaurants, health clinics, retail.
Open-Source POS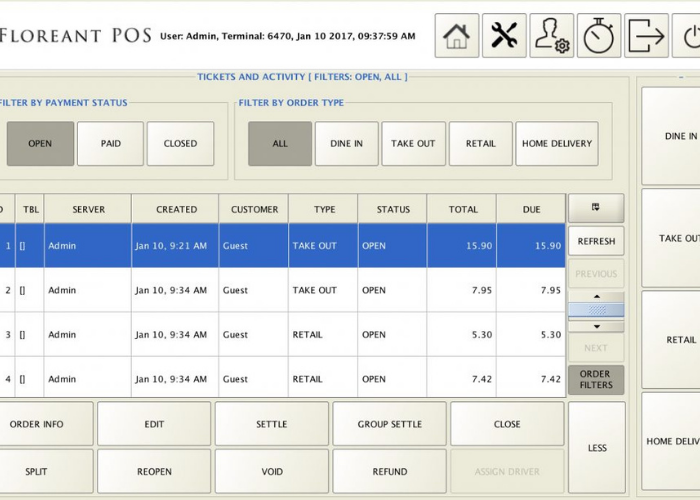 This type of POS is geared towards large businesses with robust teams as well. An open-source POS is a custom software application that usually runs on a desktop or tablet POS. These types of POS work well for companies that need custom operations or unique features that they want to build from the ground up. However, you'll have to buy the hardware separately and you'll need a dedicated support team to run the software, make improvements, and ensure security. If you have the team members in place, you can optimize your workflow and customize services to fit your need.
Great for: Large retail operations, entertainment centers, complex businesses.
Multichannel POS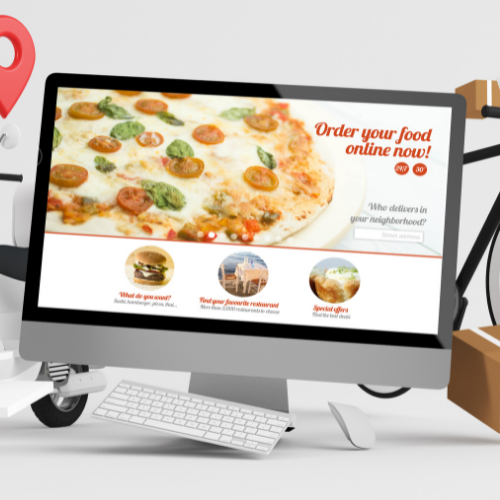 Multichannel POS systems allow you to process sales online and in-store. This means the POS integrates with your online properties (website) and your physical properties (tablet POS). Your business won't be held back from taking online orders and you don't have to sign up for another POS system for online purchasing. Everything can be contained in one software. Meaning you can extract data and generate reports with ease. Many companies bundle these services together, so they are not hard to find even on cheaper plans.
Great for: Medium-sized retail or restaurant businesses.
Omnichannel POS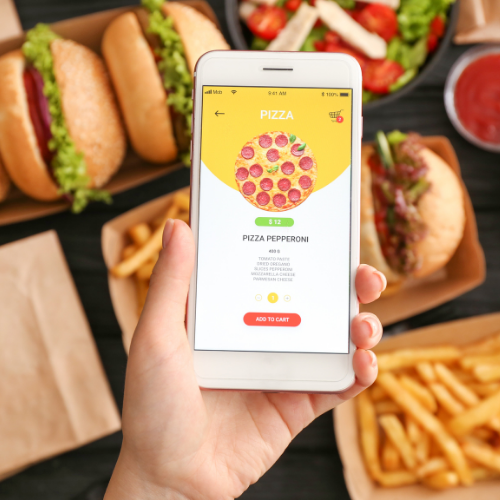 Omnichannel POS services not only include website and store sales, but social media, email, and other avenues as well. An omnichannel POS systems allow businesses to meet customers on their preferred platform. Essentially, it functions as both a POS system and a marketing tool. You can target potential customers on their preferred platform. There are many options to choose from in this range with many price points to enter.
Great for: Medium-large-sized businesses looking to sell on multiple fronts.
Features of a Good POS System
Now, every type of POS provider will offer different features. Most companies will sell these features in a bundle or tiered system with your hardware or software package. Some of the most useful features you should look for are:
Synchs Multiple Devices:
This may be a given but don't want your devices not reporting an order. If you have multiple POS devices, they need to be able to communicate with the software and other devices such as a kitchen display system.
Scalable
As your business grows you want to make sure your POS system can grow with you. This may mean you add a handheld POS, new software features, or something else entirely. You'll want to talk with a representative of your POS to make sure your system is future-proof.
Fits Your Niche
Not every type of POS is going to fit every business. In fact, what works for a food truck isn't going to work for a retail store. You want to find a POS that has features specific to your industry. A handheld POS may be a better fit if you move locations often, while a Phone POS may work best when you are just starting.
Inventory Management
Don't try to track your inventory by pen and pencil. Eventually, you will make a mistake. Look for a POS that can track this for you so you can have reliable data even when you are busy! It will automate your inventory process and help you provide a better customer experience.
Accommodate Multiple Payments
Limiting customer payment options can limit the number of customers you have. You'll want to make sure your POS accepts as many types of payments as possible. That can mean cash, card, phone, or other forms.
POS Reporting Tools
Reporting tools can make it easy to figure out your revenue, costs, and how your customers are paying for your services. For instance, you may find that 60% of your customers are ordering online rather than in-store. You may then decide to double down on your online marketing to produce better results. The data could also let you know that customers spend more on average when they do come into the store, which means you divert your marketing towards in-store visits. However, you won't know this without that crucial data.
Software Upgrades
Software upgrades help improves the user experience and security. Without routine upgrades, your software could fall behind or become susceptible to a new virus.
Loyalty Programs
It is much cheaper to keep an existing customer than to acquire a new one. A loyalty program ensures you keep customers coming back for more and offer tangible value for their loyalty. Stop handing out cards and start automating this process.
Additional Reading: Top 5 Restaurant POS Systems Compared
Finding the Right Type of POS for You
If you need a POS system with these features and more, we can help! 360Connect helps pair customers with high-quality POS providers in their area every day! Just fill out our contact form and we'll reach out to pair you with the right partner. It takes less than 5 minutes!