Equipment tracking software often referred to as asset tracking, is the equipment used to track hardware in a business or organization. You may track equipment by GPS, barcode, or RFID, to acquire the location data as well as other details. Equipment tracking software can record this information in real-time, regular time intervals, or based on geofenced location. This system allows companies to monitor all aspects of their equipment within the software.
Equipment Tracking Software Benefits
Not all equipment tracking software is created equal or for the same purposes. Some equipment tracking software is created for specific industries or incorporates tools that may be redundant for some employers. The benefits listed here may not all be applicable to your situation.
1. Eliminate Error and Automate Tracking
Once you have your system in place, equipment tracking will automatically log data for you within the software. No longer are manual inputs needed. You can eliminate human error and endless logbooks. For instance, you can view where a specific piece of equipment is with GPS location, such as tracking a trailer, that may be needed for another job. On the other hand, you can track which employee has a specific tool with a barcode scan. This can be useful for smaller equipment such as computers, keyboards, etc.
Equipment tracking software allows you to manage all your assets in one location. This also eliminates bottlenecks of information on the job site. Instead of relying on a couple of employees to know where equipment is, you can look that information up whenever you need it. This can be vital for companies that work in construction that need to move equipment from job to job within certain timeframes.
2. Theft Protection
When a piece of equipment goes missing money goes missing as well. Not only for the price of the asset but the lost revenue from delayed or slowed production. Equipment tracking software can help you prevent employee theft as well as "smash and grab" thieves. You can set alerts on when items are used or taken out of your facilities. More importantly, if something is stolen you can report the location of that device to the police and get that item back.
However, sometimes mistakes are made, and employees forget to return items. Equipment tracking software can eliminate this by sending reminders to employees or alerting you when an item has not been turned in. You can just contact the employee and have them return the item.
3. Accurate Inventory Management
Equipment tracking software can help you maintain better accuracy when it comes to your inventory management. You can know exactly which hardware you have in stock and how much you need for an upcoming job. This negates lost revenue by identifying how your assets are being used on a day-to-day basis. You can then use this data to prepare for emergency situations and keep a steady inventory. An inventory manager can purchase new tools or products based on your usage and scale. You don't have to guess; you base that decision on data.
Not to mention, equipment tracking software also helps you categorize and improve your inventory management. Everything is tracked and stored in its proper place so you can better use those assets. You can then craft policy around equipment usage and monitor stock levels to best suit your needs.
4. Manage Hardware, Permissions, and Software
While equipment tracking software can be great for monitoring physical assets such as a printer, you can do more than that. Some software providers will allow you to monitor who can see which data points. Moreover, some systems can help you manage software permissions along with your physical assets. For instance, you could not only track that an employee has a specific computer, but you can also grant permissions
5. Maintenance Reminders
One of the most underrated benefits of equipment tracking software is the ability to help set up maintenance reminders. Maintenance reminders allow you to negate downtime and manage tool utilization. You don't want to overuse a tool. Instead, you can maximize its longevity through proper assignment. Doing so means that you're getting the best value for your money. Additionally, maintenance reminders prevent forced losses due to equipment failure. This is applicable to many industries from construction equipment to the healthcare industry.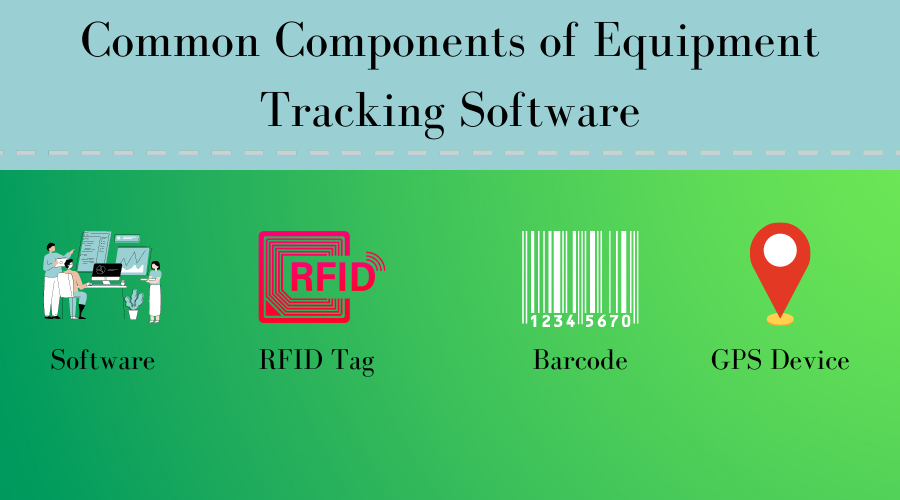 Top 4 Vendors and Pricing for Equipment Tracking Software:
There are many different types of equipment tracking providers. Some focus specifically on one industry. Don't choose a provider until you understand exactly what you need and how the software will integrate into your company.
Recommendations based on reviews by Investopedia and Software Advice.
Asset Panda can adapt its services to different industries, providing equipment tracking for various businesses. In fact, many companies turn to Asset Panda for this adaptability. This makes Asset Panda a great choice for companies that need to track different types of assets. Asset panda makes things easy by 3rd party integrations such as Google Workspaces, Zendesk, and more. Through the mobile application, all team members can stay informed of assets and their management. Asset Panda reports that the average customer sees an 800% ROI when using their product.
Used by some of the largest corporations in the world such as Intel, Johnson & Johnson, and others, GOCODES has a lot to offer. With their mobile application, you can be tracking items in minutes with custom QR codes. You can use GOCODES on any device such as a desktop, tablet, or smartphone. Furthermore, GOCODES can alert you when stock is low or of maintenance alerts. GOCODES is customizable and provides customers with a lot of flexibility when it comes to tracking and viewing data.
Asset Essentials Management Software is an all-in-one CMMS (computerized maintenance management system) platform. This platform is meant for maintaining and tracking many assets for an organization. Asset Essentials houses your tracking, usage, and maintenance schedule all under one platform. You'll be able to view maintenance history logs, work orders, asset location, utilization reports, and much more with this application.
Much like the other CMMS listed on this list, Upkeep will house all your work orders and equipment management under one roof. UpKeep is ranked as one of the best services across the industry, with over 1500 reviews on their website alone, Upkeep can do it all. You'll be able to view detailed reports on equipment usage, comparative reports amongst facilities and equipment, tracking and so much more! You can set up automatic preventative maintenance features as well as customize your inventory to your needs. Upkeep can do just about do it all!
Company
Free Trial
Mobile Application
Price
Asset Panda
Yes
Yes
Custom Quote
GOCODES
Yes
Yes
Prices are Annual.

Standard: $450
Premium: $810
Premium Elite: $1500
Professional: $2160
Enterprise: Custom Quote
Asset Essentials Management Software
No
Yes
Custom Quote
UpKeep Enterprise Asset Management
No
Yes
Community: $0/user/month
Starter: $45/user/month
Professional: $75/user/month
Business plus: Custom Quote
Is Equipment Tracking Software Right for You?
Equipment tracking software is great for businesses looking to cut costs and make preventive maintenance a priority. Tracking solutions can provide you with in-depth data to fully understand how your business operates. You can scale your business quickly and improve full utilization of your assets. Furthermore, you can know how to leverage your assets for in-demand seasons as well as downtimes.
If you are in the market for GPS tracking or fleet management, 360Connect can help! We help customers find high-quality suppliers every day right in their area! Just fill out our contact form and we'll connect with you to verify your information. From there, we'll have our suppliers reach out to you. It's that simple.
Want some more information? Check out our guides here:
Sectors that Benefit the Most from Equipment Management Software
Top 7 GPS Farming Benefits You Need to Know