In the past decade, shipping containers have seen exponential growth in their usefulness. From using storage containers for farming to using them as classrooms, they provide much flexibility and durability. Another application many music producers have been taking advantage of is also shipping container music studios because they provide versatility, excellent sound quality, DIY options, and cheaper costs. However, are they right for you? It depends. Here's why.
What is a Shipping Container Music Studio?
A shipping container music studio is usually a renovated storage container that has been repurposed as a music studio. This space can act as a dedicated location to record, practice, and produce music. These shipping containers are often outfitted with materials such as carpets, padding, etc., to make them ideal places to record.  By repurposing shipping containers, musicians get access to a unique and customizable studio that is private and oftentimes cheaper than other alternatives.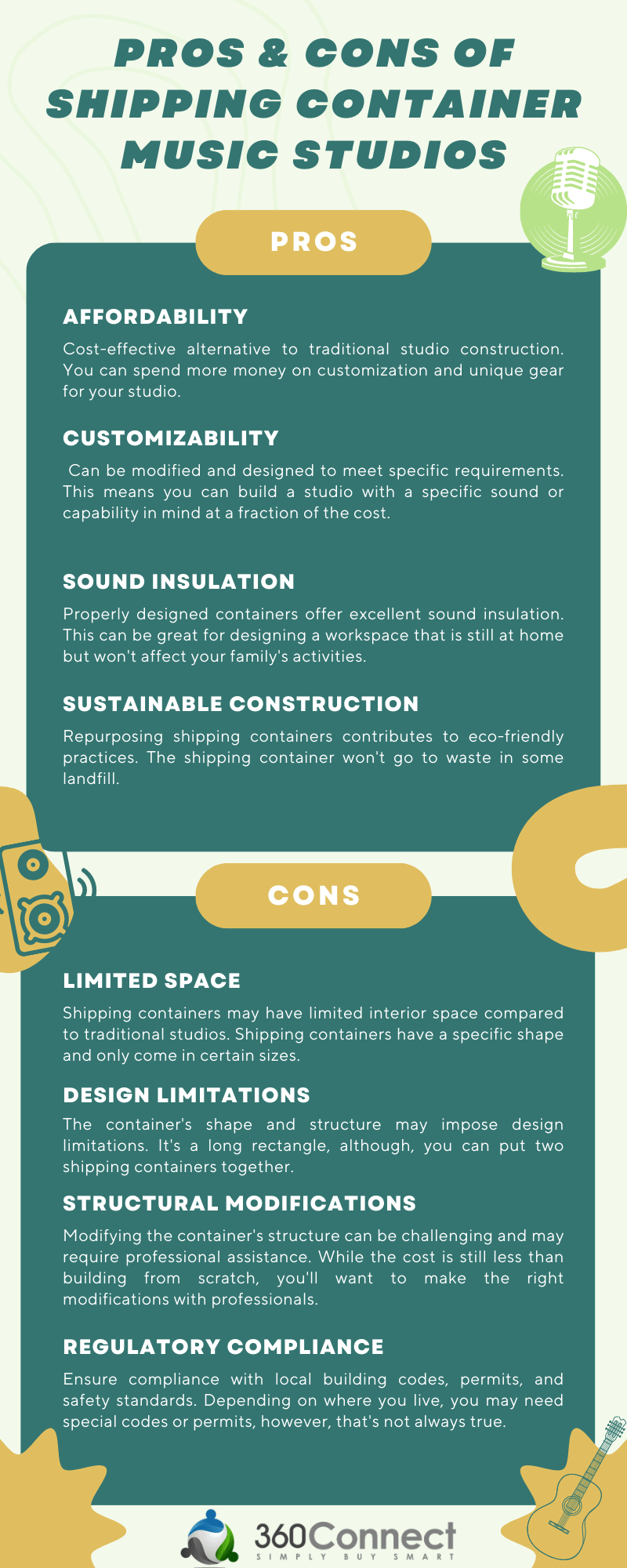 Factors to Consider Before Purchasing a Shipping Container Music Studio
Shipping containers can make a lot of sense when it comes to building an external music studio. Check out these important factors before deciding whether or not they are right for you.
Acoustics:
Sound Insulation:
Ask about the shipping container's sound-insulating properties while choosing one for your music studio. The walls, ceiling, and flooring of the container should be built or altered to ensure efficient soundproofing, avoiding sound leakage and interference from outside sounds. Shipping containers are not soundproof. Modifications will be dependent on how professional you want the sound to be. You may need to make major additions if you plan on using this studio full-time and want it to replicate traditional freestanding studios, you'll need to invest in sound insulation with:
Roof
Doors and Windows
Walls and Flooring
Corners
Size and Layout:
Dimension Requirements:
Since the standard shipping container is limited in space, it's worth noting how much space you'll need. Do you usually record just one 1-2 people, what about a 5-person band?
The most common shipping container sizes are:
Length: 10ft, 20ft, 40ft,
Special lengths: 45ft, 48ft, 53ft,
Width: 8'ft 6in, 9ft 6in.
Most shipping containers will average around 75sqft – 300sqft without modifications.
Space for Equipment and Facilities
Think about the container's layout and interior design options. What's going to be best for you? What will be best for the artists that you record? Think of where to put the recording equipment, soundproof booths, control room, and any other amenities you might need, such as lounges or storage spaces. A practical and ergonomic studio setup requires effective space usage.
Ventilation and Climate Control:
Temperature and Ventilation Options
HVAC systems don't come attached to a repurposed shipping container. You'll need to add that yourself with the help of a professional. You'll also have to set the system up to not interfere with your recording sessions. Shipping containers are metal boxes that can keep and hold heat. If you live in a warmer climate, a cooling system is a must!
Try to assess the container's insulation properties and whether it can effectively regulate temperature and humidity. Windows, vents, or HVAC systems are essential for proper airflow, preventing heat buildup, and maintaining a comfortable environment for extended studio sessions. There are some shipping containers with climate control that can be outfitted for studio use.
Power and Electrical Requirements:
Electrical Capacity
You'll also need electricity for your need shipping container studio. You'll need to consider items such as:
Wattage
Lighting
Generators
And other electrical needs.
It's best to employ an electrician to help you set this up. Never try to manage electrical work without the help of a professional.
Outlets and Modifications
You'll also need to configure your placement of outlets. You will need to install more outlets or make modifications, depending on how your equipment is set up, to meet your precise power needs.
Accessibility:
Transport and Installation
Consider factors such as access to your property, potential obstacles during transportation, and any necessary permits or regulations. You'll want to have enough space to accommodate the shipping container and any necessary components on the outside of the container (generator, etc.).
Entrance and Exits:
You don't want to get your new studio placed on your land, outfitted with HVAC capabilities, only to find out your doors aren't big enough to accommodate equipment. Ensure that the space is wide enough to accommodate equipment and provide accessibility for individuals with disabilities if required.
Cost and Budget:
Shipping containers can start around $1500 on the small side and range up to $6,000+ for some of the largest and most pristine containers. That's not the only pricing you have to contend with, other factors may include:
Site preparation
Transportation
Container modifications
Electrical work
Sound insulation
Acoustic treatment
Equipment
The costs of these additional factors will be dependent on your area and what you are willing to pay.
Future Expansion and Flexibility:
Plan Future Needs
Examine whether the shipping container studio can accommodate any future additions or adjustments by anticipating your needs. Think of things like acquiring new equipment, expanding the studio, or adjusting to shifting technological trends. To ensure that your studio can expand along with your musical efforts, flexibility is crucial.
If you want to add more to this studio in the future, how can you do so without comprising the integrity of the storage container?
Permits and Regulations:
Local Building Codes and Regulations
Building permits, zoning, and local laws can all play a factor in what you can do. There may be certain codes and regulations that prevent installing a shipping container music studio on your property. Furthermore, local compliance with zoning laws, noise restrictions, fire safety regulations, and other relevant requirements is crucial to avoid legal complications. Make sure to have the right permits or file the right paperwork before transporting a shipping container to your property.
Also, it's important to note, while you can move a shipping container, you'll have to repeat the same zoning process with wherever you move to.
Is Shipping Container Music Studios Right for You?
With a little bit of time and effort, shipping containers can make for great studios at a fraction of the cost. They also provide durable housing for equipment, and you are engaging in recycling! The caveat to these pros is that you will need to do some serious insulation and hire professionals to help with electrical needs. If that sounds like a fair trade-off to you, 360Connect can help. We help customers find high-quality suppliers every day. Just fill out our 1–2-minute form and we'll contact you to verify your needs and information. From there, you can kick back and relax as up to 5 different suppliers will reach out. It's that simple.
Get Started Today!