Shipping container garages have gained significant popularity in recent years due to their affordability and durability. They offer solid performance even in the toughest elements and help consumers and companies cut back on waste by reusing these containers. This has led to many different uses for shipping containers. Enter shipping container garages. Consumers are becoming increasingly interested in turning these containers, which were initially intended for shipping, into usable and multifunctional garage spaces. While there are a ton of benefits (and we'll get to them), can shipping container garages actually be useful? Here are 8 shipping container garage ideas that can really WOW your friends and family.
Why Shipping Containers
Shipping container designs can lead to innovative designs that maximize functionality and aesthetics. Whether it's for storage, workspace, or a combination of both, a container garage provides a ton of customizability and even character to your home or yard.
Benefits of Using Shipping Containers for Garages
Durability
Shipping containers are built to resist harsh circumstances during transportation, so they are naturally strong and long-lasting. They are made of corrosion-resistant steel and can survive severe weather conditions such as heavy rain, high winds, and rough weather. When used as garage structures, these containers offer long-lasting durability, providing a secure shelter for vehicles, tools, and equipment.
Cost-Savings
Building a shipping container garage can be a cost-effective alternative to traditional garage construction methods. While we did see higher prices due to the shortage during the pandemic, shipping container prices are starting to come back down. Pricing for shipping containers can range anywhere from $1500-$6000, however, if you are shopping the used market this figure can fluctuate heavily. Even with the necessary additions to make a space livable or functional, you can still come in cheaper than traditional buildings.
Flexibility
Not sure about your design or want some special features with your garage? One of the key advantages of shipping containers is their inherent flexibility and portability. Shipping containers can be customized and used in many different ways. They can also be transported should the need arise (however this does require some work and foresight.) Moreover, the modular nature of shipping containers allows for easy expansion or modification of the garage in the future, accommodating changing needs and circumstances.
Eco-friendly
Repurposing shipping containers for garage construction helps to promote green building techniques. By reusing these containers, you are lowering their environmental impact and diverting them from landfills. Furthermore, the use of shipping containers reduces the need for new construction materials such as:
Bricks
Concrete
Wood
And other materials
This allows you to reduce your resource consumption, and promote sustainability.
Speed
Since you are not starting from scratch, shipping container garages can take less time to install and build out. Furthermore, you can save months of time on building and payment for construction. Joining a couple of containers together and building a carport can take days, not weeks or months. If you are looking for a garage to protect your items now, a shipping container may be your best bet.
Shipping Container Garage Ideas
Now, this is not an exhaustive list of shipping container ideas. You can find even more ideas on sites like Pinterest. However, we believe that these are some of the most standout ideas you will find. Let's get started!
Shipping Container Garage Barn:
By combining characteristics such as a pitched roof, wooden siding, and barn-style doors, you can transform a shipping container into a gorgeous barn-style garage. This concept is appealing because it blends the steel look of the building with the country/rustic aesthetic of a barn. A container garage barn can fit right at home with the rest of your land and can even serve multiple purposes.
Why choose a shipping container garage:
Rustic and charming aesthetic
Durable and cost-effective solution
Customizable for various garage needs
Easy to paint and expand
Shipping Container Garage With Loft:
Combine 2 or 3 shipping containers to not only build a garage but build a simplified loft on top or to the side. This is a fantastic option because it provides extra storage or living space while still utilizing the garage room for vehicle parking. The loft can be used as a home office, a lounge, or even a guest bedroom. It makes useful and efficient use of space while maintaining a small footprint.
Why choose a shipping container garage with a loft:
You can build up, not out.
Offers additional storage or living space
Creates a multi-purpose garage
Efficient use of compact space
A cost-effective way to build a guest space
Shipping Container Garage with a Workshop:
Connect several containers to make a large garage with a dedicated workshop area. The "ultimate garage" with an industrial outside and inside. The workshop space provides for adequate tool space, workstations, and equipment organization. For people who prefer hands-on activities, it gives a varied and functional garage arrangement. Moreover, this may be one of the easiest shipping container garage ideas as you could theoretically just need to put shipping containers together and run electricity to the garage as well.
Why choose a shipping container garage with a workshop:
Relatively easy modifications
Versatile setup
Ideal for DIY enthusiasts and hobbyists
Hybrid Container Garage (Addition to the House):
Attach a shipping container to an existing house or garage to increase available parking or storage space. This is a wonderful option because it combines the container garage with your home and can help you spend even less money. It is convenient and easy to use, enabling easy access between the house and the garage. The hybrid container garage extends the living space by accommodating additional automobiles or storage demands. Essentially, it functions as a regular garage that tries to match the house.
Why choose a hybrid container garage:
Seamless integration with the existing structure
Convenience and accessibility
Extension of living space
Accommodates additional vehicles or storage needs
Shipping Container Garage Shed:
Make an attractive and space-saving storage shed out of a single shipping container. This is a wonderful option for people looking for a small storage solution for garden tools, bikes, or other items. Simple, effective, and useful, shipping container garages can make the perfect family shed that can be repurposed and reused as time goes on. Also, you can start using it immediately. No need to decorate or repaint if you don't want to.
Why choose a shipping container garage shed:
Space-saving storage solution
Provides security and protection
Visually appealing structure
Efficient use of a shipping container
Shipping Container Garage Hangout Space:
Often referred to as a "man cave," a hangout space with shipping containers can be a WOW factor to your home. If you put the time and effort in, you can make the space truly one of a kind. This shipping container garage idea is great for creating an additional social area that stands out from traditional garage designs. You can install areas such as:
Kitchenette
Bar
Entertainment systems
Seating
Tabletop games
And more!
Why choose a shipping container garage hangout space:
Unique and enjoyable social area
Customizable based on what you need
Versatile space for gatherings
Combines functionality with style
Multi-Level Shipping Container Garage:
Much like the loft, multiple levels to your container garage provide you with a ton of extra space and flexibility. Stack containers on top of one another to make a multi-level garage that maximizes space. This is an excellent option for people who need to accommodate multiple automobiles or have extra storage space.
Why choose a multi-level shipping container garage:
Optimizes vertical space
Accommodates multiple vehicles or storage needs
Practical solution with a compact footprint
Offers flexibility and separate functions between levels
Container Garage with Gym:
For those that place a high priority on their health and fitness, this concept is an excellent option. There is no need for a separate gym membership because the container garage gym offers a private and practical room for working out. It enables customization with regard to the availability of training equipment, mirrors, and enough ventilation, ensuring a relaxing and inspiring fitness atmosphere. In fact, many gyms are already made out of shipping containers! It can be the perfect aesthetic to get your grind on!
Private and convenient workout space
Eliminates the need for a separate gym membership
Customizable with exercise equipment and mirrors
Ensures a comfortable and motivating fitness environment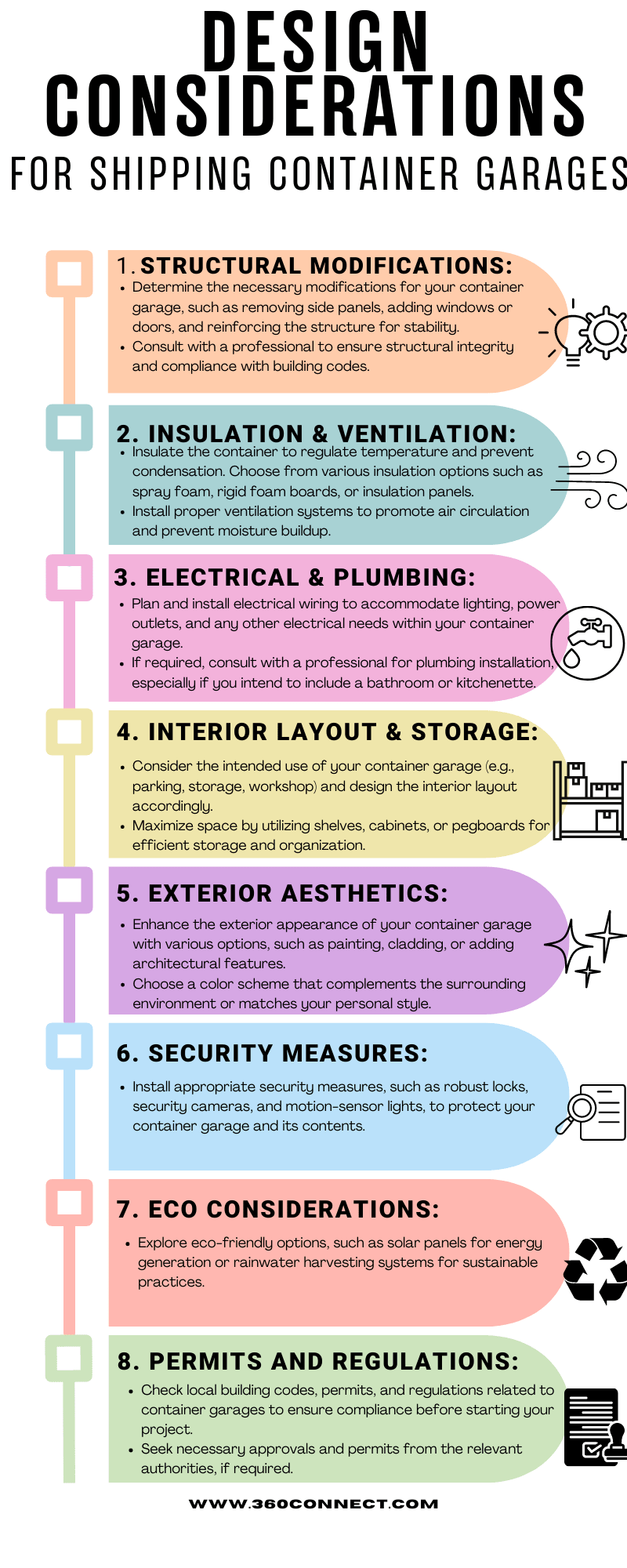 Looking for a Shipping Container for Your Garage?
Feel inspired by some of these ideas? Ready to find a shipping container that can fit your needs? Don't worry, 360Connect can help you! Just fill out our 1-2 minute form and we'll contact you to verify your information. From there, you'll receive 100% free quotes from up to 5 suppliers. It's that simple.
Get Started Now!