When looking to purchase a forklift, one of the first questions that usually comes to mind is: what are the different types of forklifts? The answer, a lot.
There are various types of forklifts today that service different commercial purposes. Take a look at our comprehensive list of the different types of forklifts to learn more and find out which one is right for you.
Material Handling Equipment
Equipment used to move, lift, store, and maintain materials and products is known as material handling equipment. In general, this equipment is most often used in a commercial setting to move goods and products.
There are 4 major types of material handling equipment that help warehouses and factories move and store goods, which are:
Transport Equipment
Positioning Equipment
Unit Load Formation Equipment
Storage Equipment
Industrial trucks, like forklifts, fall under material handling equipment and are used to move heavy materials safely. Learn more about the different types of material handling forklifts.
Types of Material Handling Forklifts
Sit Down Rider
As the name implies, you can sit down when operating a sit-down rider. Compared to standing using a stand-up rider. In addition, sit-down riders are known for moving at fast speeds. Especially when lifting and lowering. Thus, operating at a high volume.
Overall: Ideal for prolonged working.
Rough Terrain Forklift
Rough terrain forklifts are built to work at construction sites or other locations on uneven surfaces. Like hills and ditches. In addition to having a higher weight capacity than most other material handling forklifts, rough terrain forklifts have four-wheel drive and can assist in lifting heavier loads. Having durable tires also makes them the best type of forklift for outdoor jobs.
Overall: Ideal for rocky ground conditions.
Telehandler
A telehandler, or telescopic handler, is a multi-purpose material handling forklift often used in agriculture for moving hay. In addition to agriculture, they can be used for a variety of tasks, including moving heavy loads from trucks, cleaning up sites, and moving materials. When it comes to material handling forklifts, telehandlers can reach the highest elevations and carry the most weight.
Overall: ideal for agriculture and construction.
Narrow Aisle
With a narrow aisle forklift, you can do more with less space. Narrow aisle forklift trucks are designed to be used in aisles that measure less than 10 feet by 12 feet. Due to their size, they are commonly used in high-volume warehouses where aisles are constrained to accommodate maximum inventory loading.
Overall: Best for picking up and putting away inventory.
Order Picker Forklift
An order picker is a type of material handling equipment used to pick and deliver goods from storage for orders. Moreover, order pickers let operators easily and quickly pick items from bins of different SKUs for order fulfillment.
Overall: Typically used for moving pallets
Pallet Jack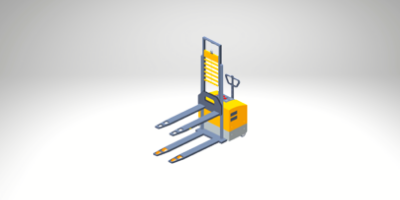 Pallet jacks are the simplest form of forklift and are used to move pallets in warehouses. There are two types of pallet jacks, manual and electric. Manual pallet jacks are hand-operated while electric pallet jacks are battery-powered. Both move goods short distances.
Overall: Used for lifting and transporting pallets.
Aerial Lifts
What is an Aerial Lift?
An aerial lift, also known as a construction lift, is a motorized forklift used to assist construction workers in reaching high elevations for jobs and projects. There are several different types of aerial lifts that are designed for different construction jobs which we've listed below.
Types of Aerial Lift Forklifts
Boom Forklifts
Boom lifts are the highest reaching elevated work platform. Using them, commercial workers can reach elevated heights or hard-to-reach areas comfortably. Since there are many types of boom lifts, it's important to learn the different features and functions of each.
Types of Boom Lifts
Telescopic Boom Lift
Telescopic Boom Lifts extend in a straight line and require more space to operate. In addition, among all types of aerial platforms, they offer the greatest horizontal reach.
Articulating Boom Lift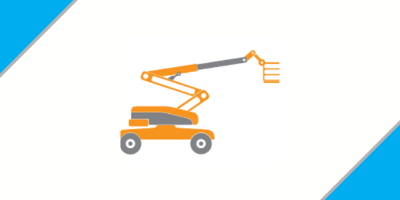 An articulating boom lift, also known as a knuckle boom, uses multiple pivot points on the boom sections that lets you "bend" in various directions. The main advantage of this design is that it lets you achieve difficult positioning around obstacles.
Towable Boom Lift
Towable boom lifts, as the name suggests, are known for their mobility. Boom lifts are frequently used by construction companies and other businesses who need to transport the lift easily from place to place.
Bucket Truck
A bucket truck, simply put, is a truck with an attached aerial lift. These vehicles lift people into the air safely in order to perform tasks.
Vertical Mast Lifts
Vertical mast lifts are aerial lifts designed to work in very tight and confined spaces. The combination of high lifts, reach, and flexibility of these platforms makes them a safe solution.
2 Types of Vertical Mast Lifts
Push Around: These vertical mast lifts feature wheels, thus making it easy to move and transport the lightweight machine.
Drivable: A driveable vertical mast lift can be controlled via a control panel, which allows you to move it between locations.
Scissor Lifts
Scissor lifts are mechanical platforms that lift personnel and equipment vertically. Typically, they are used in manufacturing and industrial settings. They are supported by crisscrossing braces that extend upward, hence the name "scissor lift."
Types of Scissor Lifts
Slab Scissor Lift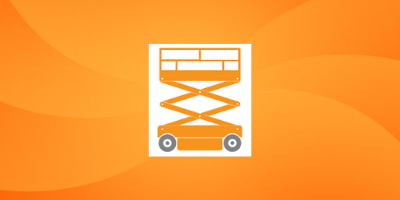 Slab scissor lifts are designed to be used on slabs, such as concrete. They usually run on low-emission batteries and are electric-powered.
Rough Terrain Scissor Lift
As the name entails, a rough terrain scissor lift is designed to function on rougher terrain and landscapes. Furthermore, most have heavy-duty tires and four-wheel drive, making them ideal for outdoor jobs.
Get the Right Forklift For Your Needs with 360Connect
Are you in need of a forklift for your next construction project? We can help. Rental and purchase options are available from top-quality forklift providers when you work with 360Connect. What are you waiting for? Get a FREE quote today!
Next Step
Check out our helpful Forklift Renter's Guide