What is Material Handling Equipment?
Material handling equipment refers to any tools, equipment, machinery, vehicles, appliances, and other devices that are used in commercial settings to move, lift, store, and manage materials. For instance, a large warehouse for a big box retailer would need material handling equipment on a daily basis to move items around the warehouse, organize inventory, prepare boxes for shipments, etc.
Many types of material handling equipment are automated (motorized), such as forklifts, which helps workers in these commercial settings get their jobs done more efficiently, safely, and productively. In fact, many industries would not be able to get their work done without material handling equipment!
Uses and Applications
Material handling equipment is typically used in warehouse settings, such as large retail facilities, manufacturing centers, storage facilities, transportation yards, and other industrial settings. Essentially, it can be used in any commercial setting where workers frequently have to move, store, lift, load, and organize materials or inventory in large amounts.
Tasks and Applications
Common industry uses
Internal movement
Lifting
Storage Inventory organization/preparation
Loading shipments
Manufacturing facilities
Warehouses
Big box retailers
Distribution centers
Transportation & automotive
Industrial
Material handling equipment: Categories
1. Basic storage & handling equipment
Storage and handling equipment is the most basic and simple form of material handling equipment. This equipment simply helps storage materials in commercial settings. For instance, a warehouse or distribution center may use racks and shelving to store and organize inventory before shipments are sent out. This type of material handling equipment serves the purpose of keeping items organized to maximize space and keep operations running efficiently.
Racks
Stacking frames
Shelving
Mezzanines
2. Engineered systems
Engineered systems are tools or devices that help with efficiently moving materials in an automated way. This equipment can be integrated with basic storage and handling equipment to create a efficient storage and retrieval system. Engineered systems are becoming more "intelligent" and complex year over year. They help warehouses automate material movement, which relieves workers of some of their tasks.
Automatic Storage and Retrieval Systems (AS/RS)
Conveyor Systems
Automatic Guided Vehicles (AGV)
Robotic Delivery Systems
3. Industrial trucks and forklifts
Industrial trucks and forklifts are one of the most common forms of material handling equipment in warehouse and manufacturing settings. They help workers easily and safely transport heavy, bulky materials from place to place. Forklifts can assist workers with storage, transporting, loading, organizing, and lifting bulk materials as well as boost warehouse productivity and efficiency.
Hand trucks (dollies)
Pallet jacks
Order pickers
Walkie stackers
Side loaders
4. Bulk material equipment
Bulk material equipment serves a very similar purpose as a forklift. Like forklifts, they help with storage, movement, loading, stacking, etc. However, they are used when materials are too large, heavy, or bulky for forklifts. Bulk material equipment is also sometimes used when items are loose and can't effectively be handled by a forklift. This kind of equipment is motorized for vertical or horizontal transportation.
Conveyor belts
Stackers
Elevators
Reclaimers
Silos
Types of material handling forklifts
Forklifts, also known as industrial lift trucks, are one of the most commonly used types of material handling equipment in many different industries. They are small devices or trucks, usually motorized or automated, that help workers move large materials easily. Forklifts are so widely used because oftentimes, in commercial warehouse settings, equipment like conveyors that are designed to consistently move heavy volume are not necessary. Instead, workers need equipment that can help them store, lift, and prepare certain loads of inventory – and for this job, forklifts are the perfect solution.
There are several different types of forklifts designed for material handling purposes. Below we have provided information on the most popular six forklift types.
1. Sit down rider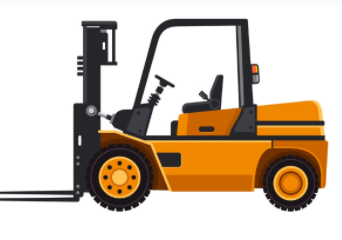 Sit down rider forklifts are electric battery-powered forklifts that tend to move and lift at faster speeds compared to other types of material handling forklifts (ie. stand-up forklifts). They are particularly effective in warehouses and other commercial settings with high-volume material handling needs, as they allow workers to stay off their feet and stay productive for hours at a time. Sit down riders tend to be the best forklift option for jobs that require prolonged working use and in areas where safety is a concern.
Best for: Prolonged working use, driving on slippery surfaces
Weight capacity: 3,000-4,000 lbs.
Max height: 20-25 ft.
Max travel speed: 10 mph
2. Rough terrain forklift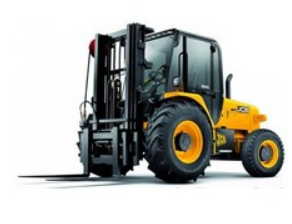 If you are working in an environment that has uneven surface or rough terrains, a rough terrain (all-terrain) forklift is what you will need. Rough terrain forklifts also have a higher weight capacity compared to most other material handling forklifts, as well as four-wheel drive, and can assist with lifting heavier loads. Their durable tires also make them the best type of forklift for outdoor jobs.
Best for: Rough or uneven terrains, outdoor work environments
Weight capacity: 8,000 lbs.
Max height: 20-25 ft.
3. Telehandler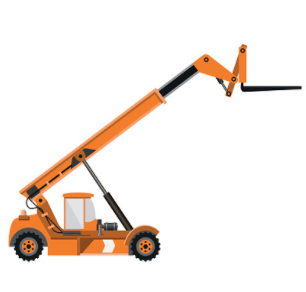 Telehandlers are larger forklifts that lift, move, and place material at different heights and surfaces. They are motorized trucks with an attached hydraulic arm that extends outward and upward. The end of the arm can accommodate different attachments, such as pallet forks to move inventory, depending on the work setting and needs. 
Out of all the types of material handling forklifts, telehandlers are able to reach the highest elevations and carry the most weight. This makes them ideal machinery in high volume workplaces that need to store items on very high shelving areas or otherwise reach higher heights.
Best for: Reaching elevated heights
Weight capacity: 6,000-14,000 lbs.
Max height: 50-60 ft.
4. Narrow aisle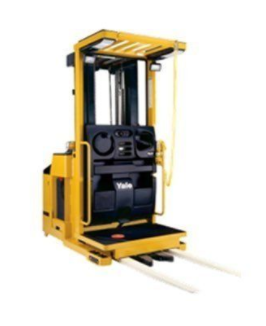 A narrow aisle forklift is a type of motorized forklift truck that is meant to be used in aisles that are less than 10 ½ feet across. For this reason, they are commonly used in high volume warehouse settings where storage aisles are tight to pack in maximum inventory. Some narrow aisle forklifts are as small as 34" wide and offer versatility in warehouse environments.
Best for: Maneuvering in tight, narrow spaces
Weight capacity: 2,500-5,500 lbs.
Max height: 30 ft.
Max aisle width: 10-12 feet
5. Order picker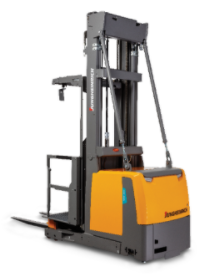 Order pickers are one of the most common forklifts used in warehouse, retail, and manufacturing settings. They are used to "pick" items from highly elevated shelving areas to move, organize, or prepare orders.
A worker will stand on the order picker's platform and use the levers to move the forklift's mast to the shelf they need. Then, the lift will lower the item back to the ground level. Most warehouses would not be able to function regularly without order pickers!
Best for: Grabbing items from elevated storage areas
Weight capacity: 3,000 lbs.
Max height: 35 ft.
6. Pallet jack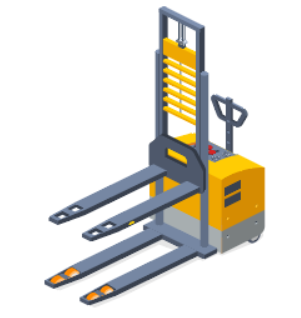 Pallet jacks are one of the simplest material handling forklifts. They are used to easily lift and move "pallets" of materials across short distances, when those items can't be moved safely manually. Most pallet jacks are manual rather than motorized, however there are also electric pallet jacks available. Pallet jacks are great for easily and quickly moving heavy materials, however, they do not reach very high elevations compared to other types of forklifts.
Weight capacity: 4,000-5,000 lbs.
Best for: Quickly moving/lifting heavy pallets
Max height: 8 ft.
Do you need a license to operate material handling equipment?
Forklift certification is a type of training required to operate a material handling forklift in any workplace. In the U.S., all forklift certification courses must adhere to Occupational Safety and Health Administration (OSHA) standards in order to be considered valid. This training involves both classroom and practical training courses. OSHA training teaches forklift operators how to properly and safely use a forklift, how to be aware of workplace hazards, as well as other safety requirements. Forklift operators also have to be recertified every 3 years.
Most workplaces that use forklifts will offer OSHA training and certification to employees. If you are a forklift operator, it's important to be aware of OSHA training for material handling forklift usage, as you don't want to risk being out of compliance.
Next Steps
If you're looking for forklifts for your construction site, make sure to look into construction lifts aka aerial lifts. Also be sure to take a look at our Forklift Renter's Guide to learn about the ins-and-outs of renting!
Ready to compare prices for material handling equipment? Get started using our free form for material handling forklifts to compare prices and save up to 30%!