Especially in 2022, businesses that are operating in in-person work settings need great cloud-based access control systems to keep their business running smoothly. Cloud-based access control systems are so beneficial today because they allow businesses to manage access control settings remotely, implement flexible and touch-free authentication for each door or zone, and add an extra layer of security to their business's physical security system.
We recently listed our top 10 access control systems, but since we have been asked to cover a list of JUST the top cloud-based access control systems for 2022. We are here to answer your question and help you find the best cloud-based access control system for your business's specific needs. Keep reading to learn about our top 5 recommendations for cloud-based access control manufacturers and providers.
Related: How Does an Access Control System Work?
Brivo is a cloud-based access control system designed for businesses of all sizes – including small single-site business as well as enterprise multi-site businesses. Business owners and managers can manage Brivo access control settings remotely, improve visibility, and streamline access control with other security systems such as video surveillance.
Their system is designed for convenience, as it allows employees and visitors access using their mobile device. This is convenient for employees as their key is seamless, portable, and already with them at all times. It's also convenient for businesses, as they avoid the hassle and cost of printing new "keys" for employees and visitors.
Brivo provides easy-to-use access control hardware as well as back-end software, which provides tons of valuable insights.
Access Control types
Customers
Integrations
Disadvantages?
Mobile app
-Single site businesses
-Multi-site businesses
-Multi-family facilities
-Vacation rentals
-Video surveillance
-Visitor management
Brivo may not offer other types of access control other than mobile authentication.
OpenPath is a cloud-based access control provider specializing in keyless entry systems. The system is designed to be highly secure, with modern hardware, software that allows for remote management, encrypted credentialing, and an Open API.
OpenPath is a unique access control system offering additional features such as wave to unlock, mobile unlock, touch unlock, guest passes, encrypted badges, Covid-19 features, and a variety of integrations.
OpenPath offers two packages depending on your business's needs – Basic and Premium. In comparison with the Basic package, the Premium package adds occupancy tracking, role management, rules engine, custom user fields, and VMS integrations.
One benefit of Openpath is that they allow you to set specific controls and schedules for certain doors or zones in your building(s). You can also set certain zones or doors to be accessible to certain personnel/ during certain hours only. If you are looking for a highly customizable cloud-based platform, we recommend looking into OpenPath as an option.
Access Control types
Customers
Integrations
Disadvantages?
Mobile app
Touch to open
Wave to unlock
Key fob
Cards/badges
-Single-site business
-Multi-site business
-Residential
–Video management
-G-Suite
-Active Directory
-Office365
-Envoy
-Slack
-Okta
-and more
Possible battery drain issue with door readers
Kisi is a cloud-based physical security system for businesses, offering access control, video surveillance, elevator access, and more. They provide one of the most robust digital access control systems, which makes them a good fit for larger businesses and organizations.
One big advantage of using Kisi right now is that they have many Covid-19 solutions in place for businesses. These include touch-less door access, contactless elevator access, health surveys, and thermal scanning.
Kisi also integrates with common business communication tools, such as your CRM, G-Suite, Slack and Microsoft. It can sync your business's contacts with your access control system so you don't have to worry about manually entering new users when employees are hired or leave your organization.
Access Control types
Customers
Integrations
Disadvantages?
Mobile app
Key fob
Keycard
Enterprise businesses
-Video surveillance
-CRM
-G-Suite
-Slack
-Microsoft teams
Kisi does not offer alarms such as fire, gas, and break-ins
Swiftlane is a cloud-based access control system that integrates with authentication methods such as mobile unlock, facial recognition, video intercom and visitor management systems. They also offer touch-free access control, which many businesses are seeking right now due to Covid-19.
Swiftlane's facial recognition features adds an extra layer of security for cloud-based and/or mobile unlock systems. Their video intercom unlock system also allows businesses to ensure only authorized personnel are entering the building. You can also pre-register and grant access control to visitors prior to their visit to save time. This makes Swiftlane a great solution for businesses who need temporary access control solutions with easy turnover.
Swiftlane offers options for multi-site businesses so that business owners and managers are able to remotely manage multiple locations from one back-end software.
Access Control types
Customers
Integrations
Disadvantages?
Mobile unlock
Facial recognition
Video intercom
Commercial
Office
Multi-site business
High-rise residential
-Covid-10 health checks
-Tailgating protection
Swiftlane may not offer cards or key fobs for authentication.
They also do not list additional integrations on their website.
Verkada is a cloud-based security provider that offers access control as well as video surveillance and sensor solutions. It allows businesses to manage doors, users, credentials, and schedules across the entire organization using the back-end Verkada software. Verkada software also provides real-time access control insights so you're always aware of access control data at all times.
Verkada is especially great for businesses with multiple locations, plan on scaling up, and/or need video surveillance integrations.
The system works by using a door controller and a door reader. The main authentication method for users is their smartphone but you can also issue cards that the door reader can also authenticate.
Access Control types
Customers
Integrations
Disadvantages?
Mobile app
Proximity cards
-Single site businesses
-Multi-site businesses
-Video surveillance
Limited authentication methods available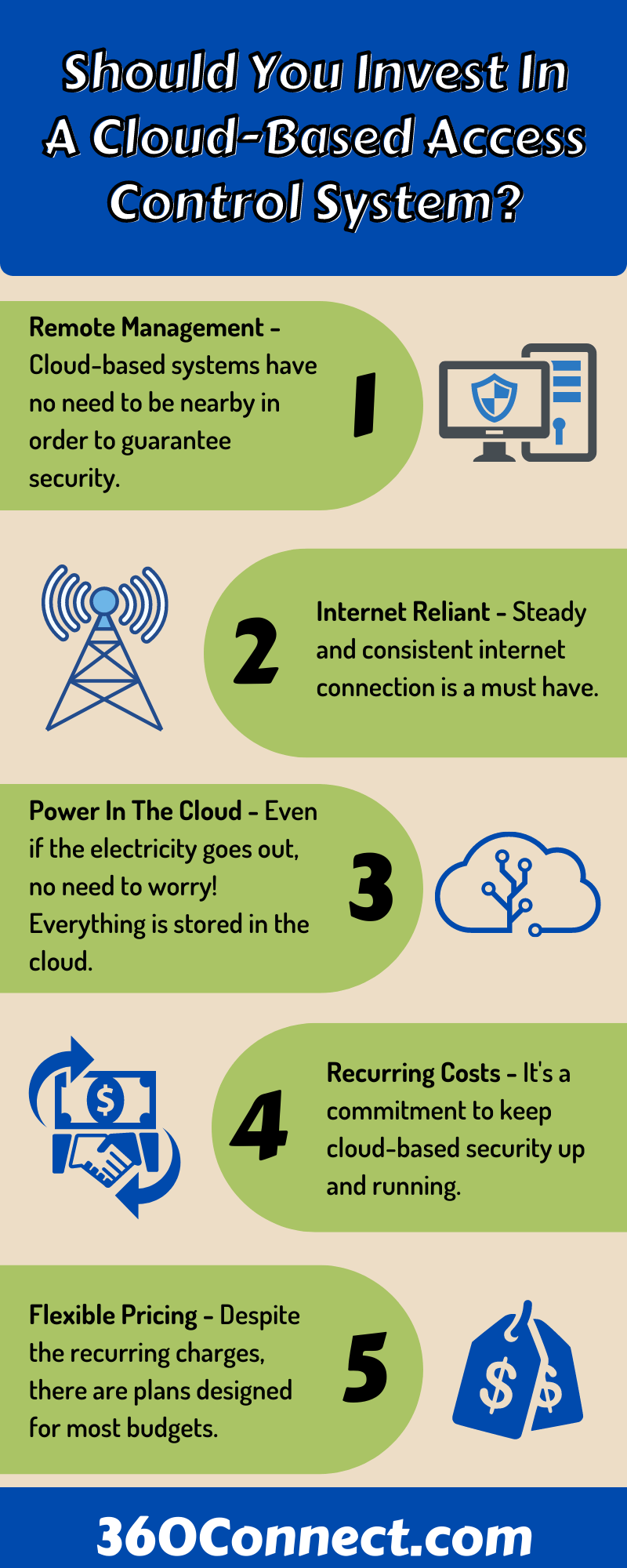 Additional Resources
Businesses looking for cloud-based access control systems often want to integrate this system with other business security platforms, such as video surveillance. Take a look at the top video surveillance suppliers as well as reasons why your business might need security cameras. You may also want to explore how much a robust business security system costs overall.
To ensure you have all your grounds covered in terms of access control and security needs, make sure to look at our access control checklist for businesses.
Ready to compare prices on cloud-based access control systems? Our free service matches you with the top access control suppliers based on your needs. Plus, we save you up to 30% when using our service.