Every medical practice wants its office to run smoothly. However, to achieve this, your practice must be ready to increase its medical office efficiency.
The Impact of Medical Office Efficiency
It should be no surprise that the more efficient the medical office is, the more likely you are to have repeat business and lower overhead. A study done by the American Academy of Family Physicians found that practices that don't focus on efficiency pay about 60 percent of their revenue in overhead. However, overhead in ideal practices with increased efficiency averaged almost 35 percent. Therefore, efficient clinics can see fewer patients yet spend more time with them. This results in a highly efficient practice, lower overhead, and patients likely to return for your quality customer service.
Every practice can achieve medical office efficiency with a few simple steps. Take a look at the top 5 ways to improve your medical office efficiency.
1. Automate Tedious Tasks
A quick and easy way to improve your medical office efficiency is with automation. Automation and technology are great tools to have on your toolbelt for improving efficiency. With automation technology, your medical office can enhance the efficiency of many of the tasks carried out by the front desk. For example, you can automate time-consuming duties like appointment scheduling, reminder emails, and more. This allows your staff to focus on more critical tasks, and for your office to run faster and more efficiently.
Benefits:
Labor Saving
Fewer Errors
Improved Patient Care
2. Utilize Scheduling Tools
Looking for a huge time saver? Scheduling tools and software are a great way to increase medical office efficiency. In a study done by PatientPop, they found that 52.2 percent of practices spend at least 10 hours a week scheduling and confirming appointments along with returning patient calls and emails. This is a major consequence and burden to staff due to the lack of online scheduling tools and software. In addition, the same study found that 68% of patients would choose a medical provider that offered the ability to book, change, or cancel appointments online.
Not only are scheduling tools a great asset to patients, but they also help organize healthcare staff. Scheduling tools allow a clear view of availability on both patient and staff ends. This allows for increased medical office efficiency.
Benefits:
Time-Saving
User-Friendliness
24/7 Availability
Faster Booking and Payment
Prevents Overbooking
3. Outsource Simple Tasks
No matter the size of your medical office, by outsourcing various activities you can provide a variety of benefits to both your staff and patients. When you outsource simple tasks in your office, you free up staff time to focus on improving the patient experience. In addition, you gain a team of skilled resources with the advantage of many teams being available outside of normal full-time employee work hours.
Benefits:
Focus on Patient Care
Risk Management
Skilled Resources
4. Digitize Your Medical Office
Moving mundane tasks to a digital system can help maximize your medical office efficiency. In the last decade alone, there has been a huge push toward medical practices moving in a digital direction regardless of the practice's size. For instance, more than 83 percent of doctors nationwide have adopted an EHR (electronic health record) system. With advances in software and server security, healthcare practices can now fully benefit from digitization.
Aside from being beneficial to your practice's patient charts and records, digitalization is also a great way to complete paperwork before an appointment. Today, many physicians will call their patients in advance and ask them to log in to an online portal to fill out their medical histories. As a result, this improves the clinic's office efficiency by streamlining the check-in process.
Benefits:
Securely Share and Store Patient Information
Faster Check-in
Environmentally Friendly
Quick Access to Patient Records
Improved Patient Engagement
Minimized Medical Errors
Direct Communication
Expanded Services
5. Staff Investment
Without a solid staff, medical office efficiency doesn't matter. When you're working in a field with plenty of opportunities elsewhere, it's important to truly connect with your staff to ensure they share your vision, are on board with your goals, and strive to be efficient. Chaos will ensue if you do not have your entire team on board. What can you do to improve medical office efficiency? Invest in your people.
Investment doesn't have to mean compensation. You can invest in your staff in the following ways:
Observe the Small Victories
Show Appreciation
Invest in their Training and Skills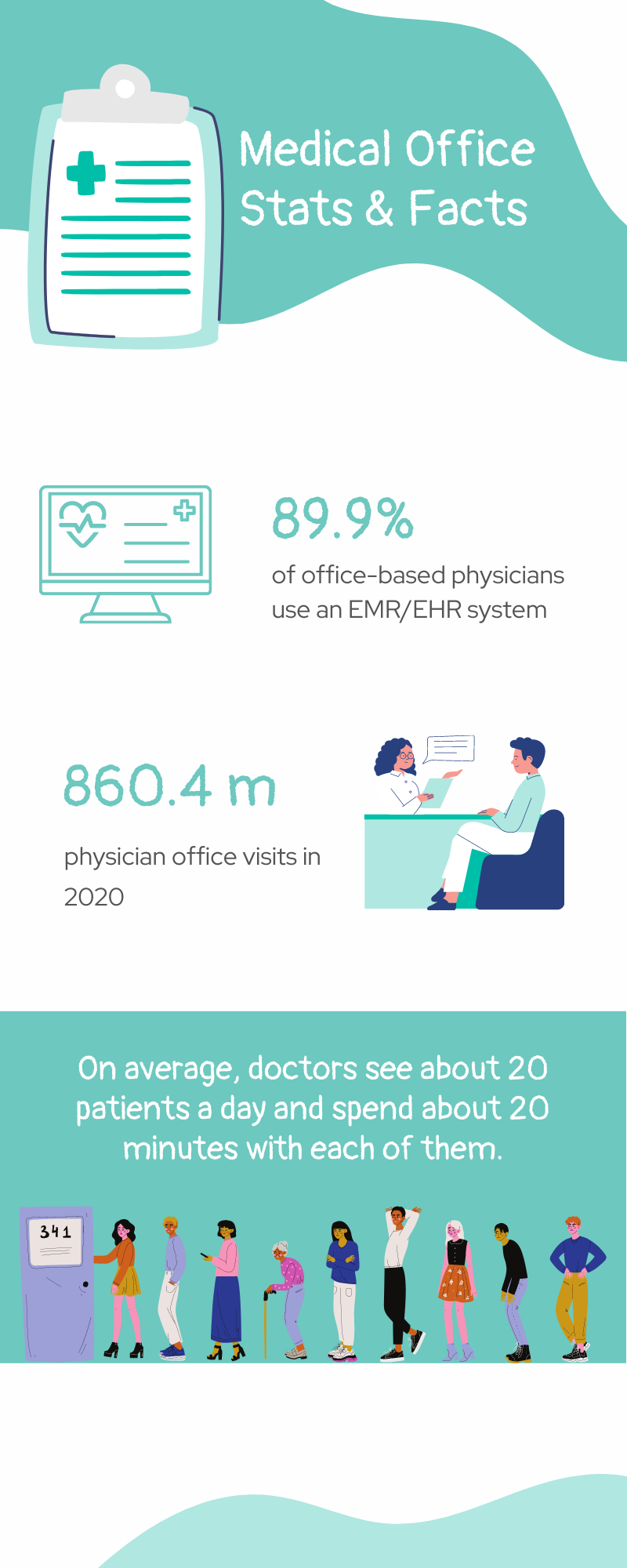 Solutions that Can Improve Your Medical Office Efficiency
Now that you know the 5 steps you can take to improve your medical office efficiency, let's take a look at the programs and solutions that make them possible.
EHR/EMR
EHRs and EMRs are both meant to replace paper healthcare records by digitalizing them. This enables medical office efficiency by putting vital information onto an electronic medium. Gone are the days of sifting through a filing cabinet, EHR/EMR systems increase your medical office efficiency.
Software:
EHR: Kareo | CareCloud | AdvancedMD
EMR: athenaOne | RXNT | DrChrono
Practice Management System
A practice management system can help increase your medical office's efficiency, accuracy and productivity by utilizing quality technology. The purpose of practice management software is to provide a platform that manages all the daily activities of medical practice in one place efficiently.
Software:
AthenaOne | RXNT | DrChrono | Kareo | PatientNow
Medical Billing
Every medical office needs a system in place for medical billing. And often that system could be outsourcing. Medical billing is an increasingly complex field that requires trained billers and coders. In addition, your staff would need to keep up with new technology, government requirements, and other tasks that come with working in a medical office. Instead, outsourcing the service lets a team of skilled and trained medical billers handle it. These third-party teams strive to maximize your practice's revenue, allowing you to focus on medical office efficiency.
Software:
DrChrono | CureMD | Kareo | eClinicalWorks | CareCloud
Online Portal
Practices can benefit from a patient portal in a variety of ways. With the ability to put the most tedious tasks online, you allow your staff to take their time back and increase medical office efficiency.
Software:
Athenahealth | CareCloud | Benchmark Systems
Ready to Increase Your Medical Office Efficiency?
Whether you're looking to improve your efficiency with software or by outsourcing, 360Connect has the medical solutions you need. We can help you determine what works best for your practice and connect you with up to 5 FREE price quotes from pre-qualified suppliers.
Simply fill out your needs, and we'll take it from there. 👍