Medical practice strategic planning is the process of developing the overall vision for your medical practice in a given period. With this vision, you will then develop and plan how your organization will make this future vision an actual reality. The strategic plan will be about the material improvements your organization makes over time.
A medical strategic plan is applicable to well-established medical practices or new clinics that are just beginning. They are particularly useful for medical businesses that are looking to grow their services or provide direction for their care.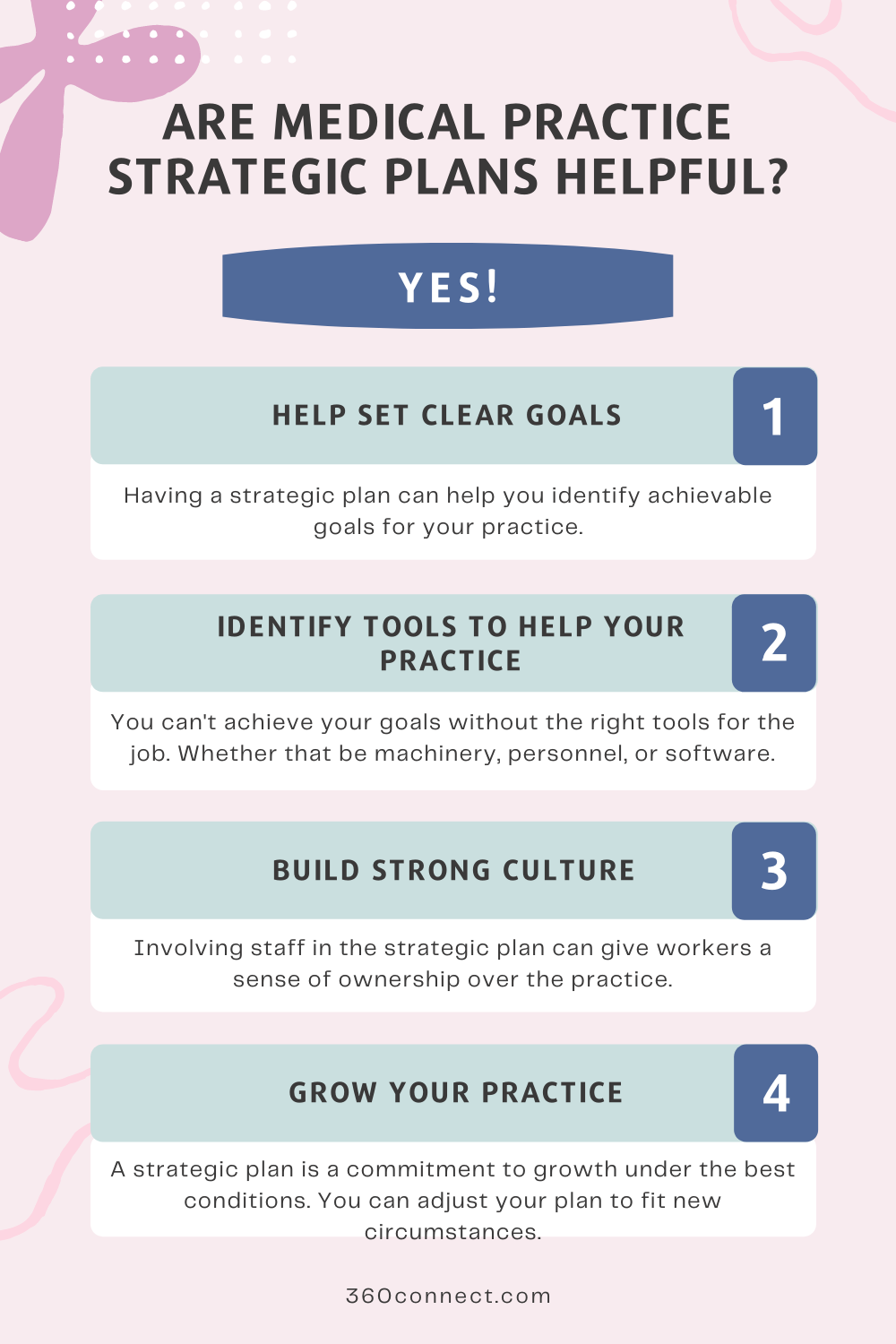 How to Plan Medical Practice Strategic Planning in Your Business
Having a strategic plan will look different across different types of businesses and even medical fields. However, there are key components to make any medical practice strategic plan successful.
Identify Where You Want to Go
Are you wanting to just increase revenue in the next two years? Do you want to become a leading provider of prenatal care? Defining this is both the simplest and hardest part of the strategic planning process. Your end goal should be detailed and realistic. You can start by developing a vision statement.
For example, a strategic planning statement may look like this:
"Our vision at Medical Health Clinic #301 is to increase our revenue in five years by twenty percent. Furthermore, Medical Health Clinic #301 looks to strengthen our community by providing top-of-the-line care with our prenatal unit with innovative research and leading technologies in the field. In the next five years, we plan to be a leading clinic for prenatal and newborn care"
This is an overarching statement to help you define and measure your goals. From there you can design attainable goals to match this vision statement.
You should design your end goals based on factors such as:
Geographic location and common patient makeup.
Current revenue
Staffing
Current equipment
Considering these factors can help you determine S.M.A.R.T. goals.
Specific
Measurable
Achievable
Relevant
Time-bound
These SMART goals will then be used to improve upon your current assets and performance.
One of the most common problems during the development of a strategic plan is not involving staff. Experienced staff can provide you with realistic and achievable goals. They can help you further develop and materialize your plans. To guarantee success for your strategic plans include staff members in the decision-making process.
Understanding Your Starting Place
Now that you have a vision for the future you need to fully understand your beginning. You do this by performing an audit or SWOT analysis.
From this framework, you can begin to craft your goals and grow your practice. You will also need to identify the necessary tools you will need to complete your objective. For instance, your organization may need tools such as:
EMR/EHR services
Defibrillators
Surgical tables
Surgical equipment
Specialty equipment
Hospital beds
Kidney machines
However, you may need much more specialized tools such as:
Highly accredited specialty doctors
Specialized nursing staff
New facilities
Patient staff
IT staffing
Billing experts
Marketing experts
Again, the tools and personnel you need will depend upon your goals. Whether that be improving efficiency or having the most up-to-date technology. At this point you should have:
Defined your overall vision
Set clear and S.M.A.R.T. Goals
Conducted a SWOT analysis and identified areas of improvement
Identified tools to help you reach your goals including medical, personal, and financial tools
Updating Your Medical Practice Strategic Plan
The best part about medical practice strategic planning is that you can always change the plan if necessary. While a great plan can help you achieve remarkable things, a rigid plan that cannot change to new circumstances will only hamper your practice. When you review your plan throughout the year ask yourself and your team questions like:
Is this goal still achievable?
If so, what is the timeframe for completion?
If not, why? Does this goal need to change or be pushed back?
What are the problems preventing this from happening?
Can resources be diverted to achieve another goal?
Medical Practice Strategic Planning Template
Below is a 100% Free downloadable PDF you can use with your medical practice.
What Now?
Now that you have a medical practice strategic planning, you are going to need the tools to get the job done. If you are looking for medical billing services or patient management services, 360connect can help. We help buyers find high-quality suppliers in their area every day.
Just fill out our contact form for 100% free quotes for medical solutions in your area here.
Want to read more? Check out our articles:
How to Open a Private Medical Practice?