Keeping your offices and storage spaces safe is one of the top priorities for many business owners. Prevention is usually better than dealing with the after-effects or a criminal intrusion into your premises. A great way to deter any security threats is installing a surveillance system that will make any trespasser think twice. In this article, we will discuss what to look for in a commercial surveillance system and how to pick one that is right for your business.
Determine your specific needs
Before you dive into the specificities of individual camera models, you first need to determine what exactly you will be using them for. Even if you aren't a security expert, no one knows your place of business better than you do. In order to know which areas you plan to cover with cameras, you can start by examining the premises. Look for the following features in your property:
The number of entrances. How many entrances and exits are there? Also, are there any balconies that are on street level?
Do you store anything valuable? Do you have any storage or secure areas that you want to monitor?
Access control. You might need secure entry into the building or maybe only for specific rooms. Thankfully, there are many cloud-based solutions available that will give you access control.
The number of visitors. How many non-employee visitors do you have, and what is the security protocol? This can include clients, delivery personnel, or just people visiting or walking by.
What type of surveillance camera is right for you?
By now, you should have a better idea of which areas require the most attention and where you'd place cameras. While there are many reasons to install a security camera, they are by far the cheapest way to deter crime and reduce security incidents. Your main choice now is determining whether you want an analog or an IP camera.
Internet protocol (IP) cameras slowly replace their analog counterparts due to their better characteristics and higher functionality. Internet cameras usually have a higher resolution and come with additional features like remote alerts and video analytics.
You will also need to choose the size and type of storage you will use. Most modern cameras use NVR – network video recorders. You can determine how much storage space you need based on:
The number of cameras. How many areas of your business do you need to monitor. Multiple entrances, corners, and other blind spots can increase the number of cameras you need.
Video quality. The quality of the video can determine the resolution and frame rate. Obviously, for both of these, more is always better. However, be mindful that high-quality video will quickly fill up your storage.
The time you keep the video. It's improbable that you will have any need to view security footage from last year. So how long do you need to keep the footage before erasing or re-recording over it? For most businesses, a few days is enough time to determine if there was any foul play.
Remote access. If you need to access your surveillance footage remotely, cloud storage is the way to go. Otherwise, you can stick to on-premises storage.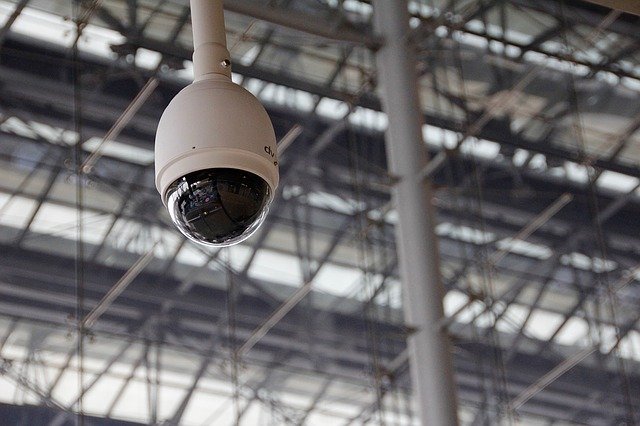 Special features
Besides deciding what kind of camera and storage you need, there are some special features you need to look at when considering what to look for in a commercial surveillance system.
Night vision. This feature is necessary when you want to place your cameras in dark or poorly lit spaces.
Motion detection. Motion sensors can be used to trigger alerts or to turn on lights, potentially deterring security threats.
Hidden or visible cameras. Placing cameras in visible spots can psychologically impact people if they know they are being recorded. Visible cameras are best put to use on the outside of your premises.
Audio recording. Most surveillance systems come without built-in audio features.
Pan, tilt, zoom, the field of view. Depending on the area you need to cover, you can either use multiple cameras or extend the field of view and use pans to cover a larger area.
Keeping your possessions secure
Surveillance systems are great for keeping an eye out for what is happening, but what about actually protecting your possessions? You can use a safe to store your valuables. Safes can be built into walls or placed in hidden compartments and kept out of sight.
If will place some easily damaged pieces there, make sure to pack these fragile items carefully. However, while you can take extra care to ensure the safety of fragile items by packing or securing them properly. there will always be items you don't want to keep locked away but still need to keep safe from harm. And cameras will help a lot with it if they need to be displayed. Still, it is a good idea to place them out of areas with heavy foot traffic whenever possible.
Balancing your budget
No one wants to spend more than they need to. Understandably, people will try to make compromises to save money where they can. However, you mustn't compromise on key features that can render your entire system ineffective. By now, you know what to look for in a commercial surveillance system and what features are relevant for your business.
If your budget allows it, you can go beyond just having a surveillance system and install additional features. Consider having security passes for access control, biometric checks for highly sensitive locations, or even hiring a private security company to help find the perfect solution for your business. Although the costs can add up, we are here to make sure you get the best deal by comparing prices and giving you free quotes.
The bottom line
Security is vital for any company, and modern surveillance systems can go a long way to help you monitor and prevent threats to your business and your employees. After reading this article, you should have a good idea of what to look for in a commercial surveillance system, so it might be time to place some cameras on your property. Once you have a state-of-the-art surveillance system, you can relax knowing you and your business are safe.