Kronos (now partnered with Ultimate Software as UKG) is a software provider for HR services and needs. You can purchase the Kronos payroll system separately or as part of either suite options in Kronos Workforce Dimensions or Kronos Workforce Ready. Those suite options combine many functions into one so you can have integration and automation across all platforms.
That being said, the Kronos payroll system is software for optimizing and automizing your payroll. This cloud-based software makes updating payroll easy for your HR department and accessible from anywhere. The Kronos payroll system keeps all your payroll needs in one location. The system saves companies time and money by customizing the service to the individual company. You can create your own workflow that works best for your company.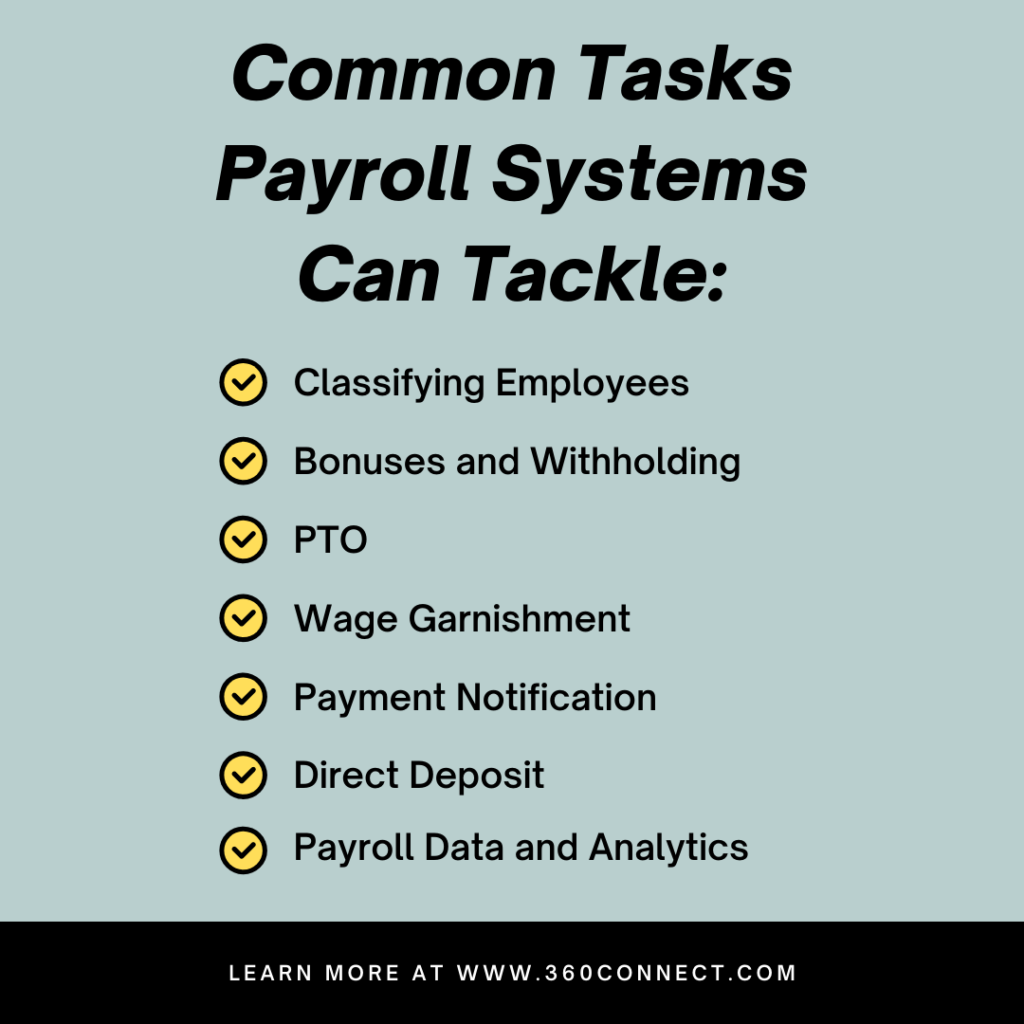 Pricing
In a report by PC Mag writers, Rob Marvin & Robb Watts stated that Kronos payroll system starts around $6/user/month. This can be subject to change as pricing is done on a custom quote basis. Depending on the size of your business that starting user price may be higher or lower.
Kronos would like you to schedule a consultation first to see the software in person and then negotiate a price from there.
Kronos Payroll System Features:
If you find your staff constantly having to redo payroll or the process taking several days, it's a sign that you need a better payroll service. Kronos payroll system has some unique features that can help your business become stronger and eliminate wasted time.
Data Reporting
When it comes to running your business, tracking costs, and managing employees, the Kronos payroll system provides you the data to make timely business decisions. With the admin panel, you can track employee metrics, times spent on services, and more! You can filter and sort data based on multiple factors, allowing you to create specific reports around the information you need.
This data can help you streamline your payroll process as well as provide you with a clear view of your unique company situation. Whether you are looking to scale, optimize HR time, or save on costs, the data reporting features with the Kronos payroll system are worth your time.
Mass Edit Feature
One of the most time-consuming tasks of payroll is editing each individual employee's paycheck. With the Kronos payroll system, you can mass edit items in a breeze. Instead of payroll taking four days to complete, you can finish in half the time or less.
Mobile Application
Stop inputting employee information manually. Kronos offers a mobile application along with their payroll systems that allow employees to take their payment information into their own hands. This mobile application relieves duties from HR personal but also provides employees the ability to:
View paychecks and paystubs online
View PTO
Update employee data and banking information
Employees can access this information across multiple devices. New employees can complete the onboarding process with ease thanks to the Kronos payroll system.
Update in Real-Time
One of the most underrated benefits of the Kronos payroll system is the ability to update in real-time. Gone are the days of manually processing requests and filling out paperwork. You no longer need endless filing cabinets for information. With a couple of clicks, shift managers, HR personnel, and other crew members can all be informed.
Intuitive Interface
Because the Kronos payroll system can be customized to your needs, you can create custom workflows and standards to follow. This can eliminate wasteful time and provide clear guidelines when onboarding new employees. Furthermore, the software system is designed to improve the automation of services. You can design around these automations ensuring that your payroll process is running as efficiently as possible. This makes accounting for things like bonuses, commissions, wage garnishment, and more, a simple process.
Kronos Payroll System Benefits:
Save Time Through Automation
The Kronos payroll system can automate a large portion of payroll services, saving you time and money.
Catch Errors Quicker
Do you have a large hourly workforce that oftentimes engages in overtime? If so, then you know almost every employee check is different. Fortunately, Kronos payroll system allows you to categorize and catch payroll mistakes before they happen.
Make Implementations in A Couple of Clicks
Simplify payroll operation, whether that be taxes code updates, direct deposit information, or retirement contributions with ease View all your employee information in an easy-to-understand format and solve problems before payday arrives.
Access Data Across Devices
With the rise of remote work and hybrid work schedules, your company shouldn't bottleneck itself with a system that is location reliant. Kronos payroll software is a cloud-based service. You can access information, make changes, and complete payroll no matter where you are.
Kronos Payroll System Integrated Services
The Kronos payroll service can be a gamechanger when it comes to your company's ability to optimize payroll. You can automate certain payroll functions, make tax season easier, and scale your business operations. To get the most benefits though, you'll most likely want to bundle these services with others that Kronos offers. Kronos already does this through their suite options:
Some of the useful features included in the suites are:
Time and Attendance Systems:
Kronos time and attendance systems integrate well with the payroll automation system. Employees' timesheets are automatically logged on the backend for payroll services. The time and attendance systems don't have to be located in just one place, you can track job times and scales even in different locations with geofencing. If you'd like to find out more about the Kronos time and attendance systems check out our full breakdown here.
Kronos Time and Attendance System: Types, Features, & Pricing
Workforce Dimension Analytics
As stated before, one of the best tools companies have to grow is data. The workforce dimension analytics provides real-time results on critical data such as KPIs, hours worked, labor costs, labor shortages, targeting, and more. This data can then be compiled and viewed within multiple frameworks. This service will optimize your employee productivity and find the root causes holding your company back.
Workforce Dimension Performance Management
Setting actionable goals and rewarding employees who meet those goals can be an effective way for improving performance AND morale. Workforce dimension performance management can target specific goals and automatically log employee advancement towards those goals. You can turn these data points into performance reviews. You create portfolios of this information to measure exactly how your workforce is performing.
Workforce Ready HR
From acquisition to retirement, Kronos can cover all your needs with workforce ready HR. This service is an all-encompassing HR platform that provides simplicity for HR professionals and employees. The software is designed to handle all the HR duties, from payroll integration to tracking employee time, benefits, and bonuses. This software can help your organization acquire talent and develop them into a leading workforce.
Want a Payroll Service Designed for You?
Do you think Kronos might be a good fit for you, but not sure how they stack up against the competition?
Check out our guide here The 6 Best Payroll Software for Small Businesses and Gusto vs. Square Payroll.
Ready to make the move to Kronos or another payroll provider? We can help with that too. 360Connect can offer you competitive quotes for your specific needs. Just fill out our form and we'll contact you.