When it comes to running a warehouse optimizing efficiency is one of the key metrics for increasing profits year over year. As companies look to scale and plan for seasonal storage needs, more warehouses are turning to shipping containers. Shipping containers provide a wide range of flexibility and practicality.
While there are many positives to using shipping containers for your warehouse facilities there can be some serious drawbacks. Understanding the common advantages and pitfalls can help you implement shipping containers properly into your warehouse. Here are the pros and cons of warehouses using shipping containers.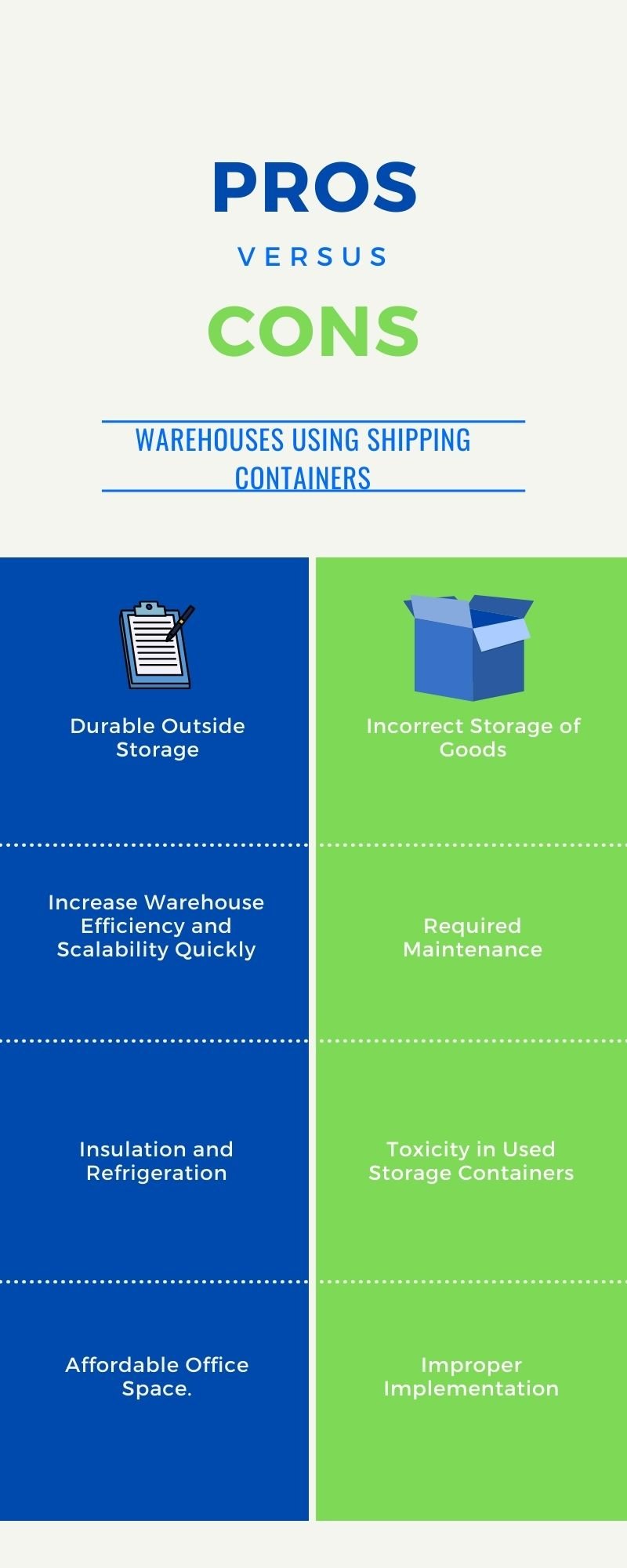 Durable Outside Storage
Shipping containers are usually made from aluminum or steel. They can withstand long voyages at sea and will be regularly exposed to storm-like conditions. Shipping containers are wind and watertight providing an excellent storage solution even in less-than-ideal climates. Your items will stay dry and protected whether in transit or stationary. Shipping containers will easily last 25 to 30 years with proper maintenance. You can implement special security measures to help your items stay safe.
Increase Warehouse Efficiency and Scalability Quickly
One of the best benefits of shipping containers is the ability to increase your storage capacity quickly. A regular shipping container without modification can be delivered to you within days. This means you can increase your storage capacities quickly for seasonal increases. You can either rent or purchase the shipping container for future-proofing your business. Storage containers can also be stacked which means that you can grow your storage capacities without building additions to your main warehouse. This saves you time, money, and keeps your employees from trying to fulfill orders around a construction site. Instead, with stackable containers, you can increase as your needs dictate.
You can also use shipping containers temporarily whenever you need to rearrange your warehouse layout. Whether that's converting an office space into product shelving or something else, a shipping container can help you keep the same amount of storage even when renovating.
Insulation and Refrigeration
If you run a food warehouse, then you know that keeping products fresh and delivered within an expiration date is the most important factor to your bottom line. A shipping container supplier can modify a container for refrigeration and insulation purposes. Cold or hot storage can be a complex process. Building cold storage in a warehouse often takes months to build and requires expert advice and planning regarding:
– Installing a proper freezer slab
– Proper insulation at freezer slabs
– Testing of the glycol system before pouring concrete.
– Designing a redundant looping heating and cooling system.
Information provided by Refrigerated & Frozen Foods
Instead of investing in a major renovation project that can slow down production. The right supplier can produce a modified shipping container ready to go in weeks and customized to your specific needs. Suppliers can also outfit containers with insulation for extremely cold or warm temperatures even in unusual climates. There are also different types of shipping containers that can make accessing goods easier depending on your circumstances.
Affordable Office Space
Shipping containers can be outfitted with modifications for windows, plumbing, electricity, cubicles, and more.
What does that have to do with warehouses?
Warehouses are uniquely positioned by the fact that they may or may not be climate controlled. Employees may not be able to work in conditions that are climate controlled (for example, you have a climate-controlled warehouse that is cooled to about 45 degrees). These warehouse conditions do not make it easy to scale the administration side of the business.
Additionally, it can be cost-prohibitive to cool or heat such a large structure. Shipping containers can indeed function as office space as well. Either as an attachment to your building or a building all its own. This can significantly cut heating and air conditioning costs as well as provide employees with a safe place away from the warehouse. Some companies are even reporting a reduction in costs up to $3,000 using shipping container offices.
Downsides:
While shipping containers can be a wonderful inclusion to any warehousing business plan there are a couple of caveats your business needs to be aware of:
Incorrect Storage of Goods
A non-modified shipping container often does not have ventilation. It can get extremely cold or hot depending on the weather conditions. Without proper ventilation, this can cause products to melt or in some cases explode. Shipping containers have exploded due to improper storage of gaseous substances. Before investing in shipping containers for your warehouse make sure your goods can withstand the heat. You can also purchase or rent containers with proper ventilation systems to prevent overheating in a unit.
You Must Complete Routine Maintenance
Just like any other building structure, shipping containers can fall into disrepair from rust and corrosion. You will want to regularly clean your shipping container, check for puddles of water on the roof, lubricate door hinges, and replace seals. While this is not a major hassle, warehouse owners can forget to do this, cheapening the quality and longevity of the storage container. You can complete this maintenance on your own or hire a cleaning crew to take care of it for you. You will want to create a schedule for routine services for positive longevity results.
Used Shipping Containers Could Contain Toxins
While it's fantastic that a company would want to save money purchasing and refitting used shipping containers there can be problems. Used shipping containers can contain toxins or insecticides that were required for import and export regulations. Because shipping containers are wind and watertight those toxins stay with the container. This can have negative effects on your employees.
When you choose a shipping container supplier make sure to ask them about the type of toxins and insecticides within a container. Many suppliers can often help you work through and repurpose a used shipping container.
Improper Implementation
One of the last things your business needs, is to buy an asset and then not properly utilize it to its fullest ability. Implementing a shipping container whether for efficiency purposes or as an office space, you need to have a specific problem that these shipping containers should solve. Think about where you will store and utilize this container to maximize efficiency. Failing to do so could result in decreasing efficiency or improper use. This includes securing the necessary modifications you will need.
Want to learn more about how a shipping container could help your business?
Due to a shipping container shortage, there is not as much flexibility in the market. You should act quickly. Companies are purchasing containers at an increasing rate making the shortage worse.
At 360Connect we can help you secure a supplier that can help you solve your problem. No matter the project, our top-of-the-line suppliers can help your business succeed!
Next Steps:
- Get your free Shipping Container Quote
- Check out Rent-To-Own Storage Containers