Handling shipping containers outside of freight hubs can be a challenge, but not impossible. Material handling equipment, like a shipping container forklift, can move and transport containers safely and efficiently across short distances (loading and unloading). While there are other options for lifting and transporting shipping containers, we will focus on how to lift a shipping container with a forklift.
Why Use A Shipping Container Forklift?
In short, a forklift is much more practical. Furthermore, forklifts are useful when loading containers onto and off trucks. Using a forklift would be most beneficial for projects involving one container. Shipping containers require a special type of forklift, and you will need to speak with a supplier to determine the best option for the job.
IMPORTANT: It is not safe for standard warehouse forklifts to lift shipping containers.
Pros:
Affordable
Equipment that serves multiple purposes
Cons:
Not all container types can be handled
Larger forklifts can only be used on a single site
3 Things to Keep in Mind When Using A Shipping Container Forklift
Ensure your forklift has an upper weight limit approximate for the shipping container.
Make sure the forks on your forklift can spread the approximate width apart for the container.
It's optimal to use a rough terrain type of forklift so it can easily maneuver an unfinished site.
How To Lift A Shipping Container With A Forklift
Step 1
Place the container in its ideal location or nearby
To make the move easier, ensure the container is delivered to a specific location that is optimized to use a forklift. This step is only necessary if you are just receiving a shipping container. If you already own a shipping container and just need to move it you can skip to step 2.
Step 2
Position the forklift
Drive the forklift up to the container. Make sure someone can help you guide the container and steer it into position.
Step 3
Align with forklift pockets located at the bottom of the shipping container
Container manufacturers include forklift pockets, located at the bottom of shipping containers, to help industrial forklifts pick up and move the units. Container forklifts are best used to move containers around a yard or port.
Step 4
Lift
Once the pins are aligned and locked onto the container, they can be lifted and moved around or stacked.
Step 5
Done
At this point, you can move or stack the shipping container.
Lifting Your Container Continued
Shipping containers with 20-foot lengths already have slots under their floors. The forklift picks up the container by the two corners of the container. A forklift is an ideal option if you only intend to unload smaller, lighter structures from a truck bed.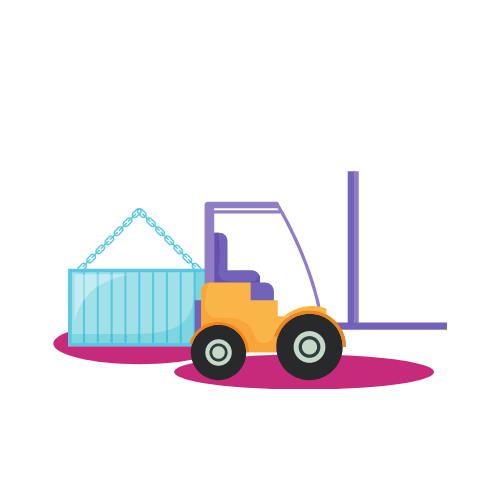 When planning for the delivery and setup of your shipping container, keep the size, weight, and modifications of your structure in mind.
• Shipping containers 20-feet long or less can be lifted by forklifts with 6-foot long tines
• Large containers should be used with a forklift with tines that are 8 feet long
Do You Need A License To Operate a Forklift?
Yes, forklift certification is needed to operate a material handling forklift. It's against the law to operate a forklift if under the age of 18, or if not properly trained and certified.
How Much Will It Cost?
How much does moving and lifting a container cost? Well, it depends on the distance and equipment used, but if using a forklift on average it will cost you $225 to $7,325 to rent a forklift.
If you're looking to buy a forklift, a new one can cost from $15,000-$75,000. A used forklift might cost you as little as $5,000-$10,000.
Note: Most suppliers will offer daily, weekly, and monthly rates depending on the duration of the project.
Benefits of Lifting a Shipping Container with a Forklift
When lifting and moving a shipping container, several factors must be considered, including safety, efficiency, space, costs, and logistical ease. Typically, forklifts are the most common type of equipment used for moving shipping containers. Find out why forklifts are a top option for lifting shipping containers by reading over the following benefits.
Cost-Saving
Compared to other material handling equipment, forklifts are a budget-friendly option whether renting or buying.
Practical
Many forklifts are automated which helps you get the job done more efficiently, safely, and productively.
Multi-Purpose
You'll find forklifts in nearly every manufacturing and warehousing operation. They are a multi-purpose tool that can benefit your shipping container lifting needs and more.
Other Methods of Lifting a Shipping Container
While a forklift is a budget-friendly and ease-of-use solution, depending on the size of the container and your budget, you may need to look into different types of material handling equipment such as:
Crane
Cost-wise, the best and easiest way of picking up, carrying, stacking, or unloading a long or heavy storage container involves using a crane.
Every shipping container has corner hastings that provide an opening for twist locks to ensure secure stacking, loading, and unloading. It can unload and load cargo ships. In addition, it can move, place, or stack containers.
Container Lifting Jack
As the name implies, a container lifting jack is used to lift a shipping container. It is a very effective and portable lifting tool that can be cost-effective for many. However, a major drawback of using a container lifting jack is that it cannot stack containers or move containers. Its main purpose is to simply lift the container.
Straddle Carrier
Straddle carriers and able to move shipping containers easily. However, due to its size and weight, it will need a solid reinforced concrete surface to work on and can only be used on a single site. It's a very fast and ideal material handling equipment to use when moving or lifting a shipping container. The only drawback is the price. A straddle carrier is $250K+ while renting is an option it's still a pricier option.
Next Steps
Are you in need of a forklift to lift a shipping container? Or maybe you need one for your next construction project? Either way, we can help. Rental and purchase options are available from top-quality forklift providers when you work with 360Connect.
We'll match you with our top forklift providers that fit your needs and provide you with the most competitive prices.