Are you looking to improve the performance of your fleet of vehicles? Want more data to improve your company or drive new business forms? Fleet Management SaaS (commonly referred to as telematics services) can help!
Key Takeaways
Fleet Management SaaS is becoming standard for the logistics industry.
Fleet Management SaaS has many features that make small businesses competitive.
Fleet Management SaaS simplifies your logistical administrative tasks.
How Does Fleet Management SaaS Work?
Fleet Management SaaS is the combination of fleet management and software to better manage your fleets. You pay for this software monthly and do not need to house any of the technical or specialty tools to run the fleet management software. It is a cloud-based system that helps you monitor your fleet no matter your location.
Fleet Management uses GPS technology to record and share location data on vehicles or equipment. The data can be as simple as general location or in-depth as recording harsh braking and driving behavior.
SaaS takes out the need for IT staff, a complex onboarding process, and hiring new staff to manage a fleet management system. You simply need to log into the services.
Common Fleet Management SaaS Features Include:
Live Tracking of Vehicles and Assets
Dispatching Driver to Various Jobs and Locations
Collecting Driver Data and Recording Driving Events
Record Driving Times and Response
Allow Communication Between Driver and Dispatch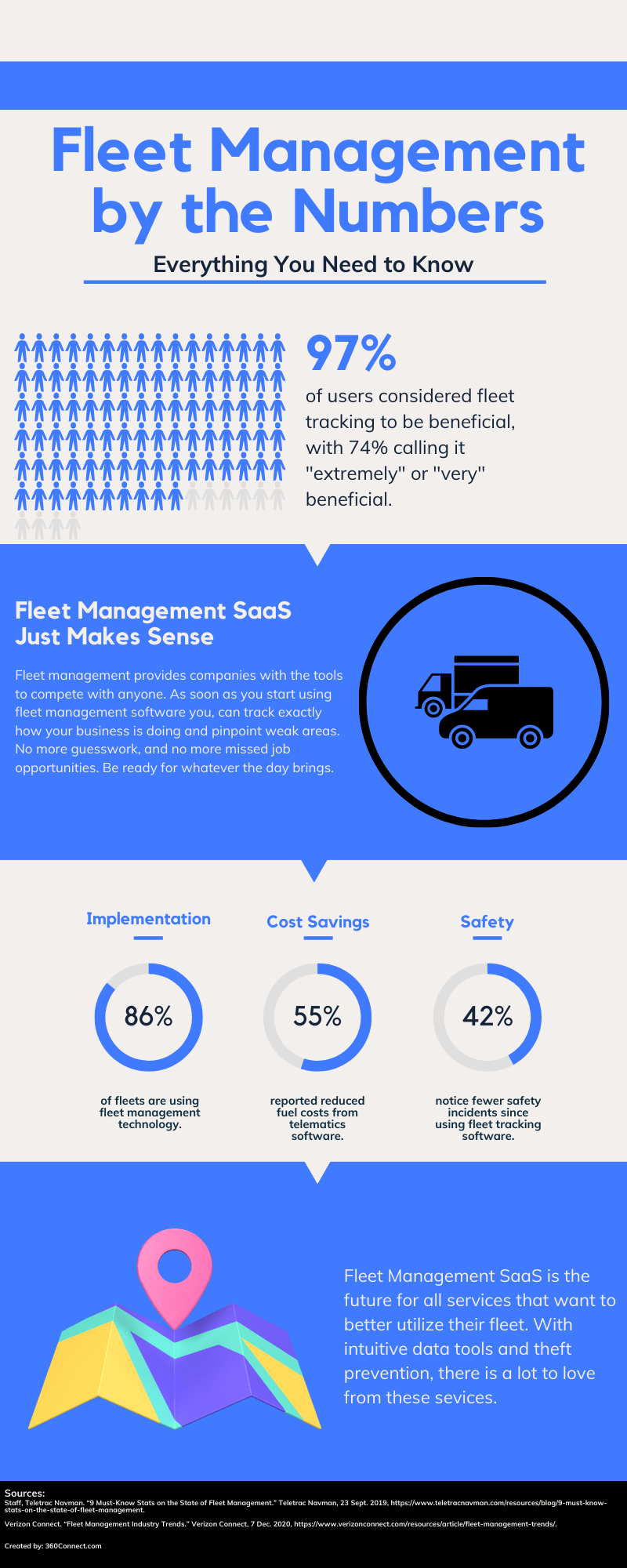 Why Use Fleet Management SaaS?
Fleet Management SaaS provides many useful benefits for companies no matter their size. While every fleet management provider is different, these are some of the most common benefits you'll experience.
Cost
Fleet Management SaaS will charge you a monthly fee for software usage, along with a purchase or rental fee for GPS devices. This monthly fee is based on the features you are willing to pay for in the software. This is is much cheaper than traditional fleet management models in which you would need to account for costs such as:
IT personal
Servers to store data
Infrastructure to house severs
Replacement gear
Sever repair and maintenance
Additional dispatch staff
With fleet management SaaS all of this is managed for you. You simply need to log in to the software and attach the GPS devices to your fleets. It is that simple.
Ease of Use
Instead of building a custom suite of software, conducting testing, and constantly improving the user experience, this is done for you by fleet management software providers. You can get started in a matter of hours rather than a matter of months.
Technical Support
Your fleet management software will also be serviced by experts in the field. You will have expert technical support to help you through any trouble. Fleet management software is also constantly improving with updates and patches, along with additional software tools and integrations. The software you use today will be improved year over year. These companies are constantly improving their services based on data.
Improve Driver Behavior
Fleet management SaaS allows you to view and monitor driver behavior. You can view data on things like:
Excessive idling
Harsh breaking
Speeding
And more!
You can cut costs, optimize performance, and gain data over time all with a few clicks.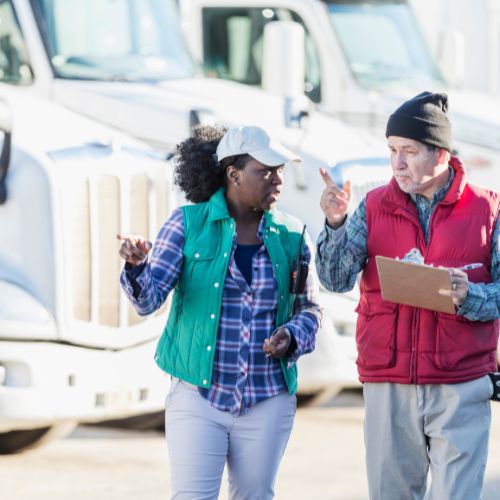 Better Management of Fleet
Fleet management SaaS gives you an overarching view of your business. You can dispatch drivers, view reports, request maintenance for your vehicles, and stay in constant communication with your drivers. Some management software can also interact with other tools such as dashcams to record even more data.
Small Businesses Gain Access to the Same Tools
No matter the size of the business, fleet management SaaS can give you the tools to compete with large corporations. You will have access to the data and GPS technology you need to scale your business and improve business guidelines. From there, you can optimize your services for growth and have a robust monitoring system for your drivers. With data tools at your side, you can make the best decisions for your business.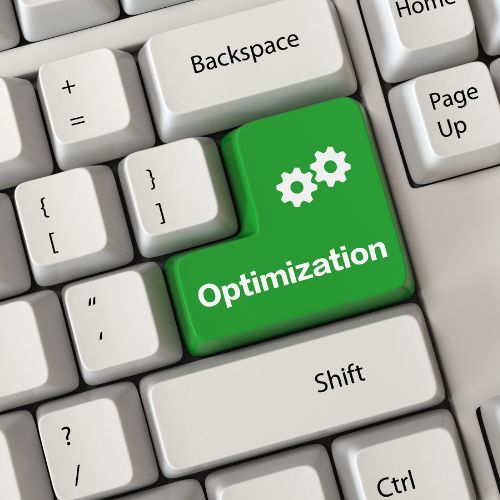 Price of Fleet Management SaaS
Most pricing of Fleet Management SaaS is going to be custom. Most services charge:
A monthly fee for software usage
A one-time or monthly fee for GPS devices
Add-on fees for unique features
Taxes
Again, this is still cheaper than alternatives.
Additional Reading: Top 5 Best Fleet Management Companies: 2022 Guide
Top Fleet Management SaaS Companies
Samsara is consistently one of the top performers for fleet management services, and for good reason. They have simple and intuitive software in addition to a wide range of features and equipment to help manage your fleet. You'll find a cloud platform that combing GPS tracking, fleet reporting, dashcam, and so much more!
Many people think of Verizon as just a phone provider, but they are much more than that. Verizon Connect is the wing of the company that handles fleet management software and they are also ranked as one of the highest-rated products on the market. Much like Samsara, you can house all of your fleet tracking, asset tracking, compliance, dispatch, dashcams, and more under one roof. Verizon Connect is trusted by some of the top brands in the nation such as Pepsi and Costco. Furthermore, Verizon Connect has a robust app marketplace to integrate 3rd party apps into the software. You can keep most of your favorite apps and upgrade your fleet management without skipping a beat.
Motive has a long and reputable history of helping fleet get from point A to point B in the quickest time possible. However, Motive has come a long way from its roots supporting AI-powered applications to automate some of the hardest jobs in fleet management. With a 4.5 rating with 1200+ reviews, Motive is one of the leading brands in the industry and can handle fleets large or small. Motive offers 24/7 support and customers report love using the app because of the simplicity. Many users also report that Motive helps optimize workflow and cut down on administrative tasks.
Are You Ready for Fleet Management SaaS?
Fleet management SaaS is a powerful tool that can help your business become more competitive instantly. If you are ready to make your business better for your customers and employees, then it is time for Fleet Management SaaS. 360Connect can help you with this. We pair high-quality suppliers with customers every day! Just fill out our 1–2-minute form and receive up to 5 quotes 100% free!