If you are in the market for fleet management services for your truck or transportation company, you've probably heard of Samsara Fleet Management. Samara is an all-inclusive platform that bills itself as your one-stop shop for all your fleet management needs. They offer proprietary software and hardware that enables diagnostics, collated statistical information, rapid communication, optimized fleet tracking, and more throughout the entire delivery process and lifecycle of a vehicle.
Samsara fleet management and telematics is a cloud-connected system that allows both your drivers and dispatch services to view and update information from anywhere in the world. Information from vehicles is collected and viewable with an intuitive dashboard that is user-friendly. You can easily search for items like hours of operation, harsh breaking, maintenance status, and more. Drivers also receive an application where they can view some of this data and stay in communication with dispatch staff.
Samsara is constantly introducing new features and updating its software based on customer feedback. They are also looking towards the future, offering specific software and hardware solutions to manage EVs more efficiently. If you are looking for a fleet management system that is always looking for feedback and implementing new features, Samsara could be the company for you.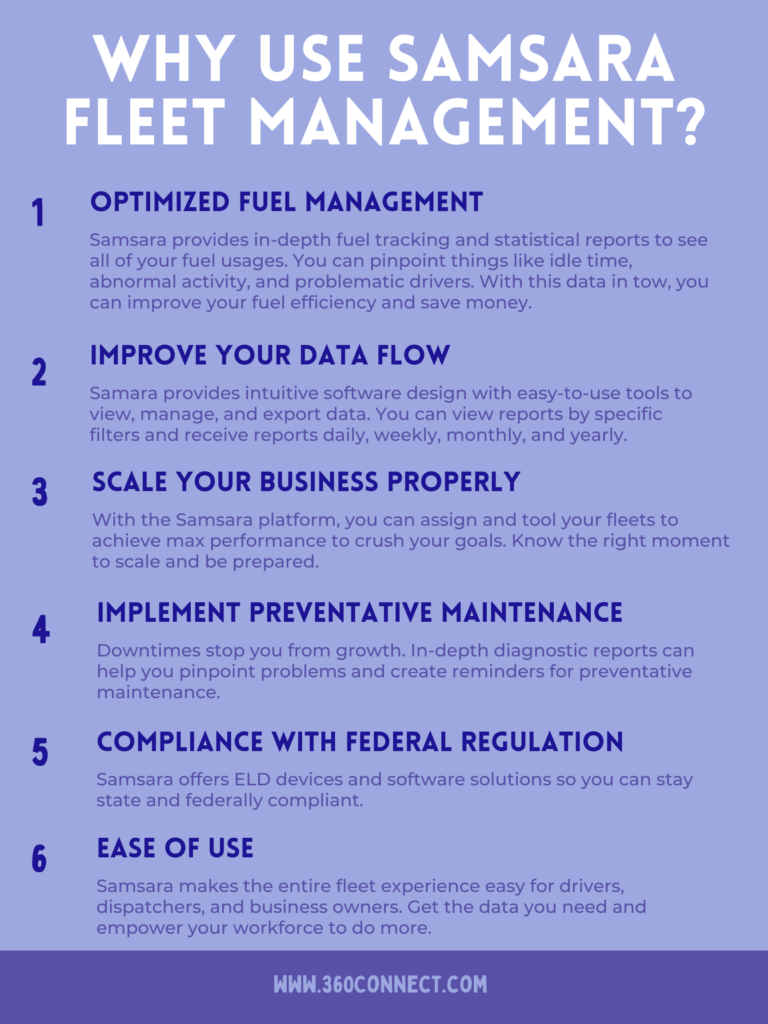 Samsara Fleet Management Services that can Help You
Samsara fleet management offers its customers a wide range of products to choose from. You can choose a package that includes all of these services or mix and match services depending on your budget and needs. Also, these services are built to work with one another to optimize all fleet capabilities.
Real-Time GPS Tracking and Geofencing
Samsara fleet management software allows you to see live footage of where your vehicle is. If need be, you could give your diver turn-by-turn directions in real-time. Have a problem with verifying when drivers pick and drop off their loads? That's no longer a problem with geofencing. Geofencing allows you to know exactly when someone shows up at a job site and for how long. Samsara's fleet tracking is described as "to-the-second" on their website and that's for good reason. The software provides multiple viewpoints to see your fleets, smart overlays, and even idle times. The service can track both vehicles and trailers.
Vehicle Diagnostics
What if you could see exactly when a piston misfired? What if you could track harsh breaking or know in seconds when your vehicles have been damaged? With Samsara, you can. Samsara can give you instant access to the health of your vehicle. You know exactly when to service your vehicle and identify necessary maintenance. Samsara's vehicle diagnostic tools are perfect for preventative maintenance measures and keeping drivers on the road.
Fuel Management
Fuel management is more complicated than just paying for your gas. From optimizing your driving for best fuel practices to real-time data on IFTA mileage and payment, you need a service that understands all of your fuel management needs. Samsara fleet management offers custom reporting for daily, weekly, monthly, and yearly gas usage. Samsara offers IFTA mileage reports, so you make sure you are paying the correct tax amount for each state. You can view driver behavior and extract information about high fuel usage or highlight efficient driver behavior.
3rd Party App Integration
While the Samsara fleet management software is a great option for any company, they know they can't do everything. Because of this, Samsara actually has an APP marketplace to allow 3rd party apps to work within their systems. You can find applications such as Ford Data Services, ADP, Fleetio, Penske, and much more! These apps are turnkey solutions that can be implemented into your services fairly quickly.
Check out their app marketplace here.
Mobile App and Communication Services
Samsara offers drivers mobile applications to direct directly with dispatch staff. Dispatch staff can easily re-route drivers, assign loads, and give updated information with ease within the admin view.
Route Optimization
Time is money when it comes to transportation services. Whether you are hauling products in a big rig, or you are hauling passengers you need the most optimized route to maximize your profits. Samsara's fleet management platform does just that. You can prepare and analyze routes and stops, as well as view real-world conditions. Also, you can view deviations and trends that need to be corrected in driver behavior or other route options.
Dispatch services
If you operate a medium to a large fleet of vehicles, then you know exactly how vital a robust dispatch system is. The right dispatch service will allow you to manage routes, communicate with drivers, track vehicle location, and improve your performance. Samsara combines all of this into their dispatch services to give companies the opportunity to improve. The Samsara fleet software will improve your vehicle's efficiency and your dispatch capabilities with both proprietary software solutions and 3rd party applications. This will allow you to respond and adapt to situations rapidly. You can also build reports within the dispatch services to measure performance and track upward growth.
ELD Compliance
Samsara's ELD device captures vital information on your truck as mentioned above and will capture hours of service as well. The ELD device then reports this information to the driver phone application, which is then uploaded to the dispatching servicing. The ELD device also includes a Wi-Fi hotspot so you can still track data even in remote locations. From the admin view, you'll be able to track driver times and negate HOS violations before they happen. You'll be able to easily assign drivers to jobs within the dispatch software and stop mistakes.
Drivers love it as well. They don't have to worry about extra hardware. Everything is streamlined within the application, and drivers can record driving times with the click of a button.
Industry Uses for Samsara Fleet Management:
While it is safe to assume that trucking companies would benefit from the Samsara fleet management services, they aren't the only ones. If you are in the business of transportation of any goods, people, or services this system could be beneficial for you. Industries that would benefit include but are not limited to:
Commercial Trucking
Commercial & Residential Delivery Companies
Catering Companies
Taxi Companies
Private Security Services
Healthcare
Government Services
Law Enforcement
And More!
Samsara Fleet Management Pricing:
Samsara usually offers custom quoting for their prices as each fleet's needs are unique. However, according to Tech.com, you can expect to pay around $100 per hardware unit and around $30 per vehicle per month for software usage. There may be some other setup costs associated with the services as well.
Yet, these prices are flexible and subject to change depending on the features you need and fleet sizes. At the end of the day, you'll still be quoted a custom price.
Want to Find Out More?
Want to find out more about GPS tracking software and how to use it for your company? Ready to implement a GPS tracking software that can change your transportation services? 360Connect is ready to help you get there. You can receive your free quote today on GPS Fleet Management Software.
Want to learn more? Check out some of our other guides here!
Top 10 Benefits of Fleet Management Software