Enterprise telephone systems are communication systems designed to meet the needs of large organizations or global businesses. They are typically used in businesses, government agencies, and educational institutions. These systems are designed to provide reliable, secure, and cost-effective communication solutions for organizations of all sizes.  
Enterprise telephone systems can also provide unified communications. This type of system allows for the integration of multiple communication methods, such as voice, video, and instant messaging. Unified communications systems allow for the efficient sharing of information between users, regardless of their location. While not all enterprise telephone systems offer this feature, many do now.
Types of Enterprise Telephone Systems
The most common type of enterprise telephone system is the Cloud Private Branch Exchange (Cloud PBX). The cloud PBX system retains the features of a traditional PBX system, using a central switchboard to route calls to the appropriate person, and hosts it online. The traditional infrastructure for a PBX phone system, including a switchboard, is now housed remotely through a cloud. Cloud PBX has replaced most traditional PBX systems; however, companies are also turning to another option.
Another type of enterprise telephone system is the Voice over Internet Protocol (VoIP). This system uses the internet to transmit voice data, allowing for more efficient communication between users. VoIP systems are often used in organizations that have multiple locations, as they allow for the transmission of voice data over long distances. VoIP makes it easier to switch to a unified communications system. You aren't just limited to voice, but other key features such as text and video.
Who Needs Enterprise Telephone Systems?
Healthcare:
Healthcare facilities can benefit greatly from implementing an enterprise telephone system. An enterprise telephone system can provide an integrated platform to manage inbound and outbound calls, voicemail, call routing, and text messaging—all services that healthcare facilities and businesses rely on. This will help ensure phone calls are directed to the right personnel quickly and efficiently, resulting in improved patient care. Additionally, enterprise telephone systems can help healthcare facilities achieve HIPAA compliance by providing secure communication capabilities and providing access to secure databases. By taking advantage of an enterprise telephone system, healthcare facilities can provide better patient care and increased efficiency.
Government Agencies:
Enterprise phone systems are an investment that can help agencies reduce costs, improve communication, and increase efficiency. By centralizing phone systems, agencies can reduce the need to manage and maintain multiple locations, while also ensuring consistent service across all locations. An enterprise phone system can provide improved reliability and scalability, allowing agencies to easily add or remove users from the system as needed. Government agencies need a phone system that empowers their employees to reach the public by the most effective method possible. Enterprise phone systems allow agencies to do just that.
Large-scale Businesses
An enterprise phone system can be a powerful tool for large-scale businesses. It can provide a unified and secure communication system for employees and customers and can be used to streamline operations and improve efficiency. It can be used to route calls to the right person or department quickly and easily and can provide features such as automated call routing, call forwarding, call recording, and analytics. Integrating with existing enterprise software can also help to reduce costs and simplify processes. With an enterprise phone system, businesses can ensure their customers and employees are connected and their operations are running smoothly.
14 Enterprise Business Phone Systems Features You Should Know:
Enterprise business phone systems often have the following features:
Auto Attendant: This feature allows calls to be automatically routed to the appropriate department or extension.
Call routing: This feature allows calls to be directed to the appropriate person or department based on the caller's input or the time of day.
Call forwarding: This feature allows calls to be forwarded to another phone number or extension.
Conference calling: This feature allows multiple parties to participate in a phone call at the same time.
Call Queuing: A feature that holds incoming calls in a queue until an available agent can answer them.
Voicemail: A system for recording and storing messages left by callers when the intended recipient is unavailable. This can also include voicemail to email, voicemail to text, and voicemail to fax. This feature will be dependent on the service provider.
Mobile App Integration: The ability to use your business phone system on your mobile device, laptop, or tablet, allowing you to make and receive calls from anywhere.
3rd-Party Integrations: Some enterprise telephone systems allow you to integrate 3rd party applications into the software.
Interactive Voice Response (IVR): An automated system that allows callers to interact with a phone system using their voice or keypad input to route their call to the appropriate extension or department. Also known as an automated attendant.
Call Reporting and Analytics: Tools for tracking and analyzing data about calls made and received through the phone system.
Call Recording: The ability to record calls for training, compliance, or quality control purposes.
Virtual Meetings: Call tools to handle virtual meetings, such as videoconferencing and web conferencing.
Call Blocking: The ability to block unwanted calls from specific phone numbers or types of calls.
Custom Greetings: The ability to create custom greetings for different departments, extensions, or times of the day.
10 Benefits of Enterprise Telephone Systems:
Here are some of the most common benefits large businesses can expect from enterprise business phone systems:
Improved Productivity: Enterprise business phone systems can streamline communication and make it easier for employees to connect with each other and with customers, leading to increased productivity.
Enhanced Collaboration: Features such as conference calls, virtual meetings, and team messaging can facilitate collaboration and improve team communication.
Scalability: Enterprise business phone systems can easily be expanded or modified to accommodate changes in the size or needs of an organization.
Customization: Many enterprise business phone systems offer a range of customization options, allowing businesses to tailor the system to their specific needs.
Improved Customer Service: Features like call routing and voicemail can help ensure that customers are able to reach the right person or department quickly, improving their overall experience.
Increased Mobility: Mobile integration and the ability to use the phone system on the go can help businesses stay connected and responsive, even when employees are not in the office.
Enhanced Security: Enterprise business phone systems often offer advanced security features such as encrypted calls and secure voicemail to protect sensitive information.
Cost Savings: Enterprise business phone systems can help businesses save money by consolidating multiple communication platforms and reducing long-distance and international calling fees.
Professional Image: A professional business phone system can help a company project a professional image to customers and partners.
Flexibility: Enterprise business phone systems can be easily accessed and used from a variety of devices, allowing employees to work from anywhere.
Top Brands of Enterprise Telephone Systems
There are many top brands of enterprise business phone systems, and the best one for a particular business will depend on the size and specific needs of the organization. Recommendations are based on reviews and recommendations in magazines like TechRadar and Bussiness.com
Here are a few popular options and some of their key features:
Avaya offers customers a unified communications platform that is easy to use and easily scalable, making it a perfect fit for large businesses that plan to expand in the future. This service combines video, voice, and chat features for customers and can employees to better communicate how they see fit. Avaya also has targeted solutions for industries such as:
Healthcare
Education
Financial Institutions
Media Companies
And Government Institutions
Avaya offers custom pricing for their services with multiple tiers to truly fit your needs.
RingCentral's cloud-based business phone system is a well-known brand when it comes to business phone systems. While they serve all different sizes of businesses, RingCentral is up to the task to handle your large-scale business. Some of the features you will find with RingCentral include voicemail, conference calling, call routing, and mobile integration, as well as virtual meetings and team collaboration tools. To put it into perspective, RingCentral services over 400,000 different customers around the world. You'll also gain access to features like encryption and professional service experts.
RingCentral offers pricing starting at $19.99/user/month for some of their basic services such as team messaging, voicemail-to-text, and more. Their premium tier which is geared towards large businesses is $36.99/user/month.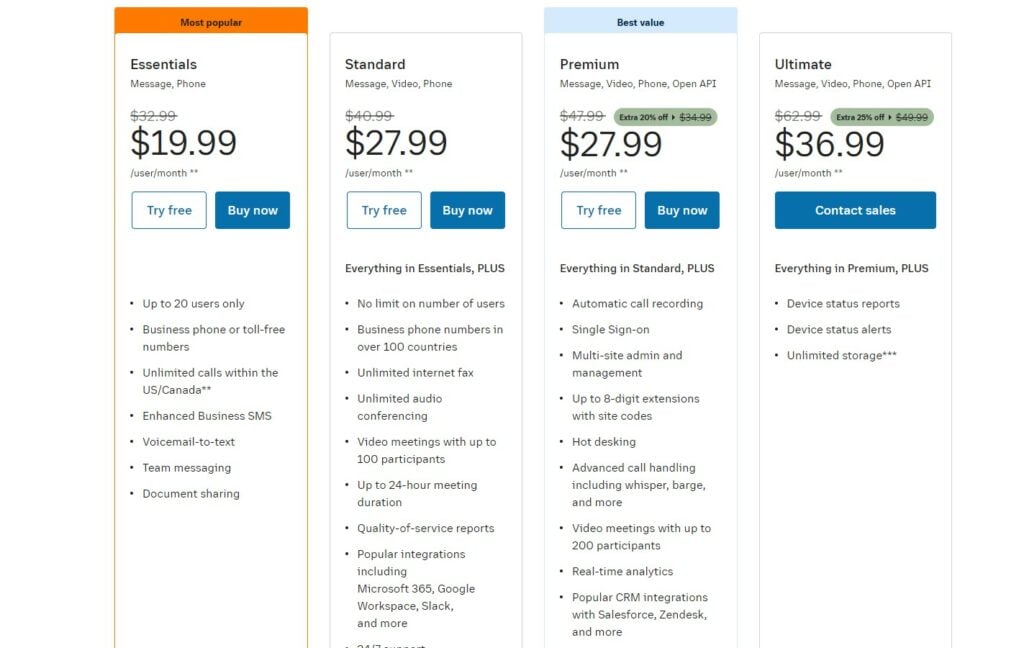 Nextiva is a VoIP business communication platform that offers a variety of features and benefits for businesses. They tout a 99.999% uptime guarantee, so you can trust that your phone system will be available when you need it. You'll also have access to advanced features such as voicemail transcription, call forwarding, and virtual meetings, which can help improve communication and collaboration within your business. Users report an easy interface and hub to control communication both internally and externally. One of the best parts of Nextiva is that they offer 24/7 customer support.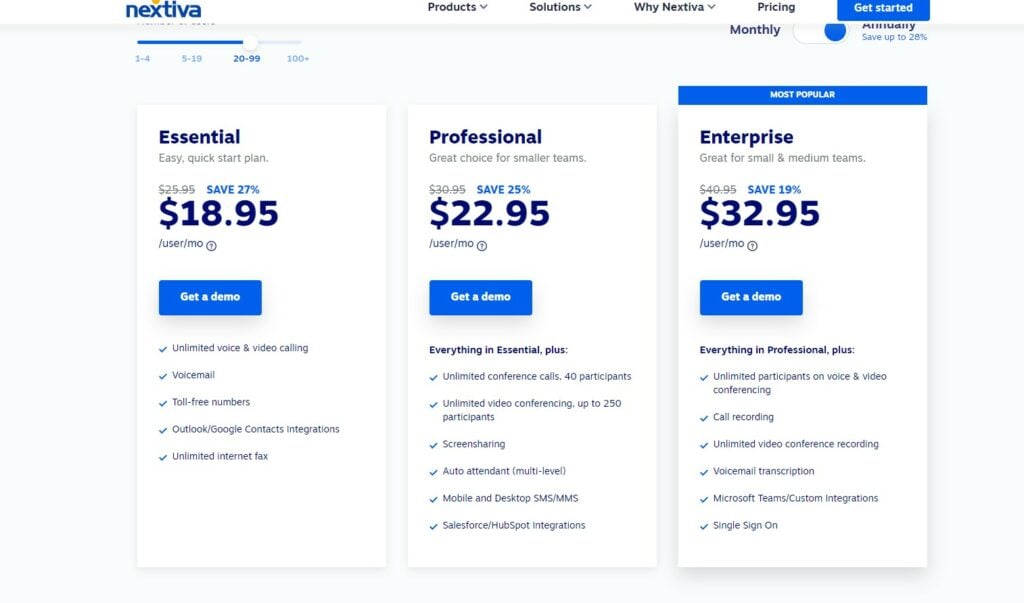 8x8 is another top contender for large-scale business. For starters, the 8x8 telephone system can allow up to 500 employees to attend a meeting a once. This can be a game-changing feature for those companies looking to host town halls or make company-wide announcements. Furthermore, 8x8 integrates with some of the top software that companies use such as Microsoft Office, Salesforce, and Google Workspace. You can also expect auto-attendant, call recording, call forwarding, video, chat, and more!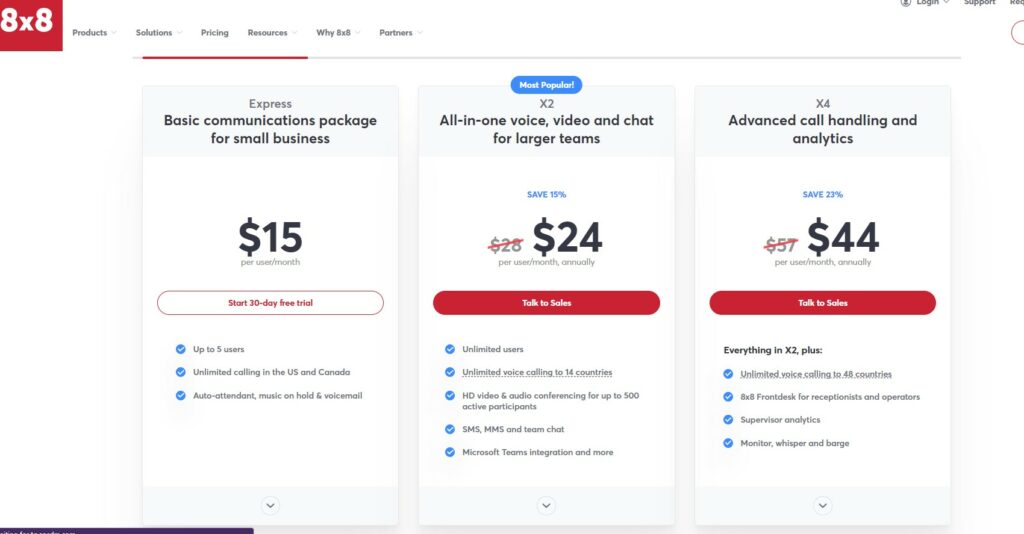 Powered by AI technology Dialpad has slowly been increasing its market share with top players in their field. They offer a streamlined experience for voice, video, and chat features for their customers. Dialpad has built around its AI tools offering services like AI Contact Center, AI Sales, AI Voice, and AI Meetings (which is video conferencing). With cross-device connectivity and AI tools at every step of the way, companies may sometimes feel as if they have a helping hand making them a better team. From transcribing calls to adding users in seconds, Dialpad is hoping to become the phone system of the future with all of the features you need now!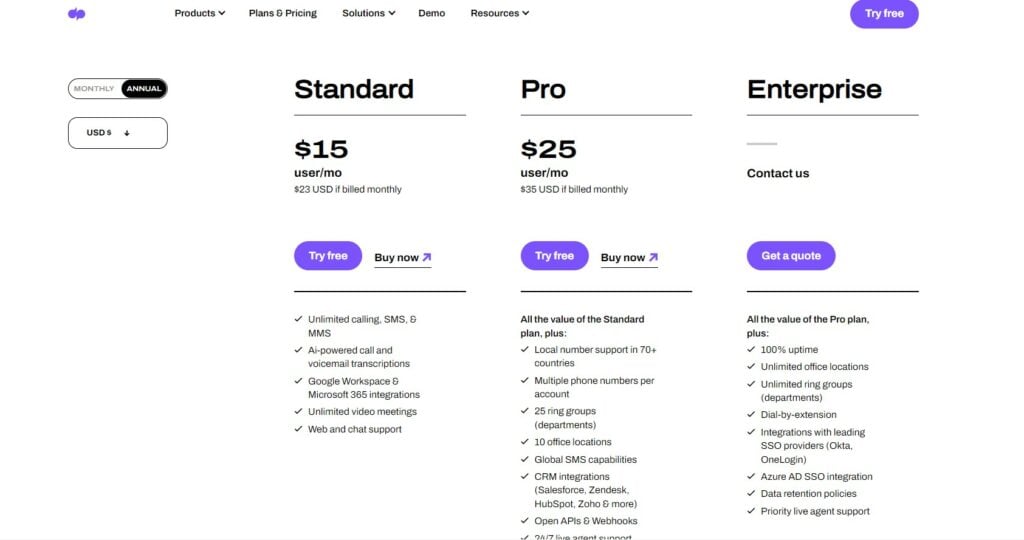 Most companies are familiar with and even use Microsoft products and services. If you are already invested in the Microsoft ecosystem, partnering with Teams could be the next best step for your team. Internal and external collaboration is made easy with chat features and desktop calling. Integrations are made easy between Microsoft Apps even when during a call! Seamlessly transition between the apps and the services you need to better help your customers. Microsoft Teams utilizes a cloud PBX system which means you can perform just about every phone duty you can imagine right from your computer!
Looking for Enterprise Telephone Systems?
Overall, enterprise telephone systems are an essential part of any organization's communication infrastructure. They provide reliable, secure, and cost-effective communication solutions for organizations of all sizes.
If you are considering a new telephone system for your organization, 360Connect can help you! We pair high-quality providers with customers who need their services. It's simple. Just fill out our 1-2 minute form and we'll contact you to verify your information. From there, you'll receive up to 5 free quotes from qualified suppliers!