Business office phone systems have come a long way in the past decade. Where businesses once relied on analog phone systems that required expensive setup and upkeep, they now turn to cheaper systems that offer more capabilities. The top office phone brands can give you a ton of bang for your buck, and you can even partner those services into a unified communications platform.
Here are the top office phone brands you should know:
Phone Brand
Key Features
Best For
Price
Panasonic
– Corded/Cordless
– Calls through Microsoft Outlook
– 3-way Phone Conferencing
– Text Alerts
-Bi-lingual Caller ID
Small businesses looking for a deal on a cheaper phone, and large businesses who want to buy en masse.
$25-$109
Cisco
– Full Encryption
– HD Call Quality
– Low Power Consumption
– 16-line Models
– Headset Integration
Large companies who want an integrated system.
Around $100
Poly
– 5-way Phone Conferencing
– 16 Phone Line Support
– Advanced Noise Cancellation
-Touch Screen Devices
– Calls through Microsoft Teams and Other Platforms
Small businesses who want a simplified business phone without skipping on features.
$100-$300+
AT&T
– Calls can be made up to half a mile away
– Auto Attendants
– Push to Talk
– 2-year Warranty
Those who are looking to bundle their AT&T service.
$110-$700+ Bundle options included
Grandstream
– HD Audio Quality
– 5-way Conference Support
– Dual LCD Screens
– Touch Screen Options
– Encrypted Data Storage
Those looking for a specific phone for an industry such as hospitality or education.
Around $100
Yealink
– Acoustic Audio Shielding
– 10 Video Conferencing
– Make calls through Zoom and Microsoft Teams
– Video Camera on the Unit
– Bluetooth 4.2 built-in
Those looking for video conferencing integrated into their system.
Custom pricing
Snom
– HD Call Quality
– High-resolution Display
– IPv6 & IPv4
– Self-labeling Keys
– Expansion Module Ready
Those looking for a no-frills option.
Custom pricing
The Different Types of Office Phones Systems: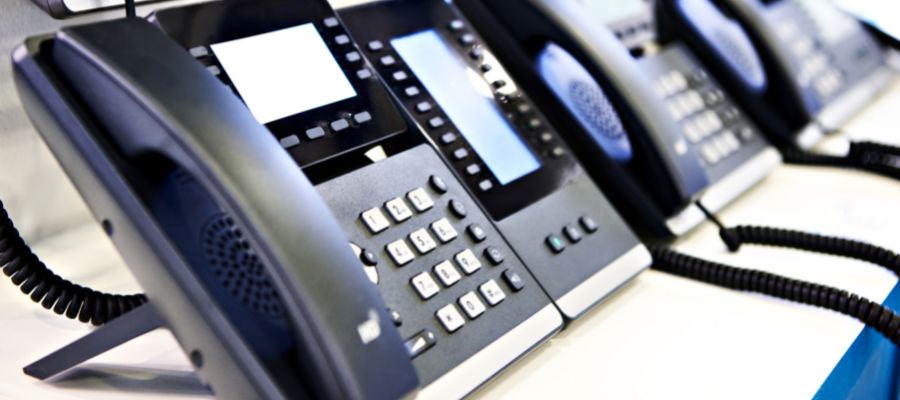 These days, the market is flooded with options to choose from. From updates to old legacy systems, to entirely new systems, there are three main options you'll find on the market right now.
KSU (Key System Unit):
This type of office phone system is designed for small companies and handles your basic functions such as holding, intercoms, speakerphone, and a couple more. These systems use analog and manually connect to another phone via a phone line. While these systems offer basic services, they require more money and time to set up. In a pinch, they could give your business a way to connect with customers. This phone system is hosted on-site at your location through analog lines.
PBX (Private Branch Exchange):
PBX systems arose using analog phone systems but on a much large system. Consider it a business or other organization's internal telephone network. With a PBX phone system, users can communicate over the phone using internal lines, as well as make and receive external calls. You can expect to see features such as call forwarding, voicemail, call attendant, and more. These systems gained popularity for being able to handle a large number of analog lines as well as communication internally. This is one of the reasons these systems gained popularity in the hotel industry.
While PBX systems used to be totally analog, there are now systems that are "hosted," meaning that they use the internet to make phone calls just like VoIP. Some services will allow you to convert your old analog PBX system into a hosted solution.
VoIP (Voice Over Internet Protocol):
While VoIP is not new by any stretch, it is the most recent development within office phone technology. VoIP works by having calls come across the internet with high reliability and at a cheaper cost. These systems have become widely adopted and have most of the same features as analog systems, while also bringing new ones to the table like:
Top Office Phone Brands Breakdown:
These recommendations were based on reviews and scores from three different sources The Balance, Tech Radar, and Expert Market. These office phone brands are widely known throughout the industry and have built great relationships with customers.
Panasonic has been a top supplier of business phones for years. They have both cordless and corded options for phone systems and have phone systems starting at 29.99 for the more basic devices. The higher in price, the more features you will find for your phone. With features like calls through Microsoft Outlook, 3-way phone conferencing, and more, Panasonic is a robust phone maker that offers reasonably priced office phone systems. You'll also find higher-priced phone systems starting around $105 if bought individually.
Cisco has fully embraced VoIP capabilities in its 7800 office phone system. These phone systems fully VoIP and provide all the common telephony services you'd come to expect and more! Most importantly, while Cisco phones can handle large businesses, these phone systems are mainly targeted at small to medium-sized businesses. Not only will you gain access to great call quality, but you'll also have features such as encryption, low power consumption, and more!
If you are looking for a phone system that can handle larger companies, check out their 8800 phone series. Cisco is a top office phone brand because they make smart products that have the ability to upgrade over time!
Pricing can be hard to determine for this phone system as you'll need to find a partner to purchase a phone device. You can find some of the more advanced phones for around $100 though.
Poly describes itself as a "radically simple desk phone solution," but that doesn't mean its services aren't high-tech. They offers a wide range of phone systems that caters to both small and large-scale businesses. While the technology is simple to grasp, these phone systems also offer many integration tools with the higher-end series. Their Poly Edge phone series are VoIP-enabled phones with some of the latest tech and features like 16-line support, headset support, five-way audio conferencing, advanced noise cancellation, and more!
Poly lowest phones start at $100.95 but offer some premium phone devices well over $300 that come with a touch screen, USB ports, Unicode UTF-8 character support, multilingual user interface, and much more.
While many companies may not consider AT&T at first glance for business phones, they offer a solid lineup of cordless and corded phones for their customers. And when they say cordless, they really mean it! You can still use the AT&T SynJ system for up to half a mile away from the receiver. Even for the most basic systems, AT&T has a surprising set of useful basic features that many companies can take advantage of. You'll gain access to features like a digital answering system, auto attendants, and a push-to-talk intercom.
These systems are indeed analog, but don't let that stop you! For the cheapest option, you can use buy the "10-series business phone" for around $110. However, if you want to combine multiple phone systems into a bundle you can do so starting at around $700.
Grandstream is one of the most touted manufacturers of phones and it's easy to understand why. They produce some very good phones, especially targeted at specific industries. There are a ton of options when it comes to Grandstream, so narrowing down exactly what you need can be tough. We recommend speaking with a representative to make sure you know exactly what you are getting before purchasing. Even in lower-end models, you'll find a decent set of features such as 4-way conference support, HD Audio, Headset support, and encryption security. All of these features and more for under $100 dollars!
Like Granstream before, Yealink has a ton of different options for businesses to choose from. You'll have access to corded, cordless, touchscreen, and integrated video phone systems for your business. There is truly something for everyone with Yealink. In their flagship phone, the VP59, you'll access a ton of features like acoustic shield technology, corded/cordless options, 1080p video, 10-way video conferencing, and more! Yealink supports a number of phones that will also run Zoom and Microsoft Teams. That means your phone system can be fully integrated with your systems to provide a better experience.
Yealink does not provide pricing online, so you will need to find a partner to seek out the price.
Snom is another top brand that is known not just in the states but internationally as well. They offer a wide range of VoIP products for your business, however, their biggest sector is business phone systems. Snom has the standard features that you expect from a business telephone, however, they also make it easy to expand your system within their ecosystem. With HD audio quality, a high-resolution display, and an intuitive display, customer report that they love using Snom's phone system. For their flagship phone, check out the tutorial they have posted on their website. For pricing, you'll need to contact a partner through their website.
Need an Office Phone Brand that Fits You?
Don't worry, 360Connect can help! We help customers connect with qualified suppliers that can help you! Just fill out our 1-2 minute form and we'll contact you to verify the information. From there you can relax as 100% free quotes roll in! It's that simple!