Printers and copiers have become a mainstay of just about every type of business. But what really is the difference? As technology has grown the capabilities of printers and copiers have grown as well. There are a couple of important differences between copiers and printers to make though: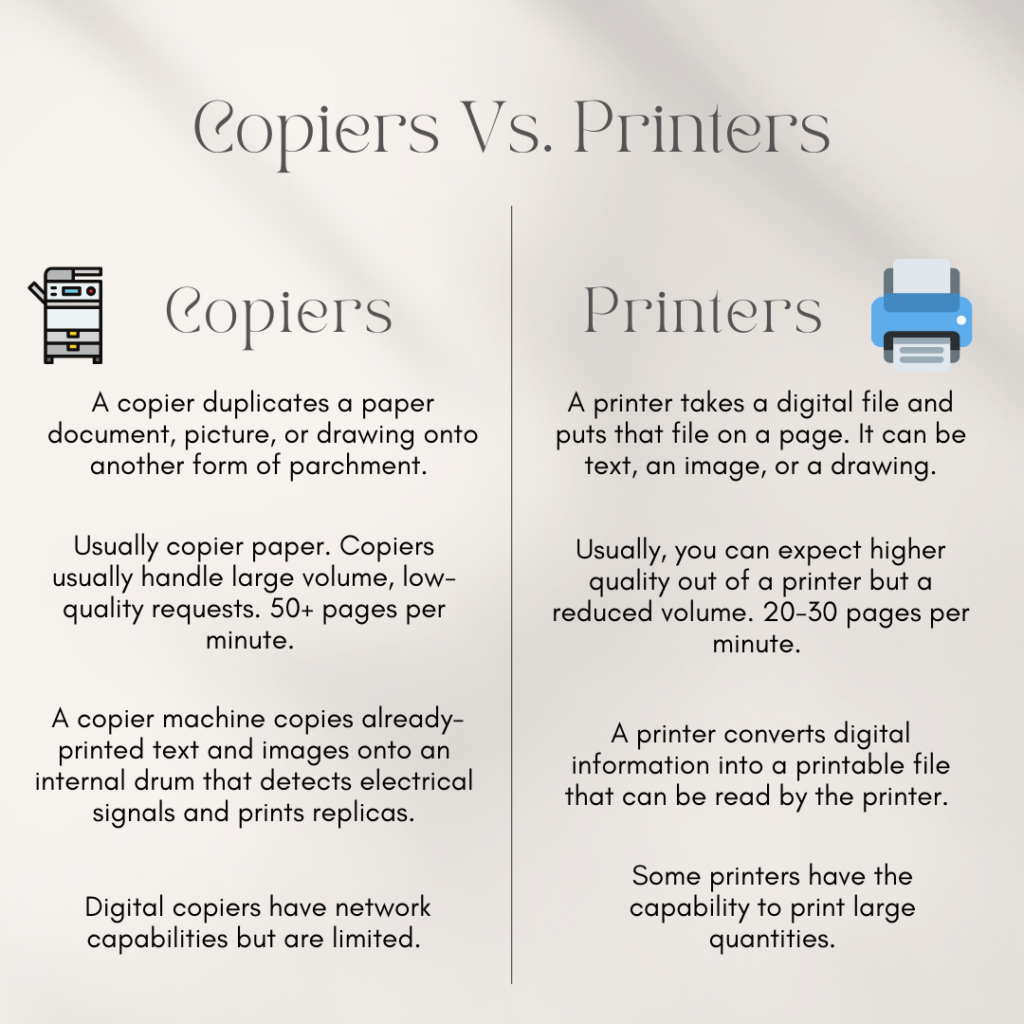 How Can Copiers and Printers Help Your Business?
Copiers are designed for high-volume replication. Meaning you would be able to replicate documents into the hundreds or thousands. For instance, let's say that you were making flyers for your local church's potluck. You could take that original flyer and make several hundred copies in a couple of minutes. According to business.com, a robust copier should be able to print around 50 pages per minute. However, many copiers can produce over 100 pages per minute.
Copiers are also stationary and can be quite large. Usually, you physically scan an item, and then the copier will reproduce that image. You can use a digital copier to print from a computer or USB, except, most digital copiers are limited on the number of devices you can connect to a copier. Meaning, copiers don't make scaling as easy when it comes to connecting more than a couple of employees.
Printers, on the other hand, do use an internet connection and can scale with many employees. A printer allows you to physically print a document from your computer, phone, or USB drive. Except, printers are usually much slower at producing documents. Printers do provide higher-quality images and more flexibility when it comes to your needs. Some printers allow you to scan items and turn them into a pdf.
There are multiple choices when it comes to printers. The most relevant for businesses are:
· Laser Printer
In laser printers, toner powder is melted onto paper to create prints. There are more upfront costs, but in the long run, they could end up saving you money.
· Inkjet Printer
An inkjet printer uses nanodroplets of ink to spray on paper. Printing text documents or high-quality colored images, especially photos, on inkjet printers is both faster and easier. They are typically smaller, cheaper, and faster than laser printers.
Pros and Cons of Copier and Printers
Copier Pros:
Speed
Copiers are built to replicate a large amount. What a copier lacks in detailed imaging it makes up for in its speed. For instance, if a copier can produce 100 pages in a minute, you would have 1000 copies in 10 minutes.
Built for mass producing
If you're a small business or rarely need spare documents, then a copier may not be for you. A copier is focused on producing mass quantities of a document. For instance, replicating a bulletin brochure for 500 guests at your church. A copier could do that within minutes, while a printer could take several hours and multiple cartridges of ink to complete that.
Lease Options
While buying a copier is generally more expensive than buying a printer, it can be more cost-effective to lease a copier. Copier suppliers offer lease options for businesses to optimize cash flow. This lease also may cover items such as maintenance or upkeep costs as well.
Lifespan
Since copiers are expected to reproduce documents at a high rate and in large volumes, most copiers often have a long lifespan. Longer than that of a printer. However, if your copier does go down and your technician doesn't come quickly, it could affect your business. Copiers are somewhat complex machines and require care. This is one of the most important and defining differences between copiers and printers.
Copier Cons:
Expensive Startup Costs
If you are planning on purchasing a copier you could spend a significant sum of change. Again, copiers are complex machines. It requires a lot of machinery to process that many pages in a minute. You'll need to decide what's right for your business and whether or not it's worth it to buy a copier versus leasing.
Not as Precise as Printers
Because copiers are manually copying a document, it may not be the same quality as printing can produce. Digital copiers can negate some if this, but this manual process of copying does leave room for error. Copiers are mainly focused on written words as well as low-res photos. If you want to copy your that can do more complex images, it will cost you money.
May Require a Digital Security
To manage incoming jobs and workloads, as well as to increase productivity, digital copiers need hard disk drives. A digital copier will store the data on documents it prints, scans, or faxes on that hard drive. That data could possibly be stolen if it falls into the wrong hands. Even the Federal Trade Commission has warnings about protecting your data when using a digital copier. Before purchasing or renting, make sure to talk with a supplier about protecting your data.
Printers Pros:
All-in-One
Multifunction printers (a printer that can print, copy, and scan items) provide an all-in-one solution to your needs. You can scan items, print from a computer, tablet, or phone. There are even some printers that can print pages at rapid rates (average around 25-35). Although even the fastest printers can't match the speed of a copier.
Price
If you are looking to own your printing device and you are on a budget, a printer can be much cheaper than a copier. Printers can come in desktop and standalone options and give business owners a wide range of options when it comes to selection and features. This can be great for small business owners who need a printer, but don't need to make thousands of copiers every month. It's one of the most competitive differences between copiers and printers.
Higher Quality Images
Printers can produce a higher-quality image. This is because it can take the raw data from a digital file and print it the exact same every time. A copier will just copy that image. This difference can be extremely important when it comes to graphic design projects or creating eye-catching marketing campaigns.
Wireless Network
One of the best benefits and a key difference between copiers and printers is that a printer can use a wireless network to connect many devices. For instance, you could have multiple employees all be able to print to one device due to its network capabilities. This can save you time and hassle instead of dealing with a copier that's network capabilities are limited.
Printer Cons:
Must be compatible with Wi-Fi Network
Sometimes printers don't work properly on certain Wi-Fi networks. While this is uncommon, it can happen. A printer can drop Wi-Fi accessibility for seemingly no reason. This can cause a massive strain on your production flow, especially if employees must manually connect a device to the printer. Having a wireless printer that won't connect to your internet negates one of the best features of a printer. Before choosing a supplier, you'll need to discuss if your printer will work with your Wi-Fi and who should you call if you can't repair it yourself.
Not as Fast as Copiers
Printers use a different form of technology when printing. The is technology is more precise and can do more when it comes to creating exact details on a page. However, the versatility and cheaper price come at a cost. You won't be able to produce documents at the same rate as a copier. You may only be able to print 40 documents a minute instead of 75. While this may not seem like a big deal at first, it can add up quickly if you are looking to print high volumes of paper. Some commercial printers can go a bit faster (up to 65ppm), however, those printers are going to cost significantly more.
Price Differences of Copiers and Printers
Purchasing
A larger difference between copiers and printers is how expensive each device can be. Purchasing copiers generally cost more, ranging from just under $2,000 (for less than 5k prints a month) to well over $80,000 for full production copiers for production print and copy centers.
Printers on the other hand are much more affordable when it comes to purchasing. You can have a reliable office printer for around $600, such as the Xerox WorkCentre 6515/DNI Color Laser Printer. However, larger commercial printers can run you about 2-10k depending on features, ppm, and color printing.
Leasing
On the other hand, leasing is much cheaper than buying outright. Leasing copiers can also provide you with advantages such as maintenance and updating your copiers every couple of years. According to CostOwl.com, you can lease copiers on the low end for around $75. This will get you a low-volume copier. For much higher loads, you lease for around $700 a month.
You can also lease a printer, although it's going to cost you in the long run. According to AbsoluteToner.com, you can find printers starting at around $75 a month and ranging all the way to $300 a month. Leasing could be the best option if you are looking to spend as little as possible and free up cash for your business.
Other Factors to Consider
Copiers and printers both have their positives and drawbacks. While copiers remain supreme in pumping out the most ppm, multifunction printers are starting to catch up. Here are a couple more factors to you make a choice.
Maintenance
Both printers and copiers are complex machines and if they go down, they could require some in-depth maintenance. If you lease a printer or copier this maintenance could be covered by the supplier. Yet, that downtime could affect your bottom line. If you choose to purchase, you'll have to locate a repair person in your area, and it will be an additional cost to that of the purchase.
Document Feeders
In a multi-function printer or copier, an automatic document feeder can copy, scan, or fax stacks of pages without having to switch out each one manually. An automatic feeder is a must for those looking to make the printing process easier and more intuitive.
Ink and Toner Charges
If you know anything about printers or copiers you know that ink and toner costs can add up. One of the differences between copiers and printers is the usage and costs associated with the two.
Generally speaking, most copiers use toner cartridges that last longer and can be more affordable.
Printers can use ink or toner cartridges. Though, ink cartridges do not last if toner cartridges and can cost more in the long run than toner cartridges.
Top Commercial Copier and Printer Brands
Want to know more about the top companies to partner with for your business needs? Don't worry we've got you covered on that front. These dealers service both copier and print needs and have a wide variety of selections.
The Top 10 Commercial Copier Brands
Want to Know More About Copiers and Printers?
Want to know exactly how much a copier or printer would cost for you? Need specific information on a copier's capabilities? At 360Connect, we can assist you in finding the right providers for your business and avail high-quality quotes based on your wants. Contact us today to find out more.