Merchant payment processing refers to the complex system that facilitates the smooth transfer of funds from customers to businesses. The process involves a series of steps and technologies that work seamlessly behind the scenes to ensure that transactions are secure and efficient.
A merchant payment processor, also as a credit card processor, is the backbone of modern business operations, allowing companies to accept credit, debit, and mobile payments. In the era of digital payment methods, the right merchant payment processing company can make all the difference.
Benefits of Merchant Payment Processing Companies
Diverse Payment Options: Payment processing companies enable businesses to accept a wide range of payment methods, such as credit and debit cards, mobile wallets, electronic bank transfers, and even developing payment methods such as cryptocurrency. This adaptability allows for a wide range of consumer preferences. The right point-of-sale system (POS) will be adaptable to your needs and increase revenue.
Increased Sales and Revenue: Businesses may attract a bigger client base and prevent cart abandonment due to restricted payment alternatives by offering several payment methods. This might result in greater sales and income.
Enhanced Customer Experience: A great client experience is enhanced by smooth and secure payment processing. Customers are more likely to return and become loyal customers when transactions can be completed swiftly and securely.
Security and Fraud Protection: To protect consumer data and prevent fraudulent transactions, reputable payment processors use advanced security methods such as encryption, tokenization, and fraud detection systems. This contributes to consumer trust and credibility.
Real-Time Reporting and Analytics: Many payment processors offer real-time transaction data, analytics, and insights to organizations. This data may assist firms in making educated decisions regarding inventory, marketing methods, and client preferences.
Scalability: As a company expands, its transaction volume might skyrocket. Payment processors provide scalable systems that can manage increased transaction volumes without losing performance or security.
Integration with Business Systems: Payment processors can interact with a variety of company systems, including e-commerce platforms, POS systems, inventory management, and others, to improve overall operational efficiency.
Top 7 Merchant Payment Processing Companies
Square provides a complete range of payment processing solutions designed to meet a variety of company requirements. The following is a list of Square's primary features and benefits:
Accept Payments Anywhere:
In-person: Businesses may accept contactless payments, smartphone payments, chip and pin payments, and more using Square's hardware.
Online: Square provides online payment options such as online checkout and API payments.
Remote: payment processing options include keyed-in transactions, card on file, and Square virtual terminal payments.
Diverse Hardware Options:
Square offers a variety of hardware products tailored for different business needs:
Square Reader for contactless and chip
Tap to pay on Android and iPhone
Square Reader for magstripe
Square Terminal
Square Stand
Square Register
Tools for Business:
Instant transfers: Transfer money to an external bank account instantly for a fee.
Reporting and analytics: Track business performance in real-time.
Security: Square offers fraud protection, data security, and supports PCI compliance.
Banking: Integrate payments, banking, and cash flow.
Staff management: Manage team permissions, timecards, and payroll.
Customer engagement: Use marketing tools to enhance customer experience.
Square offers transparent pricing with no hidden fees. A business only pays for what it processes, regardless of the payment method. To integrate payments into custom software, Square offers a developer platform. Square brings a ton of flexibility to businesses that are looking to serve multiple channels as well. Square's POS hardware is some of the most recognized in the world because of its ease of use and flexibility.
Pricing: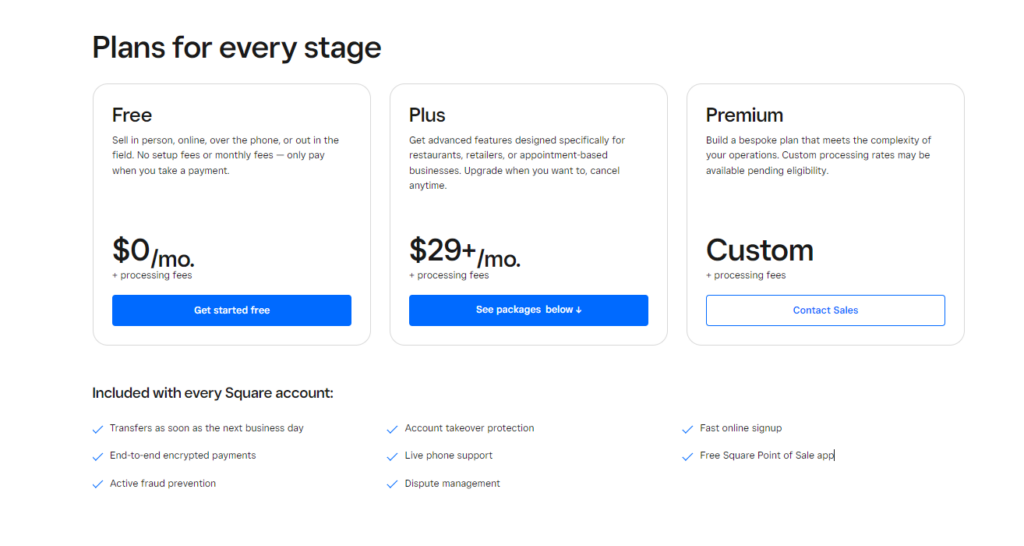 Stax provides a comprehensive payment solution designed to simplify and enhance company payment experiences. Here's a rundown of the main features and perks that Stax offers:
All-in-One Platform:
Stax's platform is designed to be an all-encompassing solution, eliminating the need for businesses to work with multiple vendors. They offer a wide range of customizable solutions like
Cloud-based smart terminals
Swipe/Tap/Dip compatibility
Customizable digital invoices
Stax mobile app (manage online and offline payments)
Mobile reader
Credit card scanner with mobile devices
Impressive Track Record:
Over $2.3 billion in payments processed.
Serving over 20,000 customers.
A high customer satisfaction rate of 98%.
A reliability rate of 99.9%.
Industry-Specific Solutions:
Retail, professional services, field services, and healthcare are among the industries served by Stax. Invoicing, in-person payments, eCommerce, mobile payments, contactless capabilities, and other features are available.
Compliance is also a huge part of Stax. They work hard to make sure that your compliance needs are automated for you. That way you don't have to even worry.
Pricing: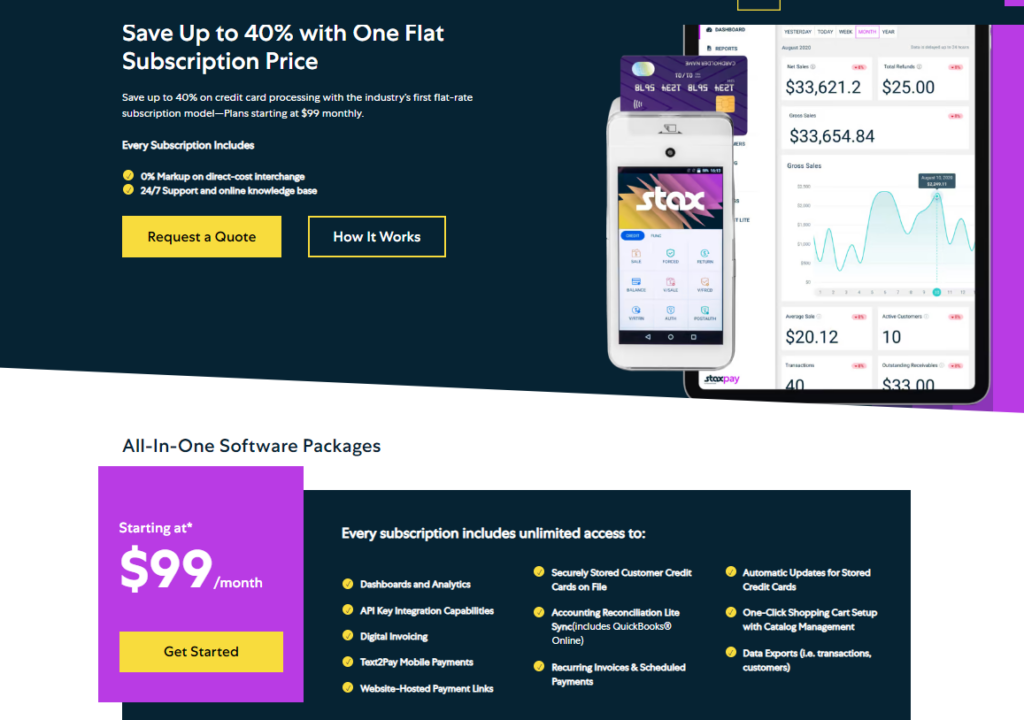 Stripe defines itself as a leading "financial infrastructure provider" for the internet. Stipe is a merchant payment processing company for millions of customers around the globe. If you are a large organization, Stripe has the products and services to handle companies like Google, Amazon, Salesforce, Slack, and others. While Stripe is mainly focused on features for online businesses, they still offer terminals to conduct in-person business.
All-in-one Platform:
Stripe provides a completely integrated suite of banking and payment tools that enables businesses to decrease expenses, increase revenue, and operate more effectively. They really act as a one-stop shop for all business needs.
Online payments
Prebuilt payments pages
Customizable pre-built UIs
Payment links for businesses
Fraud management
Omni-channel payment platform
Billing & subscription management
Invoicing
POS terminals
Identity verification
Banking
And more!
Frictionless Online Payment:
Auto-suggestion for addresses
Instant payment with Link integration
Live validation of credit cards
Clear and informative error notifications
External auto-fill option
Recognition of card brands
Option to reuse payment methods.
Customizable quantity settings
Global Scale:
Stripe emphasizes its global reach, processing hundreds of billions of dollars each year for businesses of all sizes. This is done all over the world and they have expertise in compliance within several different continents.
Stipe provides a merchant payment processing company that can handle large volumes of customers from around the world. You'll have access to some of the best features and tools that top companies are using to process their payments.
Pricing: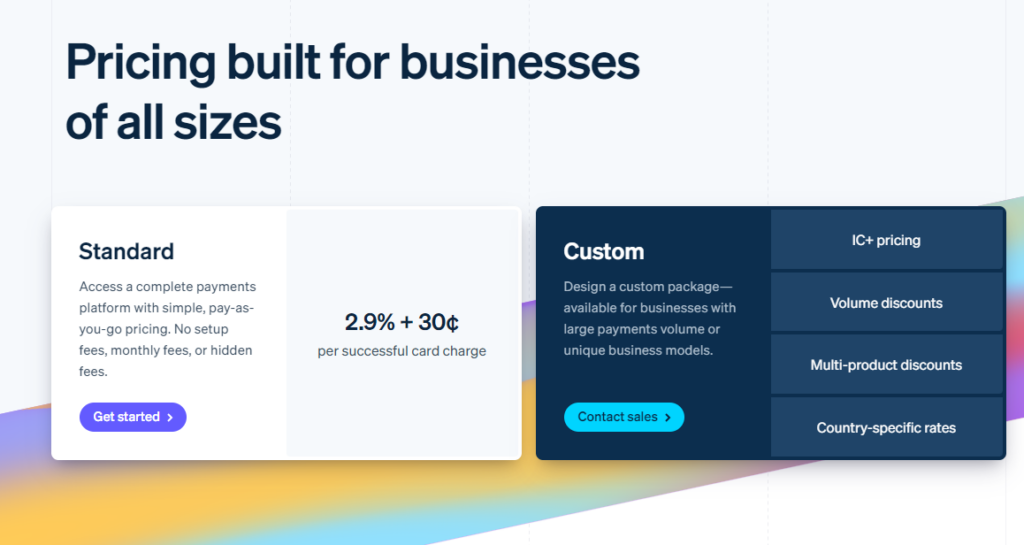 While Stripe may be one of the biggest, Payment Depot bills itself as one of the most trusted. Payment Depot is a merchant services provider that emphasizes transparency, cost savings, and customer satisfaction. They are utilized by some of the biggest brands such as Sprint, Subway, Boost Mobile, and many more. Some of the key features they offer include:
Simple Subscription Model:
The membership-style pricing model used by Payment Depot differs from standard merchant service pricing models. This strategy can result in considerable savings for organizations and the elimination of unforeseen expenses.
Diverse Payment Solutions:
Like others on this list, Payment Depot offers a suite of services for companies including:
Online payment solutions for web-based businesses.
Virtual terminal
Mobile POS systems
Smart terminals
Standard terminals
Industry-Specific Solutions:
Payment Depot services many different industries and is willing to offer its services to anyone. However, they do have some specialties in areas like:
B2B business
Hair & beauty salons
Healthcare
Pet groomers
Restaurants & bars
Retail
Integrations:
Payment Depot has the integrations! Their system can integrate with big-name brands like:
QuickBooks
Shopify
WooCommerce
OpenCart
Revel
PrestaShop
And more!
Payment Depot can be a great model for companies to save money and have transparency. You don't have to forsake great features for a cheaper price. For transparency's sake, they also offer:
No cancellation fees
No hidden fees
Live customer service
Helcim is a well-regarded and respected brand in the industry. Much like Payment Depot, one of the best aspects of their company is their payment fees. It is different than others on this list.
Interchange Plus Pricing:
Essentially, the cost of each transaction is dependent on the underlying interchange rate of the transaction. This means that every transaction can vary in rate, and usually, this saves customers money. This rate changes depending on card type, your industry, and whether someone is paying in-person or online. Helcim also processes your transactions at the lowest rate it can.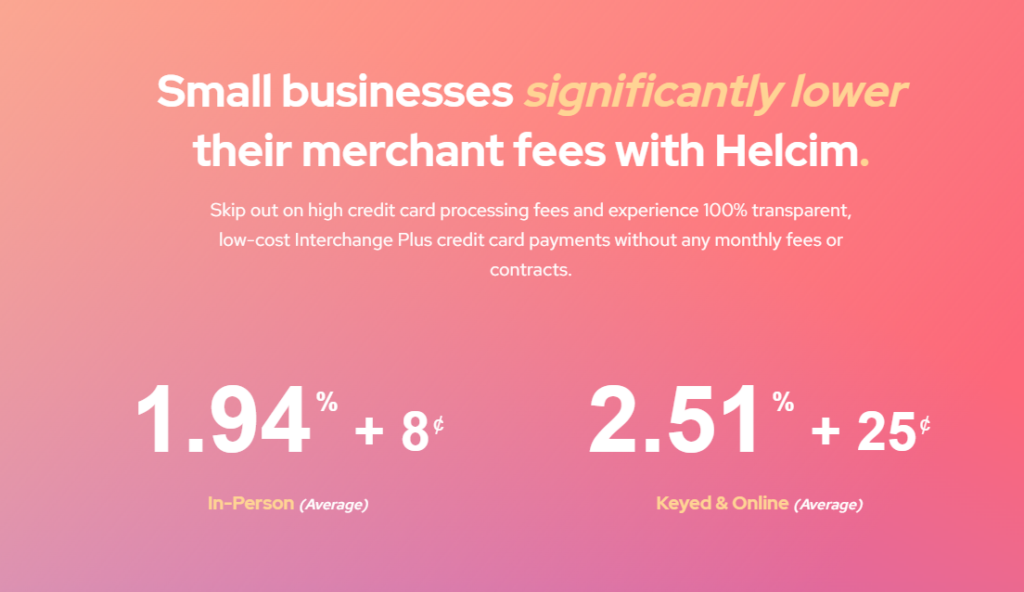 Services Offered:
There is a wide range of services that Helcim offers, however, most have to deal with POS and payment processing:
Point of sale (desktop, tablet, mobile)
Virtual terminal
Invoicing
Online checkout
Subscription manager
Payments page templates for your website
Omni-Channel:
With Helcim, businesses can accept payments both in-person using their card readers and online through their payment gateway. Businesses can accept payments in multiple currencies with Helcim, making it suitable for international businesses.
Helcim is a great choice for those looking for an unconventional partner as there are no contracts, no monthly fees, no cancellation fees, and no setup fees. They offer a ton of value with little to no downside for you if their service doesn't work for you.
ProMerchant is focused on providing simplicity for their customers. From their pricing structure to their tailored approach to customer support. This merchant payment processing company has a ton to offer for your business.
2 Different Pricing Structures:
Unlike some others on this list, you have multiple pricing structures to choose from ProMerchant. This includes Interchange Plus and Zero Cost Processing. The pricing structures offer flexibility to companies who need something more specific for their business.
Industry Support:
While ProMerchant can handle just about any industry, they do have special support for certain industries such as:
Restaurant
Retail
E-commerce
While this isn't as expansive as others on this list, the pricing structure and industry expertise can make this a valuable option for businesses.
Diverse Payment Solutions:
ProMerchant provides a range of processing solutions tailored to different business needs:
Point of Sale (POS): An EMV and NFC-ready system with apps for businesses.
Mobile: A free Bluetooth card reader that's EMV and NFC ready, paired with a smartphone app.
Virtual Terminal: A solution to accept payments via phone, email, text, or through shopping cart "buy now" buttons on websites.
E-commerce API: ProMerchant offers APIs that can be placed on your website to create payment processing pages on your website.
Fast Setup:
With its online application process, ProMerchant can approve most merchants within hours to a few days. Additionally, they provide quick access to online processing solutions and overnight delivery of free terminals.
If you are in the restaurant or retail business and need a system to be up and running quickly, ProMerchant may be one of your best options.
Online merchants can simplify the payment process with Shopify Payments, an integrated payment gateway built into the Shopify platform. If you are already using the Shopify platform this can be the best option for you.
Simple Setup:
With Shopify Payments, merchants can accept payments instantly. With just one click, merchants can go from setup to selling without waiting for long third-party activations.
Some of Shopify's Features:
3D secure checkouts
PCI-compliant servers
Point-of-sale terminals
Tracking & Analytics
Inventory Management
Wholesale selling
And more!
Support & Resources:
Shopify offers a variety of materials to assist merchants in understanding and optimizing their use of Shopify Payments. This features articles as well as a support center.
Unified E-commerce Experience:
The integration of Shopify Payments with the Shopify platform guarantees that businesses have a seamless e-commerce experience, from creating an online store to processing payments.
Different Pricing:
There are different pricing structures depending on what you need.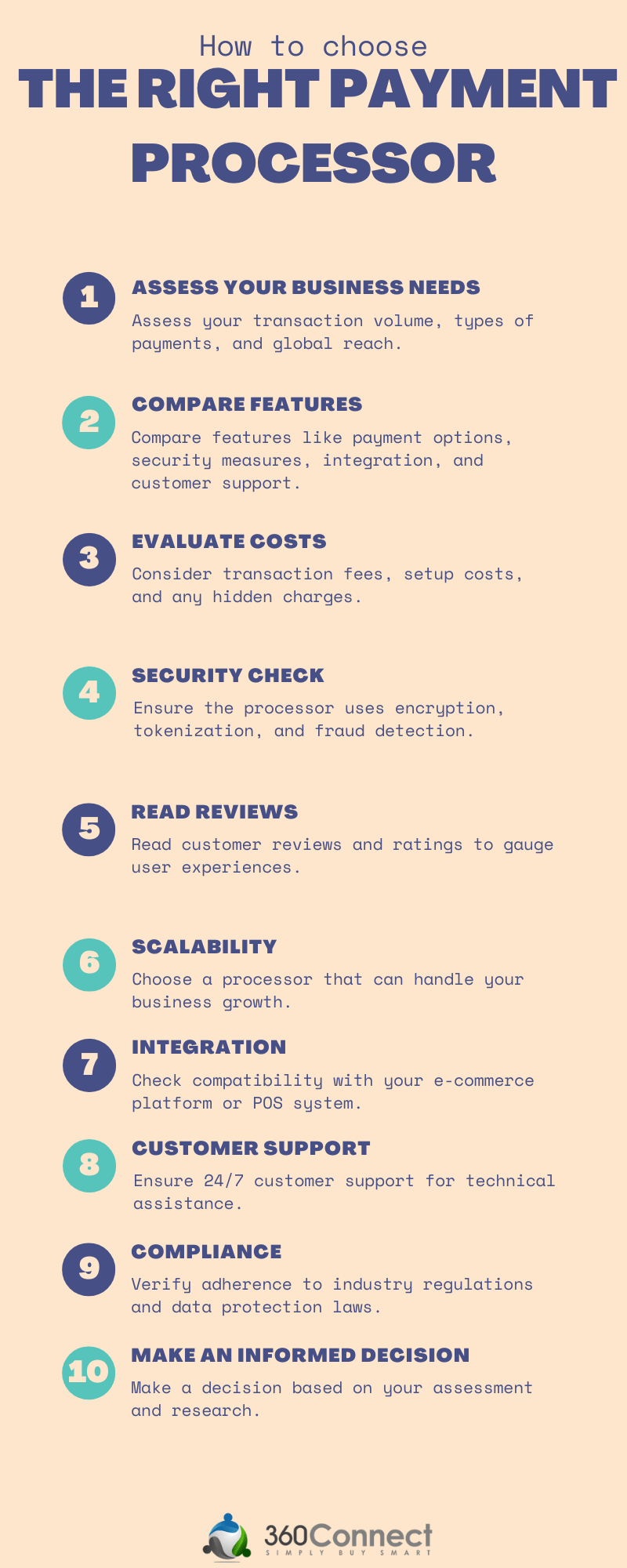 Looking for a Merchant Payment Processing Company That Can Help You?
Are you looking for a merchant payment processing company or POS system? Don't worry, 360connect can help you! We help companies find partners every day for their payment processing needs. Just fill out our 1–2-minute form and we'll contact you to verify your information. From there you can sit back and relax as up to 5 suppliers will reach out with quotes. It's 100% free and costs nothing for you to find high-quality suppliers.
Get Started Today!