The last thing you want to have happen to your customers after going through the process of finding medical spa treatment is to have them turn away due to confusing software. You want to make booking an appointment simple, easy, and with as few roadblocks as possible. One of your best methods for doing this is through medical spa software (also known as medical spa EMR software). This software not only helps you streamline activities for your customers but your staff as well.
Not all medical spa software is made the same. Not all have the same features, and they sure don't have the same price point. Here's why you need medical spa EMR software and the top companies you can use right now!
Why is Medical Spa Software Important?
Medical spa software helps you simplify key tasks for patient intake and data storage. That may seem complicated but it's quite simple. If you've ever been to a medical facility, most practices are using this type of software.
Common Features and Tasks of Medical Spa Software:
Online booking
Online check-in
Patient Portal to fill out paperwork
Automatic logging of employee information and treatment
Communication tools such as email, text, Facebook messenger, calendars, voice calls, and other methods.
Account tracking
Scheduling alerts and reminders for staff and customers
Review management
Payment platforms
Implementation of insurance if applicable
Common Benefits of Medical Spa Software:
Simplified customer experience
Patients can fill out paperwork instead of staff
Simplified workload for documentation
Automatic calculations for services
Great marketing tactic for your spa (book an appointment in 3 minutes!)
Get access to analytics on how your spa is performing
Some light bookkeeping
Track customers and build a loyalty reward program
Integration with calendar systems for convenience
Top 5 Medical Spa Software
Editor's note: 360Connect has a relationship with some of the providers listed below.
Dr. Chrono is one of the most well-known brands when it comes to providing medical software. They offer a wide range of solutions that target many different types of healthcare facilities. From hospitals to nursing homes, you'll find their software in those communities. This just goes to show how excellent an option Dr. Chrono can be for your practice. Some of the most helpful tools include:
Electronic Health Records (EHR): DrChrono provides a customizable EHR platform that adapts to your specialty needs, allowing for the creation of clinical notes and other time-saving shortcuts. This could streamline patient intake and record management at a medical spa. This type of system is found in hospitals.
Mobile EHR: DrChrono was one of the first to build EHR apps for the iPad and iPhone, and it continues to offer a mobile EHR app for these devices as well as for the desktop. This could allow for more flexibility in managing patient records at a medical spa among a small staff.
Practice Management: DrChrono's practice management features include online scheduling, self-check-in, and a HIPAA-compliant patient portal, which could simplify appointment scheduling and patient communication for a medical spa.
Medical Billing Software and Revenue Cycle Management (RCM): DrChrono's RCM team offers a high clean claims rate and complete transparency. Combined with their medical billing software, this could help a medical spa increase revenue and lower labor costs by improving the efficiency of the billing process and allowing more focus on patient care​.
Remember that Dr. Chrono is a platform designed for multiple types of specialties and services. It can be a one-stop shop for all of your software needs from patient registration to billing. However, if you aren't ready to invest in such a big system, there are other options. Pricing is custom.
PatientNow targets several different specialties including health & wellness, med spa, plastic surgery, dermatology, and HRT. They offer several different packages to suit customers' needs. The packages that are relevant to medical spa businesses are:
AestheticNow (a CRM solution)
Patient Now (a HIPAA-compliant EMR service)
RxPhoto (a platform for patients to view and share photos as well as sign consent forms)
RxPortal (a patient portal for customers to sign documents and use for telehealth access)
RxPayment (process payments solutions)
Some of the key features and offerings include:
Combines practice management and patient EMR solutions in a single platform.
A holistic solution that synchronizes day-to-day operations.
Marketing integration with RxMarketing add-on
Simplifies and automates the building and maintaining of relationships with customers on an individual basis using customizable pathways.
Integrated email and texting for follow-ups.
Offers a patient portal for customers to manage their profiles, view and print invoices, and schedule appointments
Referral Tracking
Digital payments
These packages can be sold together or separately, depending on what you need. This also allows for more flexible pricing and negotiation. Consider this option if you only need select services. Pricing is custom.
Zenoti is one of the highest-rated options when looking at review sites like SoftwareAdvice and G2. Like many others, Zenoti is an all-in-one platform that is specifically targeted at the medical spa community. Zenoti is intended to serve businesses of all sizes, whether they have a single location or several sites. It can connect your organization for rapid expansion and provide seamless operations across all locations for larger businesses. Zenoti helps unite your brand, locations, and teams with a single, seamless solution if your medical spa has many sites. Some of the prominent features include:
Online booking via your website, branded app, or Google search
Marketing tools like email marketing
Inventory management tools
Patient billing and payment within the application
Your own branded mobile application
Marketing tailoring tools specific to a region
Loyalty reward program management tools
Detailed KPIs and metrics
Users love Zenoti for the scalability and ease of use of their software programs. Its secure billing platform and insightful analytics provide both security and strategic advantage. Pricing is custom.
While not medical spa EMR software, Pabau is highly reliable CRM software you can count on. Pabau is focused on streamlining activities as much as possible to get you back to treating patients. You don't need to be an expert to manage their software. And just because this software isn't an EMR doesn't mean you won't have access to a ton of useful features for your business.
Online booking calendar that's viewable by day, week, month, or year
Scheduling tools by email or text
Pabau Go App which allows for the storage of patient photos and data. It can also handle tasks such as consenting, medical questionnaires, and more.
Reporting and analytics tools
Automatic paperless forms builder (a must if you want to save time)
Automatic alerts and recalls for patients to check in for care and rebook for future appointments.
Treatment plan builder
Identify technology to know who your high-value clients are
Pabau capture features that help create a timeline of care and capture photos along the journey of change.
If you're still using paper and a filing cabinet, Pabau can be a great option for practitioners who are looking to go digital. They have experience helping clients transition to new digitized systems. Say goodbye to the hassle of sifting through emails to schedule bookings and say hello to 24/7 online booking that populates your system without any delays.
DaySmart Spa is a full-service management system created exclusively for spas. Its cloud-based software provides a selection of packages to meet the demands of your business at various stages of development, each packed with a number of features to streamline operations and improve customer experience.
The software provides a ton of customization, 3rd-party integrations, and different levels of support. You don't have to settle for less when you use DaySmart Spa.
Unlike others on this list, DaySmart Spa breaks its services into packages and includes pricing! We'll provide a breakdown of those here: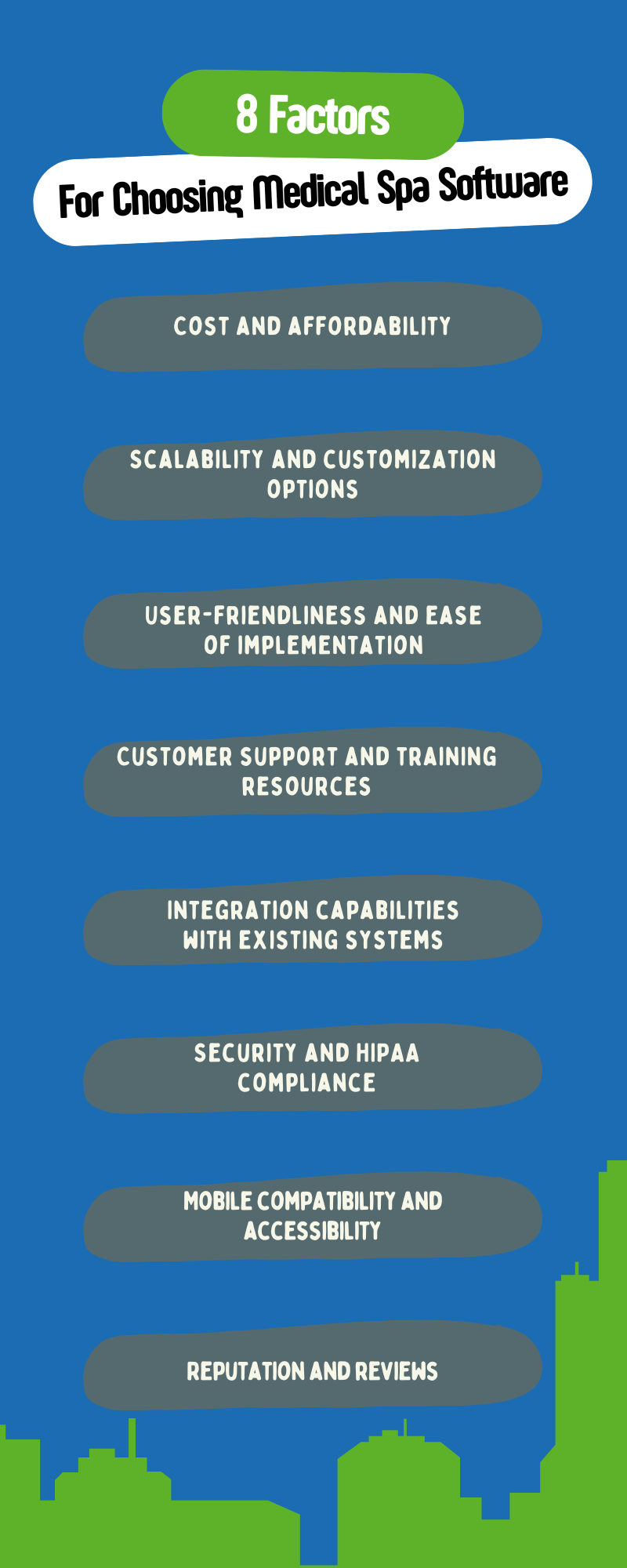 Need Medical Spa Software for Your Business?
Don't worry, you're not alone! More and more medical practices are searching for software solutions to make them more efficient and increase patient care. 360Connect can help you find the perfect medical spa software for your spa practice. Just fill out our 1–2-minute form and we'll contact you to verify your information and needs. From there, up to 5 suppliers will reach out to you with 100% free quotes. It's that easy!
Get Started Today!