Electronic health records (EHRs) have become an essential tool for healthcare providers in the modern era. With the increasing use of technology in healthcare, having a reliable EHR system that can securely store and manage patient information has become more critical than ever. What you need though is an EHR vendors comparison.
Choosing the right EHR vendor can be a daunting task, especially given the vast number of options available on the market. Each vendor offers unique features, pricing plans, and customer support services, making it challenging to compare and decide which one is best suited for your organization. In this article, we will provide an in-depth comparison of the top three EHR vendors, highlighting their strengths and weaknesses, pricing plans, and customer support services. The top three EHR vendors have been selected according to their market share. If you are in the market for EMR, we've got that too.
The Breakdown
The top market providers are:
Epic (36.92% market share)
Oracle Cerner (22.59% market share)
MEDITECH (14.09% market share)
These providers offer not only EHR but a whole suite of applications and integrations.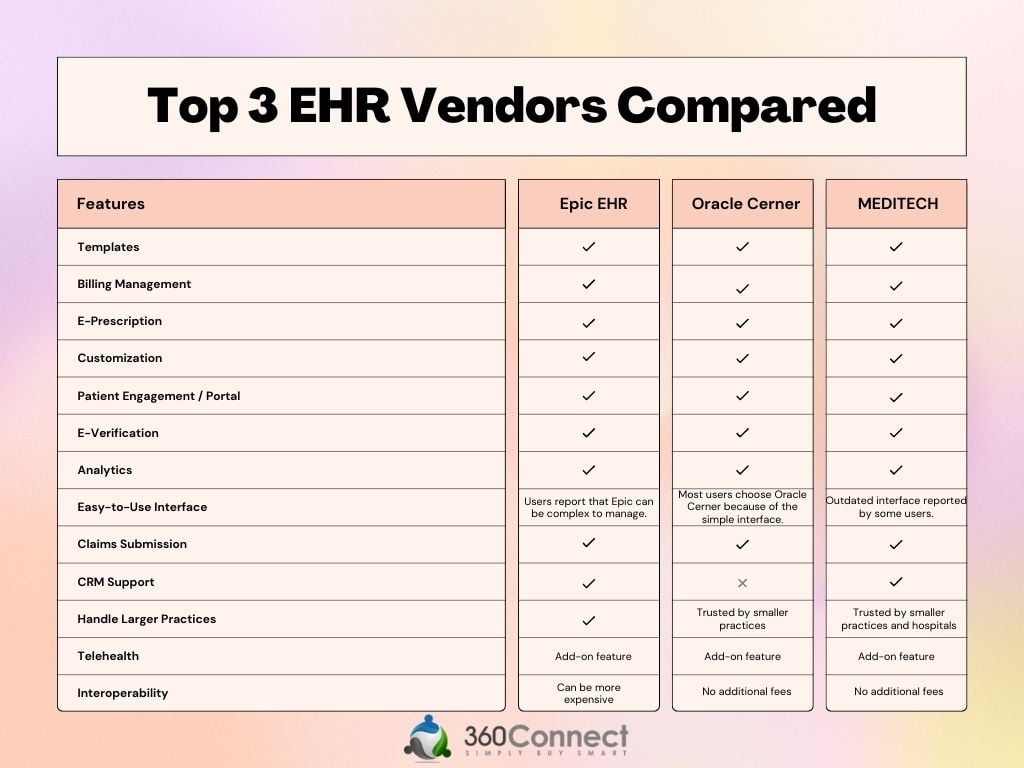 Epic EHR is a comprehensive cloud-based electronic health record system developed by Epic Systems Corporation. They are one of the largest providers of medical software on the market and offers several different services. Over 60k clinics use some form of the Epic EHR software. Also, 400k physicians use the software as well.
Strengths:
Comprehensive: Epic EHR offers a wide range of features and capabilities to support organizations of all sizes. If you ever need to add to the EHR system you are currently using, you can stay in the Epic bubble easily and know that your programs will work together.
Integration: The system is designed to integrate with other healthcare systems and technologies, including laboratory systems, radiology systems, and pharmacy systems.
Analytics: The system provides advanced analytics capabilities, allowing healthcare organizations to analyze patient data to identify trends, patterns, and opportunities for improvement.
Patient Portal: Epic EHR includes a patient portal, allowing patients to access their own health records, communicate with healthcare providers, and schedule appointments.
Mobile Application: Epic EHR also has Apple and Android applications for patients and staff.
Claims Processing and Billing: Epic EHR can be equipped with claims processing and billing tools right from the start.
Customized Patient Charts: You don't have to be limited to just templates or a blank screen. Epic EHR gives you the ability to fully customize forms and charts.
Weaknesses:
Cost: Epic EHR is expensive and may be prohibitively costly for smaller healthcare organizations. Also, Epic EHR doesn't list pricing on its website and relies on custom pricing for most places.
Complexity: Because Epic EHR is designed for so many different types of clinics, it can be difficult because it has a whole host of tools to take advantage of. You and your staff will most likely need training to navigate the system.
Customization: Epic EHR offers a high degree of customization, but this can also make the system more complex to use and maintain.
Upgrades: The system requires regular upgrades, which can be time-consuming and costly.
Vendor Lock-in: Once an organization has implemented Epic EHR, switching to a different system can be difficult and expensive.
No Free Trial: Epic does not allow for a free trial of their products although they do allow for a demo.
Interoperability: Epic EHR supports the exchange of health information between different healthcare providers however, they sometimes will charge a special fee for that. They also want you to use more Epic products instead of using outside software.
Pricing will be based on:
Size of your clinic (patient size, staff size, etc.)
Type of clinic
Features
Most Epic users have custom pricing based on their needs.
Oracle Cerner's EHR system, known as Millennium®, is designed for both in-patient and outpatient settings alike. As Oracle Cerner put it, their product is about having the right information at the right time for both patients and doctors. While Cerner used to be its own company, they have now been acquired by Oracle and can combine its EHR with a wide host of other tools and assets under the Oracle umbrella. This EHR system is cloud-based as well and provides many of the same features and benefits of Epic, with its own intuitive interface.
Strengths:
Analytics: Oracle Cerner Millennium includes powerful analytics capabilities that allow healthcare organizations to analyze clinical and financial data to identify trends, improve care quality, and reduce costs.
Comprehensive: Oracle Cerner Millennium is a comprehensive EHR platform that covers a wide range of clinical and administrative functions, including clinical documentation, order entry, medication management, decision support, and revenue cycle management.
Dragon Voice Recognition: Oracle Cerner's EHR system uses state-of-the-art voice recognition technology to capture every word you might need.
Patient Portal: Patients can communicate with staff and view their records all from a software application on their phone or computer.
Specialty Support: This company supports over 50 different specialties and can be fine-tuned to your needs.
Single Sign On: Sign in once and access all of your applications within Oracle Cerner.
Weaknesses:
Implementation Costs: Implementing Cerner Millennium can be costly, especially for small healthcare organizations with limited budgets.
Interoperability Challenges: While Cerner Millennium is designed to be interoperable with other systems, achieving interoperability can still be a challenge due to differences in data formats and standards across different healthcare organizations.
Customer Support Can Be Slow: Sometimes customer support can be slow due to call overload.
No Free Trail: There is no free trial offered by this software provider.
Pricing will be based on:
Feature
Size of practice
Type of practice
Most pricing is custom and requires a quote from an agent. Epic seems to be the more popular choice when it comes to bigger facilities, while It seems that Oracle Cerner is the more popular choice for clinical and ambulatory care. Another big factor between Epic and Oracle Cerner is that Epic incorporates a CRM into their software whereas Oracle Cerner does not. Many users also report that Oracle Cerner's Millennium is easier to use rather than Epic.
While only the third largest, MEDITECH (a cloud-based EHR system) has a ton to offer to clinics and patients. Hospital staff will be able to view patient information such as lab results, patient vitals, health history, medication information, patient notes, and diagnostic imaging. MEDITECH also offers other features such as remote care through its platforms Expanse Virtual Care and Patient and Consumer Health Portal.
Strengths:
Comprehensive Solution: Meditech EHR provides a comprehensive solution for healthcare organizations to manage their patient records, clinical documentation, and revenue cycle management.
Customizable: Meditech EHR is highly customizable and can be tailored to meet the specific needs of different healthcare organizations.
Integration with Third-party Applications: The system allows integration with third-party applications, enabling healthcare organizations to access a broader range of functionalities and features.
Mobile Access: Meditech EHR provides mobile access, allowing clinicians to access patient records from anywhere, anytime.
Meaningful Use Certification: Meditech EHR is certified for Meaningful Use, which is a government program that incentivizes healthcare organizations to adopt electronic health records.
Easy User Interface: Users report being able to navigate the software with relative ease and that the software feels intuitive.
Inoperability: Work across systems and practices with software that can use data from multiple sources.
IOS and Android Application: Access your documents on mobile devices whenever you need them.
Weaknesses:
User Interface: The user interface of Meditech EHR can be challenging to navigate and not as intuitive as some other EHR systems.
Training and Support: Meditech EHR may require a steep learning curve for new users, and adequate training and support may be necessary to maximize the system's benefits.
Limited Integrations: While Meditech EHR does offer integration with third-party applications, it may not be as extensive as other EHR systems.
Cost: Meditech EHR can be expensive to implement, and ongoing maintenance and upgrades may also come at a cost.
No Free Trial: Meditech does not offer a free trial of their services, but does offer demos.
Limited Analytics and Reporting Capabilities: The system's analytics and reporting capabilities may not be as robust as some other EHR systems, which can limit healthcare organizations' ability to extract insights from patient data.
Most pricing is custom and requires a quote from an agent.
MEDITECH is reported to provide a flexible system that can help hospitals and small clinics upgrade their system. However, it may not have all the same features as other larger systems.
Ready to Find an EHR Vendor for You?
Are you ready to find the best EHR provider for your practice? We got your back! At 360connect, we help companies find the perfect fit for their needs. Just fill out our 1–2-minute form and we'll contact you to verify your information. From there, you can relax as up to 5 companies will reach out to you with 100% free quotes! It's that easy!