Time card software has become a mainstay for many businesses. It's a useful way to simplify time recording whether physically or digitally. Most systems are robust and work for a myriad of businesses. However, choosing the best time card software for your needs is easier said than done. Finding the right system though can save you money and increase efficiency. Here's how.
What is Time Card Software?
Time card software is a computer application that records the times
clocked in and out
. This software records time worked through a physical or digital card.
Physical cards:
These cards resemble credit cards. Time is recorded using a magstripe on the back of the card or a chip within the card. Oftentimes, these cards are used as identification badges with employee pictures.
Digital cards:
Digital cards aren't really cards at all. It's just a software application that records when employees punch into work. This is done usually by employees on their phones or desktop. They may have to be in a specific location or logged into a specific software. While many companies still use physical cards, many in the industry have switched to digital card systems that let employees' clock into work using their mobile devices. This is especially true for companies that may require employees to travel to multiple job sites or work remotely. For example, construction workers may use this type of software.
Knowing the right type of system
can help improve your efficiency and HR capabilities.
Top 5 Best Time Card Software
Time Doctor is one of the premier time card software options. Trusted by over 250,000 customers, you'll be able to have a full suite of features when it comes to this time and attendance system. They can record times clocked with physical time cards as well as digital time cards. The goal of Time Doctor is to simplify the workload for HR professionals and companies so employees can get back to work. Some of the key features include:
Time tracking and & employee monitoring
Online timesheets & payroll
Project management
Analytics & reporting
Distraction alerts
Website & App Monitoring
3rd Party integrations
Customized workflow and analytics
Email notifications
Offline tracking
Easy setup & support
Many of the features of Time Doctor are geared toward employees that are remote or work across various job sites. Time Doctor is designed with security and privacy in mind. It offers features such as encryption, user permissions, and the ability for employees to delete screenshots that contain sensitive information. Time Doctor is also compatible with Mac OS X, Windows, and Linux.
ClockShark is another top option for companies that need digital time cards. In fact, they tout themselves as the industry's #1 timesheet app. It is particularly well-suited for companies with employees who work at different job sites or locations. While not as big as Time Doctor, ClockShark is trusted by over 9,500 different companies and is mainly used by field service workers. You'll find a straightforward application that can track worker hours, but one that isn't light on features. Some of those features include:
Mobile time tracking
GPS tracking
Job scheduling
Job costing (this allows employers to track labor costs across projects)
Add jobs and assignments right from the mobile app
Faster payroll with integrations like ADP, Xero, QuickBooks, and many more integrations
Analytics and reporting
Compliance and record-keeping
Clockshark can benefit your company if you plan on having your time at different job sites. They offer a simple and robust mobile application for workers to use. Employees input a pin number and use geolocation and clock in. Additionally, users report that the software is simple to use for payroll and managing employee PTO.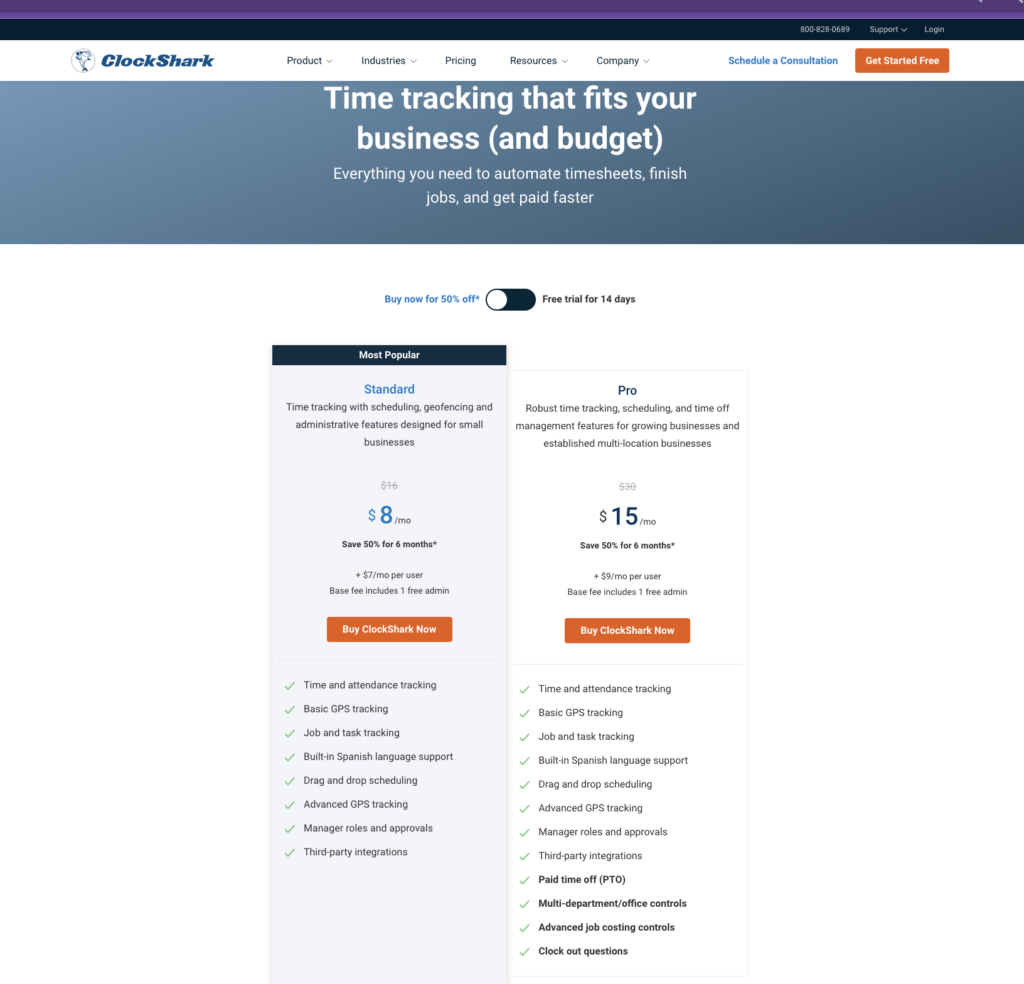 Paymo isn't just one of the best time card software, it's also a valuable tool for task management. This software provides a task management system that allows users to create, assign, and organize tasks within projects. Users can set due dates, add descriptions, attach files, and leave comments on tasks. But can it track your employees with ease? Yes, it can! Used by over 100,000 employees around the globe, companies are using Paymo to simplify multiple tasks at once. With Paymo, you get both time-tracking software and project management software. If you're looking for software to track time and run all our task management in one app, Paymo has your back. Some of the best features include:
3rd party integrations
Time tracking across applications and web browsers
Project management tools with time tracking across tasks
File sharing
Kanban Boards which allow for custom workflows to be created
Team schedular which allows managers to see both group projects and individual work
PTO management
Gantt chart which allows employers to view work completed on a timeline
Online payments available
Invoicing & estimate capabilities
Collaborative file proofing allows multiple workers to work on the same project in real-time.
Mobile and desktop applications
Paymo does stand out on this list because it's geared towards tracking time for mostly digital workers. However, we included it on the best time card software list for its project management features. If you need software that can tackle your planning and execution of projects, this software may be the best fit for you.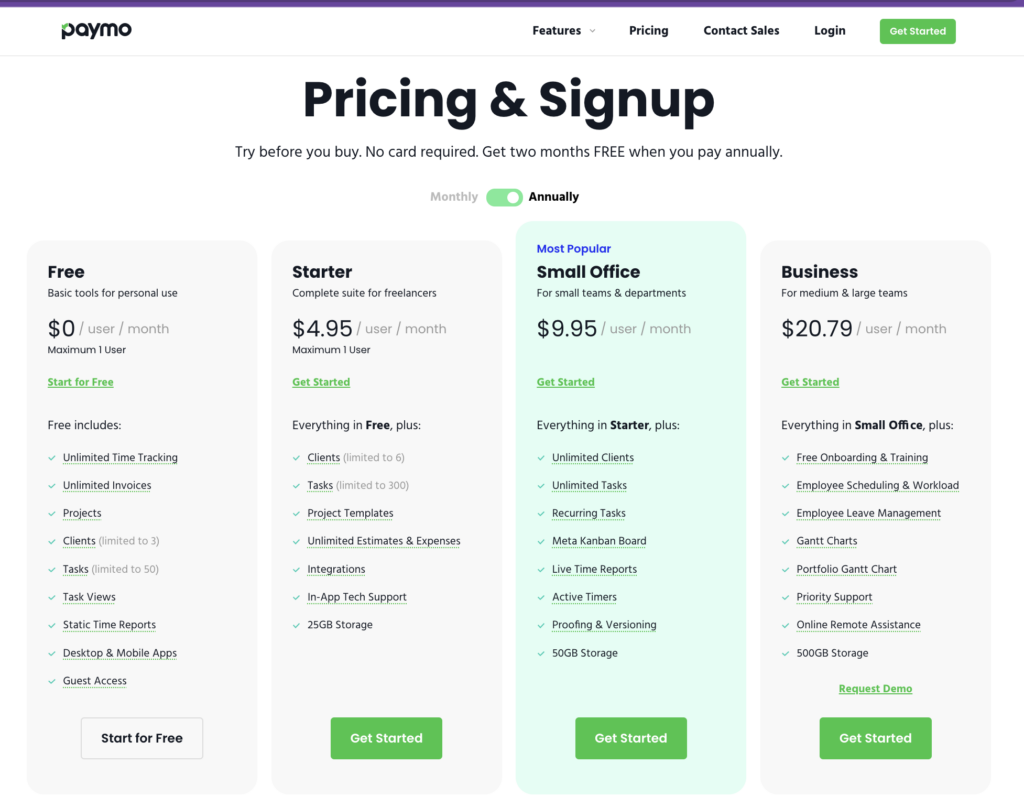 While some on this list may be geared towards remote workers or hybrid models, uAttend is firmly dedicated to being the best time card software for in-person time tracking. uAttend offers a wide range of physical time clocks that use time cards as well as voice/face recognition, and even fingerprint scanners. They are a trusted brand with years of experience. This company is definitely an option if you need multiple levels of security for your business or government institution. Some of the outstanding features include:
RFID & PIN punch in
Offline mode for time clocks
Touch-free options for time clocks with temperature readers
Cloud-based attendance system
Punch rounding
Department transfer management
Overtime alerts
Compliance alerts and lockouts
Geofencing
Payroll exportation
Scheduling and PTO management tools
3rd party integrations with apps like Quickbooks
uAttend makes it easy to manage employees across multiple facilities all within one dashboard. With robust security measures (which are extremely important) and innovative software, most companies can put this service to good use right away. That doesn't even tackle additional services like earlyPay which allows your employees to get paid quicker with no additional cost to you.
Pricing is custom and dependent on the devices you buy.
TimeClock Plus (also known as TCP) is a time and attendance software solution designed to help businesses manage employee time tracking, scheduling, and labor compliance. The software is available in both cloud-based and on-premises deployment options and is suitable for businesses of all sizes and industries. TimeClock Plus is one of the best time card software options because it offers both cloud-based and on-premises deployment options, a high level of customization, and a wide range of industry focuses. Specializations include industries like education, healthcare, manufacturing, and government. TimeClock Plus provides these industries with the flexibility to adapt to their workforce to problems. Some of the key features include:
In-person and WFH solutions
Scheduling features
Document management & sharing
PTO management
Reporting and analytics
Compliance tools
Biometric time clocks and thermal sensors
Mobile application to manage time and other features
Integrations with HR software, EHR software, and other vendors
Overall TimeClock Plus gives your business the tools to be agile and adapt to the market. If you work in one of the specialized industries, consider this time card software. They really do have features that can maximize your staff's efficiency and performance.
FAQ Time Card Software
What is time card software?
Time card software is a digital tool that allows employees to track their work hours, attendance, and time off. It automates the process of recording and managing employee time data, making it easier for employers to calculate payroll and ensure compliance with labor laws.
How does time card software work?
Time card software typically allows employees to clock in and out using a computer, mobile app, or physical time clock. The software records the time data and generates reports that can be used for payroll processing, attendance tracking, and labor law compliance.
What are the benefits of using time card software?
Benefits of using time card software include improved accuracy in time tracking, reduced administrative work, increased productivity, better compliance with labor laws, and the ability to analyze workforce data for informed decision-making.
Can time card software integrates with other business systems?
Yes, many time card software solutions can integrate with other business systems, such as payroll software, human resources management systems (HRMS), and accounting software. This integration allows for seamless data transfer and streamlined business processes.
Is time card software secure and compliant with privacy regulations?
Reputable time card software providers prioritize data security and compliance with privacy regulations. It's important to choose a software solution that offers encryption, secure data storage, and compliance with relevant privacy laws, such as the General Data Protection Regulation (GDPR).
How much does time card software cost?
The cost of time card software varies depending on factors such as the number of employees, features offered, and the pricing model of the software provider. Some providers offer tiered pricing plans, while others may offer custom pricing based on the specific needs of the business.
Can time card software handle different types of work schedules?
Yes, most time card software solutions are flexible and can accommodate various work schedules, including full-time, part-time, shift work, and remote work. Employers can typically configure the software to match their specific scheduling needs.
Can employees use time card software to request time off or view their schedules?
Many time card software solutions include features that allow employees to request time off, view their work schedules, and check their accrued leave balances. This empowers employees to manage their own time and attendance information.
How can I train my employees to use time card software?
Training employees to use time card software can be done through a combination of methods, including in-person training sessions, online tutorials, user manuals, and help guides. Many software providers also offer customer support and training resources to assist with onboarding.
Can time card software help with labor law compliance?
Yes, time card software can help businesses comply with labor laws by accurately tracking employee work hours, overtime, breaks, and time off. The software can also generate reports that provide documentation for audits and labor law compliance checks.
Ready to Find the Best Time Card Software for You?
Looking for time card software that can really benefit your business? Don't worry we can help! 360Connect helps companies find software solutions every day! Just fill out our 1-2 minute form and we'll contact you to verify your information. From there, relax as up to 5 quotes come your way all for free!
Get Started Today!