The Breakdown
Clocking in and out of work is a function of a time clock and time tracking software.
Time tracking software allows you to simplify workers recording their hours.
Time tracking software can include HR features and help your run payroll more efficiently.
Many small businesses rely on a manual schedule to record employees' work hours. However, many companies find this ineffective as they scale their business. Because of the number of employees, the time to record all this information becomes longer and longer. In turn, companies turn to clocking in and out with time and attendance software. So how does clocking in and out of work affect your business? More importantly, can it improve your business activities? We believe so! Most clocking in and out time tracking systems include a combination of three devices:
Timeclocks
Punch Card (or updated variant)
Scheduling Software
Using a mixture of these three components, companies can save time and acquire more robust data for running payroll. The process of "clocking in and out" is a product of time and attendance software. Time and attendance software (also known as time tracking software) allows time clocks to record times punched in and out for record keeping. This software is usually combined with scheduling tools or other HR necessities. Not every time and attendance software are made the same though. In fact, there are some pretty distinct differences that can change how your employees clock in and out.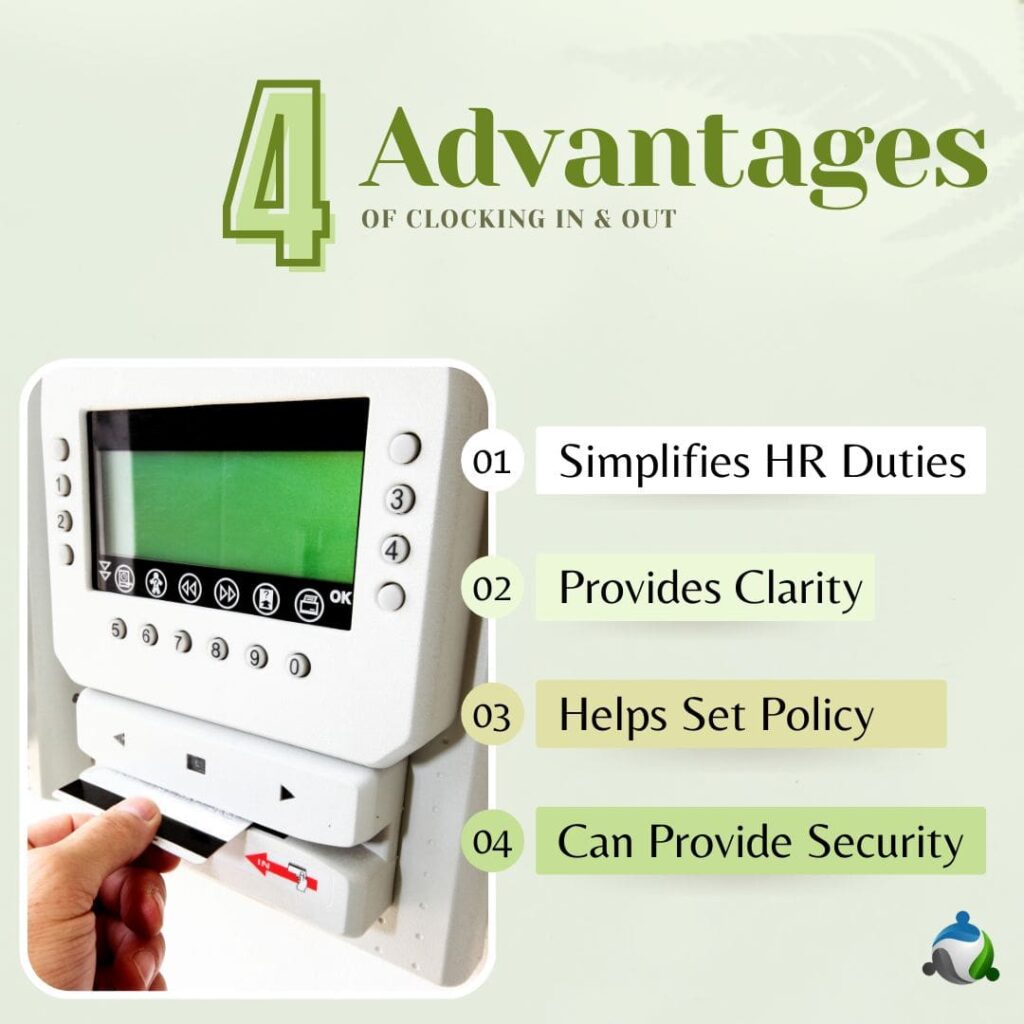 3 Types of Clocking In and Out Time Tracking Software
Most businesses want to automate the process of recording hours worked for an employee. Usually, this is achieved through a physical time clock or software. This system then automatically logs this information into software or a spreadsheet of some kind. There are three main types of timeclocks:
Physical Location Timeclock:
This is a physical time clock located at a specific job site. Employees use a "punch card" to record the time when they clock in and when they clock in. Nowadays, most employees use a card that they swipe (like a credit card with a magstripe), and the time clock records this information into a software or spreadsheet.
Software Time Clocks:
Software timeclocks can be in one location or accessible by desktop and phone. Employees can sign into the software and have their hours worked recorded from anywhere in the world. This can be extremely useful if you have remote workers or employees that travel often. Software time clocks can also be a part of mobile applications for other HR purposes as well.
Biometrics:
Biometric time clocks provide a high level of security to employees clocking into work. Biometrics use either facial recognition, retinal scans, or fingerprints to clock in an employee. Many businesses with sensitive information will often use a mixture of biometric data to sign in an employee. Most biometric systems are in-person. Biometric systems provide many benefits even beyond security.
2 Features of Clocking In and Out Time Tracking
Automatically Log Hours
One of the major features of time and attendance software is that it automatically logs the hours of your employees. This can save your office team a ton of time when running payroll, editing hours, and providing simplicity for your employees. You don't have to do anything by hand, and you can adjust your times with a couple of clicks. Most time and attendant software come with payroll additions as well. With some programs, you can run payroll in a matter of minutes.
Cloud-Based Solution
Most time tracking software is cloud-based. This means that no matter where your employees or clocking in or clocking out, you can still track their hours. Employees can access their time clock on their desktop or mobile device.
3 Benefits of Clocking In and Out Time Tracking
Everyone Wins
The ability for employees to clock in and clock out benefits multiple parties. First, the employee gets to easily sign in and leave a digital record of their hours worked. Secondly, it benefits your HR staff to process hours and payroll more efficiently. Thirdly, it improves your ability to gather data about how many hours your employees are working. Everyone benefits from a time clock addition. Whether that is the ease of access for employees or understanding more about how your business operates.
Set Policies
Having a time clock allows you to set rules and policies when clocking in and clocking out. For instance, some employers allow workers to clock in 5 minutes early and gain some "comp" time. Other employers have strict policies about working overtime. While these policies can be in place beforehand, time-tracking software allows you to better manage the policies and enforce them.
Provide Transparency
When it comes to getting paid, no one is happy with an incorrect check. Around half of Americans live paycheck to paycheck and missing pay can cause financial turmoil. Time tracking software allows employees and employers to keep a detailed log of hours worked. If something is wrong, you can always go back to that record to check.
Price of Clocking In and Out Time Tracking Software
Most time clock services cost around $20-$100 dollars per month depending on the size of the business, features, the number of administrative tasks, and integrations. If you want to introduce biometrics into your time tracking, the price will go up as it is a more complex system.
If you would like to check out the best time clock software, you can do so here:
Top 5 Time Clock Softwares in 2022
Ready to use time software with your business? Want to provide the ease that comes with clocking in and out of work for employees? If so, 360Connect can help you! We help employers every day find time-tracking software that fits their needs! Just fill out our 1–2-minute form and we will contact you to verify the details. From there, you'll receive up to five quotes 100% free! It is that simple!