Construction timecards are an important part of the construction process. They help track the time employees and teams spend on specific construction projects. Timecards help ensure everyone involved in the construction project is paid for the work they do and completed on time.  
Companies use construction timecards to track the hours, days, and weeks spent on a particular project. With this information, you can make sure that everyone is compensated for their work and that the project is completed on time. These time and attendance tools enhance your business and benefit your employees as well.
The Breakdown
Timecards are common in the construction industry although most timecards are digital these days.
Most companies rely on timecards to accurately run payroll.
There are many timecard options to choose from each with their own unique features.
What is a Construction Timecard?
A construction timecard is a document used to track the hours worked by employees on a construction project. It often includes information such as the employee's name, hours worked, and rate of pay. It's important to ensure accuracy when completing a timecard because they are used to calculate payroll for the employees.
Other information on a construction timecard may include:
Type of work performed
Start and end times for each day worked
Any overtime hours and pay
Total pay for the week
Signature of the employee to verify the accuracy of the timecard
Signature of the supervisor to approve the time worked.
Some timecards may also include additional information, such as the location of the construction site, the job or project number, and any expenses incurred during the work week.
Types of Construction Timecards:
Time cards used to be conducted with pen and paper and eventually were replaced by time and attendance systems that allowed users to clock in and out on a time clock. Nowadays, most timecards are digital, utilizing a mobile app or swipe card to record attendance. You'll also have construction timecard software to record these "clock-in and clock-out" moments automatically.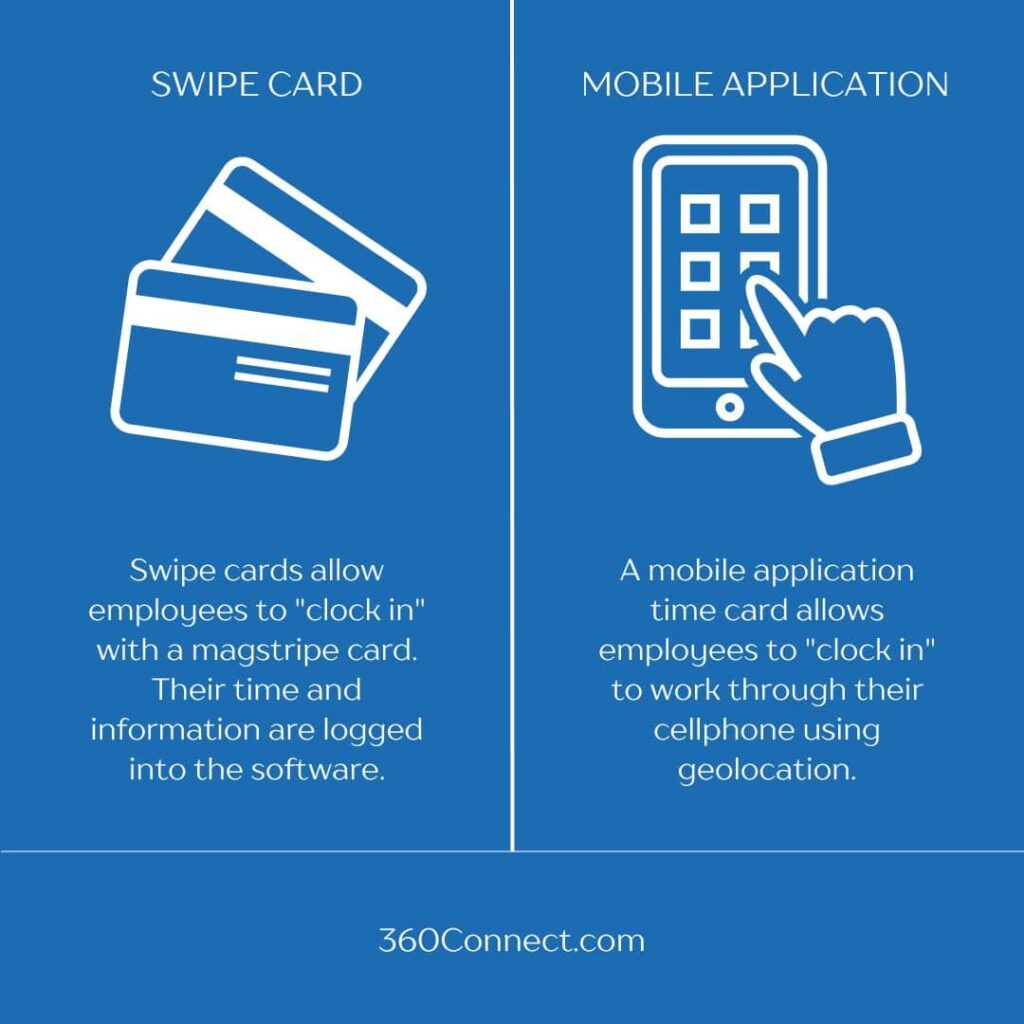 7 Reasons to Use Construction Timecards
Accurate payroll: Timecards provide a clear record of the hours worked by each employee or contractor, which can help ensure that payroll is accurate and that workers are paid for all of the time they have worked. With automation, companies can also eliminate many inaccuracies that derail the payroll process.
Improved productivity: By tracking the start and end times of each workday, construction companies can identify any inefficiencies or issues that may be causing delays and take steps to improve productivity.
Better job costing: Timecards can help construction companies track the time and resources that are being spent on different projects, which can be used to improve job costing and budgeting.
Enhanced accountability: Timecards provide a clear record of the work that has been performed, which can help hold employees accountable for their work and ensure that they are meeting their job responsibilities. Construction timecards also create a paper trail to audit for time theft.
Compliance with laws and regulations: In many cases, construction companies are required to track employee hours and pay for legal and regulatory purposes. Timecards can help ensure that a company is in compliance with these requirements. Companies can make sure that their employees are adhering to labor laws and regulations.
Reduced administrative burden: By automating the time tracking process, construction companies can save time and reduce the administrative burden of tracking and managing employee hours.
Improved communication: Timecards can help facilitate communication between employees and management, as they provide a clear record of the work that has been performed and any issues that may have arisen.
10 Features of Construction Timecard Software:
While each construction timecard software provider will have its own features, there are some common trends in the industry that your business can use:
Clock-in/clock-out functionality: Allows employees to record when they start and end their shifts.
Overtime tracking: Keeps track of when an employee has worked more than the standard number of hours in a day or week and calculates the overtime pay due.
Leave and absence tracking: Employees can submit time off requests, and managers can approve or deny the request. Construction timecard software can also track the accrual of leave and be notified when an employee takes leave.
Scheduling: Helps managers create and manage employee schedules.
Integration with payroll systems: Allows the timecard data to be easily exported and imported into payroll software. Some timecard software can generate reports that can be used for payroll, billing, or tracking employee attendance and productivity. Integrating time-tracking with payroll can be critical to improving businesses.
Mobile access: Provides employees with the ability to clock in and out, request time off, and view their schedules from their mobile devices.
Customization: Timecard software allows companies to set up the software to meet their specific needs, such as tracking different pay rates for different types of work or different locations.
Geolocation: Tracks the location of employees when they clock in or out, to verify that they are at the correct job site.
Photo and fingerprint verification: Uses a photo or fingerprint scan to confirm that the person clocking in or out is the correct employee.
Job costing: Timecards can help track the amount of time that employees spend on different projects or tasks and calculates the cost of each project.
Price and Top Construction Timecard Software Brands:
The price of construction timecards can vary widely depending on the features and functionality you need. Some basic timecard software for small construction companies might cost as little as $10 per month. Other more advanced systems with more features and capacity can cost several hundred dollars per month. Because most construction timecards are not digital, companies pay a fee for users per month, around $10-$15. This can increase though with the number of features added.
Some companies also offer one-time pricing options, where you can purchase the software outright and pay a lower monthly fee for ongoing support and updates.
It might also be helpful to consider the long-term costs of using the software, which could include:
Any fees for support or additional features
Hardware for the software
Updates or upgrades
There are many different timecard software options available for construction companies, and the best one for your business will depend on your specific needs and budget.
Connecteam's time-tracking software is a cloud-based app that allows teams and businesses to easily track and manage employee hours. With the app, employees can clock in and out of their shifts, track breaks and overtime, and view their work schedules. Connecteam's time-tracking software is trusted by some of the largest construction companies in the world and for good reason.
The app is customizable, allowing businesses to add custom fields and set up automatic notifications for clocking in and out. It also integrates seamlessly with payroll systems, saving time and effort when it comes to calculating and processing employee pay.
The app offers a range of other features, including task management, team communication, and employee engagement tools. It is available on both iOS and Android devices, making it convenient for employees to use on the go. More importantly, it's easy to use and can be learned within a day by most employees.
Raken is a construction management software that was made to help manage your entire construction project. The timecard app that Raken offers is a part of that software (which you can purchase separately. This timecard has a range of features designed to help construction companies improve accuracy, streamline payroll and job tracking, enhance productivity, and improve communication. With Raken, employees can clock in and out using their smartphones, through accurate geolocation. The app also makes it easier for construction companies to track employee hours, this saves time and reduces errors when preparing payroll. This also fits into their overall construction management software.
Raken can help construction companies to track the time that employees spend on different tasks and projects. This can be useful for project management and billing purposes. The app can also improve communication between employees, supervisors, and the company's office by providing a central place for time tracking and related information.
Raken offers custom pricing.
Companies use QuickBooks Time in a wide variety of industries because of its integration with QuickBooks making it easy to export data and generate invoices. Much like these other programs, the timecard is a mobile application.
This software is popular with small and medium-sized construction companies and offers features such as GPS tracking, mobile app access, and integration with popular accounting software. With customizable reports, 3rd-party integrations, and automatic syncing, companies find it easy to start using QuickBooks Time.
If you are already using QuickBooks, their time-tracking addition could be the perfect fit for your team and system.
Hubstaff is well-known in other industries for its time-tracking software. They also have a construction timecard solution that can benefit your company. Hubstaff's user interface is simple to use for both managers and employees. Like most other services they allow businesses to track and monitor employee hours, productivity, and location. The software includes a range of features, including:
Time tracking
Productivity tracking: The software tracks employee activity levels and takes screenshots of their screens at random intervals to ensure that they are staying focused on their work.
Location tracking
Payroll integration.
Team communication: The software includes a messaging feature that allows employees to communicate with each other and collaborate on projects.
Mobile app: The software is available on both iOS and Android devices, allowing employees to track their hours and stay connected with their team from anywhere.
Need Construction Timecards for Your Business?
It's not nearly as difficult to set up as you think. With the right company, you can be up and running within a day! 360Connect can help you. We pair customers with high-quality suppliers to help them meet their needs. Just fill out our 1–2-minute form and we'll contact you to verify your information and needs. From there, you'll receive up to 5 different quotes for products 100% free! It's that simple!