Every medical organization or practice usually handles confidential patient information (or PHI, protected health information). This information is protected by HIPAA and state law and must be cared for with the highest security measures. While retention rates of medical documents may vary from state to state, one constant is certain. At some point, those documents must be destroyed.
However, the destruction of secure documents such as these is subject to both HIPAA and state law. Most medical facilities turn to secured destruction methods such as medical shredding services.
The Breakdown
Medical facilities need secure shredding services.
There are many national shredding services that can handle large volumes of medical information security.
Most shredding services also offer other destruction services like hard drive destruction.
Why Are Medical Shredding Services Needed?
Because these documents are so sensitive and because they may be protected by federal and state law, it is of the utmost importance that they are disposed of in a secure and irrecoverable manner. Many companies turn to large shredding services that can not only dispose of documents but keep them secure in transit.
According to HHS medical practices must destroy documents by
"Shredding or otherwise destroying PHI in paper records so that the PHI is rendered essentially unreadable, indecipherable, and otherwise cannot be reconstructed prior to it being placed in a dumpster or other trash receptacle. Maintaining PHI for disposal in a secure area and using a disposal vendor as a business associate to pick up and shred or otherwise destroy the PHI."
While some practices opt to complete this process themselves, most use third-party medical shredding services that can complete this job.
How do Medical Shredding Services Work?
Most medical shredding services offer two main ways of disposing of materials:
On-site shredding (also known as mobile shredding): A company will bring a shredding device (usually in a truck or van) to shred documents at the location of the medical service. Medical practices can watch the process in real time, and this is usually a more expensive option.
Off-site shredding: A company will pick up documents from a location, securely store them during transit, and then shred and dispose of them off-site.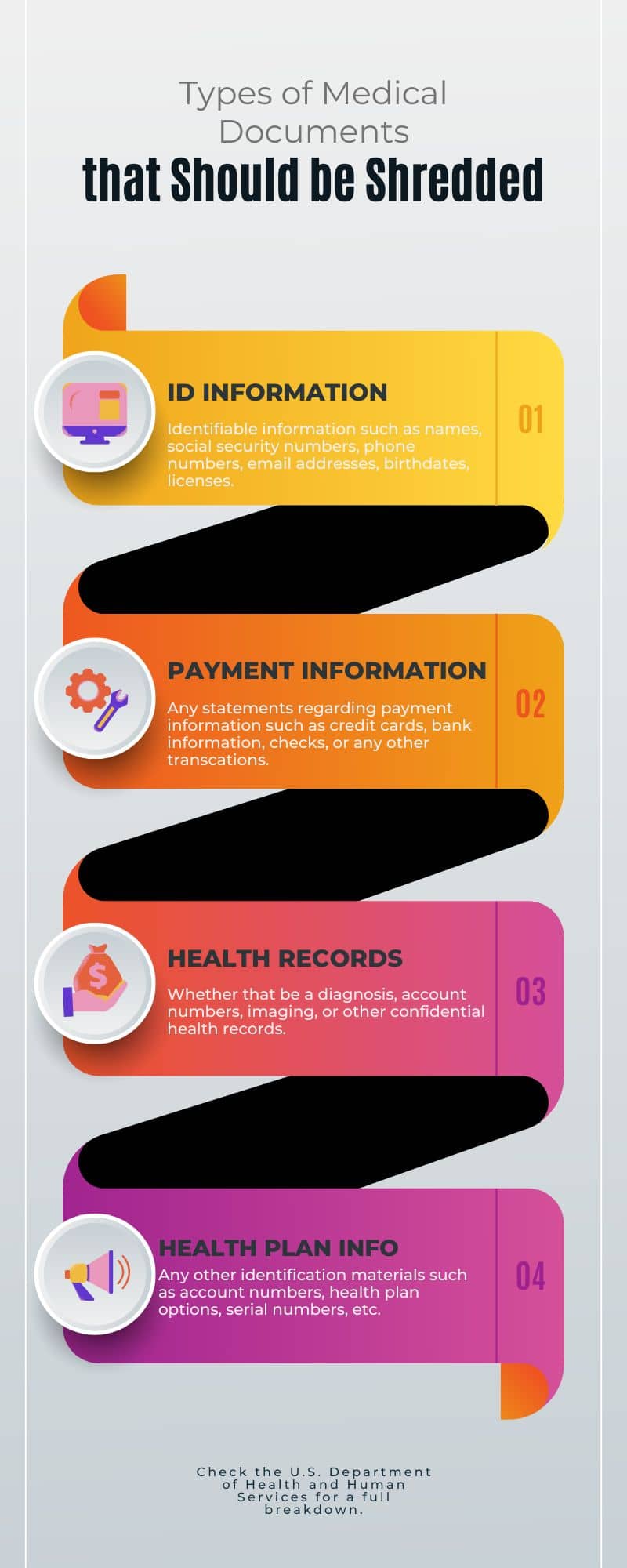 There are several distinct types of shredding including:
Strip-Cut Shredding: this type of shredding cuts paper into thin strips. While this may be fine for office papers, it is not secure enough for medical services as it can be reassembled.
Cross-Cut Shredding: Not only does it shred paper into strips, but it also cuts paper vertically.
Particle-Cut Shredding: This method takes razor-sharp blades to pages and finely grinds paper down. This makes it impossible to assemble the document
Medical shredding services are a great way to improve medical office efficiency and can relieve some of the duties of your staff. That way they can focus on what's important to your practice.
Top 4 Best Medical Shredding Services
There are many shredding companies in the United States that can handle the medical shredding of documents. However, you want to look for a brand that is trusted, has proven security measures, and can manage multiple types of destruction services. Here are the top 4 you should know about.
Additional Reading: How Much Does a Medical Billing Service Cost?
Iron Mountain offers a wide array of medical services including healthcare IT solutions and storage. One of their most prominent services is medical shredding services. Iron Mountain offers both on-site and off-site shredding services and provides secure movement and storage of medical documents. Iron Mountain can also handle destruction jobs such as e-waste recycling, hard drive and tape destruction, IT asset remarketing, and more!
When it comes to pricing, Iron Mountain is very competitive.
On-site bulk paper shredding for 1-10 boxes starts at $229
Off-site bulk paper shredding for 1-5 boxes starts at $99
ProShed is another national provider of shredding services with offices all over the country. They offer onsite, offsite, and ongoing shredding services for medical facilities. ProShred boasts they house the only ISO 9001-certified secure on-site shredding company system in America, a highly sought-after certification you will not find anywhere else. They are also certified internationally through NAID and are the only shredding company to hold both distinctions in the United States. ProShed can also manage IT destructions and e-waste recycling as well.
ProShed offers custom quotes for its shredding services. This easily allows customers to fine-tune their services to fit their needs.
With the largest presence in North America, Shred-It is seen as an industry leader in shredding services. Whether that's ongoing services where you use a locked drop box or you opt for off-site shredding. For most documents and medical facilities, Shred-It has your back. Shred-It also has the most mobile/on-site plant-based facilities that are NAID AAA certified. You'll find a wide range of services from them that encompass specialty shredding such as old training binders, employee clothing, and more. While Shred-It handles one-off shredding all the time, they are geared toward large amounts of shredding from large medical facilities.
Shred-It offers custom pricing for its services.
While maybe not as well-known as some of these other brands on this list, Shred Nations are located all across the country and can handle most of our shredding jobs. They also give you plenty of options to connect with them mobile shredding, offsite shredding, and drop-off shredding. Shred Nations will also supply you with a certification of destruction which will show that you took the proper steps to properly dispose of documents.
Shred Nations offers a free shredding calculator to estimate the cost of your shredding needs. These estimates will take things like location, the number of items, and how often you need these services to determine pricing.
Are You Looking for Other Medical Services?
Do you need medical billing software? Would you like to improve your medical business with a comprehensive medical billing solution that can save you time and money? 360Connect can help you! We help pair customers with potential suppliers every day. Just fill out our 1–2-minute form and we'll contact you to verify your information. From there, you can receive up to five free quotes about medical billing services. It's that easy!