One of the most consistent problems for medical practices, whether small or large, is upkeeping billing standards. Many clinics struggle with medical billing from managing staffing needs to staying up to date with state and federal policy. Medical billing has become a complex process of navigating insurance providers, submitting claims, and working with patients to receive full payment. This has led many facilities to invest in USA medical billing companies for their billing needs, because of the reduced time and features. USA medical billing companies do provide certain advantages over in-house billers; however, you may have less control over your billing process. 
Here is a short rundown of third-party medical billers and the top seven companies you should take a look at!
What are USA Medical Billing Companies?
USA medical billing companies are businesses where you outsource your patient billing to be done for you. They can handle a wide range of tasks depending on the provider including, but not limited to:
Patient registration and enrollment in your system
Insurance verification
Coding compliance
Billing compliance
Preparing and sending claims
Arrange patient account balances, statements, or bills
Payment posting
Claim denial management
Revenue and financial wellness reports
These third-party medical billing companies usually are paid in one of three ways:
They take a specific percentage amount of collections made, usually around 5%-10%
They will charge the number of total claims submitted.
Companies charge a fixed rate per claim. Somewhere between $3-$5 per claim.
Third-party medical billing companies are designed to make your billing process easier and more optimized. Even for small organizations, you can have access to top-of-the-line software and expert advice to handle your medical billing.
The Top 10 USA Medical Billing Companies
Disclosure: Some of these companies partner with 360connect such as Invoisync, Advanced Data Systems Corp., Advanced MD, and ClaimCare.
Invoisync utilizes a virtual U.S.-based team to work alongside your team and provide support as well as complete duties for you. This company brings a combined experience of over 200 years in finance, high-tech, investments, and business. Invoisync is AAPC Certified and HIPAA compliant, and proficient in ICD 10-medical coding. Some of the services and features they provide include:
Authorization request & tracking
Electronic & paper claim submission
Re-submission
Denial review & management
Credentialing
Appointment scheduling
Prescription processing
Other payroll services
HR benefits
Bank transactions monitoring
And more!
Invoisync offers custom pricing based on the services you need. Yes, you can mix and match services.
DrChrono is a large platform that hosts a wide array of services including medical billing. They are a highly-rated company with software solutions for EHR and Telehealth. You'll find numerous features with DrChrono that are specifically targeted at both large and small practices. DrChrono also offers products and services specific to specialties like specialty templates, which allow staff to easily create charts for patients. With DrChrono, you'll find features like:
EHR & medical billing combined
Clinical workflows
Patient scheduling
Insurance pre-approval
Telemedicine integration
Electronic medical records & cloud storage
Billing Profiles
Claim submission to Emdeon
Patient Statements
HCFA 1500 Claim Forms
Custom Billing Codes
And more!
If you want to do it, DrChrono most likely has a piece of software or outsourced service that can take care of it. DrChrono offers custom pricing in tiered plans. That pricing however is still based on the size and location of your business though. DrChrono can be a great choice for those looking to use an "all-in-one" approach both to your medical billing and EHR services.
While ClaimCare is smaller than either Invoisync or DrChrono, they still have a ton to offer. The ClaimCare Medical Billing Company's management team has a combined 80 years of experience with medical billing procedures and software applications. ClaimCare also prides itself on the team it has built within the company to tackle your everyday needs. They tout that their team is usually able to produce a 15%-25% increase in collections for clients as well as having days in AR under 40. If you are looking for useful features and a personal touch, ClaimCare can help you with features like:
Instant payment program (allows clients to be paid in 24hrs)
Pre-approval for claims
Analytical patient collection process
Revenue denial management system
Electronic medical records software
Dashboard reports and practice analytics
Monthly reporting on revenue and other factors
Automated claim tracking
And more!
ClaimCare offers custom pricing for its services and can help medical practices of all kinds.
Advanced-Data Systems Corp. is used by the likes of Pulmonary and Intensive Care Specialists of New Jersey, Park Avenue Medical Associates, and the Hispanic Counseling Center. They have a solid reputation for both their software solutions and their outsourced medical billing. Advanced Data Systems prides itself on being as transparent as possible for its clients. You can access your documents 365 days a year and know exactly how your business is doing. Customers often brag about being able to get ahold of someone when an issue arises right away. They also report a 10%-20% average revenue increase among customers. You'll also receive a dedicated account manager and features such as:
Claim submission
Out-of-network alerts when scheduling
Automated eligibility verification
Denial resubmission within 72 hours
Access to a patient responsibility estimator
Mobile application
Reminder texts for payment to patients
Patient billing calls center
Financial reporting
And more!
Advanced Data Systems also provides custom pricing for their services as well. You can, however, watch a 2-min demo on their website.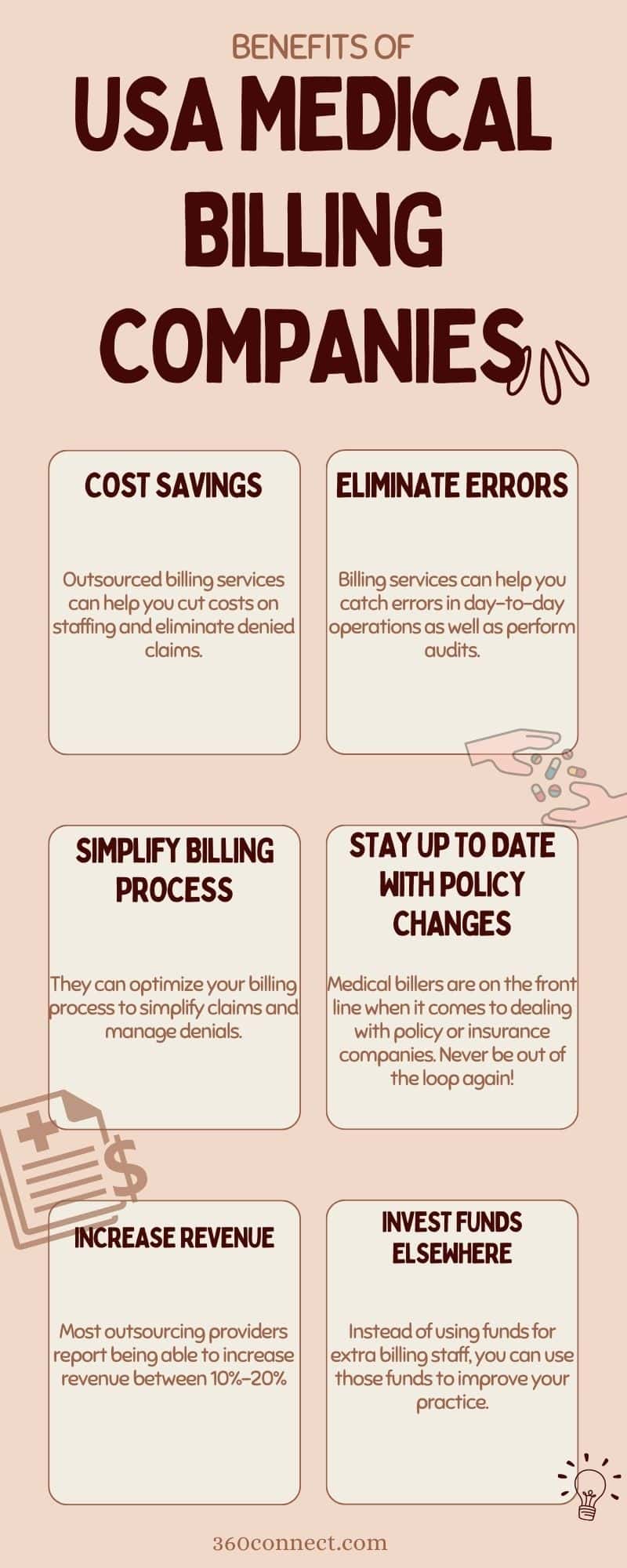 AthenHealth takes the complexity of medical billing and practice management and simplifies the process for your business. AthenaHealth uses over 23,000 rules in its claim submission tools to resolve over 94% of claims within the first submission. They also tout performing 400+ million claims checks in a year and generating $29 billion dollars in collections. AthenaHealth clearly has the tools to help large and complex medical practices ranging in products from third-party medical billing to EHR, telehealth, patient engagement, and more! Some of the key features you can expect from AthenaHeatlh are:
Medical coding that is HIPAA certified
Registration & co-pay collection
Reporting
Claim denial resolution
Appointment scheduling
On-demand reporting
Automated reminders
Built-in optimization with AthenaOne (which includes EHR, Patient engagement tools, financial tools, telehealth, mobile application, and more features).
AthenaHealth offers custom pricing for its services. You can schedule a 1-on1 meeting on their website.
Advanced MD has some key features that most customers are enticed by such as low upfront costs and no long-term agreements. Customers find this enticing for a couple of reasons. Firstly, they get to try outsourced billing with the option to leave in a short amount of time if they don't like the service. Secondly, if you want to build up your billing department, they can still have a billing service to take care of day-to-day billing operations while you train your staff. That doesn't mean they can't be a long-term solution for you, however, if you are nervous about using an outsourced billing service, they can help bridge the gap. Some of the features you can expect from Advanced MD are:
Reporting & analytics
Handling of appeals & secondary fillings
Revenue cycle tracking
Claim & unpaid claim management
EHR, scheduling, & mobile application
Easy access to switch between outsourced or in-house billing
Advanced MD provides custom quotes for their service depending on your size of business, the features you need, and the term of the contract.
Kareo offers a ton of products and services around the medical health community. From telehealth to EHR, Kareo software can handle many of your administrative and billing functions. Their outsourcing services are also top-of-the-line for businesses of all sizes. You'll be paired with billing experts that are there to help you make sense of your billing. Kareo uses a network of established billers to help match you with the right outsourcing partner. That means instead of using a general medical biller, you can be paired with a biller that specializes in your practice field. Kareo is partnered with over 1,600 different billing companies, so it's not a "one-size-fits-all" approach. Some of the features you can expect are:
Capture charge at the point of care
Scheduling tools
Nationwide billing rules engine
Claims management & tracking
Billing analytics
Documentation uploading and tracking across teams
CureMD has medical billers in over 32 specialties, making them one of the most comprehensive and versatile medical billing companies in the US. They use advanced AI technology to be a complete revenue cycle management solution for medical practices. With over 20 years of experience in the industry, customers can expect high-quality service and a whole host of features and benefits including:
Evaluation and assessment of fee schedules
Verification of eligibility
Assistance with electronic data interchange (EDI), electronic remittance advice (ERA), and provider enrollment
Submission of electronic and paper claims
Management of accounts receivable
Billing of secondary insurance
Management of incoming patient calls
Recovery of old accounts receivable
Notification of referral and authorization
Entry of charges for all specialties
Recording of insurance and patient payments
Thorough follow-up with insurance companies
Processing and mailing of patient statements
Review and management of claim denials
Appeals for all claims that have been denied or underpaid
CareCloud offers customers what they like to call a "concierge revenue cycle management" that handles all aspects of the billing process. They also offers end-to-end billing services from a specialized team of qualified billers. Some of the best features and benefits include:
PM/EHR Integration or installation
Dedicated support staff
Electronic and paper claims submission
Claim management
Print and mailing for clients
Posting paper remittance
Error fixes
Assists in credentialing healthcare providers
Benefits verification
Inbound patient call center
Workers comp assist
Another top provider of medical billing services is ChartLogic, which uses leading experts and cutting-edge technology to provide medical billing services. Most, if not all, of your billing processes, can be handled by ChartLogic. Some of the top features and benefits include:
Eligibility verification
Coding assistance from AHIMA-credentialed coders
Complete collection from end-to-end
Claim statuses
Software included with service packages
Customized reporting
Credentialing
And more!
Kareo provides custom quotes for businesses depending on the size, specialty, and services needed.
Ready to Work with a USA Medical Billing Company?
Are you looking for a medical billing company that you can outsource your billing? Would you like to receive multiple prices and offers from high-quality companies? At 360Connect we can help! We pair customers with high-quality suppliers every day. Just fill out our 1–2-minute form and we'll contact you to verify your information and needs. From there, you'll receive up to 5 quotes for free! It's that easy!