Telephone time clocks are becoming more popular as workforces become more mobile and more remote. This time and attendance method is helping companies offer more, saving time, and improving the bottom line for companies.
Simply put, a telephone time clock is a cloud-based software system that records when people "clock in" for work. A telephone time clock system can work in three distinct ways:
An employee will call a number at a specific time. The time is then recorded in software for HR to keep track of.
An employee will text a number at a specific time. The time is then recorded in software for HR to keep track of.
An employee will "punch in" on a mobile application. The time is recorded for both the employee and HR to see.
A company can track the time that a worker starts working without physically having to be there. Some systems allow for pictures to be taken, or may record GPS location, or caller ID location. You may see these systems referred to as being a part of a time and attendance system. There are also many telephone time clock systems to choose from, that offer both simple and advanced solutions for workforces.
For instance, some systems may only require that your employees call a specific number at a specific time. While other services may require that they "punch in" their time on a mobile application that uses geotagging to make sure an employee is within a certain area while clocking into work.
Features:
Payroll Integration
Most telephone time clock systems will record "clock in" times in a specific system or spreadsheet. This can save you time when it comes to running payroll and determining employee hours for the week. You don't have to manually do anything when it comes to logging hours. The system integrates with payroll, simplifying your process.
Location Tracking
Do your employees go to different job sites often? Do you regularly have employees that travel? If so, then you know tracking employee hourly rates can be next to impossible without the right system. You need a system that will show you:
Hours worked per employee
Hours worked per location
Average number of hours per job
The right telephone time clock comes with the ability to track this data. You can know exactly when your employees are starting their shift, and ensure customers that you know when your employees are working. This can be done through a mobile application, photo evidence, or even location tracking through caller ID information.
Cloud-Based System
Gone are the days of physical storage devices. Most telephone time clock systems are cloud-based. This means that you can access your information from just about any device and use that data whenever you need it. No more filing cabinets and no more external storage for your computer. Employees have specific log-in information with two-factor authentication, so you don't leave your business exposed to security threats.
Automatically Logs Employee Information
You can view critical data with an all-in-one system. Then, you can transfer this data to a payroll or HR system. Some telephone time clock software combines all the HR services into one package. Other systems can transfer this data for you or integrate it with another service. Either way, you take the "manual labor" out of the job.
Optional Mobile Application
Mobile applications allow telephone time clock systems to be more advanced. Employees cannot only "clock in," but switch shifts, and request time off. Mobile applications also provide a secure way for employees and employers to communicate. All communication is contained within the app, which can protect your company and an employee.
Benefits
Adaptable to Mobile Workforce
While telephone time clock systems used to be relegated to construction or janitorial services, that's no longer the case. With the rise of remote work, companies are now measuring worker time through time tracking systems. This allows employees to manage work hours as well as gives employers access to work hour data even when away from the office. Telephone time clock systems meets this need in a easy-to-understand format.
Save Time
Time is money. Telephone time clock systems allow employees to start work all at the same time. No one needs to wait for a turn at a physical time clock. You also don't need to have employees stop at the office to clock in. They can be ready at a job site as soon as working hours start. Employees are also able to leave directly from a job site, clocking back out within the system. The right telephone time clock system will help your employees' complete jobs faster and simplify HR duties. A simple phone call or text means that employees are working. In turn, HR can automate certain payroll processes as well as catch errors before final payroll is done. Managers may also use the system to create routine employee schedules in a fraction of the time.
Empower Employees
Make your employees' lives easier with a telephone time clock system. They don't have to hassle with paperwork or updating timecards. If you decide to use a mobile application, employees can put in time requests or trade shifts right from their phones. The process is simple, and everyone can stay informed about who's working and when. This is not only beneficial for lower employees but managers as well. They don't have to run around the office trying to get signatures or have employees fill out paperwork. It can all be done electronically and stored in the cloud.
Save Money
Instead of spending hundreds of dollars a month on paper and work hours, cut those costs by implementing a telephone time clock system. Since most of your HR duties will be going digital, you can cut down on your reliance on paper—a major administrative cost. You can automate part of your HR duties and simplify company policies.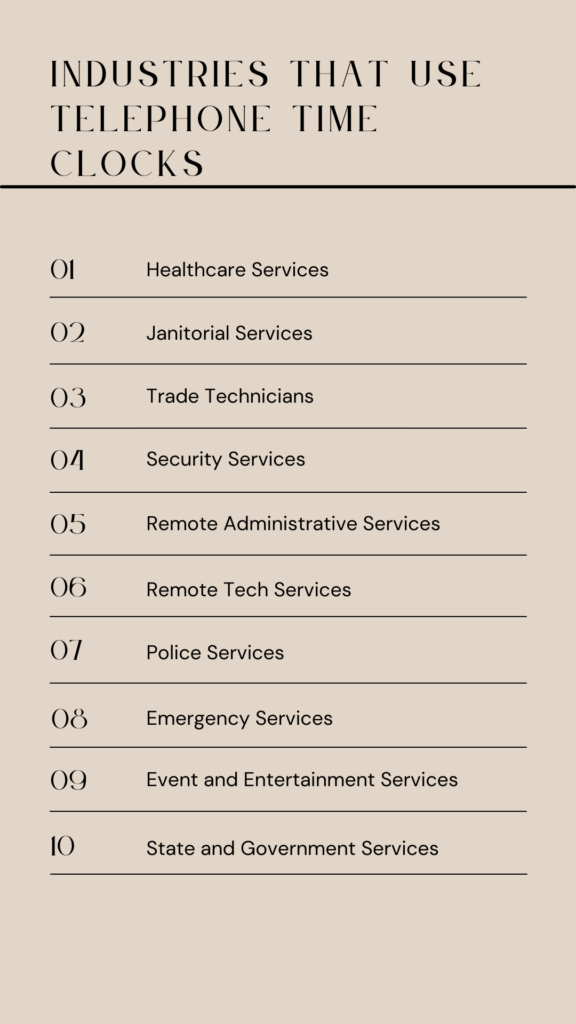 Top Vendors and Pricing
There are many telephone time clock services. Most of them are switching away from a call and record model and now offer mobile applications for employees and employers. While this is not an exhaustive list, these are some of the top vendors for telephone time clock services.
| | | |
| --- | --- | --- |
| | Features | Price |
| Telephone Timesheets | Cellphone GPS Integration, custom reporting for payroll, QuickBooks integration. cloud-based | Starting at: $3/user/month |
| QuickBooks Time Clock | Mobile application, all-in-one scheduling platform, cloud-based, time clock also available on tablet or computer, biometrics is also an option. | Starting at: $8/user/month + $20 fee per month |
| ConnectTeam | One-touch clock in, all in one solution for employee management, cellphone GPS Integration, approve PTO, and switch shifts from application | Starting at: $39/user/month $0.5 for each additional |
| Sling | Mobile application, automatic reminders for work duties, timesheet exporting, multi-platform integration | Starting at: $2/user/month |
| Replicon | Mobile application, geofencing, all in one solution for employee management, updated labor law compliance for payroll integration | Starting at: $18/user/month |
What's Right for You?
Any of these systems could work for you if you are looking for a telephone time clock system. More importantly, any of these services can be included in the right time and attendance system. A time and attendance system will not only provide a time clock for your workers but integrate with payroll and add security measures such as biometrics, facial ID, retinal scans, and more.
If you'd like to find out more about telephone time clocks or time and attendance systems (which include time clock services) 360Connect can help. Fill out our forms and we'll call you about receiving free quotes!
Want to Learn More?
What are Cloud-Based Attendance Systems?