Most business professionals who work in an office setting would agree that coffee is one of the biggest everyday perks! Providing coffee to employees at work these days is a must, since the majority of Americans today drink coffee on a daily basis. When starting an office coffee service, you should think about how to create the best office coffee set-up for your hard-working employees. A great office coffee set-up can boost workplace culture and get employees excited about coming to work!
To help you create the best coffee set-up, we recommend considering the following factors.
1. Machine
What type of coffee machine are you going to get?
It comes as no surprise that there are lots of different options when it comes to coffee machines today. Many you've probably used yourself before – but some you may have never heard of! Make sure to consider all your options in terms of machines so that you can create the best set-up possible for employees. Common options for office coffee today include:
Single Pot Machine
Single-Cup (Keurig) Machine
French Press
Espresso Machine
The best machine for your office environment will depend on your employees' preferences. For instance, do they prefer something convenient or great tasting? Keurig machines are extremely popular today because of their convenience factor. However, many coffee drinkers find the taste of K-Cups to miss the mark. If your employees have a refined coffee palette and want something a bit more gourmet, definitely consider a french press or espresso machine.
Check out these tips for finding the best office coffee machine.
2. Type of Coffee
Which types of coffee and blends are you going to offer?
The next decision you have to make when it comes to creating the best office coffee set-up is the type of coffee. You can consider:
Ground coffee or Whole coffee beans
K-Cups
Espresso pods
Ground espresso
Of course, the type of coffee you buy will depend on the type of machine you choose. For instance, you can't use K-Cups in a drip coffee machine. But once you know what type of machine you will have, you have many choices in terms of coffee. Make sure to choose a great coffee brand and blend to keep employees satisfied! Additionally, you can switch up blends with different deliveries (ie. monthly or quarterly) to provide a variety of options.
Review the top office coffee brands here.
By the way, if you're looking to provide both convenience and a great taste for employees, take a look at Nespresso's espresso pods. You can easily pop a pod into a Nespresso machine and have great tasting espresso in seconds.
3. Location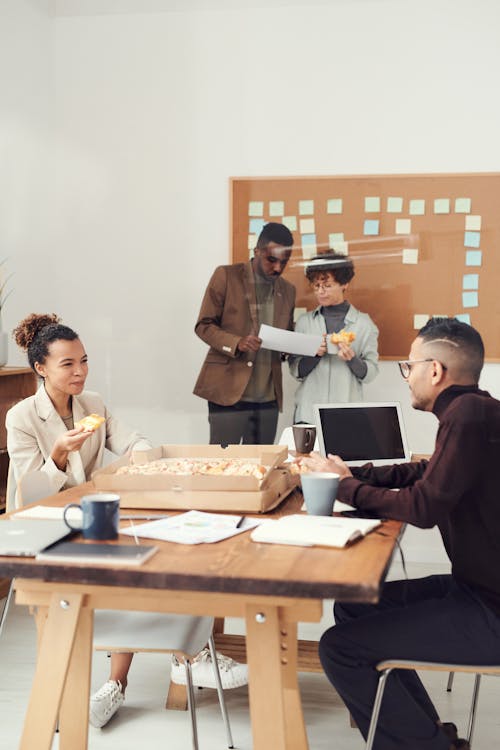 Where will you set-up your office coffee?
You will want to set up your office coffee in a great location within your work space. The location of your office coffee set-up should be in a convenient, central location. It should also be a place where employees tend to congregate and chat, so you can boost company culture and encourage co-workers to collaborate and socialize. Here are a few ideas:
Break room: Carve out a "coffee station" within your break room where employees can get together over a cup of coffee. Include a seating area to encourage collaboration and culture!
Department stations: Add a separate coffee machine to each department or wing within your office. This is especially good if you have a larger office, so you can prevent employees from walking too far.
Cafeteria: If your office has a cafeteria, cafe, or other lunch area, you can add a coffee station to give employees that extra caffeine boost before they return to work.
Conference room: It's never a bad idea to provide coffee during meetings! Adding coffee to a conference room can boost focus and productivity.
In addition, you may want to place your coffee in an area near a sink, kitchen, or bathroom. This is because many coffee machines require routine cleaning, and it's easiest to have a sink nearby.
Also, some coffee machines can be conveniently connected to a water line. This prevents you from having to refill the machine every time you need more water. If this is the case with your machine, you will need to locate it near the waterline.
4. Additional Essentials
What other essentials can you add to the set-up?
A great coffee set-up doesn't end with the machine and coffee! There are other items you will want to add to the set-up to create the best office coffee experience. Don't be afraid to spruce up your coffee area with the following additional essentials:
Cups and mugs: Include a variety, like paper cups, ceramic mugs, and more. Some employees may like to feel at home with a mug while others may enjoy the on-the-go perks of a paper cup and lid.
Stirrers or spoons: Don't forget to provide stirrers for those who like milk, cream, or sugar in their coffee!
Creamers and milks: There are lots of fun creamers on the market today, and you can even provide seasonal flavors with different creamers! But be sure to also add milk and cream for those who like a traditional cup of coffee.
Sugar and Sweeteners: Provide a variety of sweeteners, such as regular sugar, sugar in the raw, stevia, splenda, and more.
Thermoses and decanters: It's a great idea to brew a few different blends at once, and provide them piping hot thermoses. You can label each thermos or decenter with the blend of coffee.
Milk steamers and frothers: If you offer espresso options, you can allow employees to make their own lattes and cappuccinos easily by adding a milk frother or steamer.
Outlets and USB ports: This can be a great addition to your office coffee set-up because it will allow employees to keep their phones and laptops charged while they're taking a coffee break. If you offer seating in your coffee area, you can even allow employees to sit down as a change of scenery while they work from their fully-charged laptops.
Learn More
If you're interested in creating the best office coffee set-up, be sure to read these related articles:
Ready to compare prices for an office coffee service? 360Connect can help! Fill out our free form to find office coffee service options customized to your business's needs.