Not many people like going to the dentist. In fact, around 36% of the population has a fear of going to the dentist. This fear can make it daunting to schedule an appointment with a dentist. Many patients want to find a dentist that will listen to them and reduce pain as much as possible. For dentists, one of the best tools to meet patients where they are is dental patient communication software. Not only will you be able to interact with patients on their terms, but you will improve your marketing abilities as well. Having practiced management software isn't enough if you don't have the communication tools. If you're looking to make that change for your dental office, you need patient communication software.
What is Dental Patient Communication Software?
Dental patient communication software is an application that is designed to interact with your patient through their preferred method of choice. This software usually integrates with your practice management software and syncs with data such as appointments, patient info, and other communication. The software allows you to easily track the communication between your practice and a client.
This communication software allows you to easily send and receive messages concerning patient care. Most dental patient communication software will communicate with your practice management software to update your schedule for patient appointments (this may be done automatically or manually).
According to SoftwarePundit, you can expect to pay around $300-$400 a month depending on the service you choose. This does not include set-up fees, although those can be waived depending on the supplier and the length of the contract.
Common Features of Dental Patient Communication Software
While every patient communication software will range in features, there are some common features you'll find across software suppliers.
Automated Reminders
Patients can opt to have reminders sent to them in their preferred method, whether that be text, phone call, or email. Your administrative staff can automate this process in a couple of clicks. Furthermore, patients can reach out if they are unavailable for their appointments. Patients can be better notified about appointments without it seeming intrusive or cumbersome.
Chat Features
Most dental patient communication software will enable some form of chat capability. This can be as simple as sending out texts to patients to confirm their appointment or enabling full chat features that administrative staff can respond to on their mobile phones or computer. Whichever version you choose, patients can receive better communication in the most convenient way for them.
Contactless Payment
Most patient communication software will allow you to accept contactless payments. This can be done by having guests send you payments through money-sending apps or by paying through a link sent through a text message. This can make payment easier for patients and help practices improve their revenue with timely payments. For some practices, this has allowed the use of payment plans with customers routinely paying down balances with the use of text reminders.
E-signature
Want patients to have the best possible experience when sitting in your waiting room? One of the best ways to improve your waiting room is to provide a comfortable experience with less paperwork. How can you accomplish this? E-signature allows patients to complete necessary documents online, in the comfort of their own homes, before ever stepping foot in your practice. Not only does this empower the patient but it also cuts down on administrative problems and automatically records data into your practice management system or EMR (electronic medical records).
Marketing Tools (social media, text, call, newsletters)
Lastly, dental patient communication software allows you to implement marketing tools in your communication software. This will vary from software to software but some of the common features can include:
Newsletters
Text message coupons on cleaning or treatment
A rewards program where customers check in by phone
Referral codes customers can text to their friends or family
And more!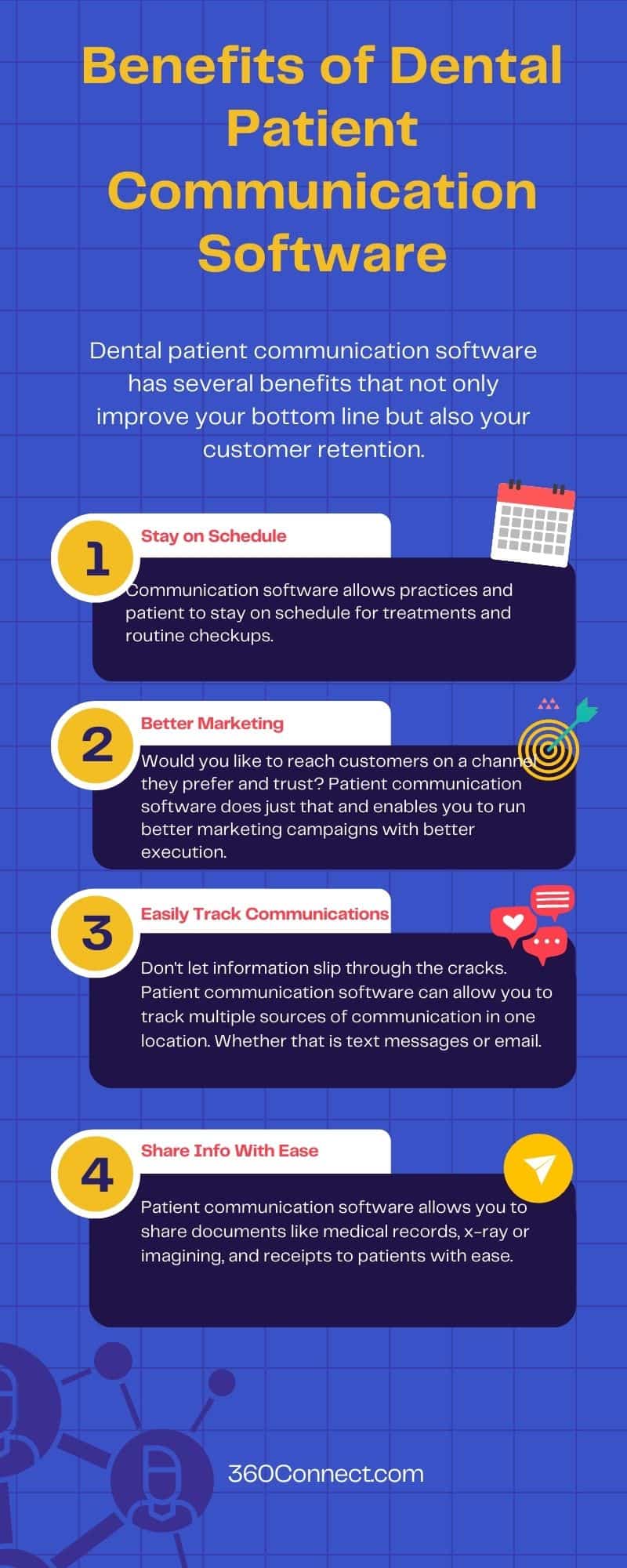 Best 5 Dental Patient Communication Software for Your Practice!
While this is not an exhaustive list of your options, these are some of the top options recommended in the market today.
SolutionReach offers a wide variety of products related to running a medical business. You'll find solutions to attracting customers with a website and social media presence as well as patient communication software. With SolutionReach's base communication services, you'll gain access to products such as:
Appointment reminders
Two-way texting (from desktop or mobile application)
Customer automated recall communication
Contactless payment
Scheduling services
With their advanced package, you'll gain access to other services such as:
Digital intake
Online screening
Video chat
Review generator
And more!
SolutionReach is big on driving more revenue to your dental practice through patient engagement. They give you the tools to nurture patients and keep them engaged in your treatment. The company is also focused on providing you with a simplified process of reaching out to customers as well as making it easy for customers to reach you.
Pricing: SolutionReach does not provide its pricing on its website. However, it is worth checking out their base package because it does contain a ton of features many practices would find useful. You can find that package here.
Doctible bills itself as an all-in-one platform that was built specifically for dentists, optometrists, chiropractors, and more. Most of Doctible's services center around communication and marketing tools for dentists and administrative staff to better serve customers. Some of the common features you'll find with them is:
Landline texting
Custom templates
Instant alert technology
Image/MMS support
HIPAA & TCPA Compliant Communication
Instant alert messages
Custom templates
Patient recall messages
Online scheduling tool
And more!
Doctible is your one-stop shop for all of your communication needs. They have a 4.8 out of 5 stars on GetApp, and they are consistently rated highly for their software and customer support. Doctible offers custom pricing depending on the size of your business and the features you need. You can receive a free demo of their services though.
Weave offers a robust, intuitive, communications platform that is easy to use and manage. Much like Doctible, Weave offers an all-in-one approach to communication that you can manage from your computer or phone. One of the best parts about Weave is that is already designed to handle multi-location communication needs. If you are a large practice with multiple facilities, this may be the best option for you. Some of the features that could be beneficial for your practice include:
Text to pay
Payment analytics
A unified platform to handle calls, texts, emails, and more
Send out links to customers to leave reviews
Team chat features
Direct appointment booking on your website
Email templates
Communication analytics
Fax management available
Insurance verification
Digital forms and e-signature
Buy now, pay later capabilities
As you can see, Weave has a ton of useful features that both small and large businesses can take advantage of. Why Weave though? Weave has one of the most intuitive platforms and is easy to use from administrative staff to business owners. Weave does custom pricing as well.
Trusted by some of the fastest-growing practices in the world such as Coast Dental & Orthodontics, and Mid-Atlantic Dental Partners, this service is versatile and brings many of the same features already seen on this list. The NexHealth platform can integrate with most practice management software as well as EHR, making it an easy choice for many in the industry. With NexHealth is built from the ground up to work with all types of EHR and practice management apps like Dr. Chrono, dentcon, orthotrac, and many more. NexHealth you'll gain access to features like:
Customized schedule building
App synchronizations for up to 500 locations
Patient conversion tools
Two-way texting and email
Automated reminders
Online review management
Reporting and analytics
Online form request and submission
Online & text to pay
Online waitlist
NexHealth offers 3 different plans for their services, however, you'll still have to go through a representative to get that pricing.
Looking for Other Medical Software as Well?
Are looking for medical software such as EHR, practice management, or telehealth services? 360Connect can help you! We pair customers with high-quality suppliers in these areas every day! Just fill out our 1–2-minute form and we'll contact you to verify your information. From there, you'll receive up to 5 quotes for free! It's that easy!