Are you looking to cut costs on your printing services? Not sure what the best way to find the right supplier of printing services is? A managed print service (MPS) is the answer you are looking for. However, selecting the correct management service is key to finding the right devices for your business as well as keeping your spending in check. One of the best ways to find a managed print service is by conducting an RFP (request for proposal). Don't worry though we got you covered on creating an RFP template for managed print services to bid for your company. Not only can we walk you through the process of an RFP, but there is also a downloadable template for you to use. Use this guide to create the best RFP for your company.
What is an RFP and Managed Print Services?
Managed Print Services: Managed Print Services (MPS) are a collection of solutions provided by large printing companies that handle the majority, if not all, of a company's printing requirements. In essence, a business pays a monthly subscription to a provider for access to printers and printer assistance.
Request for Proposal: An RFP is a document that organizations use to solicit proposals from potential vendors for specific services or products This document gives clear guidelines for what a company is looking for in a provider.
Why Use an RFP for Managed Print Services?
RFPs are useful for many industries and tasks. They help companies find the right providers and help define their own goals. A clear, concise, and understandable RFP can help attract top vendors in the industry and gather competitive bids for a job.
Give Clear Criteria for What You Need
One of the best things you can do for your RFP and the companies competing for your business is to set clear expectations. This can mean you define the criteria you need such as:
Printing volume
Color printing needs
Location needs
Hardware needs such as copiers or printers
Software needs
Maintenance needs
Support needs
And other information you make a priority
Having this information is critical for both you as a company and those seeking jobs. You'll be able to clearly define your needs. If you don't know all this information, that's okay. You can also ask that a company be able to help you define some of these items for you.
Better Pricing Through Multiple Offers
When you set clear expectations for the scope of work, companies can give you a more accurate prediction of price. This is extremely helpful as it can make sure you get the most value for your money. It can also make it easier to choose a provider who is more expensive but offers more features.
Reduce Unwanted Proposals
When it comes to finding a managed printing provider, you don't want to waste time. An RFP can help eliminate companies that do not fit your criteria. This eliminates wasted time on companies who cannot serve your business. Why not save yourself time with an RFP?
Create Deadlines
Again, an RFP can help you save time by creating deadlines. Companies have a set date to submit proposals. From there, you can move quickly in making a decision now that you have all the information. After that cut-off point, you can disregard other solicitations. Also, it sets a date to move toward your goal of using a managed print service.
Downloadable RFP Template Here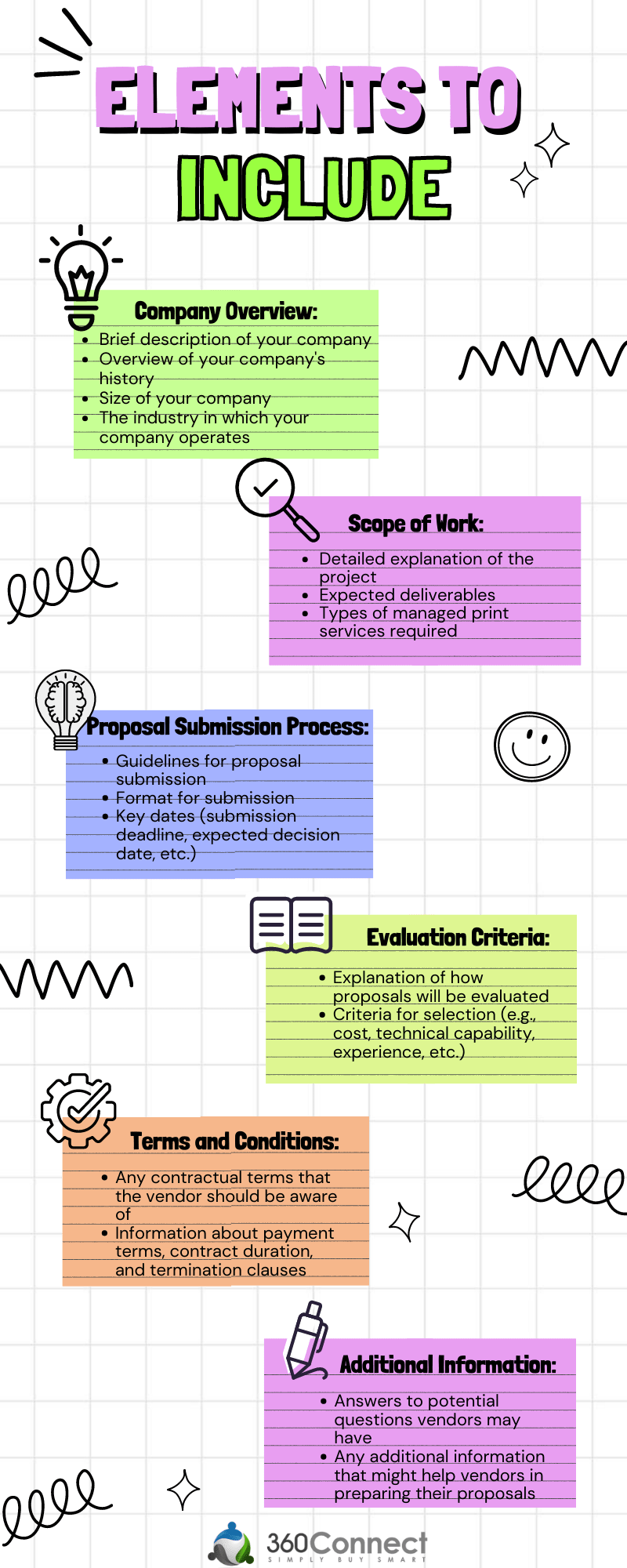 Need a Managed Print Service Now?
Do you need managed print services like yesterday? Want to optimize your printing practices and save money? 360Connect can help! We help customers find high-quality suppliers every day! Just fill out our 1-2 minute form and we'll contact you to verify your needs and information. From there, you can relax as up to 5 suppliers will reach out to you with 100% free quotes! It's that easy.
Get Started Today!