Net2phone business phone system is a cloud-based unified communications system that can handle your organization's communication needs. Net2phone can replace or use your existing phone system to provide communication for your entire organization. If you are a new customer without a phone system, you don't need to purchase new hardware (such as a business phone). All operations can be completed on a desktop or smartphone. Everything is housed in the cloud, meaning you don't have to waste money or time on setup. Common tasks that can be completed by the net2phone business phone system can be:
Business calls
Business texts
Live chat
Video conferencing
Mobile application for on-the-go communication
And much more!
Net2phone will charge your company a flat rate per user per month within a certain plan. For example, you may pay:19.95 per user/per month on the basic plan. You can add additional features such as Microsoft Teams integration, Salesforce integrations, etc. However, you will be charged an additional fee per user per month.
Net2phone Business Phone System Pricing Here
Net2phone business phone system provides an easy and simplified way to manage both internal and external communication. Whether that be a phone call from a customer, or a video conferencing with board members.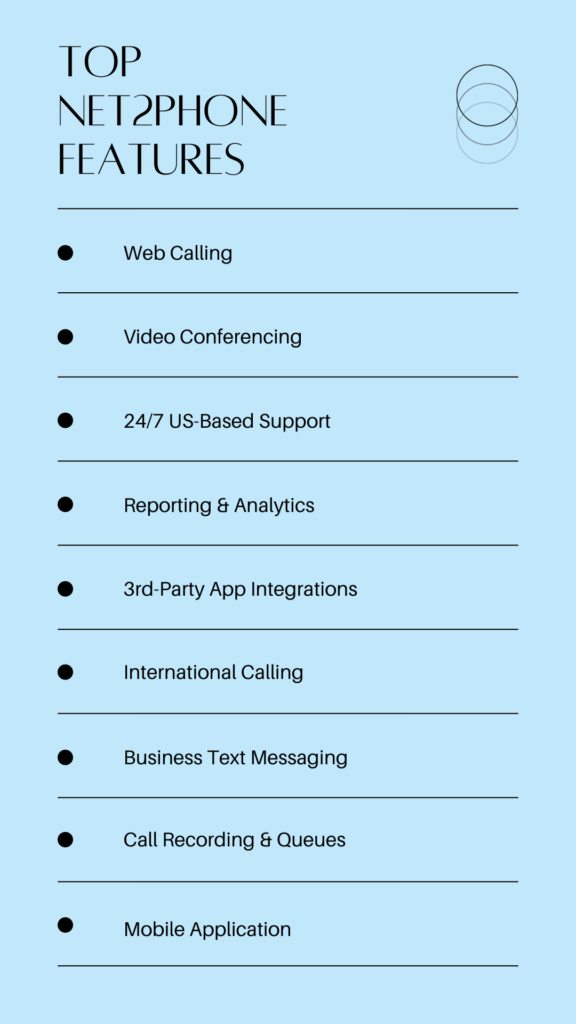 Net2phone Products and Services
Net2phone Cloud PBX Business Phone System
When it comes to a business phone system, you need a digital phone system that can offer you the best of both worlds. Net2phone offers customers a cloud PBX (Private Branch Exchange) system. A cloud PBX allows you to manage all your communication needs through the internet. The cloud PBX routes calls or messages to a specific extension or department. This could be a mobile phone, laptop, tablet, or even a traditional business phone. The cloud PBX is hosted and stored on a remote server by net2phone. As a result, you don't have to worry about finding storage for the phone system or investing in an IT department, net2phone will walk you through the entire process.
Net2phone business phone systems boasts over 40 features in their cloud PBX system all designed to help customers better communicate. Ne2phone also allows you to access your business communication anywhere in the world, as long as you have a Wi-Fi connection, through the net2phone app. Along with managing your phone calls and voice mail, net2phone's cloud PBX can help your business improve your services with helpful features like:
Video conferencing
Call recording
Manage all company communication in the net2phone portal
Company Directory and Welcome Menu
Net2phone can also integrate 3rd-party applications into its system. Apps such as Microsoft Teams, Salesforce, and ZOHO.
Still want a traditional phone for your business? Net2phone can provide that equipment as well and it will work with their cloud PBX.
Net2phone SIP Trunking
Have a phone system for your business already, but want to connect it to the internet to save costs and integrate 3-rd party apps? Net2phone does that too through SIP trunking. SIP trunking is the process of connecting your on-site PBX system to the internet. Through SIP trunking with net2phone, you can make unlimited calls to 40+ international locations, gain access to virtual phone numbers in over 50 countries, and create a communication platform to help your business structure.
SIP trunking through net2phone allows you to still use that PBX system you invested in at a fraction of the cost. Moreover, you can do more than ever before with this system than you could with your original PBX system.
Microsoft Team Integration with Net2phone Business Phone System
Already invested in the Microsoft Teams platform for your business and want to house all communication (both internal and customer-facing) in that platform? Net2phone has you covered as they offer a personalized solution for Microsoft Teams. This will allow your business to stay in succinct communication, even when working in remote locations or on different devices. You'll be able to make and receive calls anywhere in the world all in the Microsoft Teams platform. Net2phone business phone systems will help you integrate calling, messaging, and meeting solutions all in the application.
Five9 Cloud Partnership with Net2phone
Net2phone has partnered with Five9 to bring customers a call center that is located completely in the cloud. Five9 and net2phone offer customers a completely customized software solution that can be adapted for your call center needs. Each software system is designed with flexibility in mind so you can grow and adapt the software to your needs. Five9's system can operate on multiple channels including video, voice, text, digital, mobile, and more. Also, Net2phone also reports that the Five9 Cloud-based Contact Center has a 99.99% uptime.

Net2phone Business Phone System Pricing
Net2phone lists 4 plans for customers with specific features for each plan.
Net2phone Pricing
Plan
Price (per user/month)
What's Included
n2p Virtual
1-9 users/$19.99 10-19 users/$18.99 20-99 users/$17.99 100+ users/$16.99
- Huddle Video Conferencing
- 24/7 U.S. Customer Support
- Call Blocking
- n2p PortalWeb Calling
- Voicemail Options
- Welcome Menu
- Custom on Hold Messaging
- Ring Groups
- Reporting and Analytics
- Web & Mobile App
n2p Essentials Plus
1-10 users/$23.99 10-19 users/$22.99 20-99 users/$21.99 100+ users/$20.99
- All Virtual Features
- Free Phones
- E-Fax
- International Calling to 40+ Contries
- Auto Attendant
- HIPAA Compatible
- Hardware Included if Need Be  
n2p Professional Plus
1-10 users/$27.99 10-19 users/$26.99 20-99 users/$25.99 100+ users/ $24.99
- All Essentials Features
- Call Queues
- Voicemail Transcriptions
- ZOHO Integration
- SSO
- Active Directory
- Live Chat
- Text Messaging  
n2p Ultimate Plus
1-10 users/$31.99 10-19 users/$30.99 20-99 users/$29.99 100+ users/ $28.99
- All Professional Features
- Custom API Integrations
- Call Recording  
There are also several additional add-ons such as:
Microsoft Teams $4.00/per user/month
Salesforce Integration $2.00/per user/month
RCon softphone: $2.00/per user/month
ZOHO Integration: $2.00/per user/month
You can check out more of their pricing here.
Is Net2phone Business Phone System Right for You?
Net2phone business phone system offers a wide range of services and features all at affordable and competitive pricing. Furthermore, they can take your existing system and add more functionality with SIP Trunking. As a result, Net2phone is a viable solution for any business looking to update the business phone system and communication platforms.
If you're ready to find out more about net2phone or any business phone system, 360Connect can help. We can provide you with high-quality business phone system companies and free quotes in your area that can service your needs. Fill out our contact form and you'll be on your way to finding the best phone system for you!
Want to learn more? Check out our other articles:
Best Multi-Line Phone Systems for Small Businesses
Digital VS Analog Phone Service