The accuracy with which medical coding is performed directly influences patient care, billing procedures, and overall healthcare operations management. Inaccurate medical coding can lead to severe problems such as:
Billing errors
Denied claims
Wasted staff hours
Misdiagnosis
Inappropriate treatments
Delays in care
Unnecessary audits
Hefty fines
Tarnished reputation
You don't want to suffer these consequences from inaccurate coding. With the right processes in place, you don't have to even with different types of medical codes! Here are 8 ways to improve medical coding accuracy.
8 Strategies to Improve Medical Coding Accuracy
Education and Training
The medical industry is constantly changing, with new techniques, treatments, and diseases being introduced on a regular basis. Medical coders must keep up with these changes to code correctly. Regular workshops, seminars, and online courses may keep developers up to date on the most recent information and best practices. This can be done in-house or through certification programs. Several institutions provide medical coding certification programs. These programs not only confirm a coder's knowledge but also give a structured curriculum to help them improve.
Use the Right Software
Medical coding standards and codes are revised on a regular basis. It is critical to ensure that the software utilized is periodically updated to reflect these changes in order to preserve accuracy. Also, many medical software are now using AI to help staff members code correctly the first time. The right software will be intuitive for medical coders to use and will be regularly updated.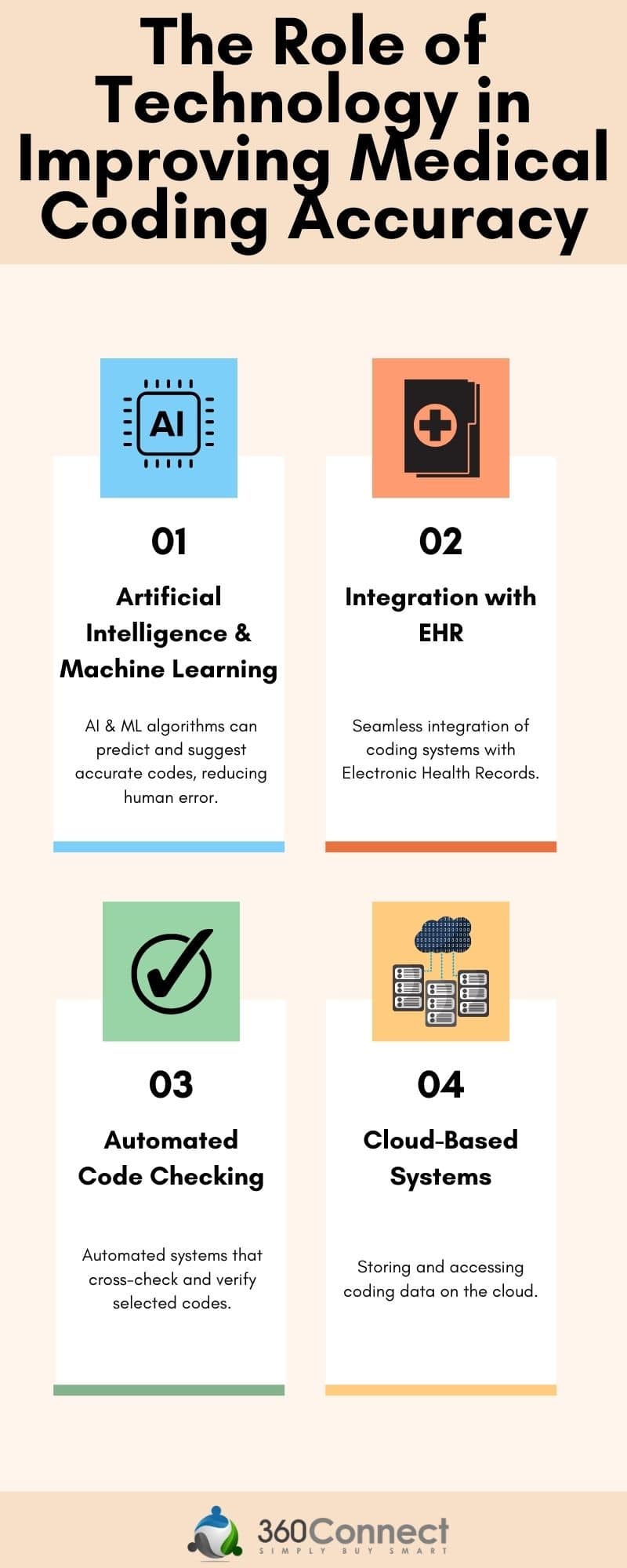 Regular Audits and Quality Checks
Regular audits help detect reoccurring errors or areas of uncertainty. These audits should be random and thorough, encompassing a wide range of patient records and coding circumstances. Audit can give your team good data about where there is a knowledge gap or where your team can improve
Hiring Experienced Medical Coders
Medical coding experience is extremely valuable. Experienced coders can negotiate complex cases, recognize nuances, and make informed decisions. This is the hallmark of any all-star medical coding team. If you are looking to improve medical coding accuracy, your talent pool is one of the first places you should start. Hiring the right managers and staff can help you implement best practices and increase your medical coding capabilities. Assessing your coding team's skills on a regular basis can uncover areas of weakness and give targeted training.
Establishing Clear Documentation Practices
Implementing consistent documentation processes across all departments improves reliability. This can include standardized forms, templates, and digital entry techniques. Coding errors are frequently caused by incorrect or inadequate medical paperwork. Training doctors, nurses, and other medical personnel on the value of good documentation can help to speed up the coding process.
Review Coding Denials
Instead of simply rectifying denied codes, it is critical to understand why they were denied in the first place. Was it a case of human error, a software problem, or a misunderstanding of the documentation? Identifying the underlying problem can help prevent future denials.
Stay up to date with Regulations
Medical coding regulations are subject to change. Regular training sessions, workshops, or seminars on these developments can help guarantee that the coding staff is always in compliance.
Outsource Your Coding
Lastly, if you are trying to improve your medical coding accuracy you can outsource the service for higher success rates. Medical billing companies hire hundreds of expert coders and directly with insurance companies every day. Outsourcing can assist in managing overflow at peak times or employee shortages, ensuring that coding stays fast and accurate. Outsourced coders can also perform 3rd-party audits if you are looking to identify problems in your workflow.
Whether you need them long-term or for a temporary season, medical billing companies can help your team be successful!
Looking for a Medical Billing Partner to Help You?
Still need help with improving medical coding accuracy? 360Connect can help! We help medical facilities find medical billing companies that can handle medical coding for them. Just fill out our 1–2-minute form and we'll contact you to verify your information. Then, you'll receive up to 5 quotes 100% free, it's that easy!
Get Started Today!