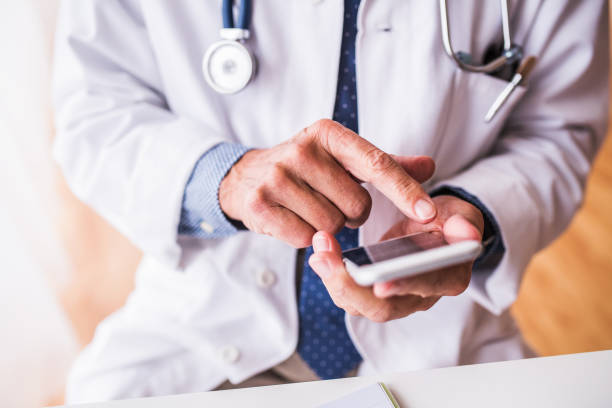 VoIP for Healthcare Practices
Healthcare is a business industry that depends on efficient communication to operate day in and day out. Healthcare practitioners are already extremely busy throughout the day with tasks outside of taking care of patients. They have to handle in-house or outsourced medical billing, management of admin staff, and more. Whether doctors need to make calls to practitioners, admin staff, or patients, they need to make sure their phone system is quick, reliable, and conducive to their busy schedule.
VoIP has quickly become the best phone system, compared to traditional landline systems, for medical practices nationwide for several reasons. Firstly, technology is moving toward VoIP. A majority of business phone providers are transforming their infrastructure to mainly offer VoIP services, since they're more cost-efficient both for providers and customers. Doctors are able to save 60% or more on VoIP systems compared to landlines. They also are flexible with mobility, allowing practitioners to communicate with patients and co-workers on the go. Plus, their features allow for better customer service and therefore higher patient satisfaction.

Types of Healthcare Practices that Use VoIP
There are dozens of types of medical practices that are currently benefiting from using a VoIP service. Practices that are experiencing a rise in switching over to VoIP in recent years include:
General Practices
Family Practices
Hospitals and Emergency Rooms
Dental Practices
Pediatric clinics
Cosmetic and plastic surgery clinics
Physical therapy
Rehabilitation centers
Mental health practices
Radiology clinics
And many more
Top 5 Benefits for Healthcare Practices
1. Reduced costs
Considering the business phone system needs of a medical practice, it's no wonder so many healthcare practices are switching to VoIP. They have tons of inbound and outbound calls per day. Plus many need features like caller ID, integration with patient records and billing, and more. When medical practices "pile" their communication costs – or pay for an all-in-one communication system like VoIP – they are able to save 60% or more on business phone system costs.
2. Quick and Easy Collaboration
Medical practitioners often need to get in touch with people quickly – including other practitioners that work in the office, their admin staff, and patients. Additionally, many doctors need flexible forms of communication with patients, such as video messaging. VoIP is a unified communication solution that allows doctors to quickly get in touch with people in various ways. They can use audio calls, SMS messaging, video conferencing, and a slew of other options.
3. Improve Patient Experience
While doctors have days off, it's the nature of their business to offer available outside their office hours. What if a patient were to have an emergency, need a prescription refilled ASAP, or have a similar issue? Patients put a lot of trust in their doctors and often depend on them. They want the best possible patient experience with their healthcare provider. That's why doctors are now using VoIP to accommodate their patients when they cannot take a call in the office. Using mobile VoIP, all they need to do is connect their work extension to their mobile device, and they will get calls forwarded to them from anywhere.
4. Integrations
Healthcare practitioners, nurses, admin staff, and other healthcare personnel have to multi-task throughout their day while caring for patients at the same time. VoIP technology can be integrated with back-end medical systems, like medical billing platforms for physicians, patient records, and other integral software. This will seriously reduce the workload from administrators and other people who need to keep meticulous files, as well as toggle between different software platforms throughout the day.
5. HIPAA Compliance
A key benefit of VoIP for medical practices is that they are designed to be compliant with HIPAA. These business phone systems keep patient records confidential while reducing the threat of data breaches by leaps and bounds. When installing a VoIP system, you can rest assured the data you enter into your system will be securely stored.
6. Multi-office compatibility
Does your practice have multiple offices in different locations? You will need a business phone system that can streamline your communications so you can stay organized. Luckily, VoIP systems have both cloud-based and hosted options so linking your communications in every location has never been easier. Then, phone data from each location can be automatically integrated into your back-end systems so you're always aware of what's going on.
Top Phone System Features for Healthcare
VoIP phone systems allow healthcare professionals to add advanced communication features to their subscription plan for little to no cost. This can not only ease your staff's workload, but help your medical practice stand out in the industry and provide excellent customer service.
Here are some of the top VoIP features your healthcare practice should consider:
Video conferencing
Doctors and practitioners never know when they will be needed by colleagues or patients. Adding a video call feature to your communication platform will allow you to offer more personalized check-ins with your patients. It will also allow you to collaborate with your colleagues while away from the office.
Mobile app
Mobile VoIP allows healthcare professionals to use their mobile devices, like smartphones, to stay connected out of the office. Many mobile applications also allow patients and doctors to message back and forth, or access patient records and files in a convenient way.
VoIP-enabled integrations
VoIP allows you to integrate your phone system and other communication platforms with back-end operations. For instance, a hospital information system (HIS) combines a hospital's administration, financial, legal, and medical tasks – and VoIP can enable integration with this system, making administrative duties much more efficient. VoIP also can be integrated with the medical billing process, enabling connection to billing software.
SMS Messaging and "Live Chat"
Patients today often want to get in touch with their doctors quickly and easily. Many medical practices are now adapting "live chat" features, so that patients can get in touch with medical professionals at the touch of a button. Rather than paying extra for this feature or trying to integrate an interactive portal to your website on your own, VoIP offers this feature for little or no charge.
Call Routing
VoIP's call routing features allows doctors to forward inbound office calls to another personal device that they will have access to outside of the office. Whether it's their home line, cell phone, tablet, or other device, doctors can make sure they are available for their loyal patients in the case of an emergency.
Web widget
Web widgets are helpful for medical practices to attract new patients. When prospective patients are surfing the web and browse your website, they will see your widget, which allows them to click and call your office quickly and easily.
Auto attendant
If your staff is busy or on the line with another customer, the auto attendant feature will answer the phone automatically and welcome the patient with a customized greeting. Your auto attendant can also redirect the caller to the correct department or extension quickly and easily, so the patient doesn't have to wait on the line. This feature can really boost your customer service!
Hold music
Similarly, you can boost customer service by adding pleasant hold music to your phone system. If patients do have to wait on the line for you to be available to answer their call, this feature will help assure they are not anxious or angry with their wait.
Top VoIP Suppliers for Healthcare
There is a variety of VoIP suppliers that service healthcare facilities. Depending on your type of practice, size, and particular needs, you may find some VoIP providers to be a better fit than others. We've provided a list of the top-rated providers, so you can make an informed decision for your business:
Provider
Starting Cost
Benefits for Medical Practices
Vonage
$19.99 per month per line
Saves practices average of 36%
Mobile app so doctors can take calls on-the-go
Integrations with patient records and billing software
Auto attendants for better customer service
Video conferencing
RingCentral
$19.99 per month per line
Easy scalability, if your practice needs to add new lines or open other locations
Unlimited video calls for great patient support
Integrations with Office364. NetSuite, and Outlook
Call routing to mobile devices
8 x 8
$25 per month per line
High-grade security and encryption for HIPAA compliance
Easy to use for admin staff
Video calls
Auto attendant Integrations with Outlook, Smartoffice, and more
Grasshopper
$29 per month per line
Great for small practices
Low cost plans
Easy set up and management
Auto attendant for great customer service
Call routing to personal devices
Fax to email
VoIP is just one useful business feature to help healthcare practices with operations. Outsourced medical billing is another solution for medical offices to facilitate their day-to-day tasks. To learn more, take a look at the pros and cons to outsourced medical billing as well as our guide to medical billing for physicians.
Ready to compare providers and get quotes? Our free service provides you with options so you can analyze and make the best decision for your needs. Plus, we save medical practices up to 30% on their business phone system! Visit us here to get started.