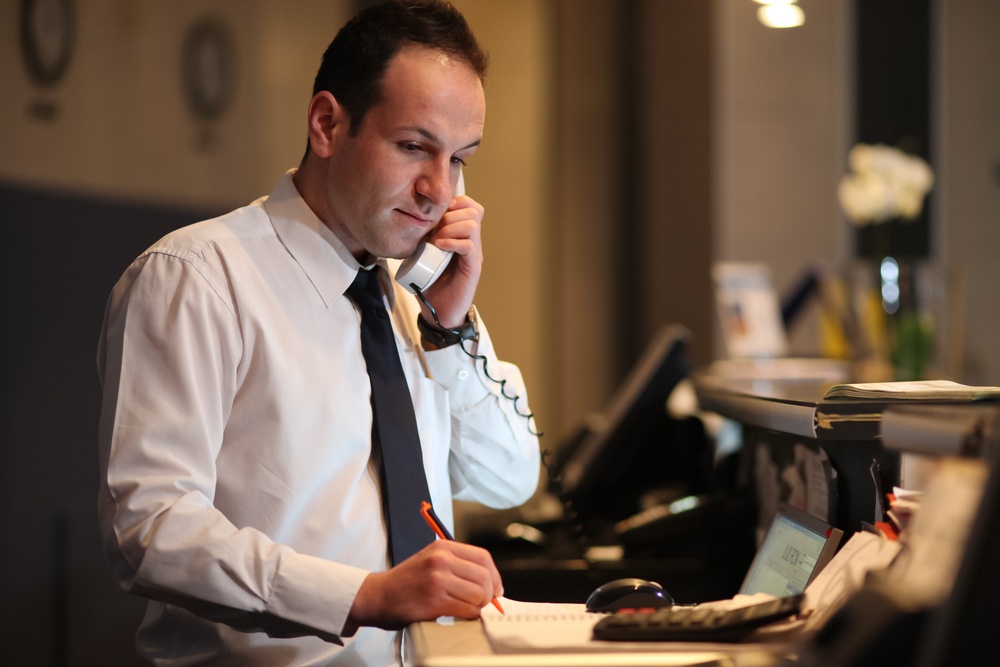 Phone systems are central to a restaurant's day-to-day operations and customer service. Restaurants rely on their phone systems to speak to customers, book reservations, prepare takeout orders, answer questions about hours, and even communicate with employees internally. That's why choosing a business phone system is a crucial decision for restaurant owners and decision-makers. Whether your restaurant is locally owned, a national chain, or a franchise, VoIP will offer the best business phone solution for your needs. VoIP offers the perfect solution for fast-paced environments that need to multi-task and easily communicate throughout the day.
Benefits of VoIP for Restaurants
There are so many reasons restaurant businesses should choose VoIP rather than traditional landline phones. Overall, VoIP will offer a more unified communication system that facilitates multitasking and customer service. Here are some of the top business benefits VoIP offers restaurants:
Cost Savings
The restaurant industry is highly competitive. Just about every restaurant owner is focused on increasing their bottom line revenue to grow as a business. However, restaurants have tons of business and operational expenses right off the bat. From a startup perspective – for restaurants to open, they need to spend tons of money on initial costs like interior design, equipment, and much more. In terms of ongoing costs, restaurant owners need to keep their kitchen stocked with product on a daily basis, on top of paying employees, and much more.
VoIP systems let owners save on their phone bills by up to 50-75%. Plus, VoIP quality has improved so much in the last several years, that you won't have to worry about sacrificing quality. It's a win-win.
Automated Call-Routing
Restaurants often need "all hands on deck," especially during busy hours! Sometimes restaurants have just one host on duty, who can only take so many inbound calls at a time. VoIP systems have a convenient "auto attendant" feature. An interactive AI voice will answers calls immediately and direct them to the correct extension, department, or party. You can also set up your auto attendant feature to answer frequently asked questions – like hours of operation, daily specials, up-to-date wait times, and more.
All-in-One Integration with POS Systems
VoIP is easy to integrate with internal business tools and software. Many restaurants now connect their VoIP phone system with their internal systems like a POS. This allows them to easily log customer information, reservation information, takeout orders, and even customer messages, comments, or concerns. Even when your staff is at their busiest, VoIP will make it easier to streamline all tasks and keep track of customer information. This makes for much better and quicker customer service!
Mobile Connectivity
Oftentimes, restaurant supervisors and managers need to be contacted - even on their days off! With VoIP's cloud system, you'll never have to worry about a manager being unreachable if an important issue or question comes up. You can connect your business extension to personal devices, like a smartphone, computer, laptop, or tablet. Then, you can answer questions, resolve issues, and maintain upstanding customer service on-the-go or from the comfort of your home. Plus, using a cloud VoIP system cuts costs for both monthly premiums and hardware!
Multi-location Benefits
Many restaurants today are either chains, franchises, or have multiple locations. It becomes a hassle for business owners to start a new business phone system in each location. VoIP lets you easily connect the locations' lines with one another to exchange information quickly and efficiently. Plus, when starting up a new location, all you need to do is call your VoIP provider to turn on new lines.
Which Features Should Restaurants Add?
VoIP subscription plans come with a variety of available add-on features, depending on your business needs. When you contact various VoIP providers to get price quotes, they may give you a long list of options. It can be easy to get overwhelmed and lost in prioritizing what your restaurant needs.
Here are the top priorities for many restaurants when they consider features to add:
Virtual Receptionist
A VoIP virtual receptionist, also known as "auto attendant," will automatically answer every inbound call, whether your restaurant is open or not. When restaurants are managing their busy hours, it can be impossible for host's to answer every call quickly. This assures each caller is answered in a timely, professional, and friendly manner. The virtual receptionist can also direct these callers to the correct extension to save them time, answer their question right then and there, or tell the caller how much time remains until their call is answered.
Call recording
Many restaurants - especially larger chains or franchises - have a specific way they want to conduct every phone call. Having a built-in call recording feature allows business managers and supervisors to assure each calling customer is spoken to with the best customer service. Call recordings are also used to train new hosts or employees, to set a good example of how to speak with callers.
Call forwarding
Sometimes a caller's question cannot be answered by a restaurant staff member in-house. In these cases, the host often needs to redirect the call to a decision-maker or manager, who may or may not be on duty at that restaurant location that day. Call forwarding allows restaurant stakeholders to connect their business extension to any device they are using, whether at the restaurant or not. With the touch of a button, the caller will be redirected to the correct line and have their question answered promptly.
Mobile dashboard
Since they operate via an internet network, VoIP lines can be connected to a variety of different devices. VoIP lines come with an easy-to-use dashboard interface that streamlines all communication processes, which can be installed on any device that connects to the internet. No matter whether a restaurant wants to use tablets, computers, or even mobile devices, VoIP's all-in-one platform can conveniently allow communication wherever you prefer.
Voicemail to email
Many restaurant managers need to stay in-the-know of customer questions and concerns at all times. VoIP's voicemail to email feature will transcribe each customer voicemail into an email, and send it to the appropriate stakeholders so they can address the issue promptly.
Top VoIP Suppliers for Restaurants
Today, there are tons of VoIP providers in the industry, and this can make it difficult to choose the best one for your restaurant. Most restaurant businesses make a decision about their supplier based on factors like included features, price, software compatibility, and more. We've put together a list of suppliers that restaurants might consider using, based on their offerings for restaurants:
Service Provider
Starting Cost per Month
Top Features
RingCentral
$19.99 per line
Caller ID
Call forwarding
Call recording and analytics
Mobile dashboard
SMS and team collaboration platform
Automatic customer information logging
Nextiva
$20.95 per line
Automatic call forwarding
HD voice quality
Team collaboration
Voicemail to email
Mobile dashboard
Call recording
Auto attendant
Ooma
$19.95 per line
Call recording
Call blocking
Voicemail to email
Virtual receptionist
Call forwarding
Hold music
Automatic call logging
8 x 8
$25 per line
Virtual receptionist
Mobile dashboard and integration
Multi-location forwarding and conferencing
Call recording and analytics
Ready to compare VoIP services and prices for your restaurant? Our service helps restaurant owners save money while finding the highest quality phone system. Get started at no charge!